New Zealand is one of the most family-friendly destinations in the world. It is on the podium of our imaginary list with Norway and Finland when we consider traveling with the little ones. Stunning nature, interesting history, Maori culture, easy access to glaciers, mesmerizing volcanoes and amazing beaches. We have traveled a month with our then 1-year-old in a campervan, and share our experiences with you below to help you plan an unforgettable holiday in New Zeland with kids.
How to get to NZ
New Zealand has 5 international airports: Auckland (AKL), Wellington (WLG), Christchurch (CHC), Queenstown (ZQN) and Dunedin (DUD). However, the majority of travelers arrive either to Auckland (North Island) or to Christchurch (South Island).  We also arrived in Auckland and a month later flew back from Christchurch before leaving the country.
Getting around in NZ
By car, campervan or motorhome
If you plan a family holiday in New Zealand, the best thing you can do is rent a vehicle. It will give you big flexibility to your family to explore the islands at your own pace. A car is a minimum.
Our travel plans were extremely loose, so we rented a campervan for 4 weeks and we loved it. Not only we saved thousands on accommodation but we could decide on the spot where to go next.
If you aren't so experienced in camping,  love a bit higher level of comfort, or not sure if you manage in a campervan, you can try a motorhome as well. PS. we have our own motorhome in Europe and had amazing trips for example in Finland and Norway.
By public buses
Between cities, you can use public buses as well. Intercity is the company you are looking for.
Driving Tips
Left-hand traffic
In NZ you drive on the left-hand side of the road – which means on the opposite side than in the US or most of Europe. The steering wheel is on the right side of the car. Our rental car had a sticker to remind us to keep to the left.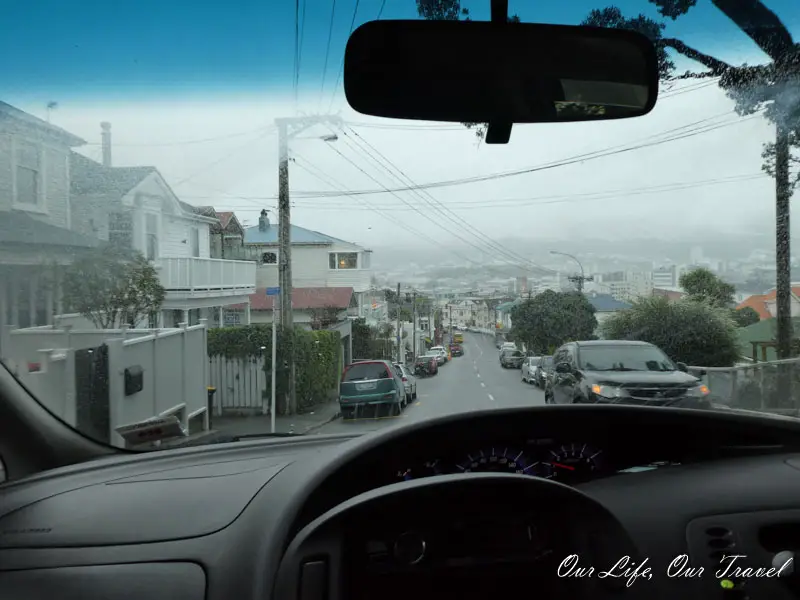 Seatbelts and car seats for children
It is mandatory for all passengers to use seatbelts. All children have to use approved safety restrains. For babies under 2, it is advised to seat rear-facing (as in most countries) and kids under 11 years old or under 148 cm, recommended to have a booster seat. Remember there when renting your car.
Fuel stations
If you plan on visiting more remote places, make sure you have enough water, food, and as well as fuel in your car. You may face difficulties finding a fuel station in some parts of the islands.
Best Places in NZ with Kids
New Zealand offers a wide range of activities for families. Let us show you the most popular ones based on our one month trip.
Auckland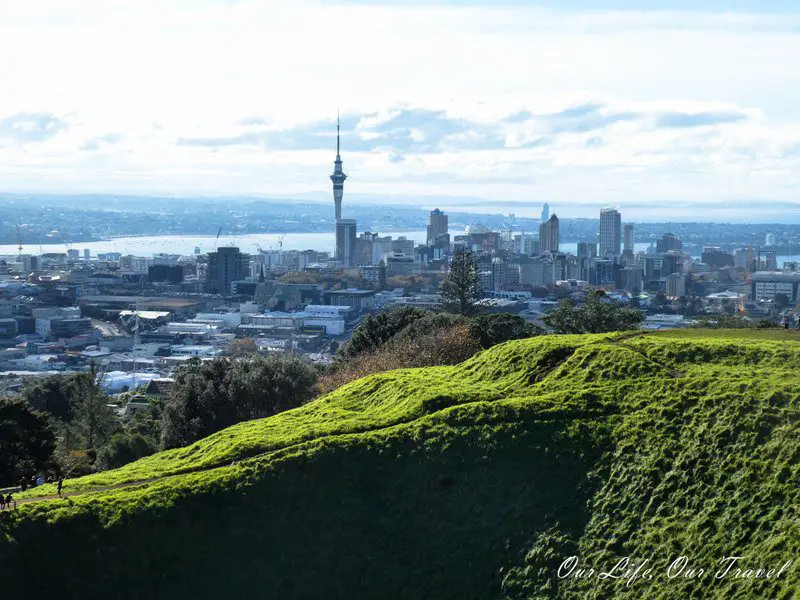 Most likely you can fly in or out from New Zealand through Auckland – do not miss your opportunity to visit the capital. Besides its huge Aquarium (with penguins!) make sure you visit one of its dozens of volcanoes. If you have a bit more time, we suggest you take a boat to one of the islands nearby and spend the day outdoors while exploring these amazing locations.
Beaches on the shoreline

One of the most popular kid-friendly places in New Zealand is the beaches.  Swimming and surfing are the most popular activities but don't forget about the so-called hot water beaches where you can dig your own private pool. Due to the post volcanic activity, warm water will fill them and mixed them with seawater you can set a pleasant temperature. Bigger kids will love digging (bring or rent a shovel). Just make sure you have the water temperature set before you let your kids into the pools so they don't burn themselves and neither do you.
>> Coromandel Hot Water Beach
>> Cathedral Cove
Rotorua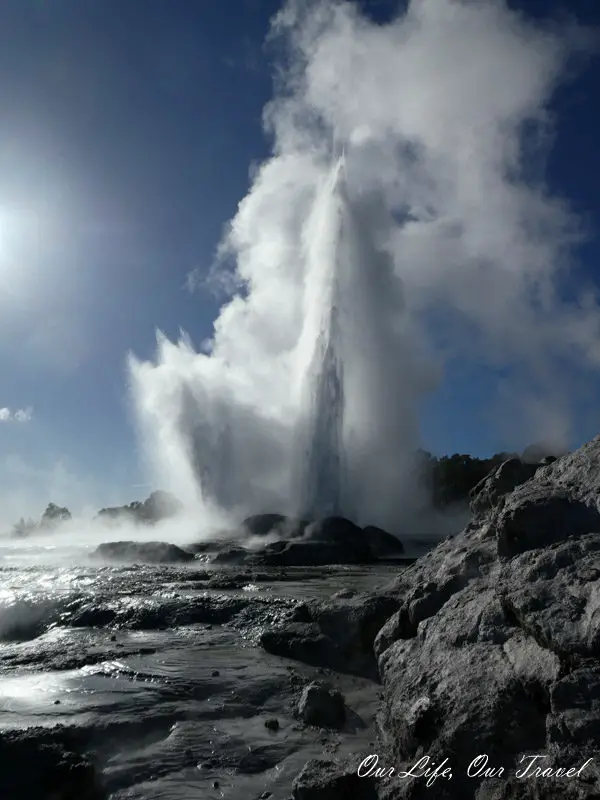 Another popular area with kids in NZ  is Rotorua and its surroundings. It is full of post volcanic activities, such as geysers, bubbling volcanic mud pools, and stinky sulfur-dioxide gas fields.  As for culture, make sure you visit at least one Maori performance.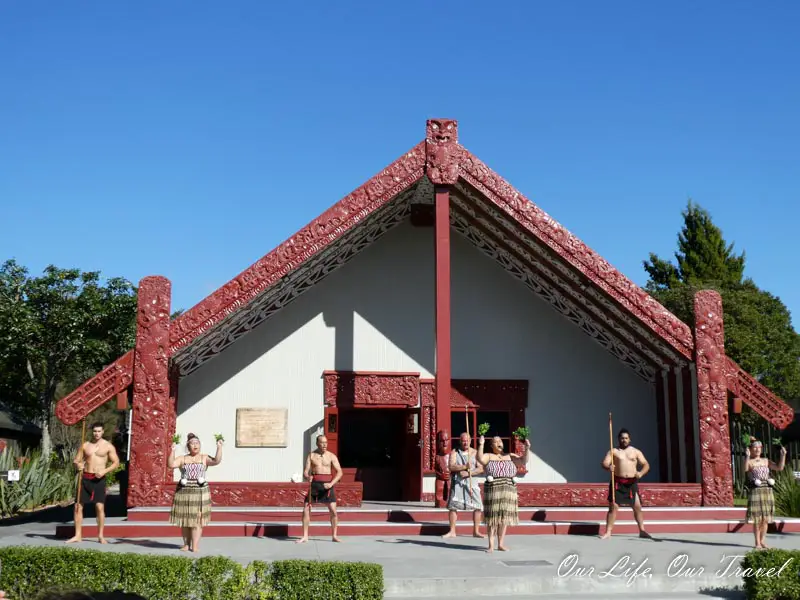 Hobbiton
Hobbiton another location in New Zealand that you must visit with your family. It is located near Hamilton and you can easily spend a full day there exploring everything from The Lord of The Rings.
Fjords and Glaciers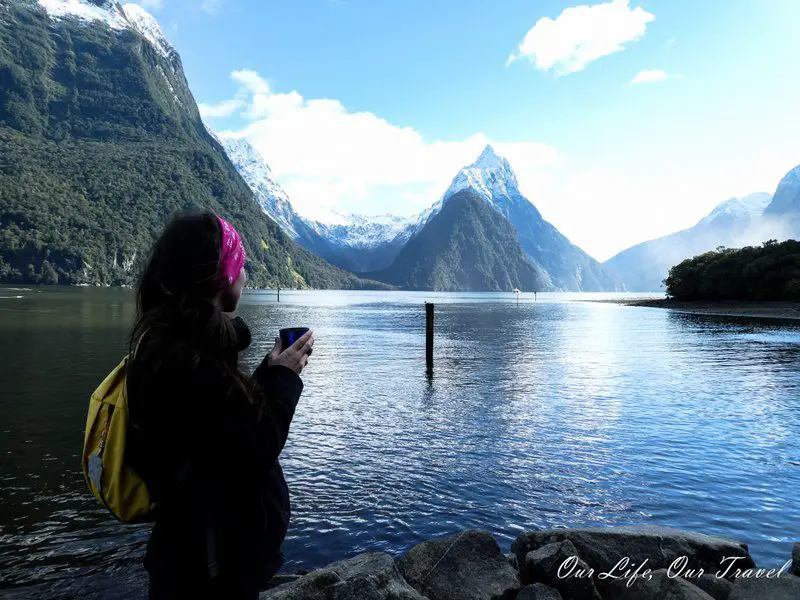 South Island is especially rich in natural landmarks. I'm sure you've heard about Milford Sound, but don't forget about the famous glaciers (Franz Josef, Fox, and Tasman Glaciers) either.
Queenstown
Outdoorsy families will love Queenstown and its surroundings.  Cardrona has kid-friendly skiing slopes.
Christchurch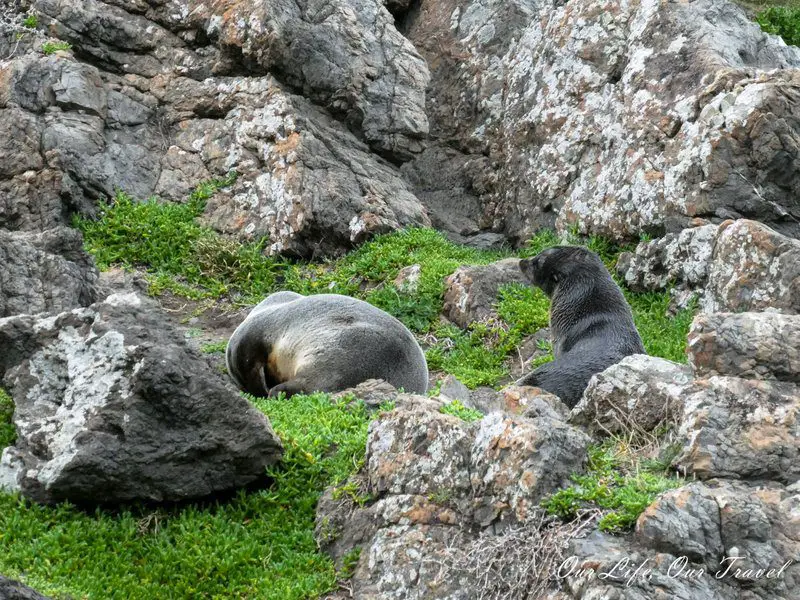 The International Antarctic Centre and botanic gardens are the families' favorites but don't forget about the Banks Peninsula where you can spot penguins, dolphins and other pretty birds. Oh, and several places have seals and sea lions as well.
Some of our other favorite places:
NZ with a Baby – Breastfeeding, formula & Diapers
We traveled to NZ when our son was 1 year old, so both were important for us. Luckily it is common to breastfeed in New Zealand in public places or change diapers in your car.  A few public restrooms had diaper change facilities too, but usually not in the cheap campings where we stayed.
Disposable diapers and formula are sold in every bigger shop, no need to haul them for your vacation.
Eating Out With Children
Restaurants
Generally, NZ restaurants are kid-friendly. Except for the very high-class places, families are welcomed almost everywhere. Most places offer high chairs too, although kids' menus are less common or limited to pizza and chicken nuggets.
Farmers market
You will find plenty of farmers' markets to grab food with your family.
Special diets
Most places cater to gluten-free and dairy-free (and lactose-free) diners as well.
Safety tips when traveling with kids
Sun protection
Sun-screen (SPF 50+), hats, and sunglasses are a must all year round. In summer, make sure you avoid the hottest time of the day especially if you travel with small kids and babies.
Sandflies and mosquitoes
Luckily you won't find dangerous snakes or spiders in NZ, but mosquitoes and sandflies bites are quite nasty too. Even though we traveled in May, a couple of locations were still swarmed by the latter ones. Take an insect spray and afterbite cream with you.
Strong currents
Whether you surf or just swim, make sure it is safe. If possible, choose a beach with a lifeguard on duty (the popular ones have them in summer) and follow their instructions.
Weather in NZ
The weather in New Zealand can change rapidly. You can experience everything even in a 24 hour period. For example, one day we had a pleasant 10 degrees and the next morning we woke up to -5°C and a lot of snow! Not to mention the days when it's sunny in the morning and pouring in the afternoon. Rain protection is a must in every month.
About the Author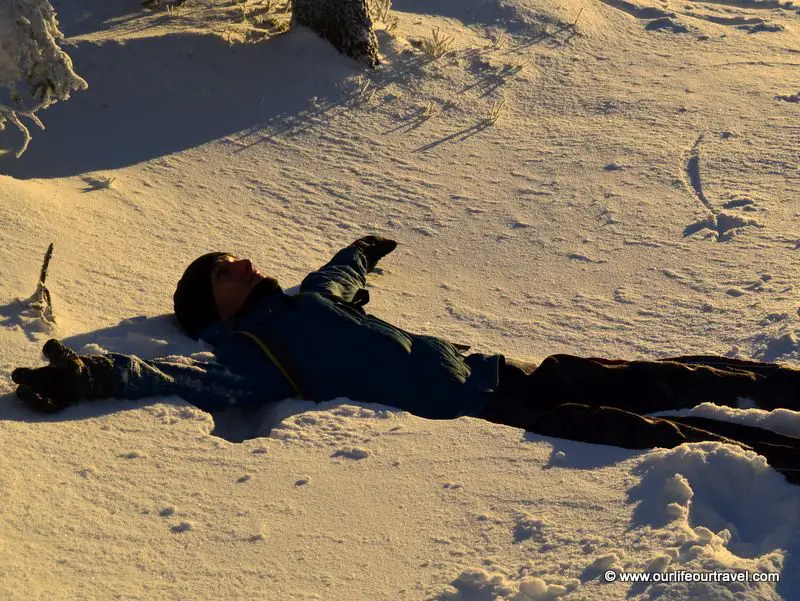 Karol
Karol loves nature, road trips, and outdoor activities such as hiking, skiing, snowshoeing, or snowboarding. Although his home is in Finnish Lapland, he often travels with his family in their RV or hops on a plane with them to explore warmer destinations outside of Europe.
Read more about his adventures and the blog.