Living half a year in winter and darkness
Winter is the most challenging part of the year in Finland, especially for foreigners from warmer countries. It can be damn cold and it lasts for months. I would even say for half a year – unless you enjoy some of the towns in the seaside, Helsinki, Turku, or even Oulu has a bit less snow than the rest of the country. Having a winter does not mean you need to stop being active.
I have spent my first winter in Finland as an Erasmus student back in 2011. We made a survey at the end of the spring semester that concluded almost everybody gained weight. Close to 5 kilos! It is not only the fault of the amount of alcohol and exploring the Finnish cuisine, but a lack of exercising and staying indoors a lot. We were a bit scared of the freezing temperatures and did not know enough about sports options.
Besides the cold, the lack of light is the other problem. Imagine, that during the autumn you may get only a few minutes of sunlight. For example, November  2014 was one of the darkest months ever in Finland. Helsinki had only 12 hours of sunlight for the whole month (!!!), while in Kuopio, the town next to us, there were only 12 minutes! Indeed, it is crazy. You just feel down, slow and sleepy, and it may take a while to realize that reason behind it is the lack of light.
Options for indoor sports
Going to a gym, swimming pool or group classes from fitness, Zumba or pilates are popular here too. In case you want to visit these facilities regularly, look for discounts. If you are a student, very likely you can get one. Also, check your university sports offers. Usually for a very cheap monthly/semester/yearly fee you can visit several classes.
If you work in Finland, ask your employer about sports or sports and culture vouchers. They are worth 4 or 5 € and you can use them for numerous sports facilities.
Fight the autumn depression (SAD) and brighten your home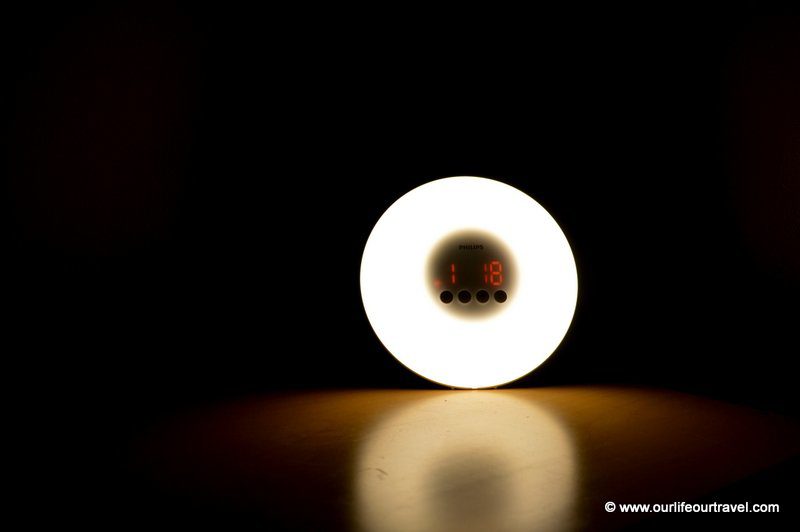 The lack of sunlight during the autumn and early winter can lead to depression. As I wrote earlier, it may happen that you have only a few hours or minutes sunshine in total for a full month. The depression caused by the darkness is a type of seasonal affective disorder (SAD).
Personally, D vitamin and more light sources in my room helped a lot. Purchase a couple of new lights or bright bulbs for every room you spend significant time in your home. Some companies and universities also set up daylight lights in their common rooms during the winter.
My other favorite device to cure SAD is my wake-up light. Wish I knew about it earlier. It has an alarm function using brighter and brighter light for half an hour. It made my mornings easier as natural light was non-existing.
Sauna & ice hole swimming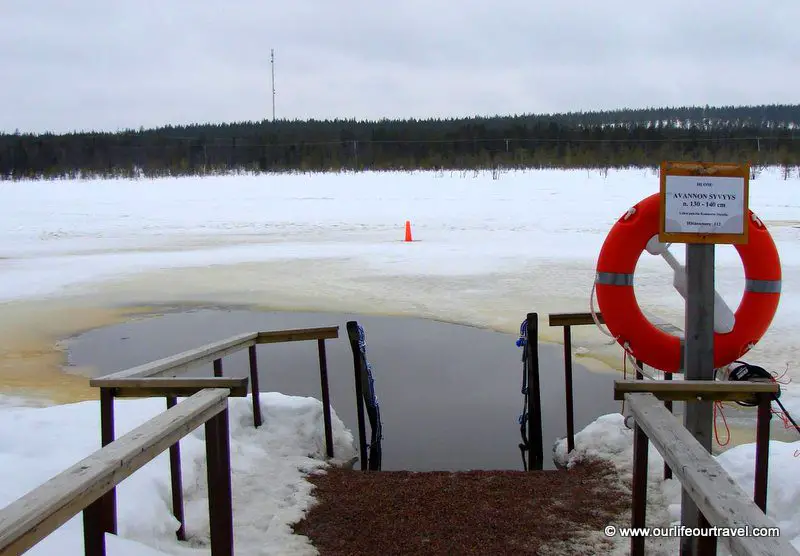 Probably enjoying sauna will be your first step towards a healthier life. Finns use it all the time. Really. Every house has a sauna. Apartment buildings as well, and you can use it in a designated or chosen a time. You need to pay for it, but it is rather cheap. Alternatively, you can visit them in the swimming pools.
If you are really brave, and I know you are, you will visit soon and ice-swimming place in your city. Ice swimming is an advanced way of using sauna: you go swim in the lake when you take a break from the heat. You can do it all year round, but the name comes from the winter use when the lake or river is frozen, and an ice hole needs to be cut on it to access the water. If you are responsible for the hole, keep an ax close by. A smaller hole may freeze while you are warming up inside.
The regular use of sauna helps your circulation, and it a great place to socialize with locals and other visitors, don't miss it!
You can read more about how to do it and how it feels like to try.
Dress up and go outdoors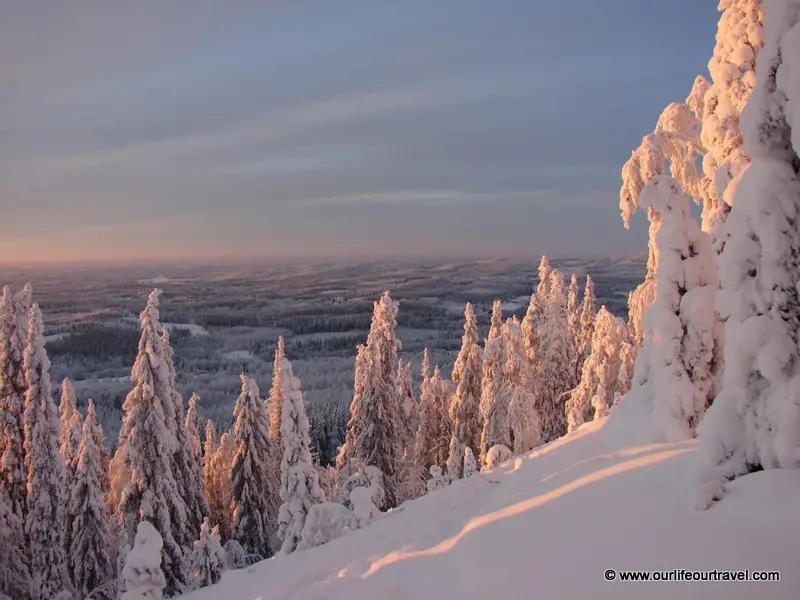 I couldn't imagine that I would stay warm and enjoy outdoors during Finnish winters. Luckily I got proven wrong during my first weeks in Joensuu. On the first course I took, the teacher announced a field trip for the next week. Me and most of the class got scared that we will stay outside for a day. In January. The teacher, to comfort us, said there is no need for panic. If the temperature goes under -32°C (yes, you read it correctly!!!) we won't go. Under -28°C we go. Between the two, he will decide. It was -29°C. We went, and I didn't die.
Of course, it required proper clothing, mostly woolen everything. Really. Socks, sweater, mittens, cap. I really enjoyed the time we spent in the forest, and I learned how to dress up properly for a semi-active outdoor time. It helped me a lot later not to be scared of going for walk or cycling, or that you can enjoy your ice-cream as it won't melt unlike in summer.
Walk, cycle, jog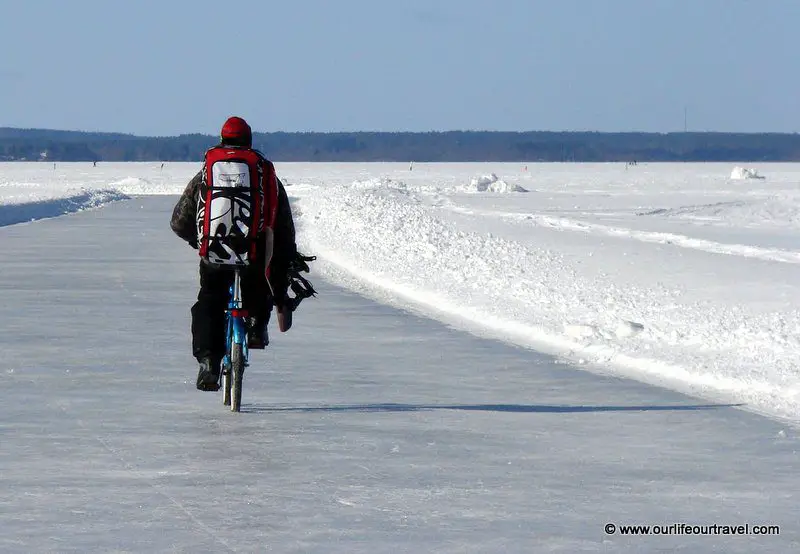 Walking is necessary for approaching your school or place you work at. You need to go to the shop as well. You can't avoid walking during the winter. Cycling is a more advanced option. In case you are worried about the cycling conditions in winter, Finland is probably one of the best countries to cycle. The pavements and cycling paths and roads are cleared of the majority of the snow and small rocks are spread across, so there is a smaller chance of sliding.
Also, cycling is much faster than walk and you can reduce time spent outside. Also, you should change to studded tires, it makes a big difference, your bike will handle steering on winter roads much better. Yes, I'm telling you to be outside and then giving tips how to shorten the time. I do because there are better ways for an outdoor time, than walking or cycling. Or jogging, as a matter of fact. Does not matter how cold it is outside (OK, maybe under -25°C it is less likely), but there will be people still jogging.
What other sports to do during the winter?
Ice skating and ice hockey
Ice hockey is extremely popular in Finland. The whole country watches the important games of the national team and celebrates its wins. Kids learn ice skating and hockey and perform impressively already at young age.
If you are experienced, join to some of the amateur teams. If not, and just want fun, you can visit one of the several outdoor ice rinks in your city. I preferred to learn to ice skate with a few friends, hockey will be the next step.
Cross-country skiing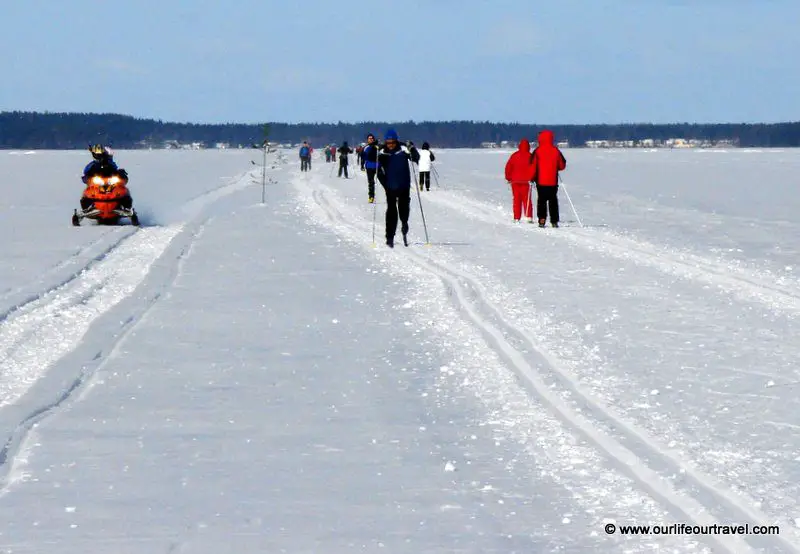 Another popular winter sport in Finland is cross-country skiing. There is an extended network of trails in and around every bigger city and they are free to use. You can get cheap second-hand equipment from second-hand shops (kirppis), or new ones from sports shops or for example Prisma.
Choose a flat track for the first times. After a bit of practice, you will learn the basic moves and can try a steeper track too. Probably your friends or colleagues will be happy to help you on your first tries, or just observe others and try mimic their moves if you are shy about asking help.
When you master the basic tracks, you can choose one of the nearby national parks to ski there too. Weekends are perfect for longer nature adventures. We love skiing in Pallas-Ylläs National Park.
Winter hiking and snowshoeing: explore the national parks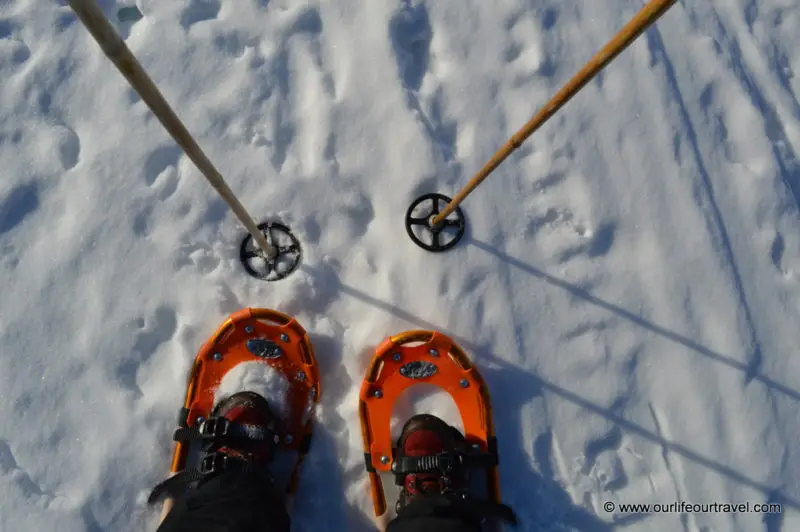 Amazing fells and snow-covered landscapes are waiting for you! Almost all parks are suitable for winter exploration. Just remember to follow the winter trails, and check the snow conditions before. In case it's early or late winter, probably you can walk without them easily, but in mid-winter, they are kind of compulsory equipment. Renting snowshoes will give a totally different experience – you will not sink till waist into the white fluffy world.
Easy walking trails can be found for example in Koli National Park, in Eastern Finland, snowshoeing can be very rewarding in Pyhä-Luosto, Pallas or in Oulanka National Parks too.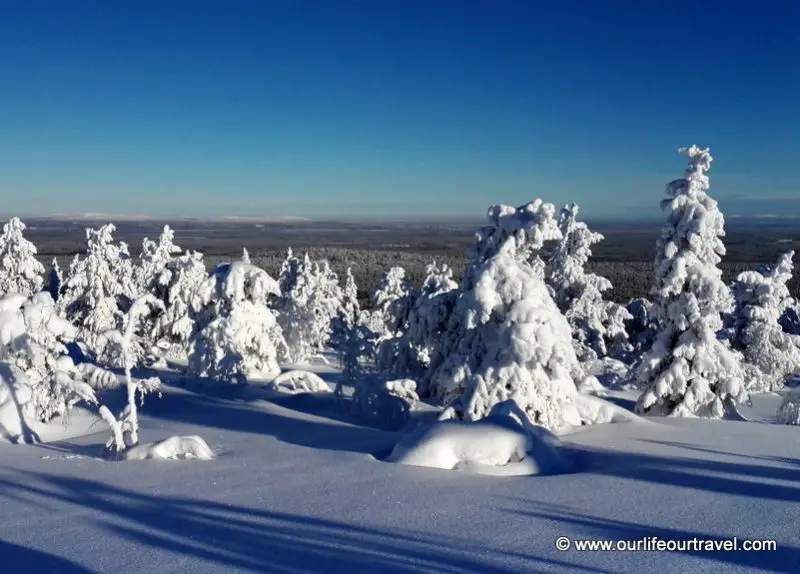 Do you live in Finland? What else would you add to the list? What is your sport?