After the first short trips to Posio and exploring the surroundings of Tornio in Lapland, we spent three months traveling from Finland to Montenegro by car with our little one (who was that time under six months). It was one of our most challenging trips, considering the new situations we went through. After our second child was born, we went on a month-long road trip here in Finland with our 3 months old and 2.5 years old kids, so we re-tested what is really essential. For example, it's good to bring a couple of car ride games with you.
Read about our tips and ideas for car travel, and about the little disasters, we went through during this journey. Hopefully, you can learn from it before your first road trip with the baby.
1. Slow down and be flexible
It can be general advice to every parent 😉 Don't be in a rush! Plan only a few hours or activities or travel for each day. This way, we weren't feel overwhelmed and stressed that we continuously need to give up on something.
How did we do it? Most of the time…
It is better to have a few extra hours every day than dragging a tired, sleepy, and annoyed kid to another museum, restaurant, or anywhere else.
We spent a sunny day exploring the Polish seaside north of Gdansk. On the Hel Peninsula, we decided to enjoy the sunset before going home. Wrong! Very wrong! The sunset above the Gulf of Danzig was spectacular, colorful, and pleasant bathing in the last warm rays. But after the sun disappeared below the horizon, the baby's mood sunk as well, and a very long evening began for us.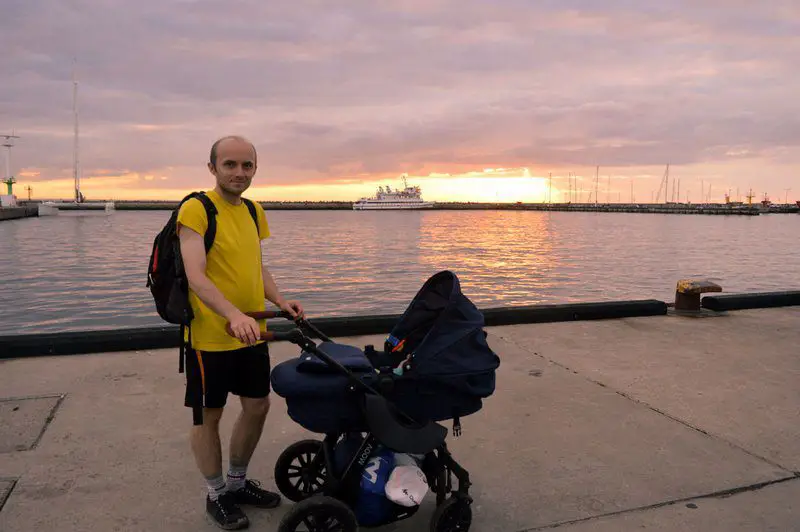 2. Long(er) stays at each location
We usually stayed for several days (up to 2 weeks) in the same accommodation. That allowed us to rest the whole day (if feeding, changing nappies, and playing with the baby counts as rest). Our 'lazy days' were due to two reasons: we were exhausted, or it was raining like cats and dogs.
One of our shortest stays was in Łódz, Poland. 2 days was not enough to immerse into the city life (or to rest), but we could still sightsee a bit and adore the architecture of the city, especially while Karol was working.
P.S We were soaked in Gdansk way too often.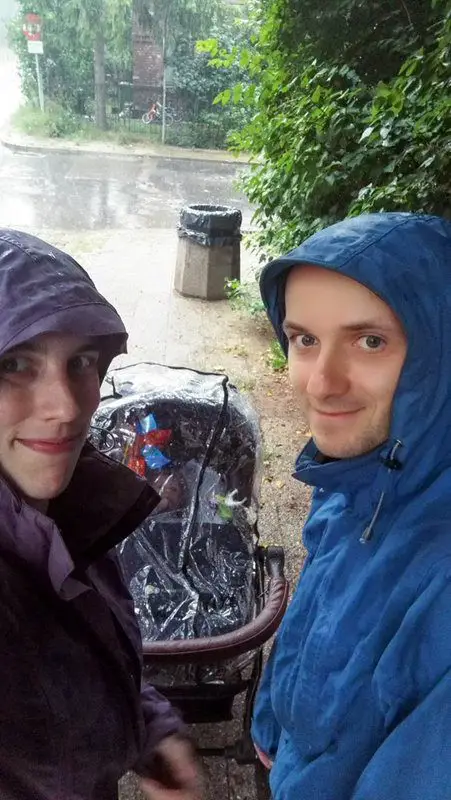 3. One main attraction per day
Considering the everyday activities, we aimed for one main attraction for the day. Afterward, we checked a nearby park or beach for escaping the crowds if the little one has enough of sightseeing and in need of some play.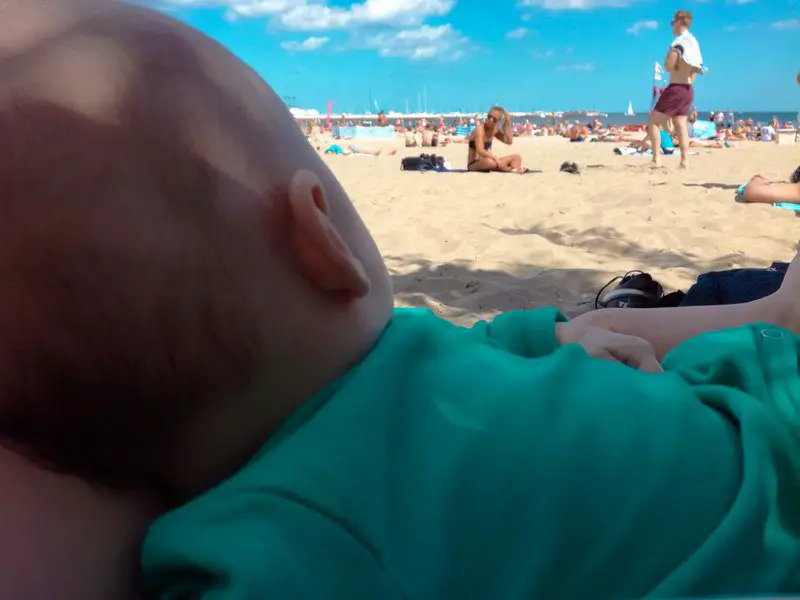 For example, strolling around in the world heritage city of Trogir and then resting at the beach in the afternoon. In case he was okay with the activities, we sometimes added an extra sight or action to our day. For example, on the way back to our accommodation, we checked the Game of Throne castle (Meereen), a.k.a Klis fortress.
Always adapt to the situation, do more or less, depending on your kid.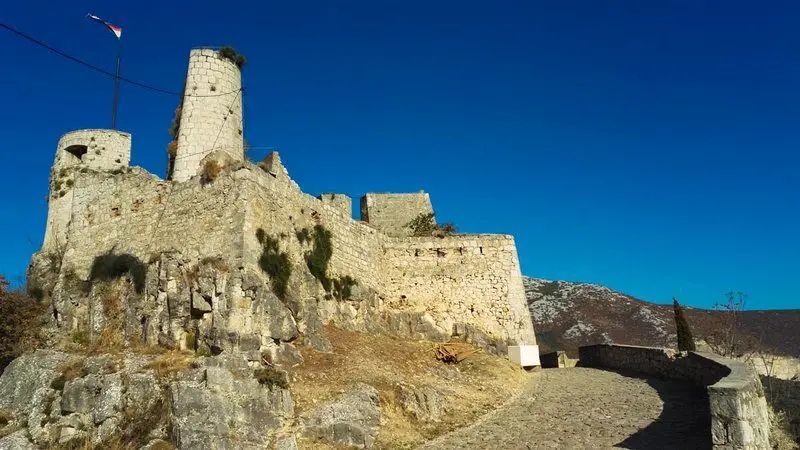 4. Adjust driving to the baby's sleep
The best is to adapt your days to the baby's sleeping schedule. Yes, I know many babies' sleeping schedule changes like every other week, but that's the best you can do.
Tips on driving
If it was a travel day, and this means for us relocating, we started driving before his morning sleep (usually it was around 9-10 am) and/or afternoon sleep (2-3 pm), so he could fall asleep easily in the car. It was a big win. We drove two or even sometimes 4 hours in one go.
In the meantime, when we stopped, we set up the back seat like a little playground for him. OK, it was not the flattest and rather narrow, but we let him enjoy the freedom from his chair as long as he liked. Check out this guide on how to choose the best backless booster seat for your child to feel him comfortable during the trip. We were patient and enjoyed these moments together with him. (edit: Karol claims it was not enjoyable, but I did love observing him while he explored his tiny kingdom.)
What not to do on a road trip
Also, our experience shows that daily 5 hours in the car is enough. Twice we needed to drive longer, and it became a real struggle. He wanted to get out of his seat, lay down, play, or just cuddle with mommy. We were hopeless to calm him down or play with him while seated. And he protested every possible way to sit back in his chair.
Don't commit our mistake. Cut your driving short!
If we had a long driving day, we made sure that on the next day(s) he didn't need to get into the car. At all.
5. Must-have list for a road trip with a kid
Have lullabies on the phone and toys in the car
Lullabies and children's songs were our last hope in case of the long driving days. They also were helpful if we got stuck in a traffic jam (the baby hated being in the stopped car), or we needed a break in playing/talking with him. Few favorite handy toys and the music grabbed his attention and occupied him, and we gained silence and rest.
Tip: Make sure your phone is charged. Navigation and music will suck the battery fast. We carry an extra (solar) power bank.
Portable baby bed
Portable baby beds are handy accessories for a road trip or on all kinds of travel with your baby. Our bed is foldable, and it takes 2-3 minutes to pack or set it up – after the first at least 10 minutes of struggle. Don't follow our battle, read the instructions before setting it up for the first time
We can place it in small rooms and have comfort and safety for the baby. And it has a mosquito net to cover from the top. It turned out to be an essential feature when insects were around during our stay in the Bay of Kotor in Montenegro.
Tip: We bought ours online and picked it up in the first city where we stayed for a more extended period.
Book accommodation with a double bed
Don't book accommodation with single beds only. Seriously!
Sometimes it is an impossible challenge to share a bed and blanket with daddy, and believe me, it is double-impossible to share a single duvet and bed with the baby.
Often I end up with the little one sleeping across on the bed, leaving me no space. Not even to sit on the edge. If your infant is as a light sleeper as ours, you may end up watching him from the bedside for a couple of hours before you dare to relocate him to his bed. And that's not so much fun.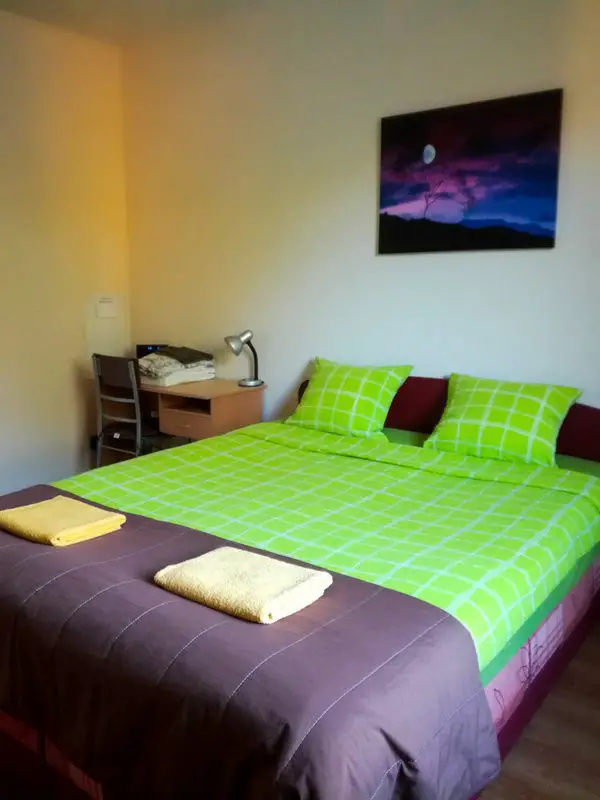 In double beds, we can play several games (with caution!), or make him fall asleep without making our space occupied. Just like I was watching him sleep next to me while typing these lines.
Tip: double bed usually does not cost extra. Check the descriptions carefully about what kind of bed is in the room.
Washing machine and kitchen are handy too.
One of our main reasons for choosing Airbnb accommodations was the possibility to wash the baby's (and our) clothes. Even on a one-week-long holiday, I would be happy to do laundry once or twice in case of little accidents. We didn't want to carry all his wardrobe with us either. During the three months, we needed laundry possibilities, and hotels would be costlier.
Whether you are breastfeeding, using a formula, or your baby is already eating food, a kitchen can help a lot. I don't say that we cooked three-course meals every day (although we sometimes did ), but I like the freedom of choice. We could fix a quick lunch, prepare an excellent breakfast or dinner while the other (often Karol) spent time with the baby. It was practical for warming up the food for all of us in the micro, or just grabbing a cup of coffee or a mug of tea with some snacks in the middle of a sleepless night to help us to survive it.
We spent altogether three nights in places where only a kettle and microwave oven were available. Those were our minimum requirements.
Tip: if you haven't used Airbnb yet, register now and grab a discount!
Pack one size bigger clothes too (or be ready to buy new)
In the beginning, you never know how fast your little one will grow. M did get 10 cm taller in 2 months! The books mumbled about 2.5 cm per month. Well, we aren't the average. Nobody is 🙂
We packed clothes in a wide range of sizes (and bought new items on the way too). I think for any trip that lasts at least two weeks, your baby will outgrow several things.
6. Our new baby-friendly activity list
Parks are the best all-in-one place
Instead of crowded streets, museums, restaurants or beaches, we spent a lot of time walking in different parks in every country we've been to. I've heard from other parents, kids and babies like to observe trees, plants, and birds, and parks are the best free choice for it. Usually, there are playgrounds or fountains as well to entertain the bit bigger ones.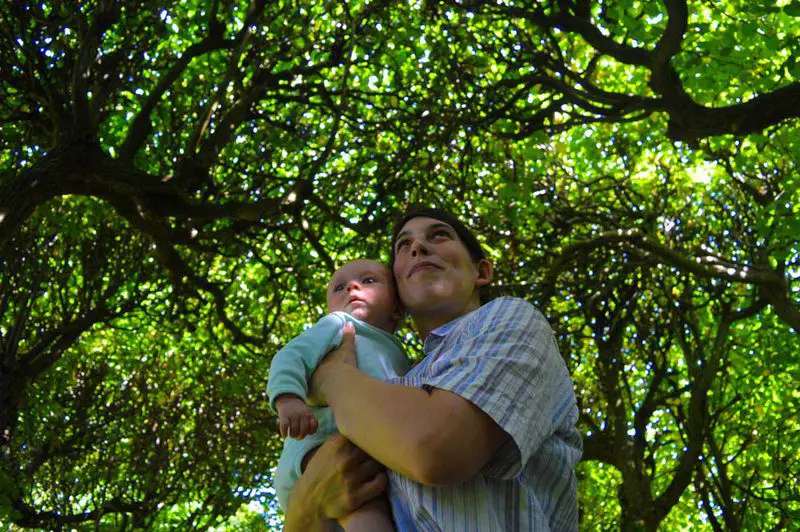 Parks were also the place where we wandered around and around until he falls asleep when he was too tired of playing and observing the world. Meanwhile, mommy (a.k.a. me ) could capture the stunning trees. Or being captured 😉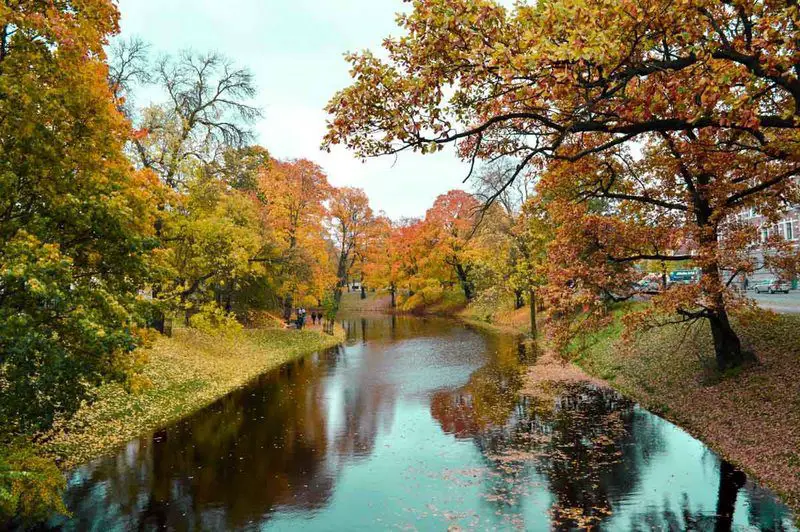 Hiking with caution
We chickened out and did not hike for real with the little one on this three months trip. I was still exhausted, and owas too small to sit without harm or possible danger in a baby carrier. We will resume hiking again when he is closer to one year.
Update (2018): We have hiked a lot in Lapland and New Zealand, and it was fab!
Tips:
When the baby is big enough, the hiking carriers are the best way to go. Yes, it is demanding to carry an 8-10+ kg child, but nothing is more rewarding than the whole family reaches a (smaller) peak or lookout point. We haven't used our hiking one yet, but our carrier is fabulous. It was my Christmas present to myself (yay), and M prefers it over the stroller, too. We use it every day.
Check the best hiking carriers for toddlers!
Obsession with water
Experienced parents, please confirm my theory. All kids love water!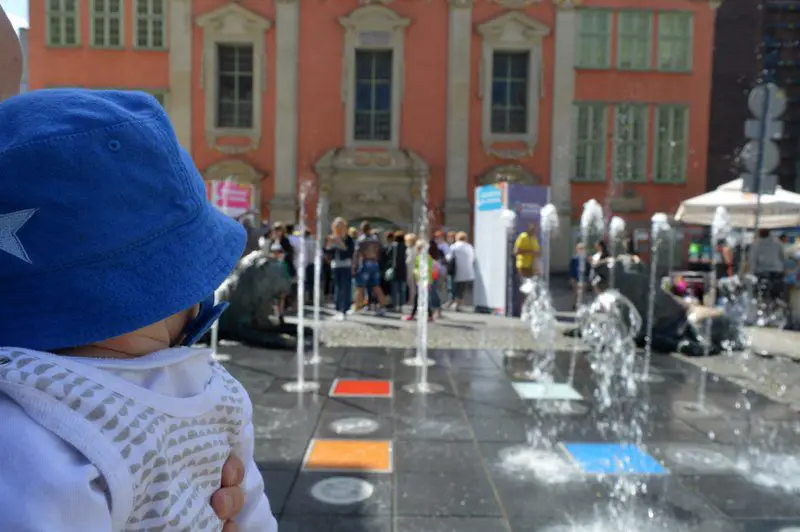 M was in awe every single time we passed a fountain, spring, stream, or river. He pointed at them and did not want to leave. Ever. Karol spent tens of minutes watching the drops and flows.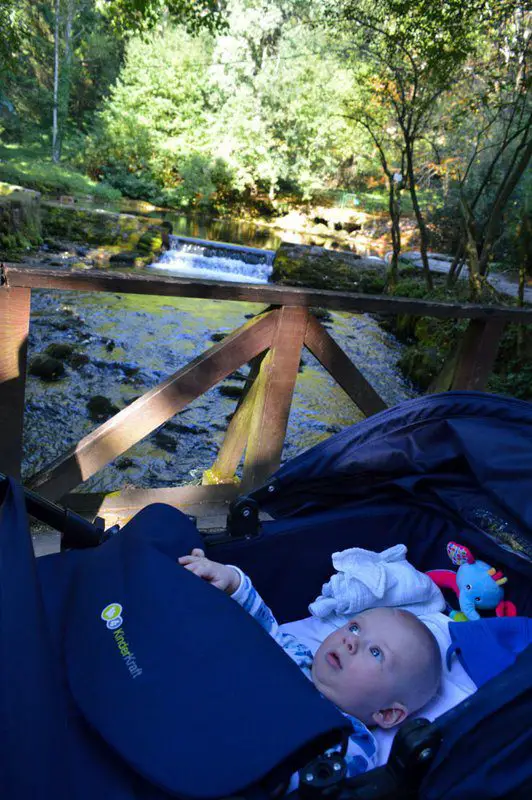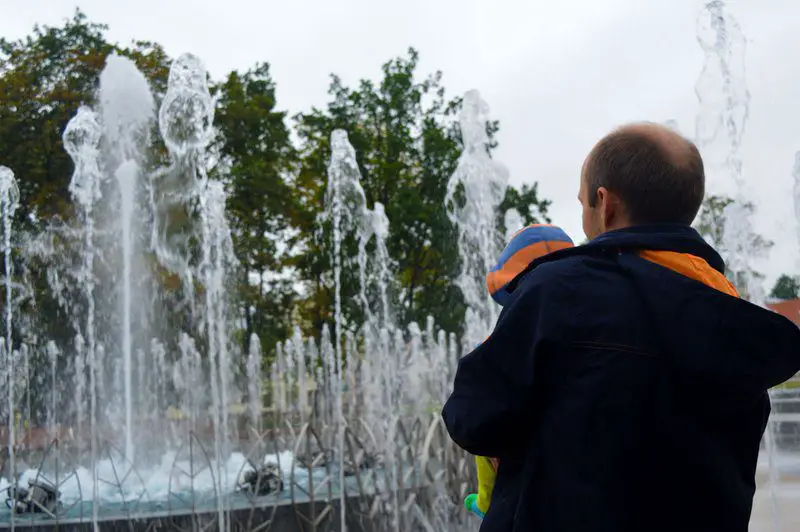 7. If you fancy, travel by a motorhome or a caravan.
Seriously. It was a game-changer for us. First time in New Zealand we rented a small campervan with our then one-year-old, and it was the most relaxing holiday I've ever had! NZ with kids anyway is an amazing country to visit, and the campervan gave us the freedom to do it at our own pace, and we could see the best places in the country during our one month vacation.
After this adventure, we were totally into this concept and purchased our own vehicle back in Europe. Since then we went on a road trip across Finland and an amazing trip to Norway as well. And that's just the beginning.
Find the ways that work for you and your family, and you the vacations won't be a hassle even with small kids 🙂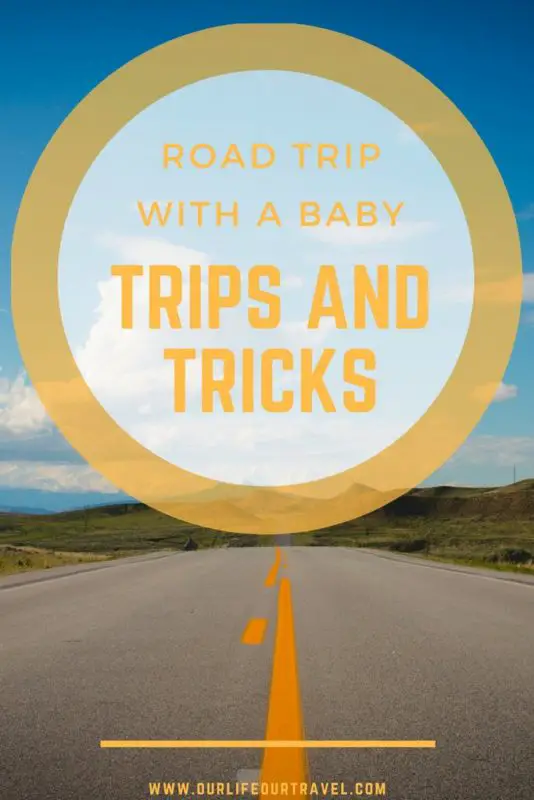 What else would you add to the list?