If you have never in your wildest dreams imagined you will be so close to a grizzly bear, imagine again. Anchorage! It happens ALL the time! The most pristine nature in the world is inhabited by the wildest but the world's most beautiful animals. It feels like time has stopped for everyone else in Alaska's largest city, but for wildlife. 
There are 52 species of mammals in Anchorage and 230 bird species, which is half of the bird species recorded in the entire state. Anchorage residents learn to live with the increasing population of some wild animals, but there have been and will be many wildlife conflicts.
Before you go crazy searching for bears and moose downtown Anchorage, keep your things safe with an Anchorage luggage storage service.
Once you have done that, pack your bag with some snacks and water, a bear spray too, and prepare yourself for an adventure of a lifetime. There is no way you are going to miss these wonderful wildlife encounters in Anchorage, so let's get the ball rolling, shall we?  
Grizzly Bears: Common Encounters In Anchorage
Anchorage is home to 250-350 black bears and as many as 65 brown or grizzly bears. Many of these bears can be seen close to Anchorage as they are attracted mainly by pet food, birdseed, and even garbage. It's very common to see a bear chase moose around, which is just another normal day for Anchorage residents. 
Grizzly bears are likely to avoid the human environment, but there have been reports about 5 or 6 bears walking around a residential area in Anchorage in summer. Walking the streets of Anchorage, the chances are you will bump into a black bear or a grizzly bear. As long as you follow bear-aware practices, you have an amazing story to tell back home. Although all our bear encounters happened in Canada while hiking the gorgeous mountains near Vancouver, we can confirm these practices are useful, so prepare a bit ahead.
Grizzly and black bears can also be seen at the Alaska Wildlife Conservation Center in Portage, where you can get an up-close personal experience and learn a lot about them. Other popular spots for bear viewing are Lake Clark and Katmai national park, where bears can often be seen fishing for salmon. The best way to get to these famous bear viewing locations is with an experienced guide and professional tour operators. 
Wolves In Denali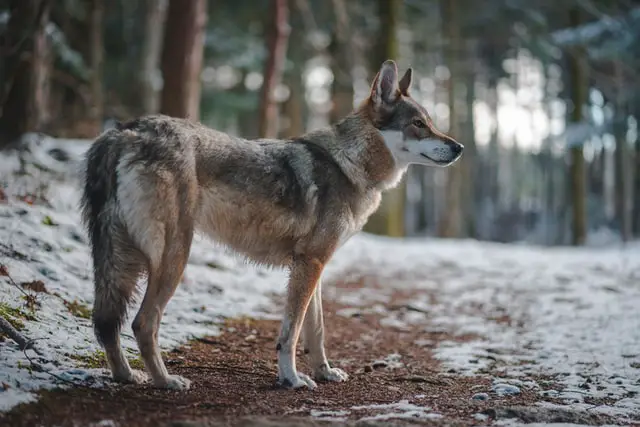 Photo by Tahoe on Unsplash
Seeing wolves in the wild is a dream come true, and if you really want to get a close-up experience with a wolf, Denali is one of the best places in the world to see one or a pack.
There are approximately 60 to 100 gray wolves in Denali National Park, and seeing one, or a pack, moving through the forest is a thrilling experience to be sure. However, you should never put yourself at risk trying to get too close, especially if you have no experience in the wild or with wolves. 
Moose Downtown Anchorage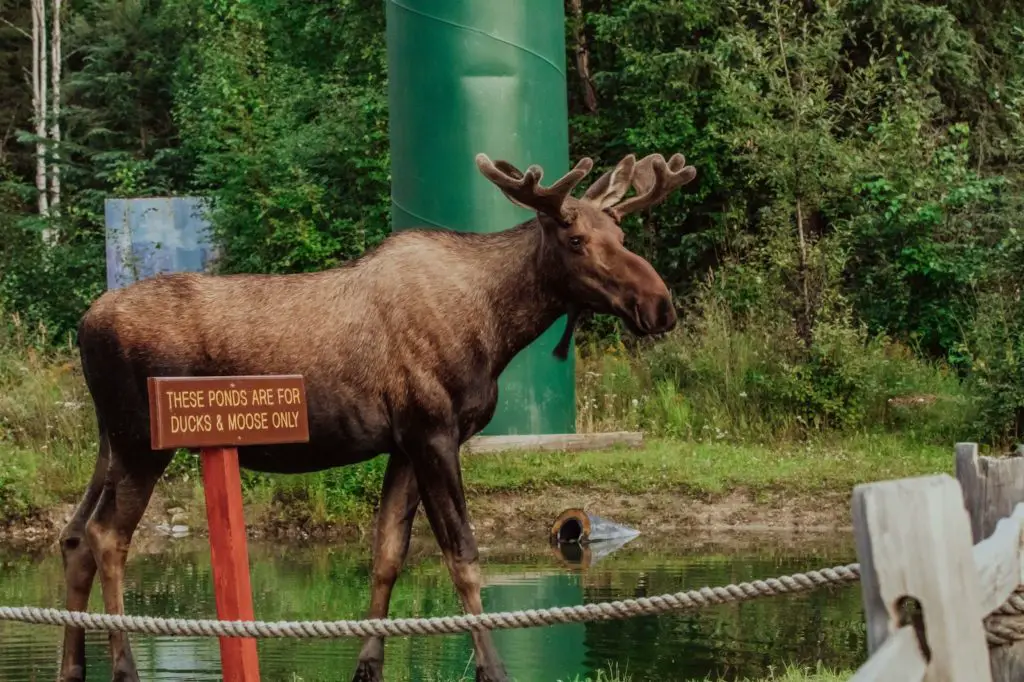 Photo by Danika Perkinson on Unsplash
With 1,500 moose in Anchorage, it's not surprising that the town mascot is a moose named Seymour. If you are looking for some Moose action, Anchorage is the right place to be. You will likely see a moose even in the first hour of your visit. Why? Because these guys can be seen strolling downtown Anchorage, through parks and even the resident's backyard gardens. If you are on a sightseeing tour, keep an eye as they can be seen mostly morning and evening.  
Other locations for spotting moose are Kincaid Park, Potter Marsh, and the Chugach Mountains. Moose are present year-round, but the best time to visit Anchorage is during summer if you don't want to miss an encounter with one. If you are traveling other months, guaranteed moose views are at the Alaska Zoo and the Alaska Wildlife Conservation Center in Portage, where you can get up close and feed a moose.
A safety note: Walking in the wilderness, you have to take some caution as in Alaska, even walking in your back yard is the wilderness. So if you come across moose, keep a safe distance as they can become aggressive. Especially when protecting their young ones or their territory. 
Lynx In The Anchorage Bowl
Photo by Zdeněk Macháček on Unsplash
Lynx in Anchorage are not uncommon. Their population has been increasing over the years as the population of snowshoe hare rises. So if you see a snowshoe hare, be alert as a lynx may be coming after it. If you come across lynx, you should consider yourself lucky as they are very secretive animals. 
Their bodies are naturally camouflaged, and they can move very fast and will normally disappear if they detect humans. Though there haven't been any reports about lynx being aggressive towards people, they are still wild animals, and you need to be cautious if you encounter one. 
These curious cats are likely to just stare at you for a long time and then wander off. Lynx are not easily scared because, over time, they have gotten used to seeing people. After all, people live in their natural habitat.
They can be seen mainly in the Anchorage Bowl in Chugach State Park, but they have been spotted in Anchorage's Airport Heights neighborhood and some were even spotted walking the Chester Creek Trail.
Orca Whales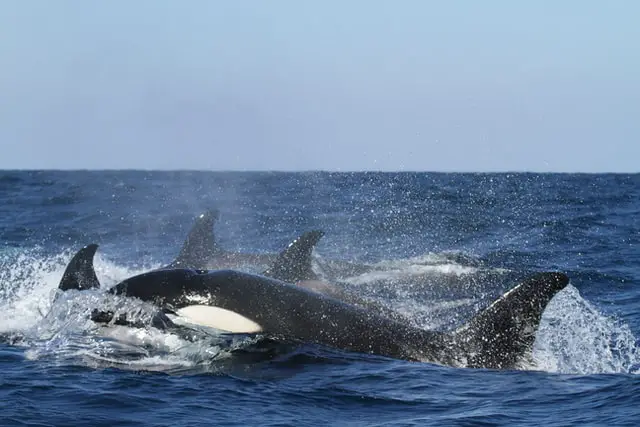 Photo by NOAA on Unsplash
Whale watching is a common tourist attraction in Anchorage. A day cruise like that may combine whale watching, the glaciers, puffins, otters, sea lions, and everything that shows up along the way. 
Seeing a whale from close up is an experience of a lifetime, but you have to really like whales, or have no fear, to go swimming where the whales are, especially the killer whales. Among humpback, grey, and beluga whales, orcas are something special, and seeing one on a tour will take your breath away.
Orcas can be seen in coastal Alaskan waters, including outside Seward, near Kodiak, in Whittier's Prince William Sound, in Glacier Bay, Icy Strait, and Alaska's Inside Passage. 
With so many wild animals in Anchorage, we are pretty sure you will have the luck to meet some. If for some reason you don't encounter these animals in the wild, you can always check the Alaska Zoo and the Alaska Wildlife Conservation Center in Portage.  
Cover Image: Photo by Joseph Stalin on Unsplash
Travel Resources
There is nothing better than a relaxed holiday. To ensure your rest, make sure you reserve and book your accommodation and transportation in advance of your trip.