Are you looking for a perfect winter holiday destination? Need an inspiration for Christmas break? Do you want to wander around in a fairy-tale like scenery? Are you dreaming of deep and white snow-covered landscape and have an active holiday at the same time? We recommend you book your trip to Rovaniemi, Finland. The winter is, without doubt, our favorite time of the year in the city. It gives the possibility to try ice fishing, snowmobile driving, riding by a reindeer or husky sled, hunting for northern lights, and last but not least, you can meet with Santa too!

How to get to Rovaniemi

By plane
Traveling to Finland can be challenging, but besides Helsinki, Rovaniemi is another easily approachable destination. It has an international airport with direct flights from several European capitals, including London. There are direct local flights from Helsinki too, in case you are planning to visit the Finnish capital city as well. Finnair and Norwegian (as of 2017) have internal flights.
By bus or train
Besides flights, Rovaniemi has train and bus connection to Helsinki (and other cities). It can be reached from Stockholm too. I love traveling by train there, although it is an about 12 hours long train ride, if you book a compartment for the night, you will have a pleasant ride and you will even save on accommodation in the city. Sleeping on Finnish trains are rather comfortable even in the normal seats as they are wide and can be declined a bit. You don't need to worry about your belonging too much, the whole country is even safer compared to most of Europe (of course, don't leave your wallet or phone on the table), but you can leave your ticket on it for a conductor to inspect while you're asleep

For more budget option, you can travel by bus. But be aware, it may take 20 hours including a change in Oulu, sometimes in the middle of the night. Both buses and trains usually have a decent wi-fi connection and clean toilet aboard.
Getting into the city
Rovaniemi airport is about 10 km from the downtown. You can take a city bus (in the direction to keskusta), a shuttle bus to any address in Rovaniemi, or call a taxi. The bus and train stations are on the side of the downtown. From there, you can walk or use city buses or taxi if you need.
Considering the prices, the bus is definitely a budget option (if you travel alone), the tickets are around 3-4 €. A taxi ride in the city is around 20 €, from the airport, it can be nearly double.
Bus lines (you can check routes on Google Maps)
Line 8 to the ARCTIC CIRCLE (Napapiiri), SANTAPARK AND THE AIRPORT (Lentoasema)
Lines 2, 4, 10 or 14 to the LAPLAND UNIVERSITY (Lapin Yliopisto) and UNIVERSITY OF APPLIED SCIENCES (Rovaniemen ammattikorkeakoulu) LAPIN AMK
Line 8  to the RAILWAY STATION (Rautatieasema)
Lines 3, 5,6 or 12 to the CENTRAL HOSPITAL (Lapin keskussaairala, LKS)
Line 1A  to the OUNASVAARA DOWNHILL SKIING CENTER (Hiihtokeskus)
Where to stay in Rovaniemi
The city has a wide variety of accommodation for all budgets and needs. There are several 4-star hotels for the more luxurious stays. The Cumulus Pohjanhovi Hotel near the River Kemijoki is one of the 4-star ones. It is in the center of Rovaniemi so you will find everything in a short walking distance. Check it out and book now! Another popular choice is the 3-star Lapland Hotel Sky Ounasvaara Hotel has a great view over the city from Ounasvaara, and on clear nights you can observe auroras just right above you. Click here to check the availability!

Personally, we have stayed only at Hotel Aakenus as tourists before we moved to the city. It is a middle category hotel at the center, common sauna turn included in the price. You can also find cheaper dorm rooms if you are planning a budget stay.
Airbnb is also an option in the city and its surroundings. You can rent rooms and flats from the private market. We often rent our accommodation through the website during our trips, usually with free parking place and kitchen access (and wi-fi ofc), which helps a lot in budgeting. Click here to grab a discount on your first stay with Airbnb. If you want to stay at our place, you can find it here. Yes, we have something for you where you can enjoy a Finnish sauna, stay in a calm area of the city yet close to the center.
Book your stay now with special offers below
The best activities in Rovaniemi you must try
Lordi Square
Did you watch Eurovision in 2006? Yes, the Lordi's Square is named after the Finnish band. Lordi won the contest's final. It is right in the center of Rovaniemi. Besides renaming the former Sampo Square (named after the nearby shopping center), the band members are all honorary citizens of Rovaniemi.
Costs: free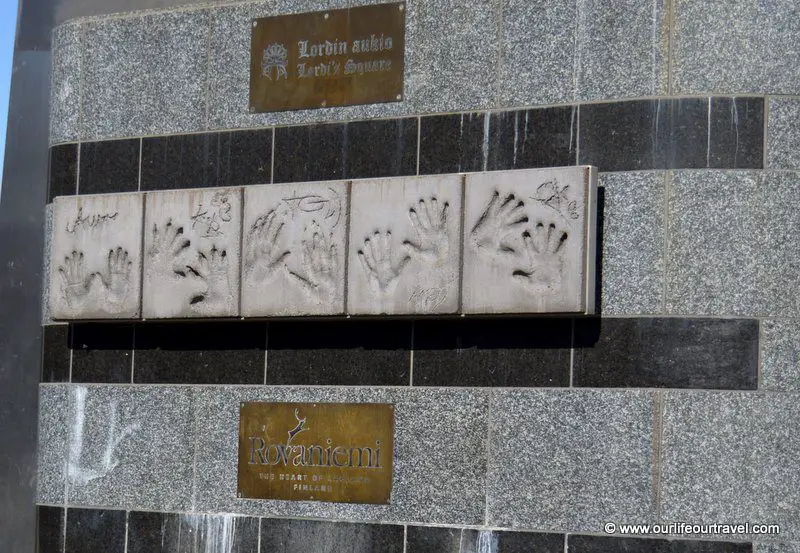 Visit the Arktikum

The Artktikum is an excellent museum just right next to the Pilke science center. The museum is a superb choice for every age visitors, located at the edge of the center. Arktikum is a must visit place in Rovaniemi, especially for first-time visitors in Finland. You can learn the basics of the life around the Arctic Circle, about Lappish nature and people who lived up north for centuries.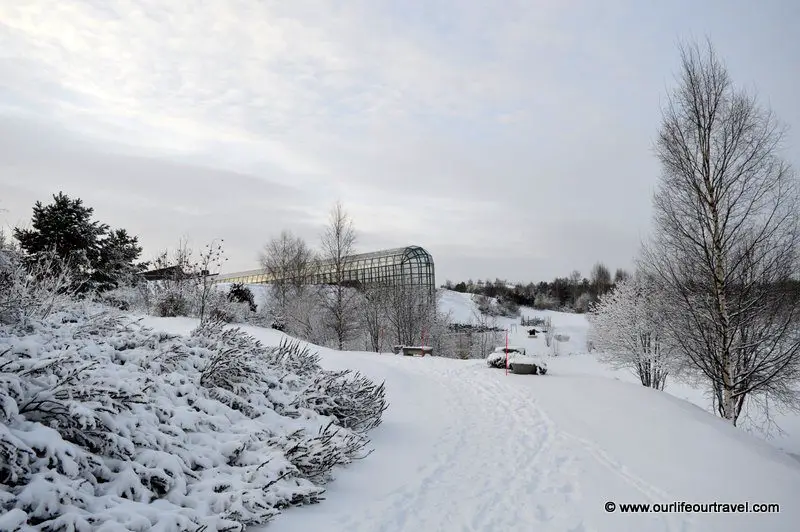 The displays contain detailed English descriptions. For kids, there is a separate, interactive exhibit, including an ice cave and artificial northern lights viewing spot. Besides the permanent exhibitions, there are temporary ones too.
If you are into museums, check out the Marttini knife factory and shops and Korundi Art Museum as well.
Admission fee to Arktikum: ~12€ (adult)
Admission fee to Korundi: ~ 8€ (adult)
Marttini shop in Rinteenkulma: free
Skiing at Ounasvaara
Ounasvaara is a hill in Rovaniemi, east from the center on the opposite side of the Kemi River (Kemijoki).
The hill has few (shorter and easier) downhill skiing slopes. If you are an absolute beginner, you may find them a bit scary. The hill has several cross-country skiing tracks as well. Most of them are suitable for more experienced skiers. If you are one of them, or not afraid of a hilly area, go ahead! Beginner cross-country skiing is possible on Kemi River when it is frozen. The official tracks are signed when the ice is thick enough to go across the river – usually from January until March.
Daily ski lift ticket: ~ 40€
Equipment rental:  ~ 40€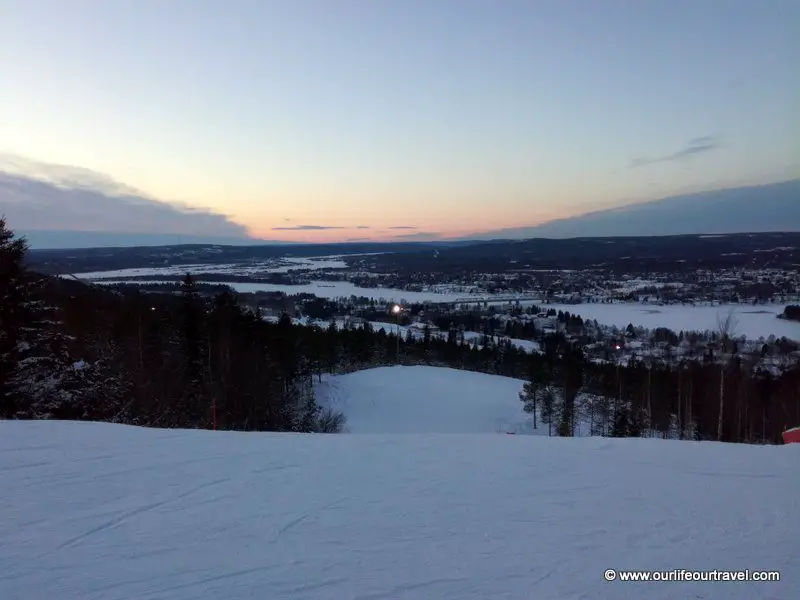 Snowmobile driving

Snowmobiles offer a convenient way to pass through the snowy landscape. Locals use them for approaching their cottages, ice fishing spots or just to have a bit of fun. As a tourist, you can try this special activity by renting a snowmobile from one of the several tour companies that offer the snowmobile safaris in and around Rovaniemi. We took an hour-long ride near Rovaniemi to explore the amazing scenery and frozen lakes.
Prices start around 100€ per trip.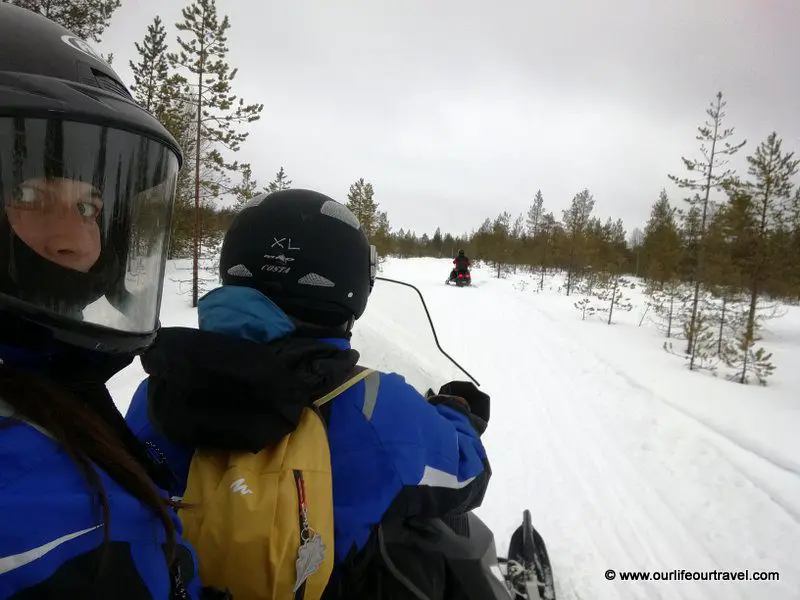 We really liked our driving, and we explored other parts of Lapland too. You can read more about our snowmobile adventure we had in Levi, about 170 km and 2 hours north of Rovaniemi.
Husky and reindeer safaris
Taking a husky safari or riding a reindeer sled is very popular winter activities in Lapland. In case of the husky safari, you will be seated (more like in laying position) in a sled, and the animals will be attached in front. The sled will have a driver, so don't worry, you don't need to control half a dozen cute animals. The sled will speed across the snowy forest, rivers or fells. Reindeer sled is slower as you will have only one animal in front. Personally, we were not a fan of this kind of tours, but I can imagine how important part of life and transportation the reindeer were before motorization in Lapland.
Costs: 50€+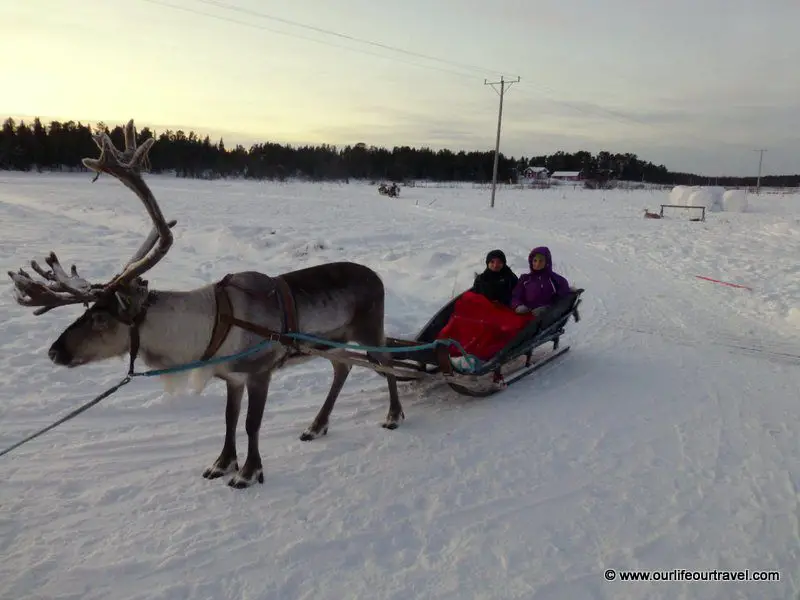 Ice fishing on a frozen lake
Another hobby, sport and winter activity that locals (or at least some of them) and foreigners enjoy. Have you ever thought about catching a fish through an ice hole? Here is your opportunity to do it! Ice fishing is quite different from the open water fishing.
Sometimes with friends, sometimes on our own, we also ice fish. We go to a frozen lake, drill a hole through the ice to reach the water and then set up our fishing spot and start fishing. Or more like start waiting. You only need two things: warm clothing (as you need to sit in one place for a while) and positive approach. Usually, 1-2 hours are enough to catch some fish, which we can prepare on a campfire or just take them to home for later use. The campfire on the lake is our favorite option to make the food.
If you are around and want to join to one of our trips, shoot us a message.

Costs: 70€+
The drill for making holes through the ice.
And the catch!
Visit an ice hotel

As a child, all of us like castles – and so do adults. In the Nordic countries, it became popular to build hotels and castles from snow and ice. In Finland, the two biggest ice castles are in Kemi and Lainio, but you can visit an ice hotel near Rovaniemi as well.
Accomodation cost: 100€+
At the Arctic SnowHotel you can enjoy a meal and drink, or if you fancy, you can even spend a night there, among the ice walls on the ice bed. Check out the latest prices here.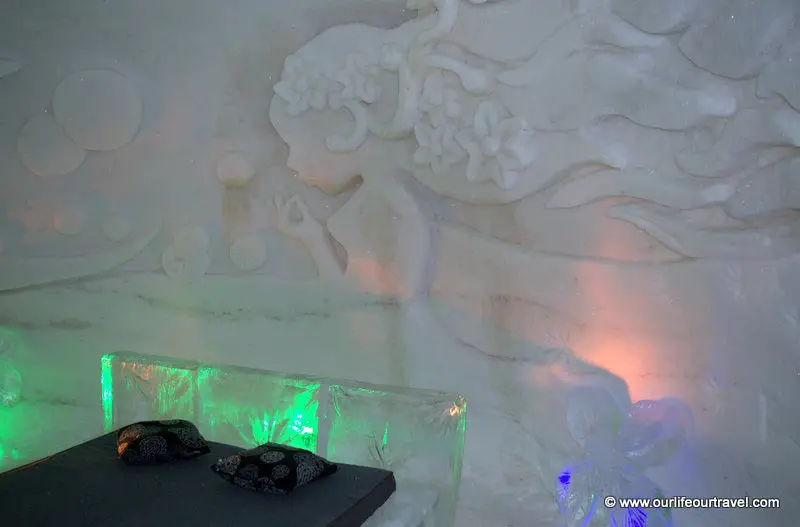 Watch a reindeer race
Reindeer racing is popular in Lapland. During the winter period, the traditional competition series, PoroCup (poro means reindeer) is held in different Lappish towns. One of the events is in Rovaniemi. The racing reindeer are semi-wild, so different than the ones who would pull the sled on the safari (those are totally domesticated). These ones aren't. The racing reindeer have no antlers to ensure the safety of the participants.

But how does it look like? The reindeer is in front, its racer is behind him on skis, attached by a leach. Usually, 4 of them compete at once. They move to their starting box, and when the start is signed, the reindeer start running while the skier navigates them from behind. In Rovaniemi, the reindeer run around a racing track, but for example, in Inari, the whole event takes part on the lake. Quite a spectacular sport.
Of course, it requires a good timing of your holidays, but I can assure you, you will like it. Alternatively, once a year, there is a 'street' reindeer race in the center of the city too.

Entrance fee: ~ 5-10€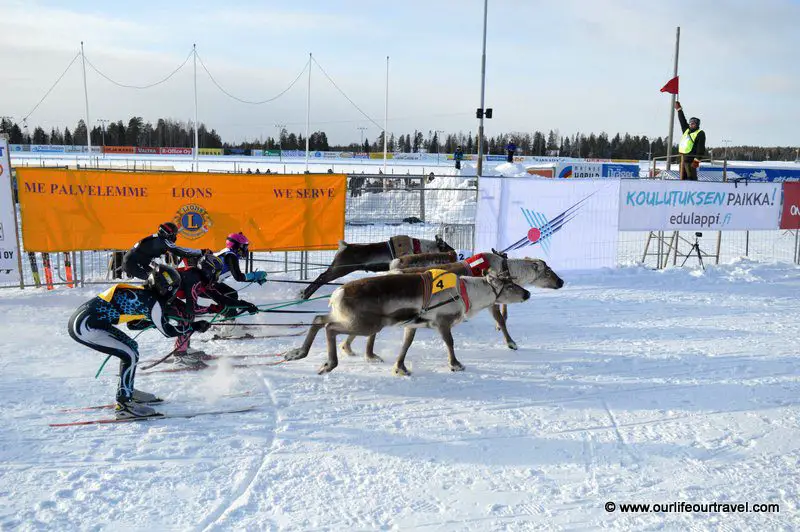 Hunt for aurora borealis

I bet one of your reasons for coming north is to see northern lights. It was on my bucket list!
There are 3 conditions for a successful aurora borealis hunt. The first, and the hardest one is to have a clear sky. During the winter it often snows and the thick snow clouds cover the whole sky. You can check the weather forecast for the city for 7-10 days ahead. It helps you to choose the possible dates.
The second important thing is to have northern lights activity. It is connected to the Sun's solar activity, so it can be well predicted. There are several forecast websites, for example, this one. You are lucky because in Rovaniemi you can often see them. Based on our first winter in the city, on average twice a week.
And here comes the third condition: a good spot, away from the street lights. There are numerous northern light hunting tours where they take you away from the city – those are the best locations. Or if you have an own car, you can drive away to one of the lakes around the city, or climb a hill (vaara). Some of the auroras are smaller, only visible from spots like those, while the bigger ones that are strong and sometimes cover even the entire sky can be seen from the city. You just need to look up. Unfortunately, these very strong and big ones are only a few times in a year, so most likely, you need to get out somewhere to increase your chances.
Ounasvaara is one of the best free spots to watch the northern light in Rovaniemi. You can walk up there from the center, or alternatively, take a bus to the direction of the hospital and then approach the hill from closer.

Cost: Tours' price starts at 100€
Looking up to the sky: free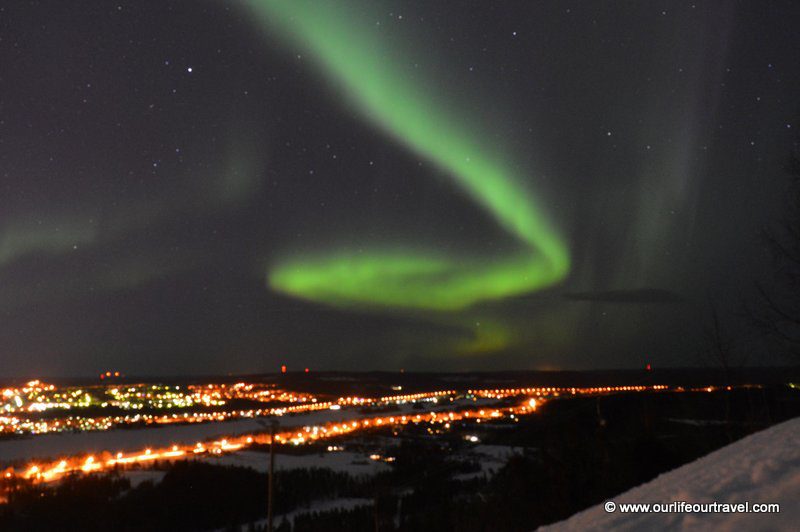 Ranua Arctic Zoo and Wildlife Park
A visit to Ranua is a must if you travel with kids, but adults can enjoy the activity as well. You will observe and learn about numerous arctic species, including reindeer, moose, owls and cute polar bears! The latest huge attraction of the zoo is the tiny polar bear cub (as of 2017). Even the naming was a public matter: you could vote and suggest different names to the little one.
Ranua is an hour drive from Rovaniemi (80 km). There are bus connections to the zoo too, so no need for a car.
Zoo entrance ticket: 10-20€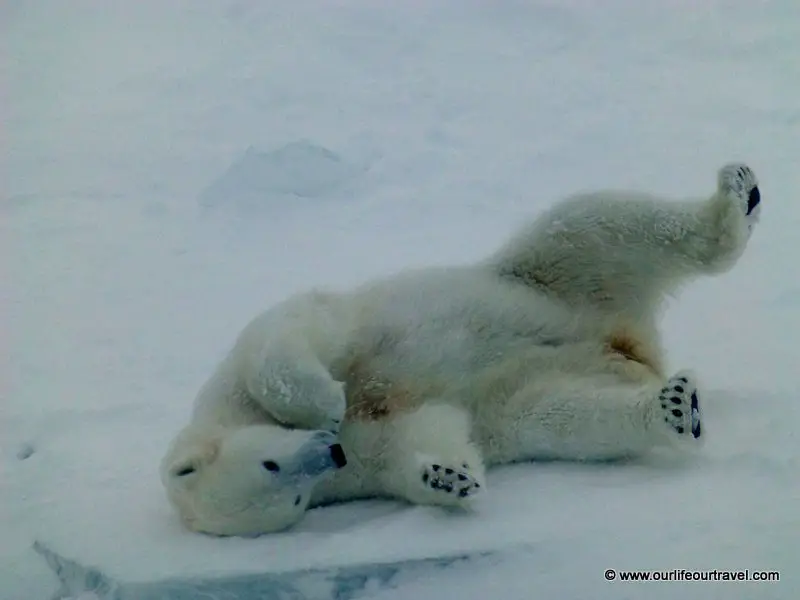 Visit Santa Claus for free
Don't leave the town without saying hi to Santa! If you travel with kids, probably this will be one of your first thing to do, but I'd recommend everyone to visit his home at the Santa Claus Village.
The village is full of Xmas themed shops and activities (for example snowmobile or reindeer tours, playground for kids, etc). He is there all year round (where else would he be during the summer? 😉 ), but the real Christmas feeling comes when the surrounding is covered with fluffy white snow. Meeting with Santa Claus is a FREE activity. You go into the building where his elves are greeting you. They will help and guide you through the cute wooden palace and finally let you into the Office.
Santa sits in his big chair and happily greats every child and adult. You can talk with him (depends on the length of the queue) or just take a picture, and then say goodbye. You cannot take a picture inside, but they will take more pictures with you, and even record on video your whole visit. And remember, your visit is broadcasted live on the internet, so send this address to your friends in time.
After exiting, you can check the photographs, and buy them in print or in electronic as a souvenir. Probably you won't leave without this great Christmas themed picture(s). There is a Santa themed shop as well, everything white and red and Xmasish, in case you would like to take some little present to your friends and family back home.
Costs: Free entrance to Santa.
Pictures: 10-50€



Send a Christmas postcard
The other cool place in the village is Santa's Post Office. The Post Office is just a minute walk away. Actually, everything is nearby to everything in the Santa Claus Village. You will find plenty of winter and Christmas themed postcards, but other unique was can be discovered as well. Our favorite was Santa picking blueberries in summer! It will be hard to choose. You will get a special stamp (if you want to buy stamps too), and then you can post your cards. There will be two post boxes: one, a normal mailbox where you put in your letter and it will be posted the same day. The second box is the special one. The postcards will be delivered for the upcoming Christmas. Isn't it a super idea?

Costs: ~5€
If you sign up until 30 November 2017, you can even win a postcard from Santa!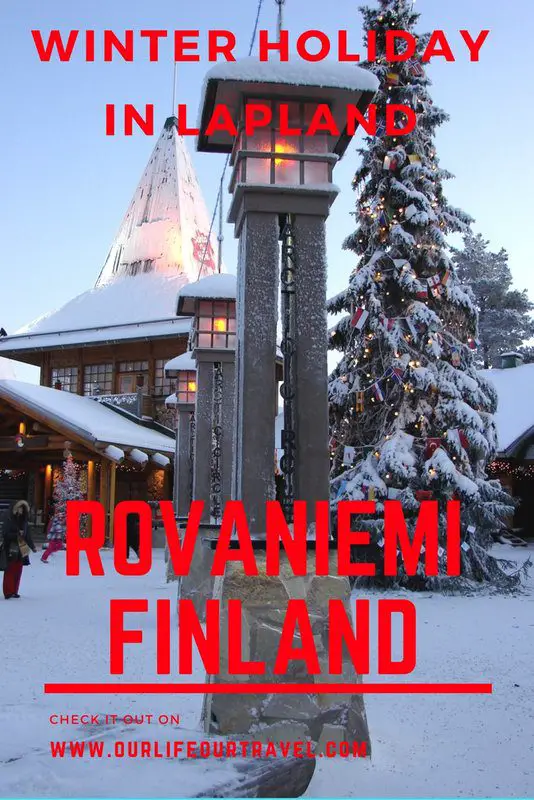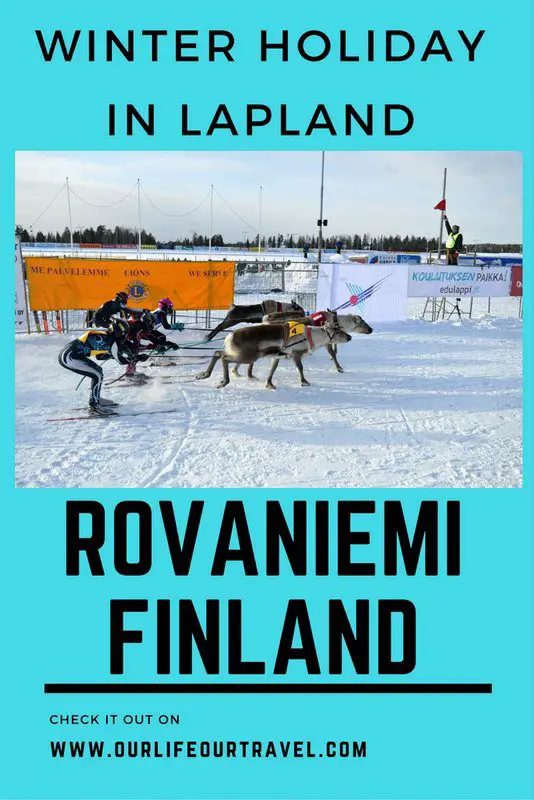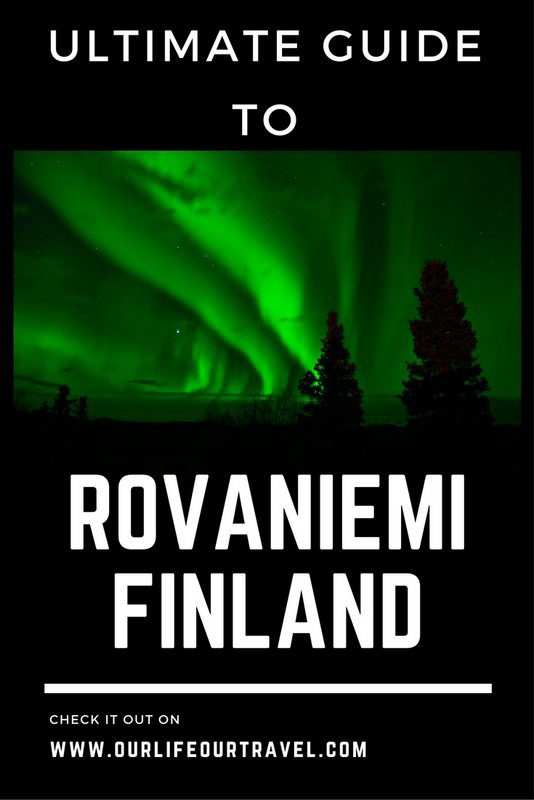 Disclosure: This post contains affiliate links.