Why Belém?
Where to go from Tabatinga? We had the flight to Europe from São Paulo coming closer and closer so we needed to get back south, but we thought it would be nice to see something on the way still. We decided it would be nice to see Amazon also in delta near Belém. We also had some more ideas about places to visit, but more about them in other posts. We decided to take a flight with a change in Manaus because boat cruise downstream would take another week. The boat would anyway go in the middle of Amazon river, not as close to the shores as upstream, so we would have smaller chances to see anything as the river gets wider and wider reaching over 10 km of width. Besides, we felt that living for 7 days on the boat was enough for a while.
Belém wasn't on the top of our list, but it was quite reasonable, i.e. cheap, to fly there, and if we are there, we can look around a bit.
And everything (bad) comes at once
I often get sick on vehicles (mostly minibuses, buses and cars), so when I started to feel sick on the plane, we thought it is just the usual problem. But it wasn't. I spare you from the details, but I spent the time at the airports/planes by visiting toilets and having stomach problems. After the whole night suffering, we finally arrived in Belém and we decided to take a nap before going to the hostel we booked as it was very early morning and check-in was from 14. After sleeping, Karol started to feel bad too, while I felt that I had a bit of fever. We woke up when the airport started to be lively and people were walking around, but it was still not even close until the check-in time. We decided to wait at the airport as we felt very bad and we needed to go to the toilet often. We even thought to take a taxi, but finally, we decided that it's not worth it as there is a direct bus from the airport to the neighborhood our hotel was in.
When we found the street with our hotel it was completely empty. No traffic and no pedestrians. It was hot in the sun and there was no shade on this street to hide in. When we found a hotel it was completely closed. All the doors were locked and entrance gates were barred. We tried to ring the doorbell and knock the door, but no reply. We were already thinking what will be our backup plan. But after 5 minutes that felt like an eternity, we heard some faint, distant noise coming from the building. And then suddenly the gates opened. The receptionist seemed surprised to see us, but of course, he didn't speak English, so we didn't know yet why.
And that was the second issue. We mixed up the dates and booked a place for the previous night, but luckily there was still available room in the hotel. Of course, that was not the end of our bad luck. As we mixed up the dates, we didn't realize earlier that it is Sunday, so basically, everything, meaning shops, was closed and we had no food and water left except for 2 small bottles of water we had from the hotel. Unfortunately, that wasn't enough for us who barely drunk anything and each toilet visit meant that we were losing water. We didn't worry about food because we anyway couldn't really eat anything.
We decided to go to the city center which was very close and try to find some open place. It wasn't an easy task. After half an hour of walking, we finally noticed an open fast food place. And they had soft drinks there. We bought one drink that we drunk right on the spot and then we realized that they are about to close, so we immediately bought two more big cups to take with us. We were saved for a while.
Sharing a toilet (actually two) with the other guests was a bit problematic, so next morning we changed to a place with private bathroom and also air conditioning because we wanted to avoid mosquitoes. The place we booked earlier was full of them as there was no air-conditioning, only a fan. The windows were open and without any mosquito nets in them which surprisingly is a standard in Brazil, even in places full of mosquitoes that potentially carry malaria and other things.
Marajó Island
We had the next confirmed place and time we wanted to be a week from Tabatinga, soon we were running out of time, so we decided to give up on the Marajó Island. It is over 40 000 km2 and with this size the biggest sweet water island in the world. The part of the island which is close to Belém is a very touristy spot anyway. Beaches and so. We were planning to go there by local ferry, but that would take too much time. And we can go to the beach in other places.
Surroundings of Belém
As we were stuck in the accommodation for few days, I made a list of other places I would have wanted to visit if we were fine.
It would also worth to take a look on the Tucuruí Dam, which is about 300 km southwest of the city on the Tocantins River and provides electricity to it.
For more beaches (which is not my favorite thing but you may consider if you are around) you can visit the Atlantic coast, about 100 km and easy to go there by bus. Salinopolis. Atalaia and Farol Velho are some of the most popular cities there.
Walking around in Belém center
Belém is another settlement which greatly benefits from the Rubber Boom, and left many pretty colonial buildings as a proof of it, and it is still kind of important commercial city by exporting metals and different food products.
We had few quick walks around the city, unfortunately, we recovered very slowly. Actually, by the time we left Belém, I felt good, but Karol was few days behind me.
So this is how Belém center looks like if you can't be more than half an hour away from a toilet. And sorry, no food pictures this time. We lived on dry biscuits and other non-interesting stuff for a week. Even though we were sick we still managed to see everything we wanted to check in the center of the city. There is a nice park (officially zoo-botanical garden) where we saw monkeys, aras, turtles and some other animals from the close distance. The nice thing was that the animals weren't kept in cages. The whole garden felt like it wasn't in the heart of the big city next to one of the biggest streets.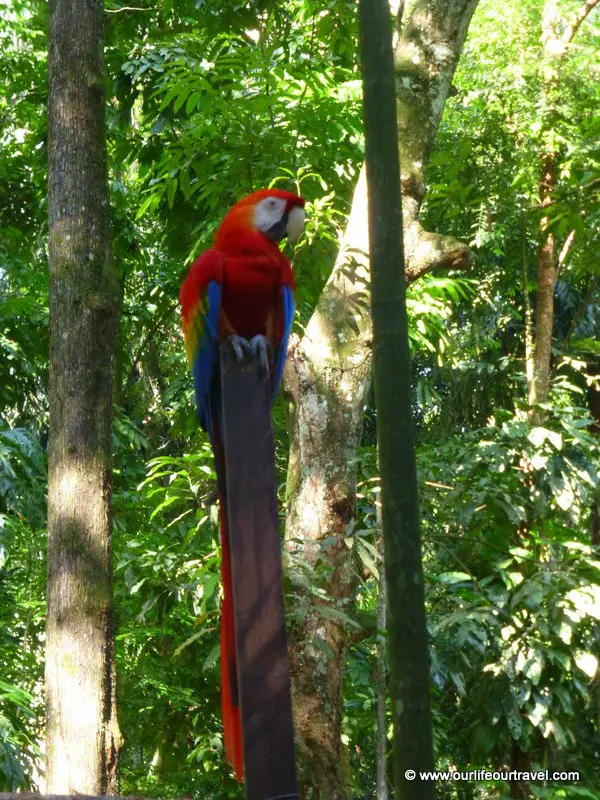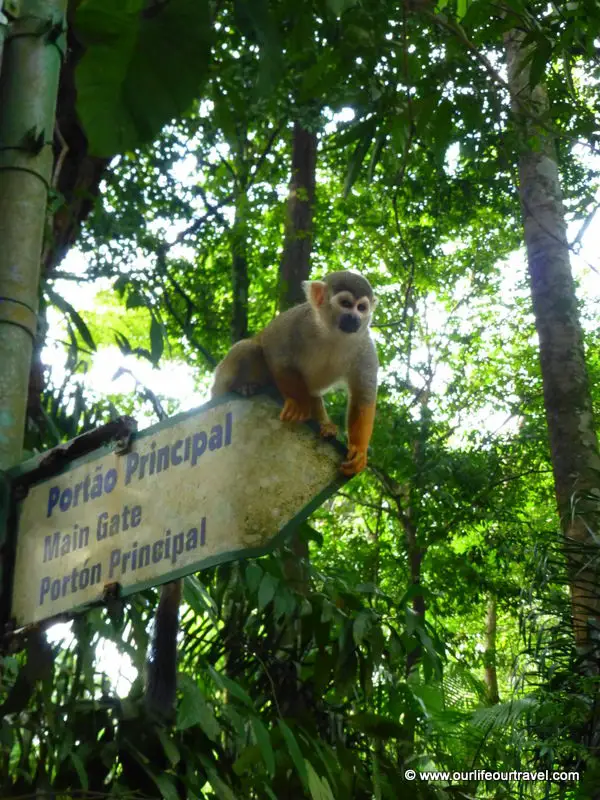 Night bus to São Luís
From Belém, we took a modern night bus to São Luís, the sand dunes in Atins. And we will see there the Atlantic coast as well! We were still a bit afraid to eat normally, as we were not sure how long it stays, so we didn't eat anything for half a day to reduce risk.
In Brazil, separate companies have own kiosks and you have to go there and buy the ticket for the certain bus service. That is quite common in many places. But they also had different classes of tickets. Like on trains. We took the cheaper option. It was a very good choice as the ticket was much cheaper than first class, yet the bus seats could be lowered to an almost horizontal position so I had a nice night sleep. Also, the seats were wide and there was leg support. Plus there was not the only toilet, but free drinking water was available. Altogether way more comfortable than trains and buses in Europe! The bus ride was about 800 km long and took whole night, but when we woke up we were already in São Luís that Karol appreciated for a bus station with free toilet with toilet paper 🙂