Do you want to see the highlights of Lapland on a 10-day road trip? Do you fancy exciting and interesting winter sports such as cross country skiing or snowshoeing? Are the northern lights on your bucket list? And overnight in an ice igloo? Lapland offers all of these, and reindeer, huskies, and Santa Claus too! Using our local expertise, we planned a dream Lapland holiday for you in 10 days Lapland. All you need is a car and start driving!
Check out this Lapland – Finland itinerary for the perfect winter vacation if you want to explore southern Finland, such as Helsinki, too! PS. At the bottom, we also suggest how you can do this Lapland itinerary in 7 days only.
This post may contain affiliate links.
Day 1. Arrival to Helsinki
Most likely, your flight arrives in Helsinki, and as the capital of Finland, you don't want to miss it anyway. The airport train takes you directly to the city in half an hour, or crash one of the airport hotels. We like this with our toddler.
To be honest, winter is the least favorable of the eight Finnish seasons in the southern seaside. It can be cold, windy, and wet, so be prepared and dress already warm. My first visit to Helsinki was on a freezing weekend in February 2011, and it was everything I mentioned above. If you don't have one yet, think about getting a proper winter jacket that keeps you warm during your trip.
Easy to explore Helsinki's sight by foot, the Senate Square, the Helsinki Cathedral, and the Church in the Rock (Temppeliaukio) do not miss attractions. Depending on the weather and mood, visit the Suomenlinna fortress, or enjoy your first sauna at your accommodation or in the city.
You can find guided Helsinki city tours here. If you prefer to plan your own itinerary, our post about Helsinki's best and unique places will definitely help you out.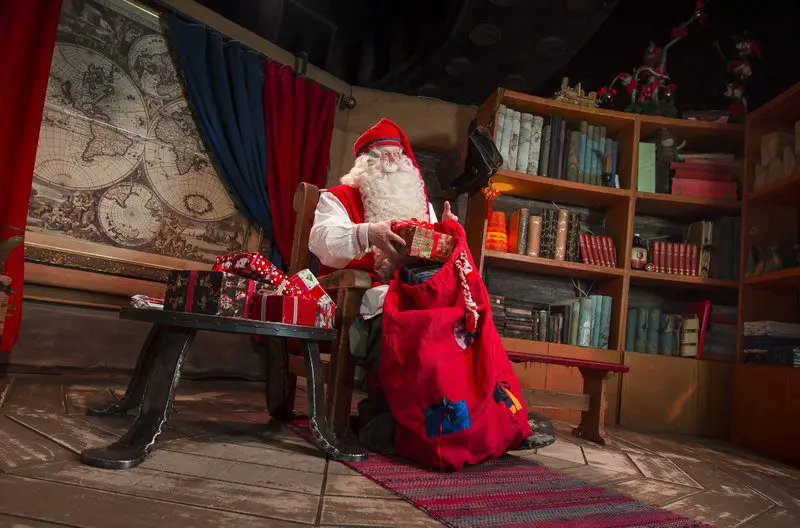 Rent a car
It's time to rent a car for your road trip! The most economical option is to rent already at the airport upon arrival, save on hefty taxi fees, and be flexible from the beginning. The next day you will need a car anyway!
Car rental options: SiXT
Travel Resources
There is nothing better than a relaxed holiday. To ensure your rest, make sure you reserve and book your accommodation and transportation in advance of your trip.
Driving in Lapland in winter
Driving in Finland in winter can be a totally new experience. Especially in Lapland, the snow covers the roads for several months, and you need to make sure you know how to drive in winter conditions before you rent a car. It is handy when it comes to northern lights too.
The speed limits in winter are lower (80 km/h), and the roads are regularly plowed, but the conditions are always ideal. Most locals have studs on their winter tires, and most rental cars have them too. They provide a better grip, especially on slippery icy surfaces.
In case you see cars flashing their headlight at you, it means that animals are on the road (or very close to it), so make sure you safely reduce your speed until you see them. Reindeer are smaller and less dangerous, but moose are huge deers that you definitely don't want to crash with.
2. Day: Rovaniemi and the Arctic Circle
On the next day, take a flight to Rovaniemi, Lapland, in the morning. This is our beloved (current) hometown. Please read our full Rovaniemi guide too! It is possible to see the city's highlights on a 3 day trip to Lapland as well but recommended to spend a couple of days more in the area. If you are on a one-day trip to Lapland, Santa Claus and the Arktikum are musts!
Meet with Santa Claus (free)
Every kid's dream of meeting with Santa, and you are lucky. Santa lives near the Arctic Circle in the Santa Claus Village (quite obvious, isn't it?) in Rovaniemi. Take bus number 8 from the center, and prepare for the holiday mood. He is there the whole year-round so that you can have a free visit every day of the year, but the snowy season is the most special time for this attraction. We recommend visiting the Village when it is already dark to enjoy the experience fully. And it is not that difficult as in December the sunset is before 14 🙂
Other popular activities in the Santa Claus Village involve reindeer and huskies sled rides. Depending on your budget and willingness, you can take a shorter or longer ride with them. When there is no snow, you can travel in a wheeled cart. You can find out more about reindeer and husky visits here.
Time: 3-8 hours
Explore Rovaniemi Center
If you still have energy, you should have a walk around Lordi's square, check the Lumberjack's bridge and walk along the river.
Time: 1 hour
Northern Lights Hunt in the Evening
You'll find many northern lights tours organized by local businesses. Check out some here! If you want to opt for a tour with us, take a look here or read our Lapland Northern Lights Guide.
Time: 3-4 hours
Where to eat: Nili Restaurant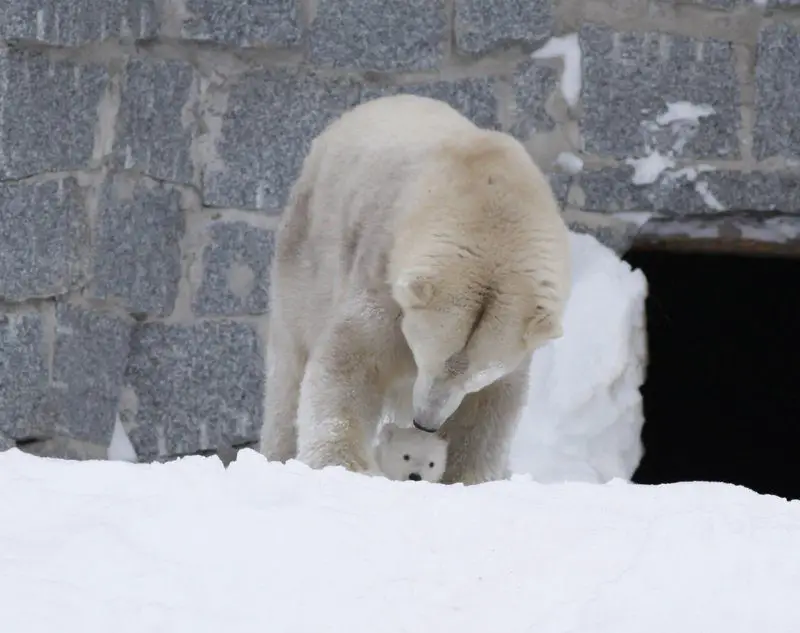 3. Day: Get to Know the Nature and Culture of Lapland
Meet with Arctic Animals at Ranua Zoo
Ranua Zoo has located about 70 km from Rovaniemi. You can get there by car, bus or take a tour of Wildlife Park.
You will spend 2-3 hours in the Zoo to spot moose, reindeer and polar bears, and other animals that live in the region.
Whole trip: 3-6 hours
Visit the Arktikum Museum
My favorite museum in Finland. You will learn about life in Lapland, animals, northern lights, and Sami culture too. There is a separate kids section for the younger generation that includes an ice cave. If you were not lucky to see real auroras, you could see the museum's northern lights show.
Time: 2-3 hours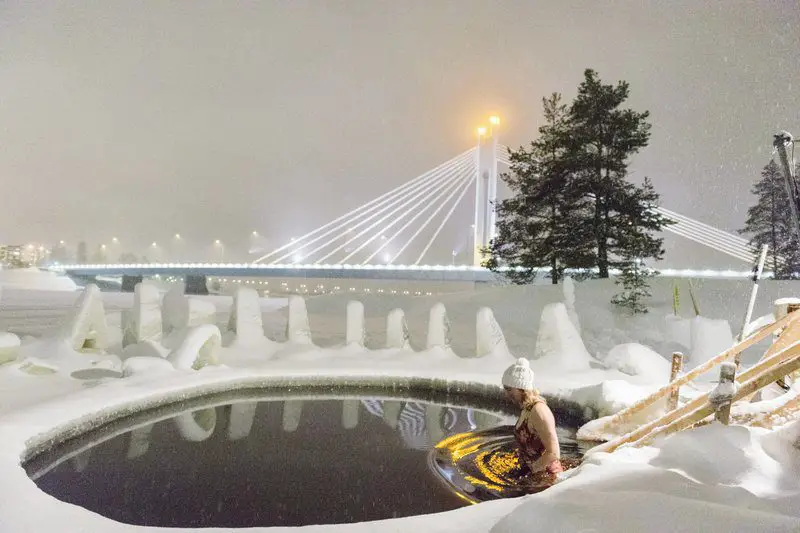 Ice Swimming on Wednesdays (optional)
Nothing is more refreshing than dipping into the freezing Kemijoki during the winter! Luckily, afterward (and before too), the sauna will warm you up. Ice swimming is a popular activity among Finns and a not to miss adventure for every visitor. I really liked my first try and every other visit. Make sure it is part of your Lapland itinerary in winter!
Time: 1-2 hours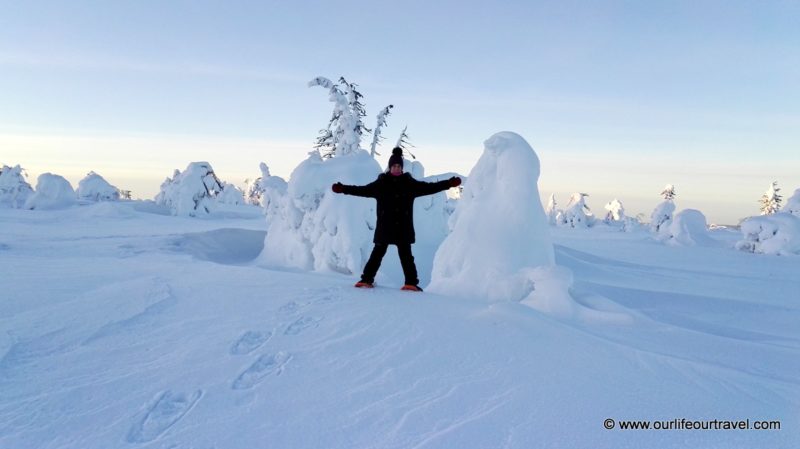 4. Amethyst Mine and Snowshoeing Day at Luosto National Park
Time to launch your Lapland road trip and start driving.
Drive: Rovaniemi-Luosto (1.5h) (2 hours by bus)
Snowshoeing to the top of Luosto Fell. If you haven't already, here, you really can feel yourself in a winter wonderland. The trees are covered with thick white snow, and you walk on the top of at least half a meter deep snow using the snowshoes.
And as you are already in the national park, make sure to visit the amethyst mine as well, where you will be able to excavate your own amethyst. Excursions are available from Rovaniemi too. Check availability.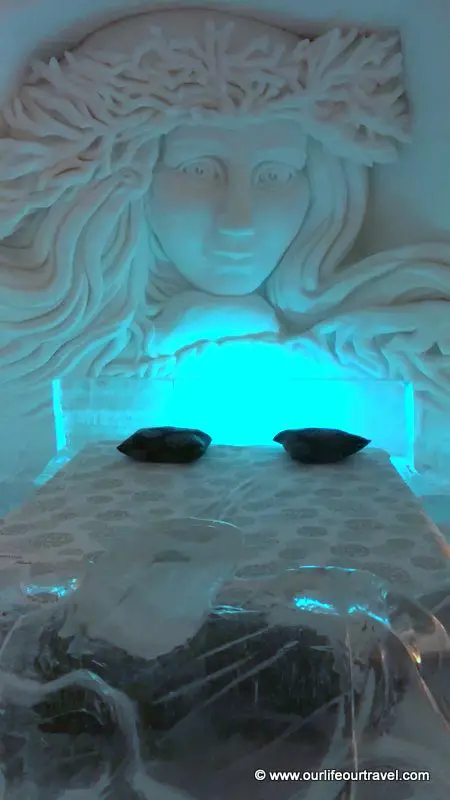 5. Lainio Snow Hotel and Bar
Drive from Luosto to Kittilä direction and visit the Lainio Snow Hotel on the way. Every year the hotel looks different (in 2017-2018, it had the Game of Thrones decorations, for example), but always gorgeous. One of our favorite places, we always bring our friends here on their Finland winter tour. Maybe we are biased, though, as it was our wedding venue too 🙂 Remember to have a drink at the ice bar!
Budget accommodation: Drive to Levi
Luxury Stay & Lifetime experience: Lainio Village Snow Hotel – check availability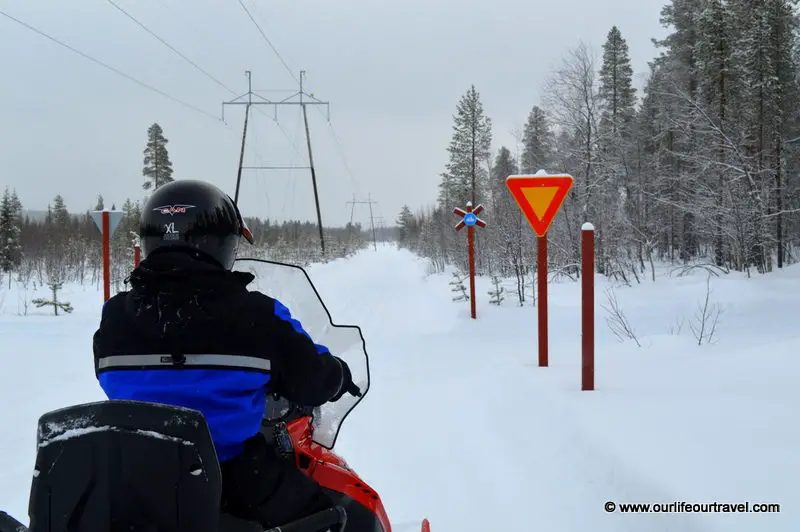 6. Day: Bucket List Activities in Levi
You can drive straight from Rovaniemi to Levi if you prefer to spend more time in nature than driving.
Snowmobile Driving
I was excited about our first trip to Levi, where we finally drove a snowmobile for a whole day (!!!) and explored cool places like Valtavaara hill 🙂 Check out our photos of the snowmobile driving day here!
If it is your first time driving one, we highly recommend you to take a tour with an experienced guide. He will do all the navigation. You drive and enjoy the scenery. You can combine the tour with northern lights hunt, reindeer farm visit, ice fishing, and other cool activities!
Reindeer Farm Visit
Not a surprise, you can visit reindeer farms everywhere in Lapland. You can connect the activity with the snowmobile ride.
Northern Lights Hunt in the Evening
Guides are available throughout the winter season to find you the best spot for northern lights, or you can try your luck on your own. Remember to find a spot without light pollution.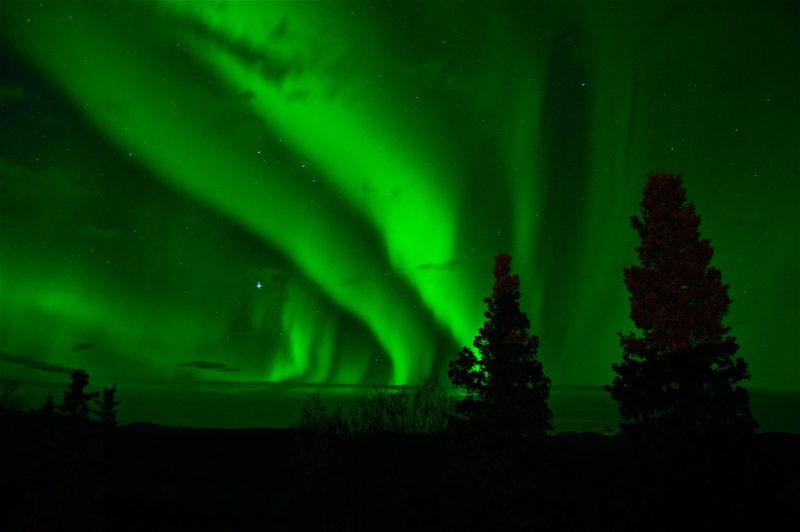 7. Day: Explore Levi More (& Drive to Pallas)
Downhill Skiing
Downhill skiing, snowmobile riding, and cross-country skiing are all possible. Spend your day outdoors!
Ice Fishing
Ice fishing is a unique activity that you should try during your trip. Would you like to catch a fish from under the thick layer of ice? That's how you do it!
Spa in Levi
After a cold day is always good to relax and warm up your limbs in the evening at the spa.
Stay one more night in Levi, or head to Pallas in the evening.
8. Day: Cross Country Skiing in Pallas-Yllästunturi National Park
Perfect place to explore the snow-covered fells and ski a bit. There is a downhill skiing resort too, but I'd recommend trying cross-country skiing as well.
If you don't feel comfortable on skis, you can rent snowshoes and climb to one of the fells or explore on foot around the hotel. This day is for the outdoors! Read more on the different trails and activity options.
Accommodation near Pallas: same as the previous night.
9. Day: Inari
After breakfast time to head to Inari to indulge in the Sami culture more. Siida, the National Museum of Finnish Sami, is the best place to spend the rest of your day.
In the evening, you can hunt for northern lights, enjoy the sauna once more. All other winter activities are available (snowmobile ride, reindeer farms, etc.) in Inari, so choose your favorite!
10. Day: Inari – Flight Home
Time to say goodbye to mesmerizing Lapland. Fly back to Helsinki.
Finland 1 Week Itinerary Winter
If you have time constraints, you can condense this Lapland itinerary in 7 days if you fly directly to Lapland and shorten your stay in Levi or Pallas-Yllastunturi National Park.
Lapland Itinerary with Kids
Lapland is a perfect destination for families with kids too. If you travel with younger children, spend more time in Rovaniemi. Guaranteed, they will love all the Christmas-themed activities and Santa Claus in the Santa Claus Village and Santa Park. Ensure you don't skip the Arctic Wildlife Park in Ranua and visit at least one of the National Parks. We suggest Pallas.
Finland Lapland Itinerary Winter Checklist from our Finland Travel Guide:
+ See the northern lights
+ Stand on top of a fell
+ Try Finnish sauna and ice swimming
+ Meet with reindeer
+ Shake hands with Santa Claus
+ Jump into the snow
Additional items for trips to Lapland Finland:
+ Watch a reindeer race
+ Drive a snowmobile
+ Try the smoke sauna
Pin for later!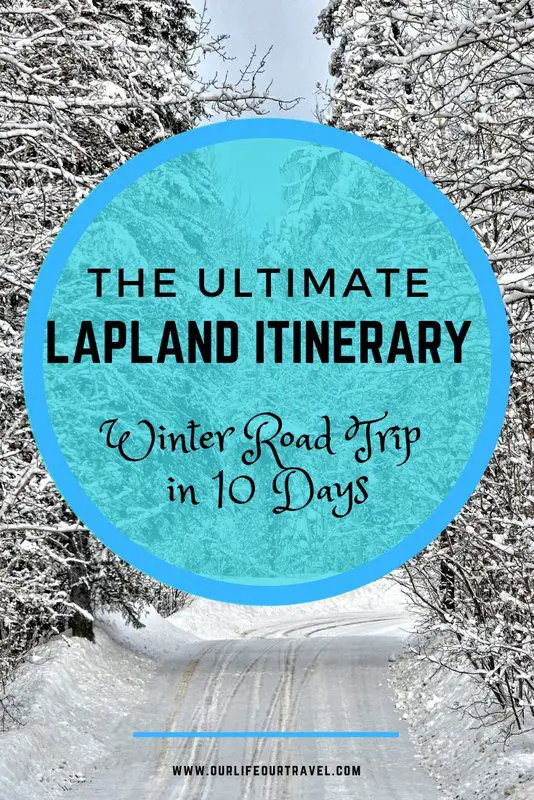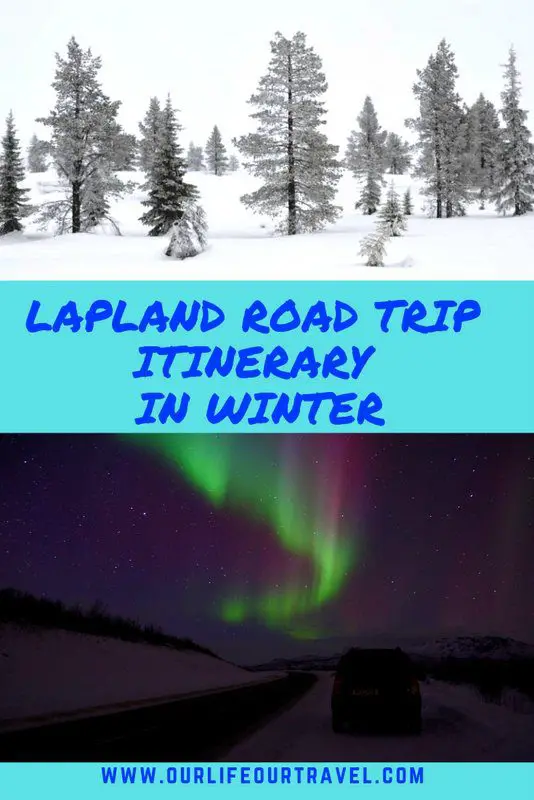 *marked photos are under the copyright of VisitRovaniemi, and thank you for letting us use them
Travel Resources
There is nothing better than a relaxed holiday. To ensure your rest, make sure you reserve and book your accommodation and transportation in advance of your trip.
About the Author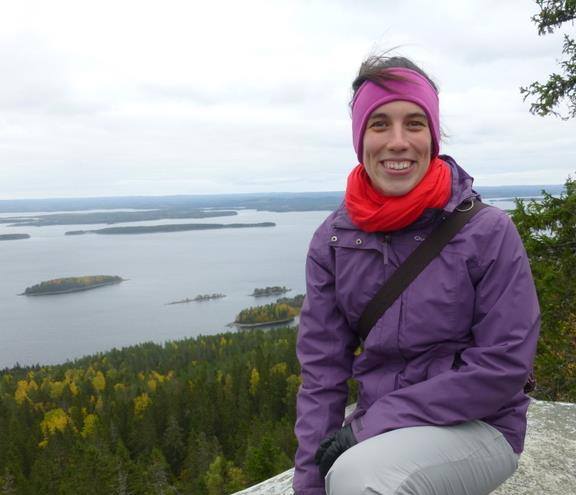 Katalin
Katalin is a Lapland-based outdoor enthusiast who loves hiking, road-tripping, and traveling with her family. She spends her free time far away from civilization in one of the national parks around the world, explores off-the-beaten-path places, or hops on a road trip with her kids in an RV.
Read more about her adventures and the blog.