Do you like winters? You should visit Finland and the Pallas-Yllästunturi National Park during the winter, let's say March, and we guarantee that you will love every day you spend there! It is the cross-country skiing and snowshoeing paradise of Lapland. Perfect place for a winter vacation in Finland. Check out the variety of activities and trip suggestions!
Why Pallas-Yllästunturi National Park?
Probably the second best national park in Finland (after the huge and remote Urho Kekkonen NP based on our opinion 😉 ) due to its size and variety of skiing trails. The park is divided into two main parts. In the north Pallastunturi and Ounastunturi, in the south Yllästunturi are the main centers of the park where you can access the most services. It is possible to approach the park from other locations e.g. Hetta, but you will have limited options and fewer activities to choose from. If you are up to a multi-day adventure, this park is for you! Either by snowshoes or skis, you can cross the park from north to south or opposite, spending up to a week or two without getting back into civilization. Okay, you may encounter other hikers, skiers or reindeer.
Check out how to get there by car or public transport the easiest way!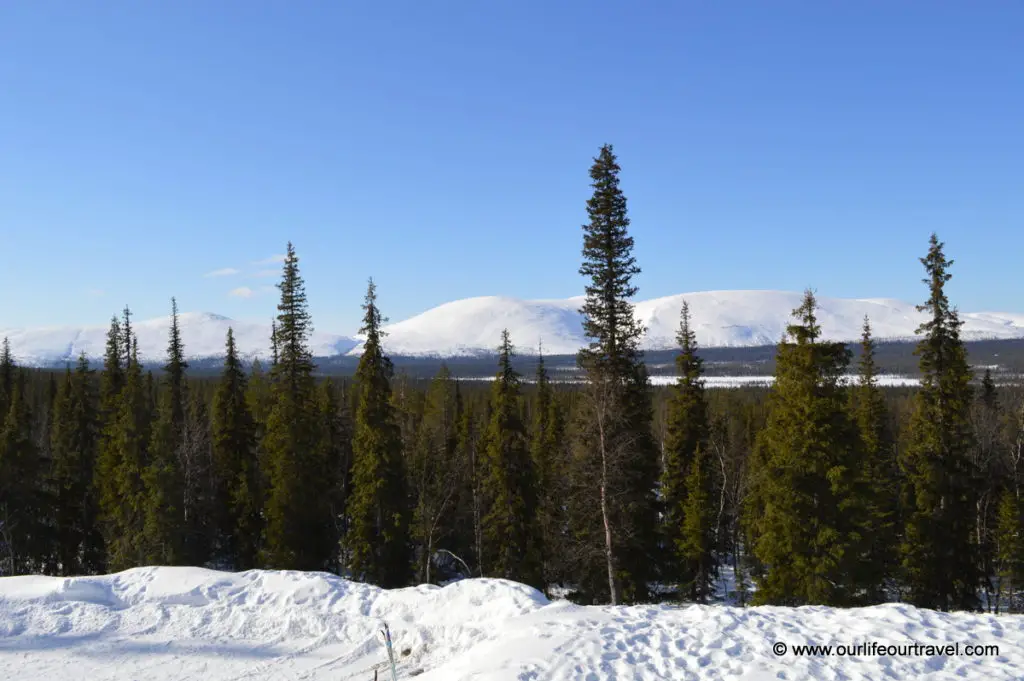 Cross-country skiing paradise
The length and variety of trails are great. You can find flat, easy trails, steeper ones, others that go up to the top of the fells… So everything that can fit your mood and the shape you are in! From a couple of hours skiing up to week(s) you can find new areas to go. We tried single and multi-day skiing trips as well with sleeping in one of the shelters in the park, but you can choose to stay even longer than a weekend there! 
We like the northern part more, starting from Pallastunturi Visitor Center we skied on all the trails I think. Here are some pictures to get the idea what the treeless hilltops are.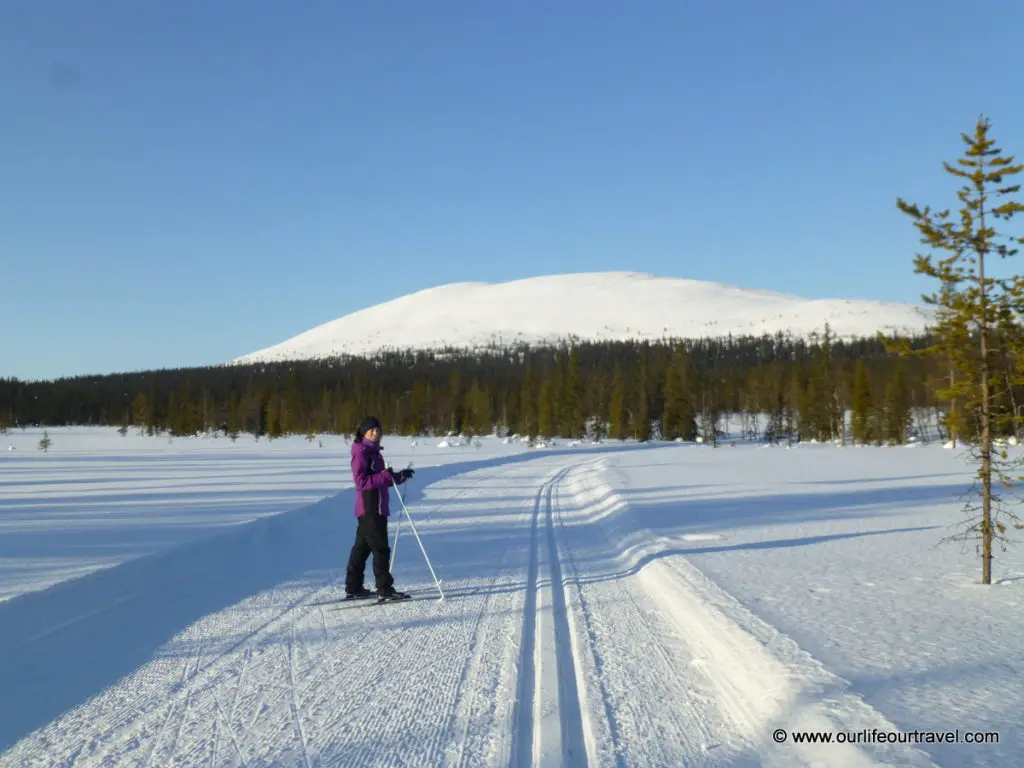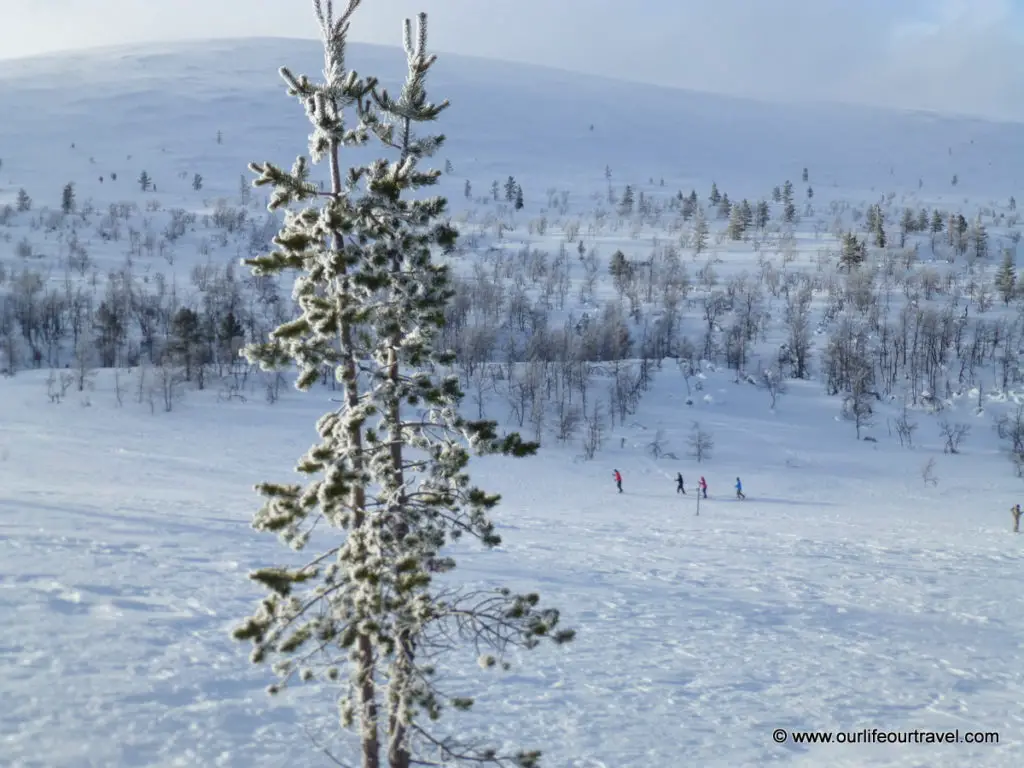 Itineraries for snowshoeing and skiing
Do you feel overwhelmed by the numerous options? Let us suggest you our favorite itineraries!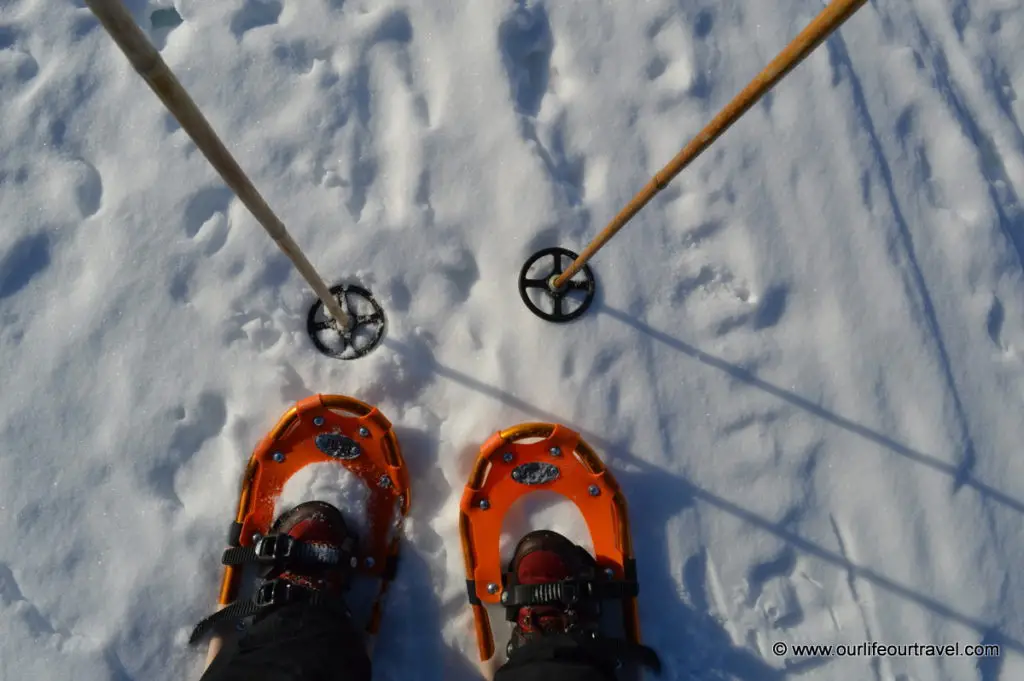 Few hours trips
For a short (2-3) hours fun, just go outside from the rental place/take on your equipment at the parking lot and choose the most appealing hill near you. This was a pretty well-working strategy for a couple of our hikes.
Taivaskero: in 1952 one of the Olympic flames was lit here by the rays of sun on top of Taivaskero (807 m). Now a small memorial reminds of this event. This round trail is 9 km long with 340 m elevation gain, the walk takes about 3-4 hours.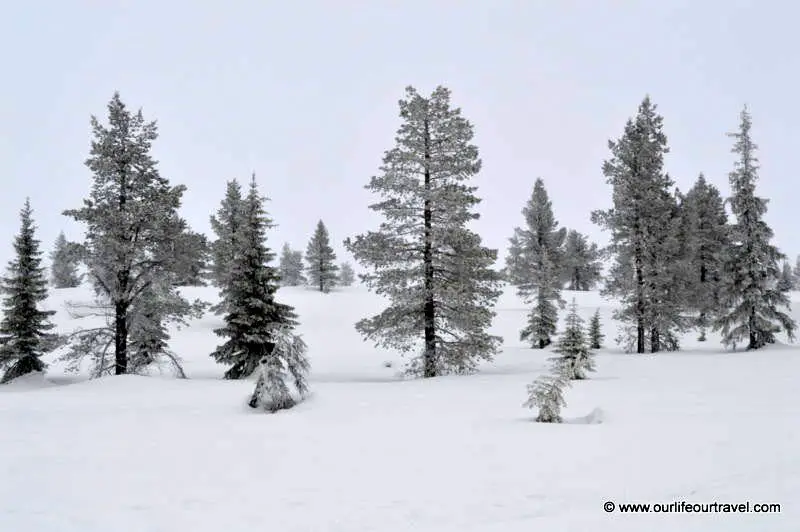 Whole day trips
Montelinmaja, Mäntyrova and Mustava all have cabins where you can spend time inside, prepare food, rest and enjoy the winter. Depends on your speed, you probably can visit more of them during the same day even.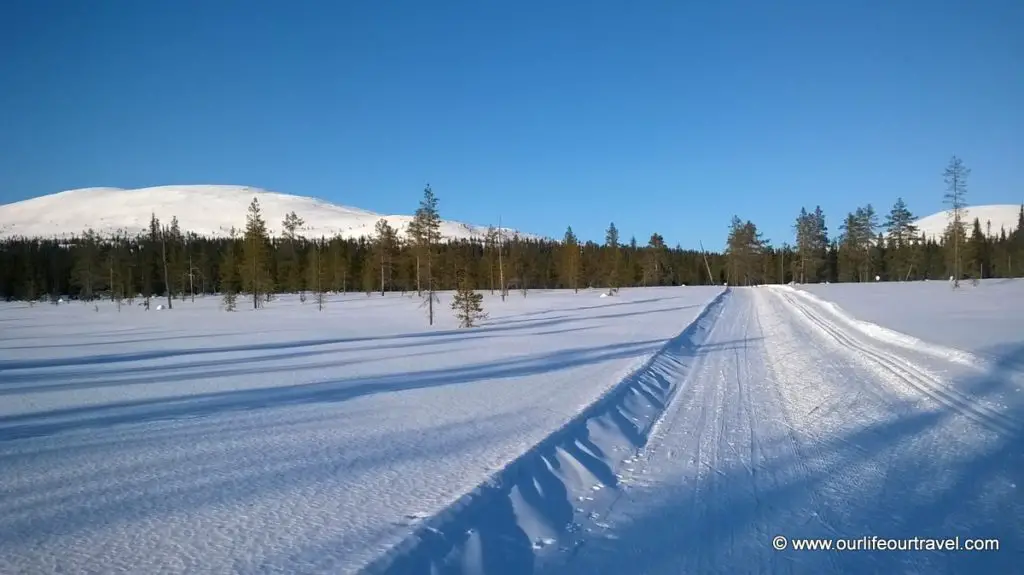 Multi-day trips
Probably your best friend will be the online interactive map of the park to plan your exact route. Remember that snowshoes are pretty slow, while skis can take you faster, especially downhill, but require some previous experience, especially off the maintained trails.
Hannukuru-Pahakuru area is worth visiting too. There is a sauna too! Don't forget your towel!!!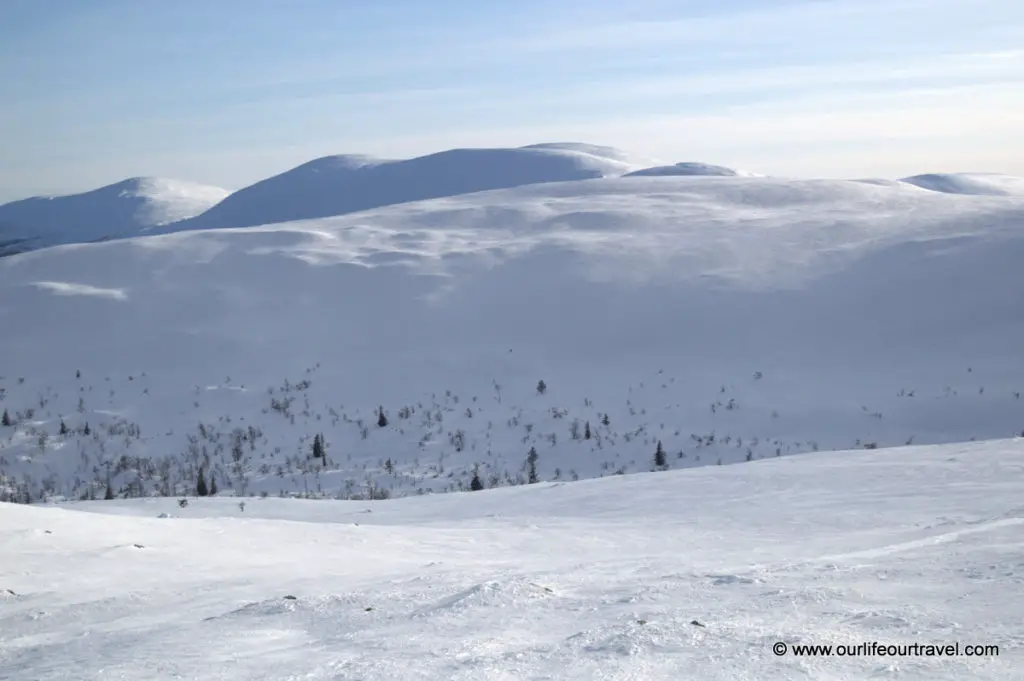 Book your trips now!
Other activities for winter
If you are not keen on cross-country skiing, you can choose snowshoeing, downhill skiing or snowboarding as well. There is infrastructure for those. Many shelters and fireplaces are around. You can have a rest there, eat, or just warm up by the fire. Probably the easiest activity is just to walk around and take pictures of the fells. Or go sledding. We climbed to the top of the hills on snowshoes and then slid down on sleds. It was fun!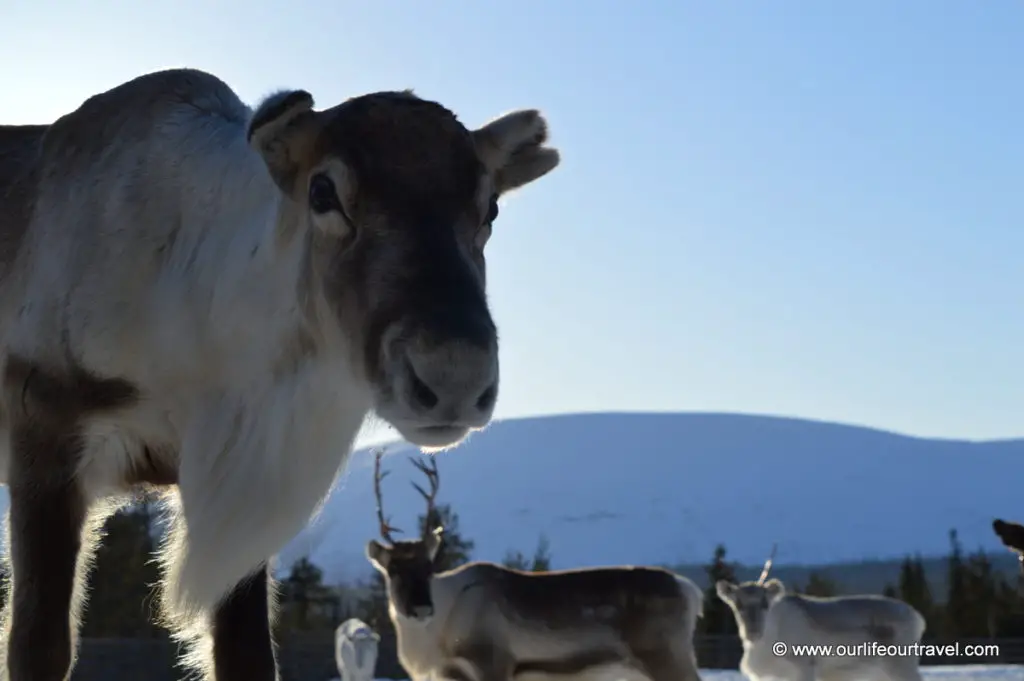 You can watch reindeer at the designated farms. After paying the entrance fee (about 20€) you can take pictures with the animals, listen about reindeer herding, and often (for an extra fee) you can take a short sleigh ride behind a reindeer. If you spend there a couple of days, very likely you will spot some of them in nature at least from the further distance. For example, we woke up few times in the national park shelters when reindeer were grazing too loud during the night. Another time one reindeer just simply occupied the door to the dry toilet and didn't want to move. For me, these encounters mean much more than any possible farm visits.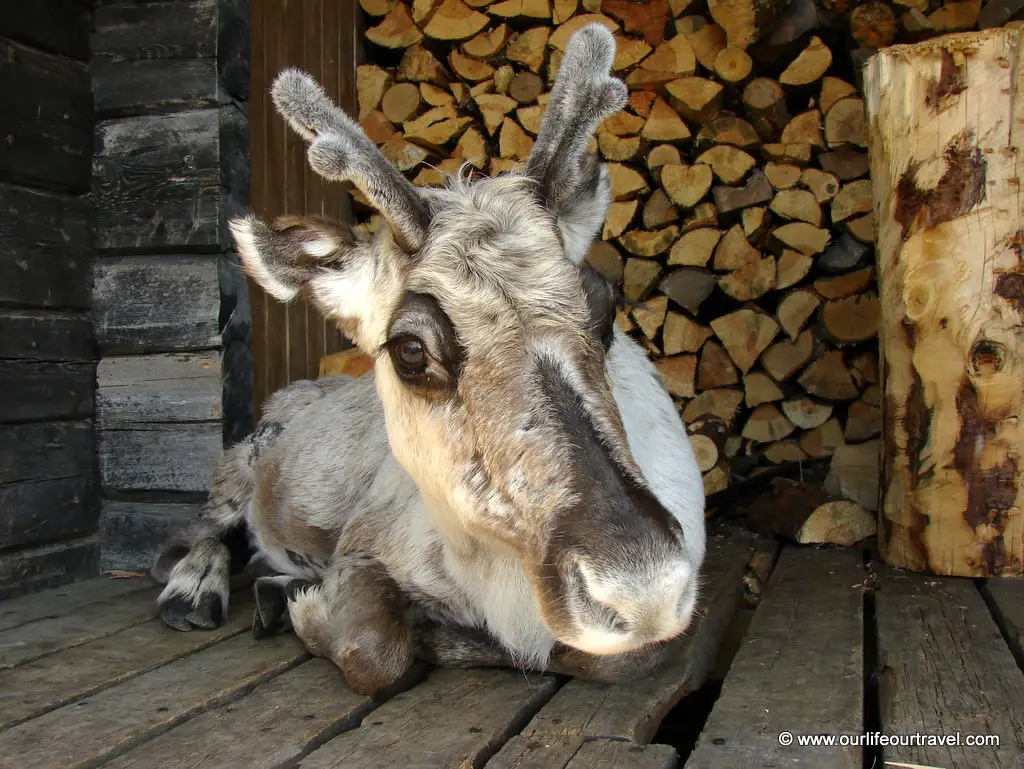 And of course, sauna! Some of the wilderness cabins have a sauna, so does the hotels and most paid accommodation, so don't miss this opportunity! And if you are lucky, you can get a glimpse of northern lights too during the evenings and nights. And for the pictures… remember to use a tripod. I didn't 😉
We will visit this park for sure again! See you around! 🙂