Finland is an expensive country, but if you love nature and hiking, you can reduce your costs very easily. A network of wilderness huts and other types of shelters covers Finland that offers free accommodation.
I will show you options where to stay for free for a night or two in the serenity of Finnish nature. Read the free and wilderness camping guide below!
Disclaimer: The post may contain affiliate links.
Everyman's right & free camping
First of all, good to know that in most Nordic countries, also in Finland, you have a right to access land, water, and resources. You can pick mushrooms and berries, but for fishing, you need a permit in many places (exception is ice-fishing in winter).
It also means that you can pitch your tent basically anywhere for a night. Just respect other people's houses, cabins, and wildlife and then you will be fine.
Here you can find detailed rules in English.
Finland has a short summer yet the mosquitos are everywhere during that period. Take a mosquito net and with you while you are outdoors. A mosquito repellent bracelet may not work well.
Shelters in Finland (where you can sleep for free) 
Throughout the country, there are thousands (3000+) of shelters which you can use for free. They are mainly located in national parks, nature protection or hiking areas (browse here too), but you can find the simple ones even close or inside cities. The shelters differ in look, quality and comfort level. While the simplest ones only have a fireplace and probably no walls at all, others have small benches, and the best ones are regular houses with mattresses and all kitchen equipment. Let's have a look at the accommodation options!
Fireplaces
This is not really a shelter, but they are everywhere. Lot of them have provided firewood, so you can have a campfire night with your friends or make a coffee or food while you are hiking in these designated areas. Often there are few benches or tables around. You can find fireplaces even in cities. In Joensuu, you probably already saw several on Utra island, but there are even nicer ones near Kontiolahti.

Making fire is a basic skill you will learn while hiking in Finland. However, if you don't master that skill yet, just pack a few lightning cubes to make your life easier to set a fire.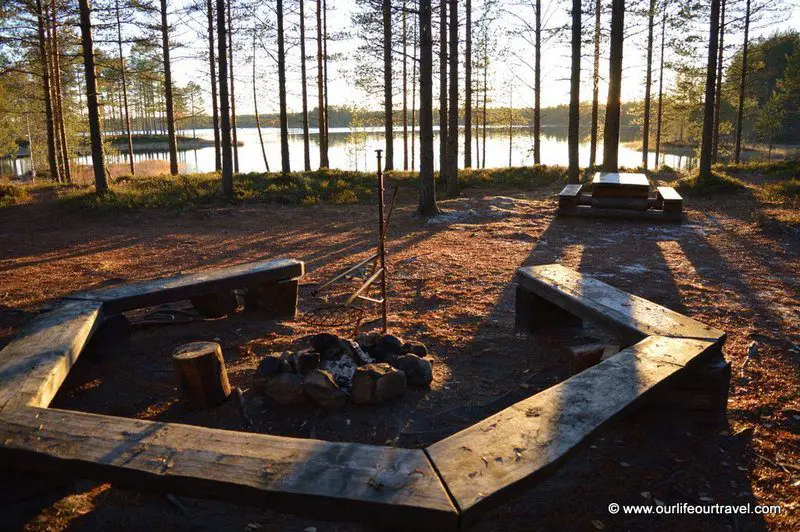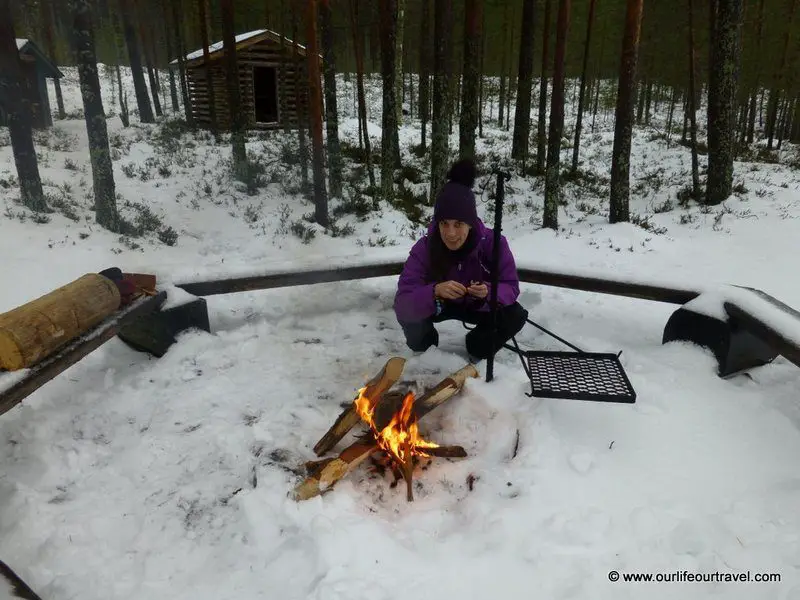 Lean-to shelter (laavu)

The simplest shelter. Fireplace, few benches or whole sleeping areas and the roof. It has usually 3 walls and on one side it is open. Even though they have walls, not all of them have floor.
Double lean-to shelters are something that also exists. Imagine two of the lean-to shelters turned to face each other. There is a fireplace in the middle and they give a pretty nice and closed structure.
In Pärnävaara you can find several of lean-to shelters. The firewood supply is sometimes quite low, but I'm sure you can find one nearby with enough food for a barbecue.
Advantages of sleeping in a lean-to:
it is flat so quite comfortable to sleep
many people can fit
protects quite well from the rain
Disadvantages:
it does not really matter if you make fire or not, you will not get too much warmth while sleeping

mosquitoes can attack you easily
Whether you sleep here or in a more closed shelter, make sure you have a mosquito net for your hat. It will be crucial while hiking in the summer!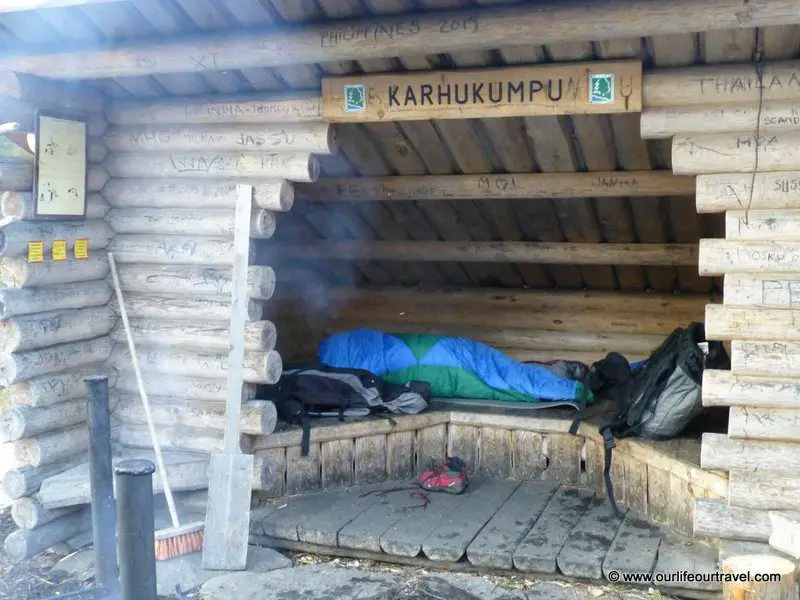 Lapp hut (kota)
A polygonal shelter and a more closed structure (in most cases), having a fireplace in the middle. There are benches around. Only open on the top and probably a bit on the sides where it touches the ground – that's where the air to the fire can come in. They may have a door, may not. For example, in the above-mentioned Pärnävaara, you can find them as well. Great place to spend the evening in a hut, frying your veggies or sausages and chat with your friends in a cozy and warm place.

Advantages of staying in a kota:
warmer than lean-tos (you can make a fire in the middle)
fewer mosquitoes
Disadvantages:
the benches are usually quite narrow. For me, as a smaller girl, it is not a problem, but taller people may have to do some tricks to fit.

mosquitoes can fly in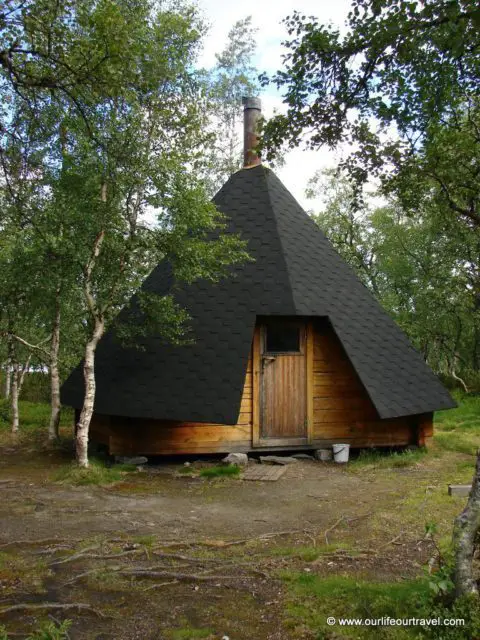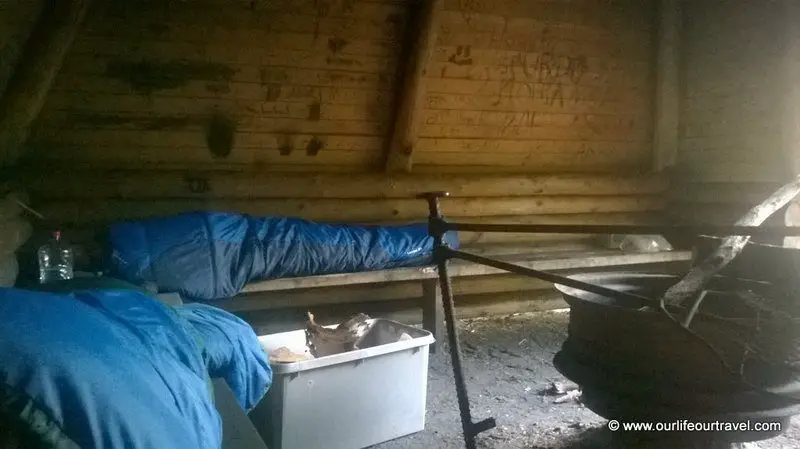 Day trip hut (päivätupa)

A house. A cottage. A simple hut. It has walls, door(s), roof. Benches, tables and a stove inside. Sometimes you can find a kettle as well. Perfect place to warm up and have a hot coffee or tea on a cold, wet day. Our favorite ones are in Lapland, but you will find them in North Karelia and in the South too.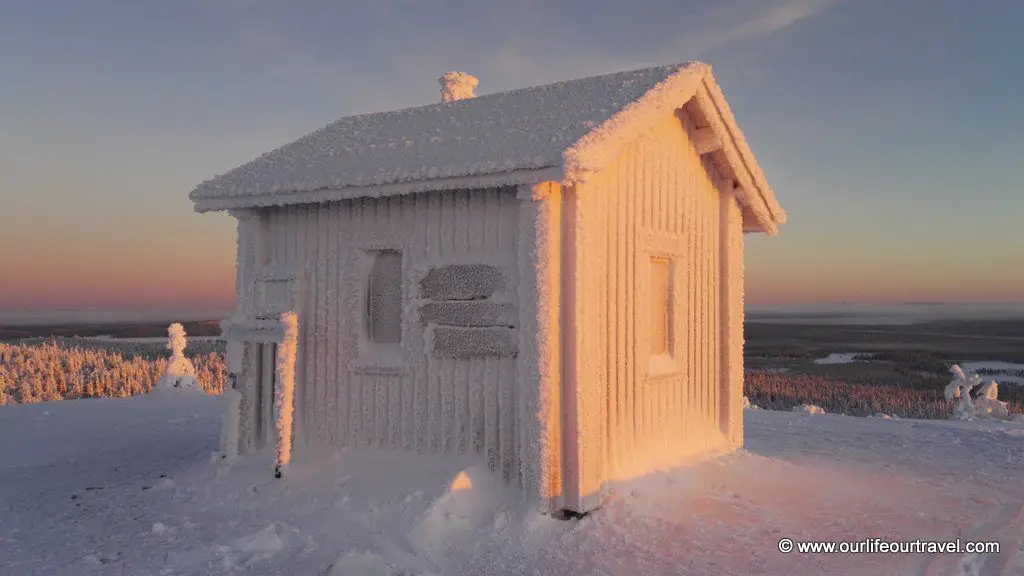 Open wilderness hut (autiotupa)
A day trip hut with beds, so perfect for overnight stay. Usually, they have two levels of wooden boards near the walks. Sometimes even bunk beds or mattresses can surprise you. Kitchen equipment with pots, pans, utensils, table, chairs, etc. Stoves or gas stoves are also common. Everything you need and even some more!
These cottages are usually in the national parks of Lapland, but few can be found more south as well. Our favorites are in Hattuvaara, near Ilomantsi and close to the Russian border. Those are the best open wilderness huts in North Karelia!

Advantages of overnighting in open wilderness huts:
closed from all sides and top
warm/you can heat

well-equipped
Disadvantage:
bigger chance that you have to share with other people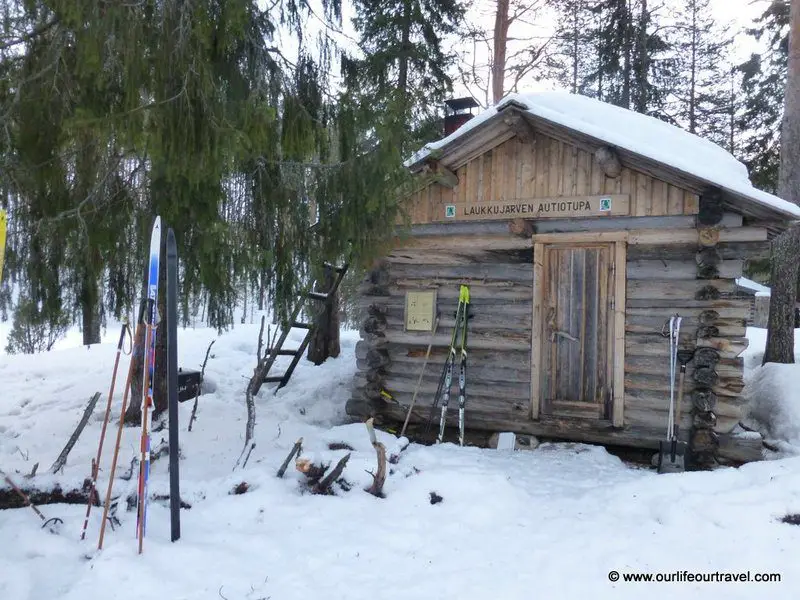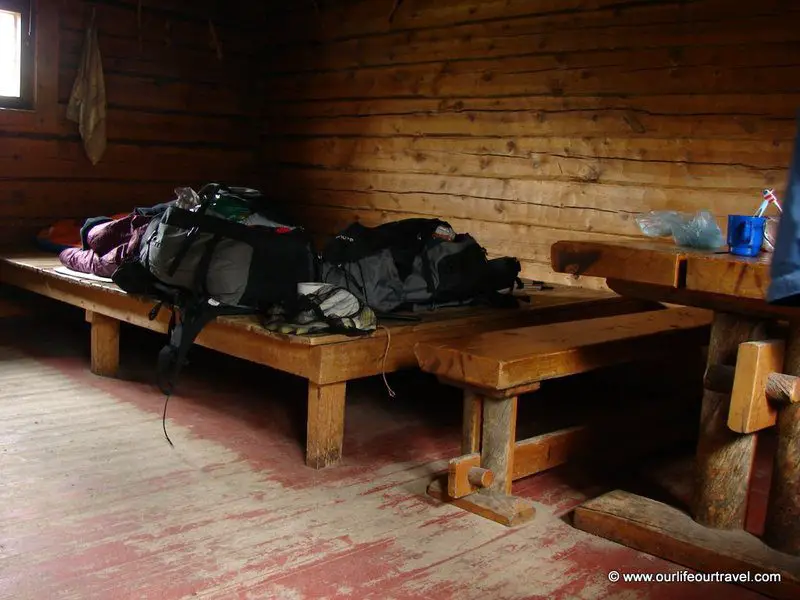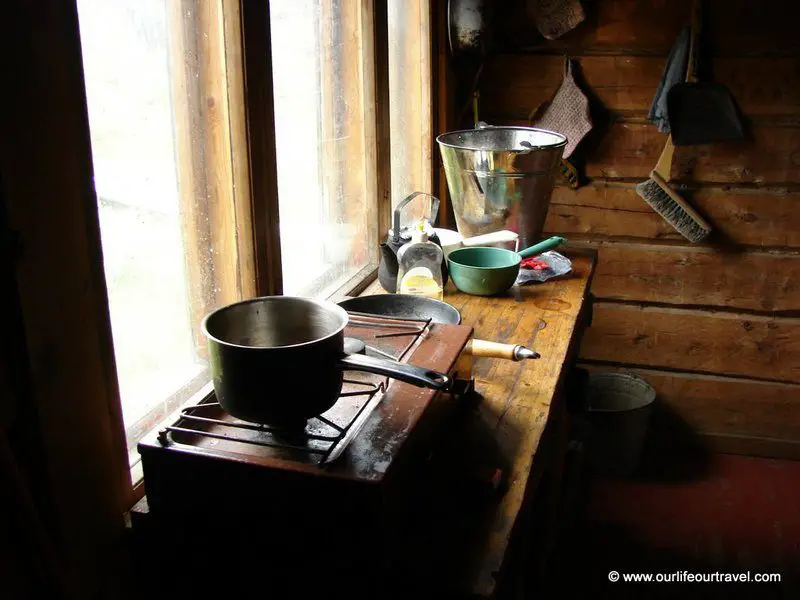 Sauna for a small fee
Sauna buildings are not so common, but you can find them in many national parks, especially in Lapland. Some are rentable, other you have to pay a small fee to use, very few sauna are free.

My very first "national park sauna" experience was at Pallas-Yllästunturi National Park. The sauna was just next door to the open wilderness hut, and of course besides a cute small lake. The firewood is provided to heat it up, you just need to send a text message from the nearest hill (where the reception is good) to pay for your visit. Typical Finnish arrangement.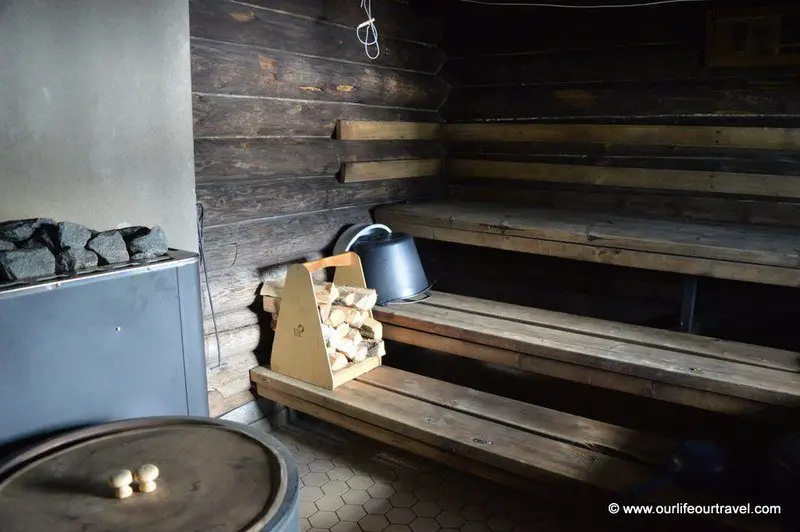 And here are a couple of more places where you don't actually sleep:
Look-out tower (näköalatorni) and bird observation tower (lintutorni)
You will find plenty of towers all across the country due to the vast amounts of lakes and mires. Make sure you pack some of the best binoculars with you to see the birds better. If it is near a lake or in the mire, very likely, they will be called bird watching towers. You will find a book (diary) to list which species you saw during your visit. Make sure you add your observations if you recognized them. 🙂
In Joensuu, you should visit the one in Noljakka, you can see many birds on Lake Pyhäselkä. For the look-out tower, I can recommend Koli and Ryläys tower.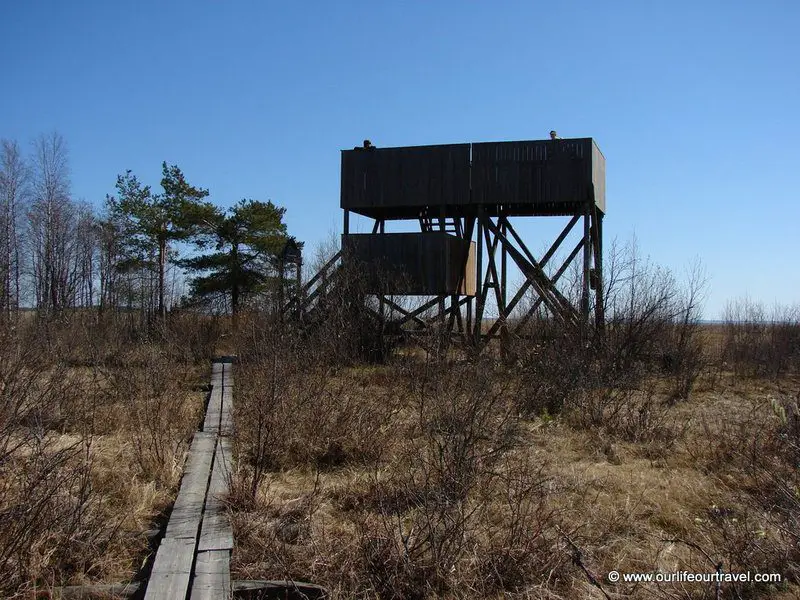 List of essentials for sleeping in the wild in Finland:
comfortable outdoor shoes,
matches,
knife,
mosquito repellent,
mosquito net to protect your head,
good sleeping bag.
Good to have:
Do you need more inspiration before you go on a camping trip? Check out our other posts about places in Finland we have visited during the last years!
Winter activities in Pallas-Yllästunturi National Park, Lapland (Activity Guide)
Snowshoeing and hiking in Pyhä-Luosto National Park – Finland (Winter-Summer Guide)
Winter Wonderland at the Koli National Park – Eastern Finland