It's been two years since we got married in 2016! Time flies! Why did we choose Finland? Why during the winter? Was it complicated to arrange everything abroad? How did we like the ceremony at the ice church? Keep reading if you want to find the answers to these questions.
PS: Lainio is a perfect stop even on a road trip across Lapland!
Choosing the Destination: Getting Married in a Snow Castle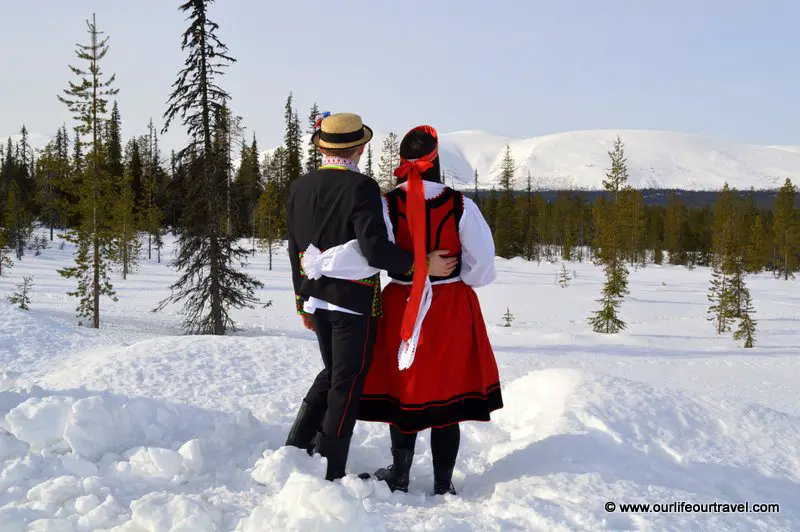 After Karol asked my hand on the Amazon river, we talked a lot about our plans. Neither I nor Karol wanted a big and traditional wedding. That time we have lived in Finland and it sounded like an amazing idea to get married there. Somewhere far north. Somewhere unique. Only with our close family and friends.
Destination Wedding in Winter Wonderland
At first, we considered an outdoor location. During the winter, yeah. After further consideration, it seemed complicated to organize. We, ideally, would have been in a laavu or kota (they are kinds of partially open shelters) on the top of a fell. So far it sounds good. But if we want to have guests, we need to organize transportation for them too, not only for the clerk. in the potential -20°C and over a meter deep snow it would have been complicated, and probably our parents would get frozen too.
Then came the second idea. Snow castle! We have e several of them in Finland. They are a popular tourist attraction, so approaching them is not a problem by car roads. And they are warmer. Well, the temperature does not go below -5°C and itis protected from the wind.
If you want to sleep in a snow castle, check the prices here!
Lainio Snow Castle and a Cottage for the Wedding Party
We opted for the Lainio snow castle. It is two hours away from Rovaniemi (where we currently live), and only half an hour drive from Kittilä, near the southern part of Pallas-Yllästunturi National Park in Lapland. We rented a cottage about an hour away from Lainio, close to Pallastunturi. It became tricky when most of your guests (e.g. family members) arrived by plane, and they don't drive, but after some math, we sorted out the logistics and everybody fit into one of the 3 cars.
The snow castle is made in every year with a bit different design, and it has a snow church as well. Perfect location for the big day. Btw, this year (2018) the theme of the castle was The Game of Thrones 😉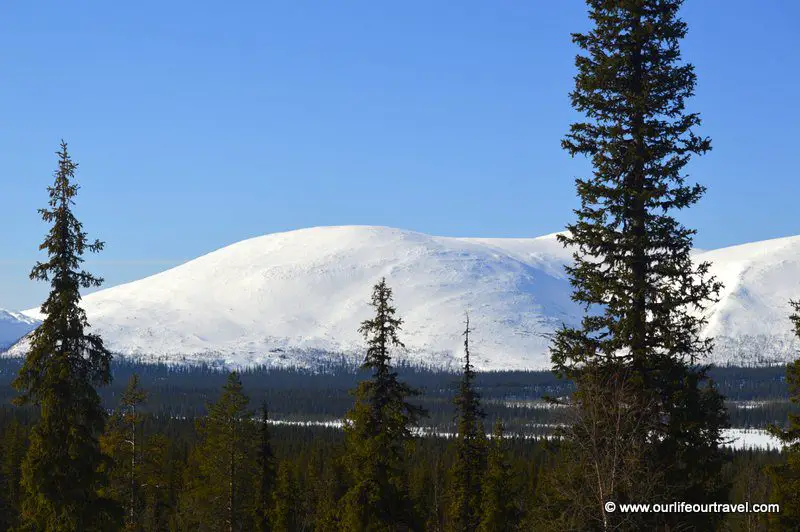 Paperwork for the Marriage in Finland
It was taken care of with minimal to do. We had a lovely wedding coordinator, who helped with the organizational matters and the Finnish paperwork.  As EU citizens, we only needed to get papers from our home countries (or embassies) that we can get married, and deliver it to any Finnish registry office (Maaistratti). They forwarded everything to the clerk who held the ceremony.
Both the wedding coordinator and the clerk spoke good English, we could discuss with them the flow of the wedding, our wishes, and they could address all the questions and concerns that were raised during the preparation.
Everything is set, let's get married!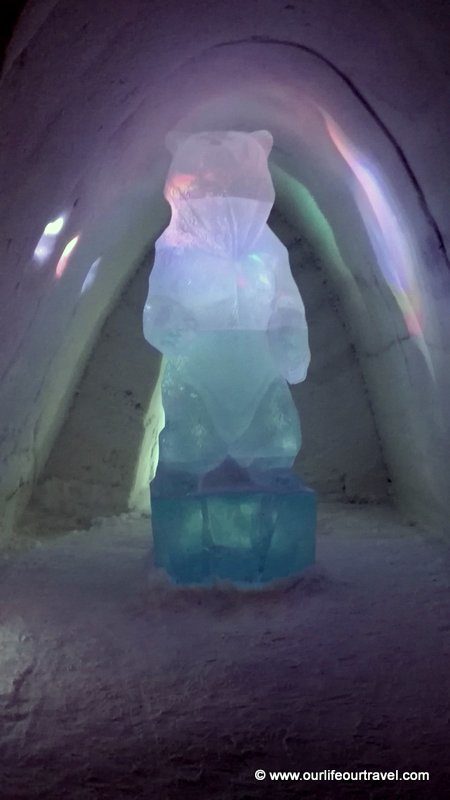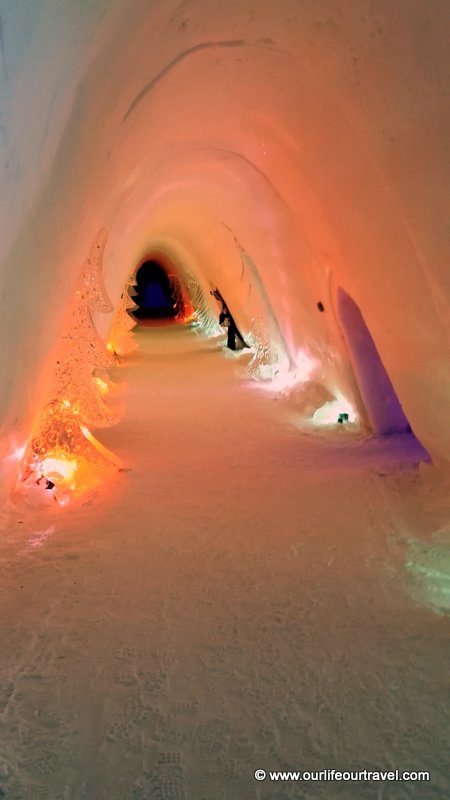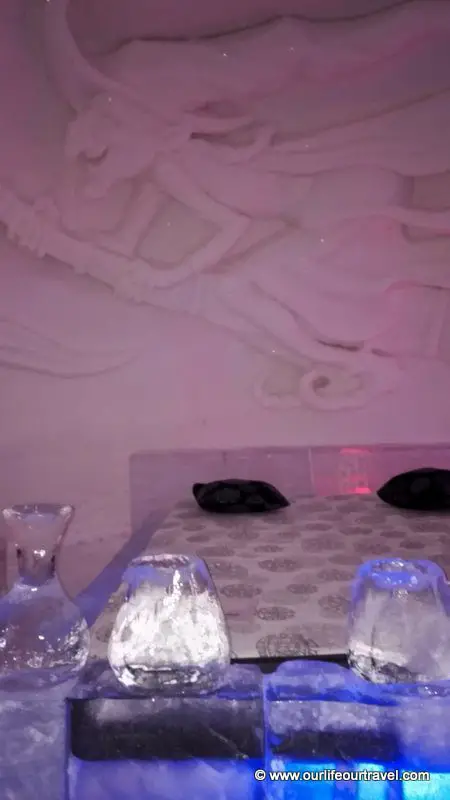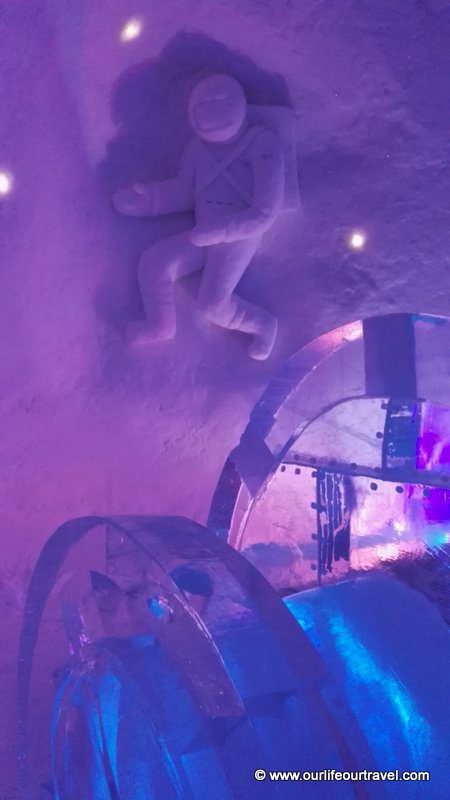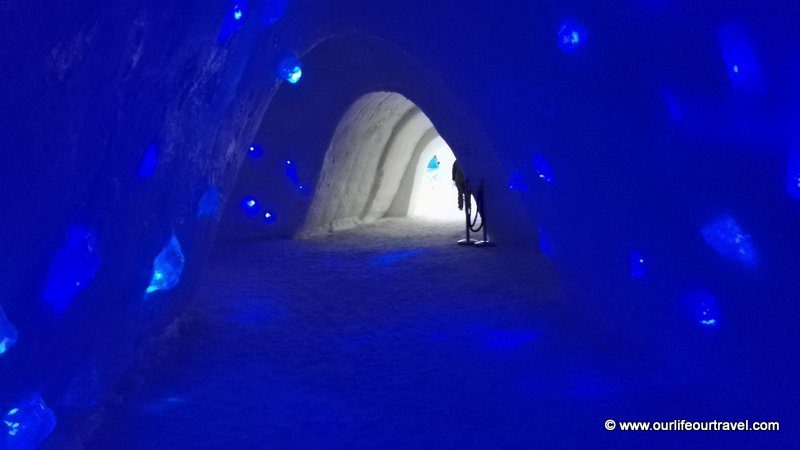 The Ceremony at Lainio Snow Village
The big day has arrived. I woke up a bit stressed in our beautiful mökki that we rented for the wedding celebration. The DAY is here. The day that I haven't even dreamed about  We prepared everything, packed my clothes and then left for the snow castle. (Yes, Karol had his clothes packed too 🙂 ) Guests either arrived directly there, via Kittilä airport or came with us from the accommodation.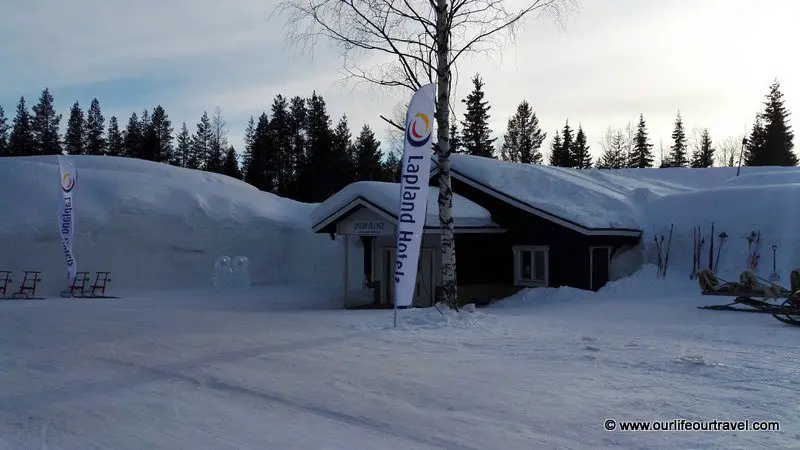 Preparations
At the snow castle, we had access to a warm spot to change our outfits. Luckily that hangout room for the staff was not from ice and included bathroom as well, so we could prepare in a pleasant environment. Our mothers checked our outfits one more time, and we were ready for the big event!
Our Outfits: Traditional Polish and Hungarian Clothing
The clothes. They were also unique. No, I did not have a white wedding dress, not Karol an amazing suit. We wore something more interesting and unique.
We never thought about a traditional wedding and we opted for folk clothes from specific regions. Karol wore a suit representing the folk wear of the krzczonowski region in Poland. This is close to his hometown, and we liked the vivid yellow, red and green decorations on his outfit.
My choice was also traditional clothes, from Transylvania. Transylvania belongs to Romania, but historically it was a part of Hungary, and still, big Hungarian community lives there (also relatives of my family). That is why I had the chosen Székely dress for the wedding.
Not only that we liked our attire better than the usual wedding ones, but they were more suitable for the cold temperatures. It was -15°C outside and -5°C inside the castle.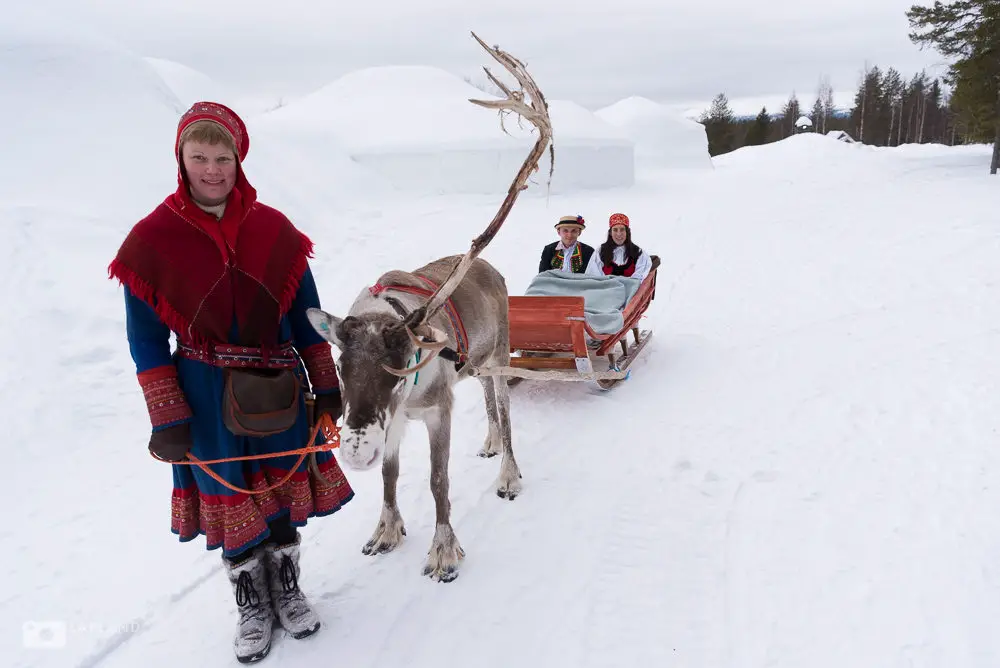 The Wedding in the Ice Church
It was truly magical sliding together through the fairy tale like the snow-covered forest by a reindeer sled to the entrance church dome. The lady wore traditional Lappish (Saami) clothes, so this was an absolute folkish.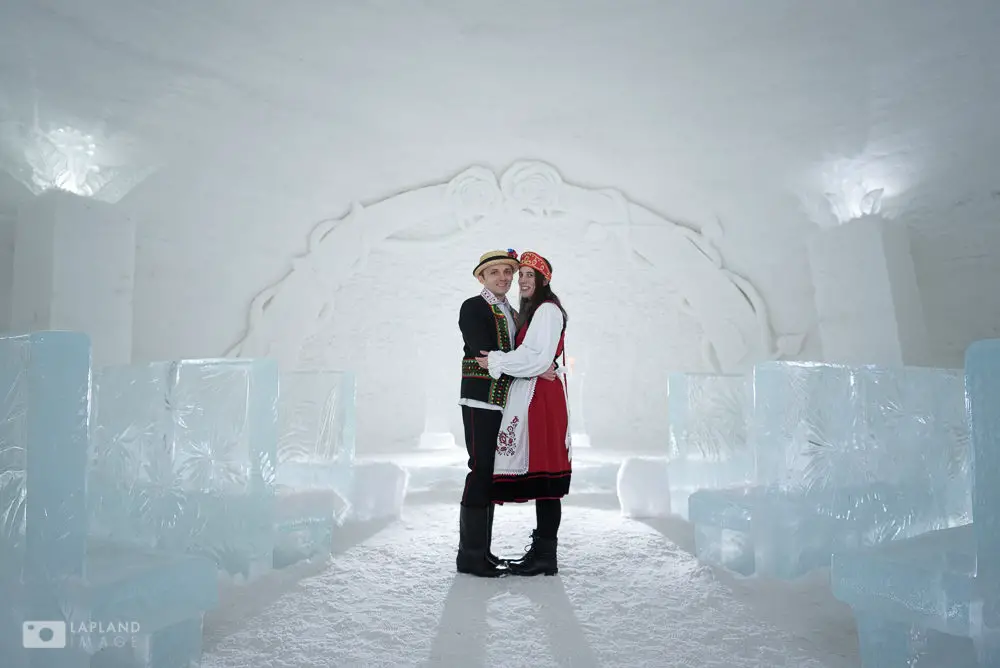 We had a half an hour ceremony in the snow-white ice church. After the big event, the photo session lasted about an hour. Believe me, that was the toughest part of the wedding! You can imagine I got pretty frozen by the end of it, although I took gloves on at every opportunity.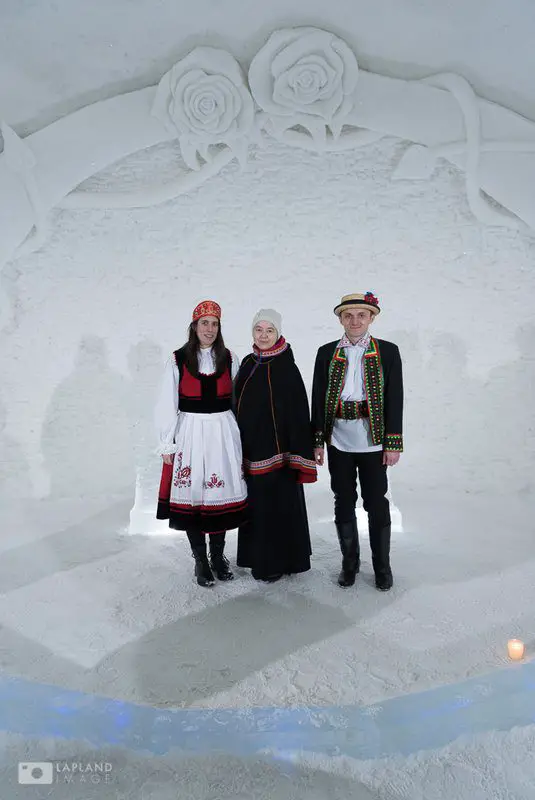 While we were freezing our hands off had our pictures taken, the guests could explore the rest of the castle. Numerous room with ice beds, ice sauna, slides and sculptures everywhere. The decorations (and the whole castle) are obviously carved each year, again and again, varying from the previous one. An ice bar also operates, where you can enjoy a cool drink or two!
 Let the pictures talk more about this beautiful place!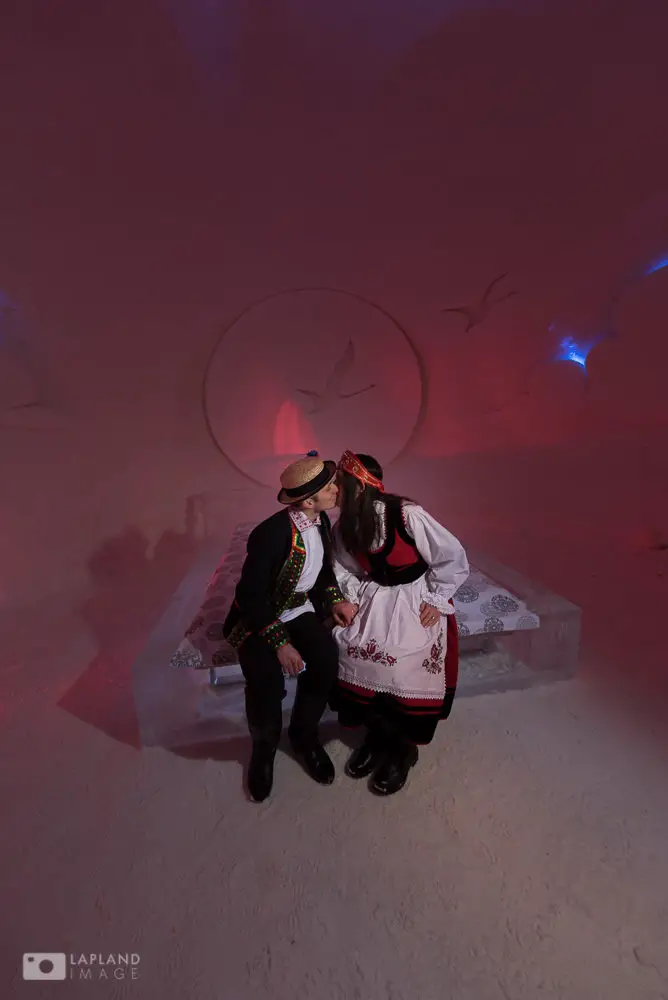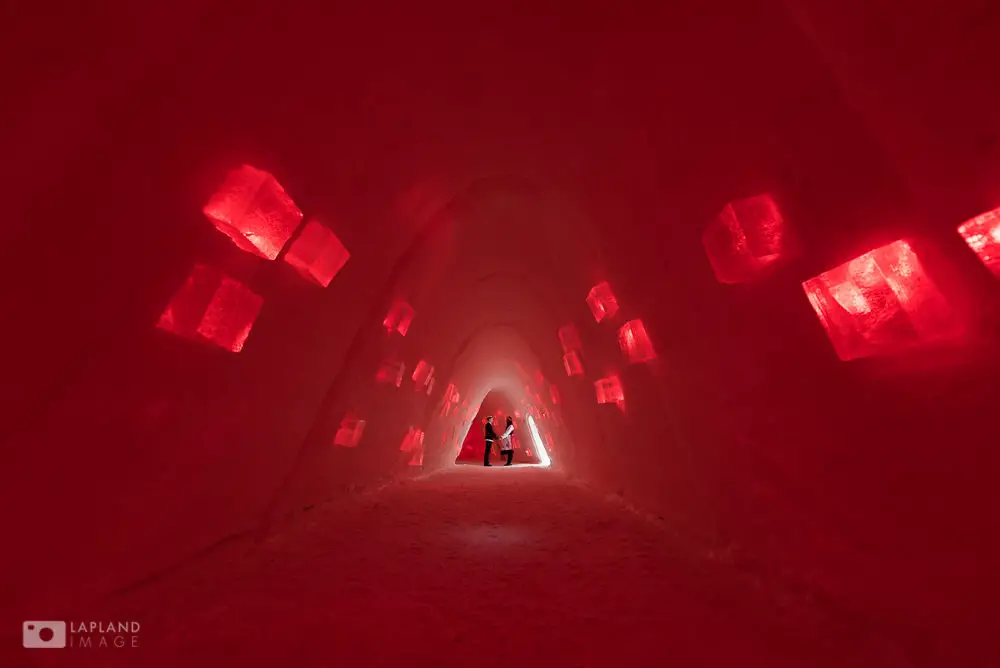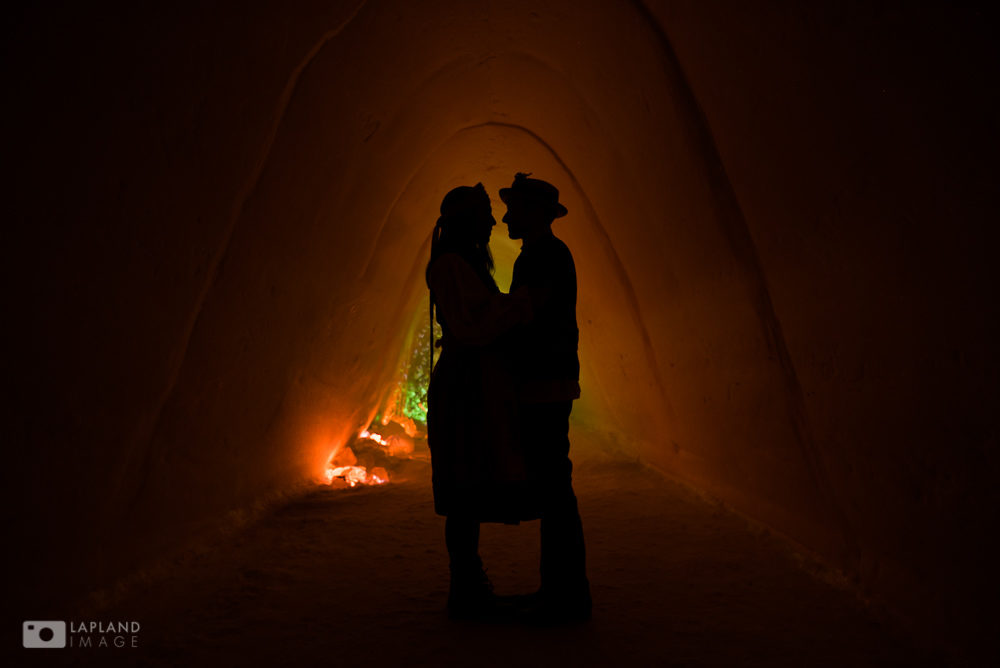 Pin it for later!