Would you like to see the highlights of Budapest in 3 days? Are you a first-time visitor to the city? Don't hesitate to bring your kids along. There are plenty of sights in Budapest for kids. You can visit more than just the Parliament and the Castle in such a short time as well, and make sure you try some of the famous Hungarian dishes too. I will guide you through my hometown and offer local tips. This piece contains a child-friendly itinerary, so I omitted the nightlife and ruin pubs from it, sorry :).
The Top Sights of Budapest
3 well-packed days in Budapest to see the best of the capital city of Hungary.
3 days in Budapest with kids
3 days are ideal for visiting Budapest with kids – I wouldn't do it in a shorter time as there is plenty to explore in my beautiful hometown. You can learn about its rich history, visit the Castle and the Parliament, eat delicious meals and get a glimpse of the town from the hills above or go spelunking in one of its limestone caves.
Exploring the Downtown – The First Day in Budapest
Parliament at the Kossuth Square (3 hours)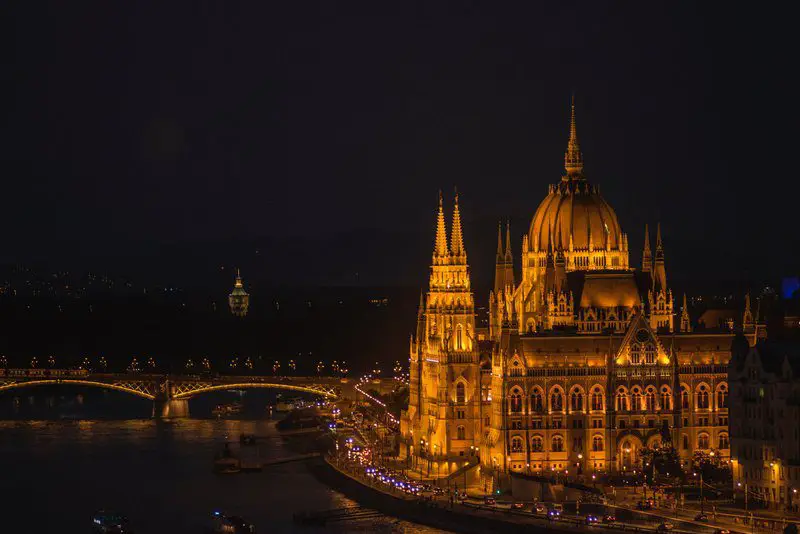 The gem of Budapest. A gorgeous building built at the turn of the 19th and 20th century and stands on the left shore of the Danube. It's one of the highest buildings in Budapest at 96 meters. (If you wonder why aren't there higher buildings in Budapest, read this!) The most picturesque sight in Budapest. I'm sure parliament is on everyone's list to visit, at least from outside.
Actually, it took me years decades to finally enter and admire it from the inside as well. We had to book a tour (well in advance) because the visit took place around Christmas time. Make sure you arrive on time. You will need to leave most of your belongings in the cloakroom after the security check. They are quite strict, but it's a parliament after all 🙂 The Hungarian national crown is guarded there, the only location where we weren't allowed to take pictures.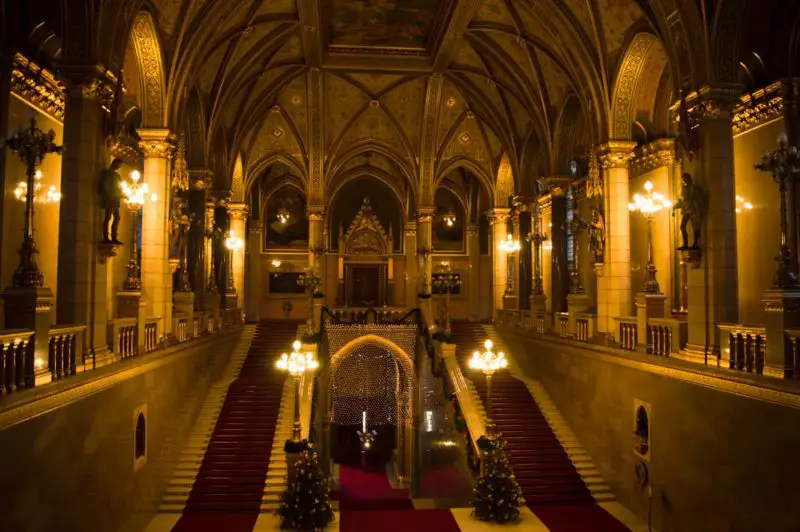 We participated in the English language tour, as I was the only native speaker in our group, and I had no complaints about our guide.
If you love beautiful architecture, and your kids won't oppose the rather time-consuming entree and security check, it is necessary to take a tour among the antique walls, wooden furniture, enormous doors, and detailed decorations. And imagine, it already had an air conditioning system more than 100 years ago!

Buy your Parliament tour ticket here!
Location: Kossuth Lajos square 1-3. 1055
Public Transport: Kossuth tér M2
St. Stephen's Basilica (1/2 hour)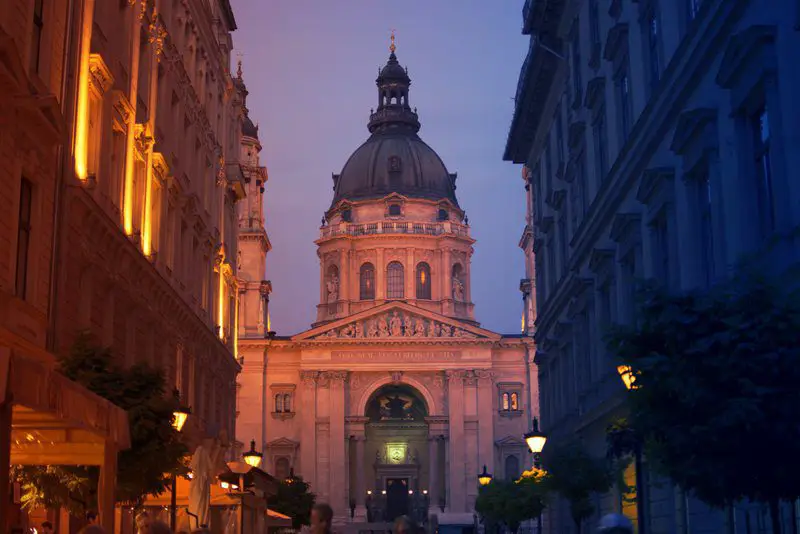 Another must-see in the downtown is the St Stephen Basilica (named after our first king, Szent István) which keeps another important piece from Hungarian history. The holy right (Szent jobb), the remains of the incorruptible hand of Stephen. The hand is carried around in public on the 20th of August each year.
It's a Roman Catholic Church, and the construction was finished by 1905 following Miklós Ybl (one of the most famous Hungarian architects)'s plans.
It is the most visited and prestigious Church in Hungary. Don't forget to enjoy the (paid) panorama from the top of the bell tower. The whole family will enjoy it 🙂

Location: Szent István tér 1, 1051
Public Transport: Arany János utca M3, Bajcsy-Zsilinszky M1
Váci Street (1/2 hour)
On Vaci Street (Váci utca), the main pedestrian street in Budapest, you will encounter many vendors besides the 19th-century buildings. Vendors, sellers, and tour operators will approach you frequently during your walk downtown. I consider the souvenirs and merchandise products pricy, but as you only spend 3 days in the city, it's probably the easiest way to get smaller items such as magnets or postcards.
Be aware of pickpockets. Locals don't stroll around there too often, so you are clearly identified as tourists while taking pictures continuously.

Location: Váci street, 5th district
Opera, Heroes' Square and the Millennial Subway (M1) (1 hour)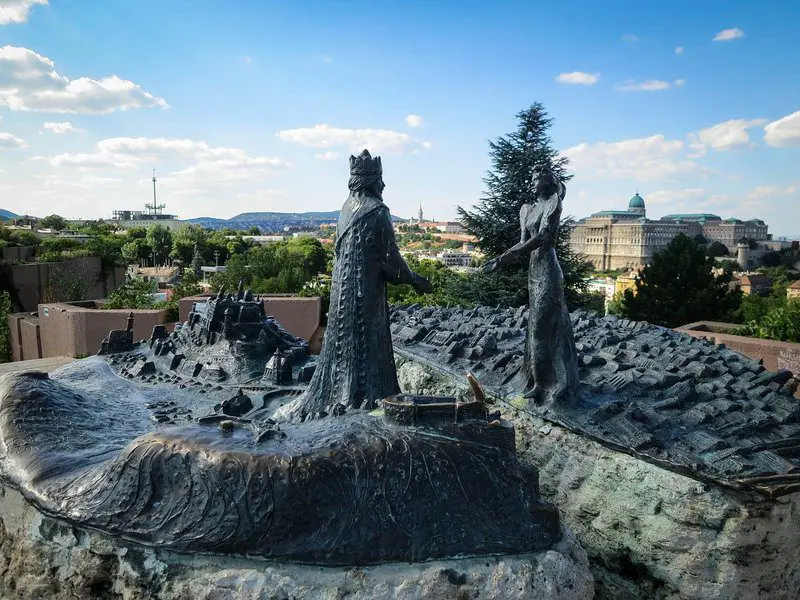 My favorite metro line is the Millennial Subway (Kisföldalatti) that connects the Downtown to the Heroes' Square (Hősök tere) and the City Park (Városliget) (see later). It is the OLDEST metro on the European continent. It started its operation in  1896  already. The cars are small old and yellow. It runs under Andrassy Street.
I'd recommend going on foot some part of the way, or at least have a stop at the National Opera House. If you more into the culture than exploring the nightlife, make sure you visit a opera show.
Location: along Andrássy Street
Public transportation: Metro 1
City Park (Városliget), Vajdahunyad Castle & Zoo (1-3 hours)  
The Zoo and City Park is a perfect choice for a warm and sunny day with your family. On colder days, head to the Széchenyi thermal bath!
The Vajdhunyad Castle was built at the end of the 19th century (1896) for the Millennial Exhibition and featured several architectural designs and styles from the earlier centuries.
Public Transport: Hősök tere M1
First Day Afternoon/Evening: Thermal Bath in Budapest (2-3 hours, if you still have the energy)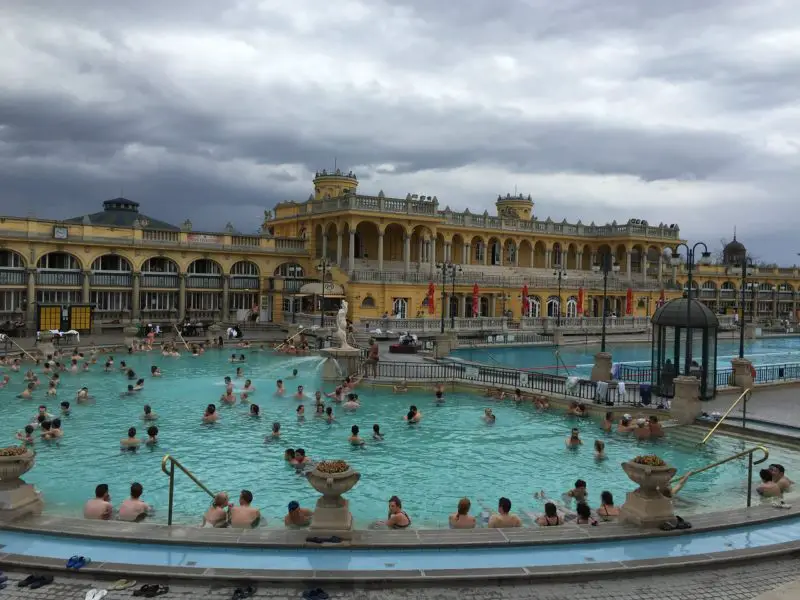 Do you and your kids enjoy the water and beaches? You are in the perfect place. Budapest (and Hungary) lies in a perfect location for thermal waters. Budapest has several world-famous baths based on the heritage of the Turkish baths. They suit for visits in every season, but the outdoor pools might be closed during the winter. Check before your visit!
Palatinus Bath
A beach and bath on Margaret Island with a wide variety of pools. Wave pool, slide pool, adventure pool, and kids' pools are also available beside the terminal ones.
Location: 1007 Budapest, Margaret Island
Public Transport: Margitsziget / Margit híd Tram Stop
Gellért Thermal Bath
The spa is a part of the Hotel Gellért where you can even book your accommodation for your stay. Rooms with a view to the Danube shore, breakfast, and a spa at the same place. The metro stop and several tram and bus lines just right in front of the hotel.  Get your pass and a scenic tour of the spa!
Suggested age for thermal water: 14 years
Free entrance under 2 years.
Location: Kelenhegyi út 4, 1118 Hungary
Public Transport: Szent Gellért tér M4
Rudas Bath
A night bath is possible.
Suggested age for thermal water: 14 years
Free entrance under 2 years.
Location: Döbrentei tér 9, 1013
Public Transport: Rudas Gyógyfürdő Tram Stop
Széchenyi Thermal Bath
Located in the City Park and gives a great alternative to the Zoo. Skip the line and get your pass NOW!
Suggested age for thermal water: 14 years
Location: Állatkerti krt. 9-11, 1146
Public Transport: Hősök tere M1
Király Medicinal Bath
Age limit: 14 years
Location: Fő u. 84, 1027
Public Transport: Bem József tér Tram Stop
Second day morning in Budapest: Buda and the Royal Castle (3-4 hours)
The Royal Castle was built in the 12th century but continuously expanded during the centuries while giving a home to Hungary's kings.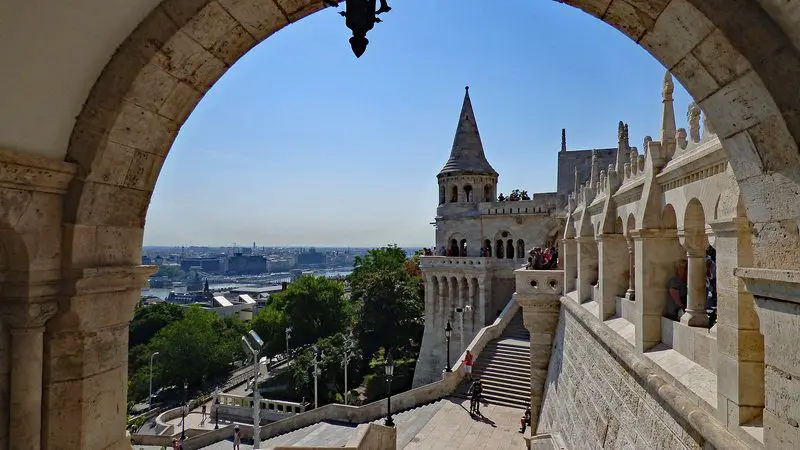 Sandor Palace and the Change of the Guard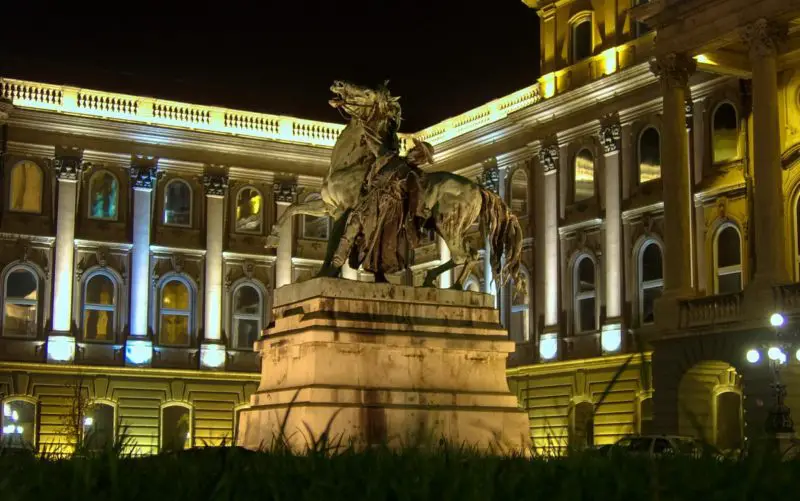 Sandor Palace is the residence of our president. The changing of the guards happens every hour, so make sure you stroll along in good time.
Fisherman's Bastion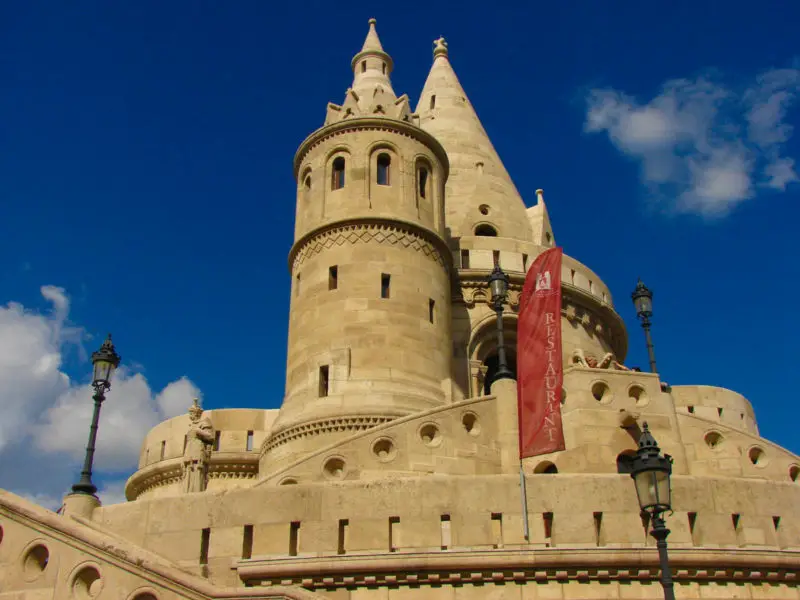 The Trinity Square (Szentháromság tér) has several important sights, including the Fisherman's Bastion (Halászbástya) that has a spectacular panorama of the Danube shore, the Pest, and the Parliament.
Location: Szentháromság tér, 1014
St. Matthias Church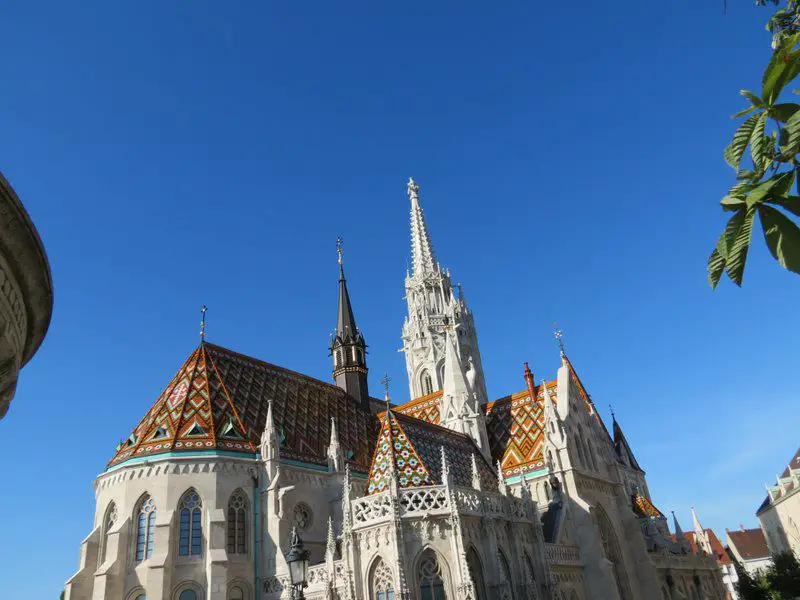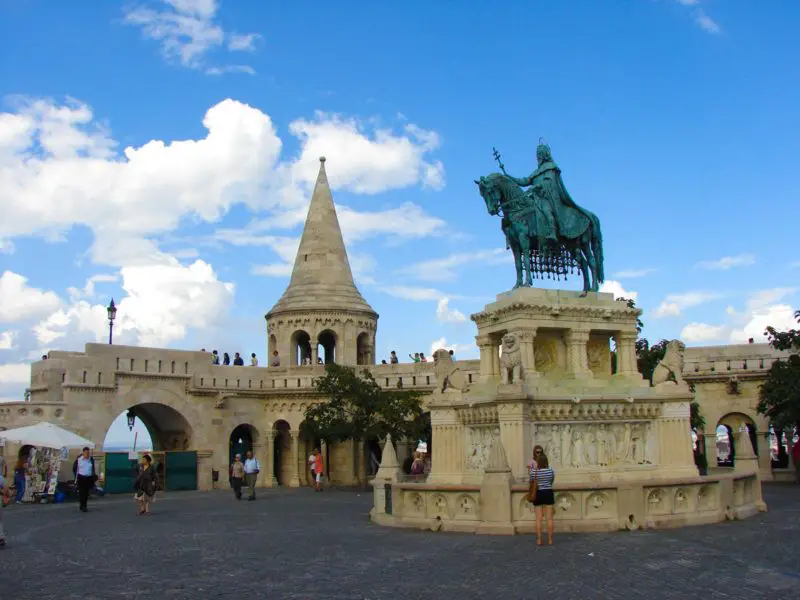 The famous 13th century St Matthias (Mátyás templom) church is also on the Trinity Square near the Saint Stephen statue and is among the country's most important religious places. Richly decorated (and frequently renovated) church keeps King Bela the Third sarcophagus lies among its walls too.
Location: Szentháromság tér, 1014
Labyrinth
The Labirint (Budavári Labirintus) is a fun kid program to explore the tunnels of the Castle. It is a historical labyrinth where even Count Dracula was once imprisoned.
My brothers and I liked it when we were young. We could roam in these caves and tunnels, and it even had a 'wine' fountain. Which kid wouldn't want to try that?
Location: Úri u. 9, 1014
Do you need a travel guidebook?
Second day afternoon: exploring Gellért Hill and its surrounding
Saint Gerard Citadella and the Statue of Liberty (1-2 hours)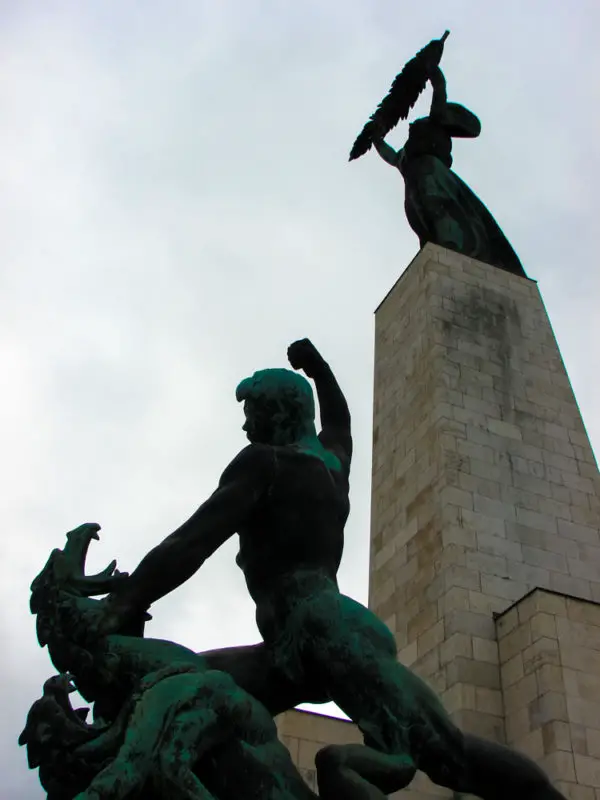 On the top of Gellért Hill, the Citadella guards the city. The fortress was built in the middle of the 19th century and named after Gerard, who, according to the legends at least, was thrown to the Danube from its top. Gellért Hill has a broad panorama of the city from its 235m height.
The Statue of Liberty (Szabadság szobor) stands at the end of the citadel.
Do you fancy a folklore dinner in the Citadel? Check this out!
Rest and play (with small kids) (1 hour)

You can also stop by the playgrounds and have a bit of rest away from the cars and crowds.
Playground Locations:
Cerka-firka Playground: Verejték u., 1118

Gellérthegyi playground with slides: Szabó Dezső Sétány, 1118
Grand Market Hall (Vásárcsarnok) (30 min)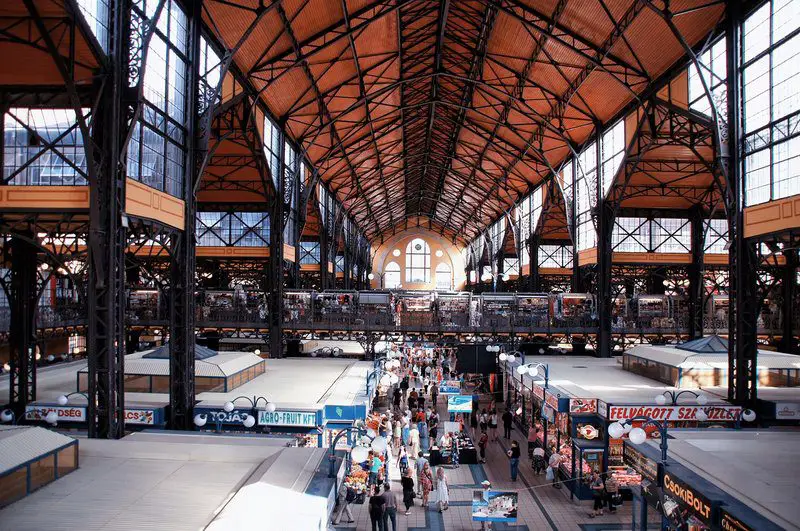 Besides purchasing peppers (paprika) salami (szalámi), or other souvenirs, you can see a typical marketplace where locals buy their groceries.
Location: 1093, Vámház krt. 3
Public Transport: Fővámtér M4, M3
Optional: Gellért or Rudas Bath
If you haven't visited any bath yet, it is a perfect time. Both the Gellért Bath and the Rudas Bath are on your way. Perfect relaxation in the warm thermal water.
Third day: nature outside of Budapest Downtown
Other unique places you may consider visiting in Budapest are outside of the Downtown. If you want a new attraction for the last day in Budapest, check out the following.
Elisabeth Lookout and Budapest Cable Car

 

to Janos Hill (1-2 hours to 1/2 day)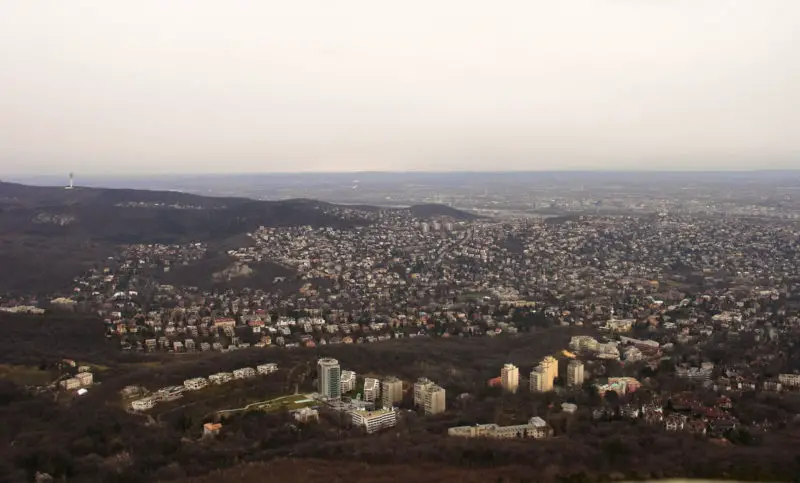 Bus 22 takes you to Normafa, where you can have a light walk to the Elizabeth Lookout Tower (Erzsébet Kilátó) and take a look down at the city. I loved taking walks there. It is still part of Budapest, a two million inhabitant city, yet you are far away from the rush. If you take the bus, don't forget to stop by a little buffet near the city's slopes. It sells the best strudel (rétes), or you can just eat a lángos (a type of flatbread) in the one next to it. Their menu has English too.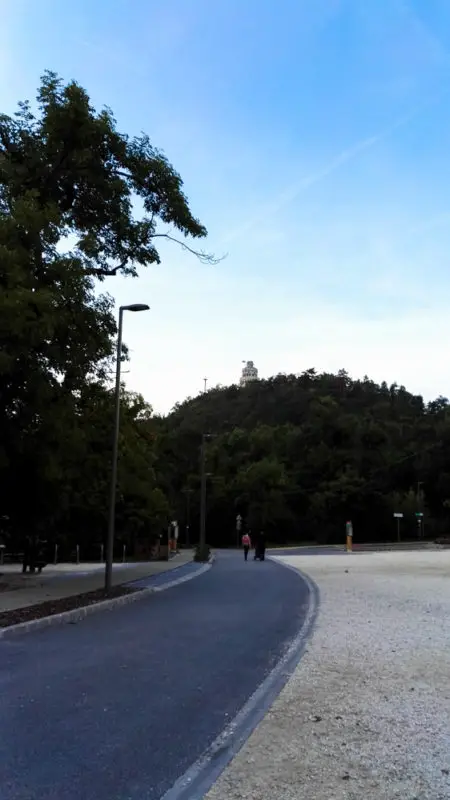 Alternatively, you can take the Budapest Cable Car (Libegő) (summertime) straight to Janos Hill (János-hegy).  The cable car is 1040 m long, and it takes only 12 minutes to ascend 262 meters to the Hills of Buda. You will arrive a few hundred meters from the lookout tower.
Lower Station of Libegő: Csiga út 1a, 1121
Bus to Normafa: Széll Kálmán tér M2 (Old name: Moszka Square)
Children's Railway (1-2 hours)
As you are already in the mountains near Buda, there is another unique program you can take part in with your family. The Children's Railway (Gyermekvasút) is an 11 km long narrow gauge railway line that runs between Széchényi-hegy (and Normafa) and Hűvösvölgy. It is a remnant from the Soviet times (used to be called Pioneer Railway). Nowadays still children under 14 years old operate it (with the supervision of adults). You can take a ride from either end of the line. Family tickets are available too for the whole day. The trains usually don't operate on Mondays.
Location: Széchényi-hegy and Hűvösvölgy
Public Transport:
Széchenyi-hegy: Tram 60
Normafa: Bus 21
Hűvösvölgy: numerous buses and trams
Visit a cave (2-5 hours)
Did you know that Hungary has several stunning caves, including some of the longest ones in Europe?
Szemlő-hegyi cave
Szemlő-hegyi cave belongs to the Buda system, and you can explore 250 meters from the over 2 km long cave on a short walking tour. The tour is 40 minutes long and perfect for families with small kids (free entry for kids under 3 years).
Location: Pusztaszeri út 35, 1025
Public Transport: near Kolosy tér bus stop
Pálvölgyi-Mátyáshegyi cave system
Pálvölgyi-Mátyáshegyi barlangrendszer is a unique, over 30 km long cave system in Hungary with even more crystals forms decorating the underground routes. You can either take one of the short guided tours (500 m) or if you are ready for a great adventure, a 2-3 hours long exploration. You will get a proper overall, helmet, and other necessities, and you can explore the less-visited part of the cave system. Book your place now o participate in a 3.5-hour-long tour!

I highly recommend it to you! When I lived in Hungary, I visited caves every other week, spending 3-4 hours underground, admiring this totally different world in the darkness and quiet. I've been on both caves several times, and I'd love to have another tour again when I have a chance!
Pál-völgyi cave: Due to steep stairs, only kids older than 5 years old (&115 cm) can visit it. 
Location: Mátyáshegyi út 57, 1037
Public Transport: Bus 65/65A from Szépvölgyi út
Margaret Island and the music fountain (2-3 hours) summertime
The fountain at Margaret Island (Zenélő Szökőkút at Margit-sziget) plays music and have a show every hour during the summer season. Each hour has a different theme.
Last year we listened to and watched the kids' session full of famous Hungarian children's songs. I can recommend you check out some of the internationally known ones like the classical music session.
The Island has a bath & beach too. Check out what I wrote about Palatinus above.
Location: Margaret Island
Public Transport: Margitsziget / Margit híd Tram Stop
Kopaszi dam (1-2 hours)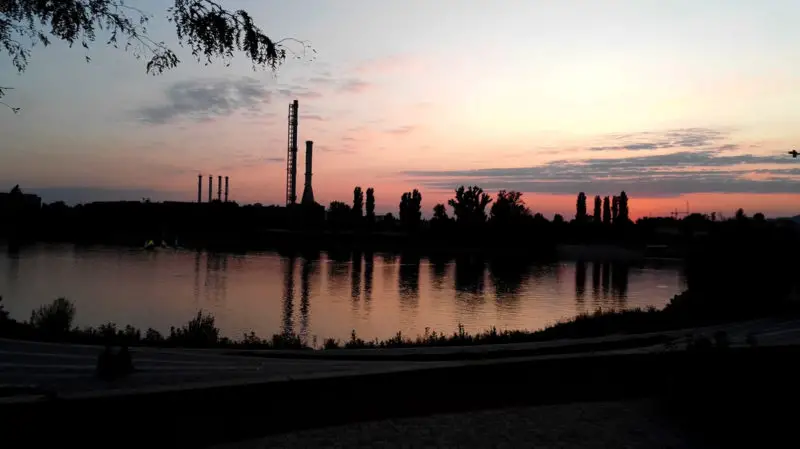 Kopaszi dam (Kopaszi gát) is a newly repurposed dam area with a green park and several culinary options on the Danube shore. Cozy places for lunch or dinner (not the cheapest, though!), grab a beer or wine, or you can have a little picnic there too.
Location: 11th district
Public Transport: Infopark Tram Stop or Ferries to Kopaszi gát
Things to do in Budapest for kids
What to do in Budapest with children? Don't worry, Budapest is full of fun activities with kids. We recommend the third days program especially. You can spread the activities on more days. The Children's Railway, the Labyrinth, the Libegő, and Margaret Island are some of the best ways to spend time with little ones. Bigger kids enjoy caving (you can decide if you want to take a crawling tour or just have an easy walk), and spas too. If you still need ideas, check the Pinball Museum or the Tropicarium too.
Practicalities while visiting Budapest
Travel Resources
There is nothing better than a relaxed holiday. To ensure your rest, make sure you reserve and book your accommodation and transportation in advance of your trip.
Getting to the Downtown from BUD airport
Taking a taxi costs ~ 30€. Private airport transfer is priced similarly.
By public transport: the direct airport bus (100E) transfers you to the Downtown (Deák tér M1, M2, M3). Another public transportation option is the 200E bus and M2 via Kőbánya-Kispest metro terminal to Downtown.
Transportation: Budapest Travel Card
It is highly recommended that you purchase a 72-hour Budapest travel card for your visit. You can also use it on ferries operated by BKK/BKV (on weekdays). Alternatively, buy the Budapest City Card (1-3 days) to gain free and discounted entrance to over 100 sights. For hop-on-hop-off buses, check the prices here.
Exchanging money (forints)
Most tourist attractions accept cards, but it is always good to have cash on hand for smaller purchases. If you need to exchange currency in Budapest, downtown is the best place to get forints for your stay in one of the money exchange points. Best rates in Budapest. You can also check the one at Oktogon, next to McDonald's.
Eating out 
Three days is not a lot of time to eat yourself through the delicious Hungarian cuisine but definitely gives you the chance to try a few dishes. Probably the most time and cost-efficient way is to visit one of the all-you-can-eat Trófea Restaurants and eat from the buffet. It is 20-30€ per person, not the most elite restaurant chain, but I can guarantee you won't be hungry after your visit.
Best Family Friendly Hotels in Budapest
It the best to stay close to the center or the metro lines. Here are some of our suggestions:
$$$ Four Seasons – Read Reviews
$$ Pest-Buda – Design Boutique Hotel – Read  Reviews 
Get the best guides for your trip to Budapest!
Travel Resources
There is nothing better than a relaxed holiday. To ensure your rest, make sure you reserve and book your accommodation and transportation in advance of your trip.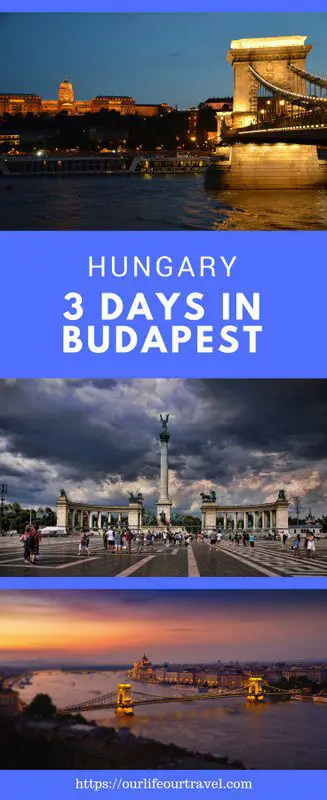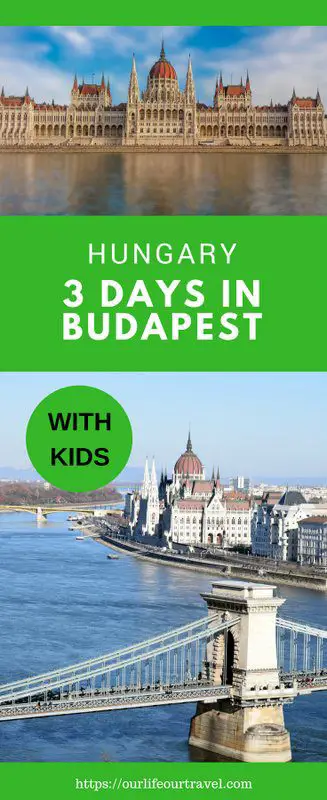 About the Author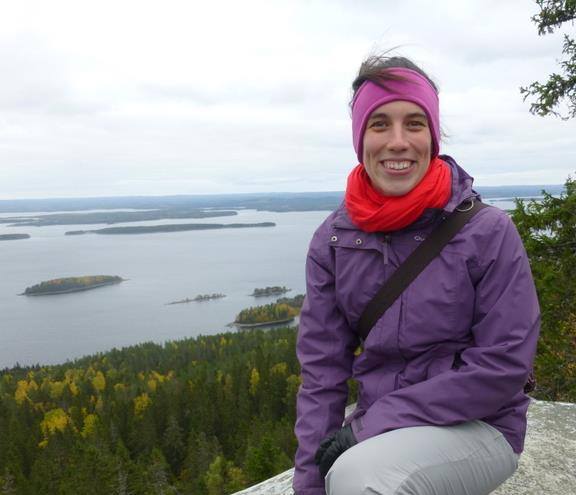 Katalin
Katalin is a Lapland-based outdoor enthusiast who loves hiking, road-tripping, and traveling with her family. She spends her free time far away from civilization in one of the national parks around the world, explores off-the-beaten-path places, or hops on a road trip with her kids in an RV.
Read more about her adventures and the blog.