Camping is all about enjoying peaceful, simple, natural moments. Long road trips or going camping is mainly our inner search for the peace and love of nature. So, one can just take a deep breath, see things, notice them, appreciate them and eventually fall in love. It is a simple dream but not so simple process as it involves other complexities as well, such as preparations, funds, essentials, and many more. Moving to camp essentials, one thing is for sure that it is always a good idea to double-check the things before you start any trip or journey. 
Even if you are going in the wilderness in your car for a short period or a long period, you should keep car camping essentials with you. One thing you must remember is to be fully prepared, as you should keep in mind, nature always wins. So, you better be prepared. Here is the detailed list of what you should pack for your car camping trip in order to make it fun, safe, and protective.
Check this solar lantern & phone charger out!
Disclaimer: The post may contain affiliate links.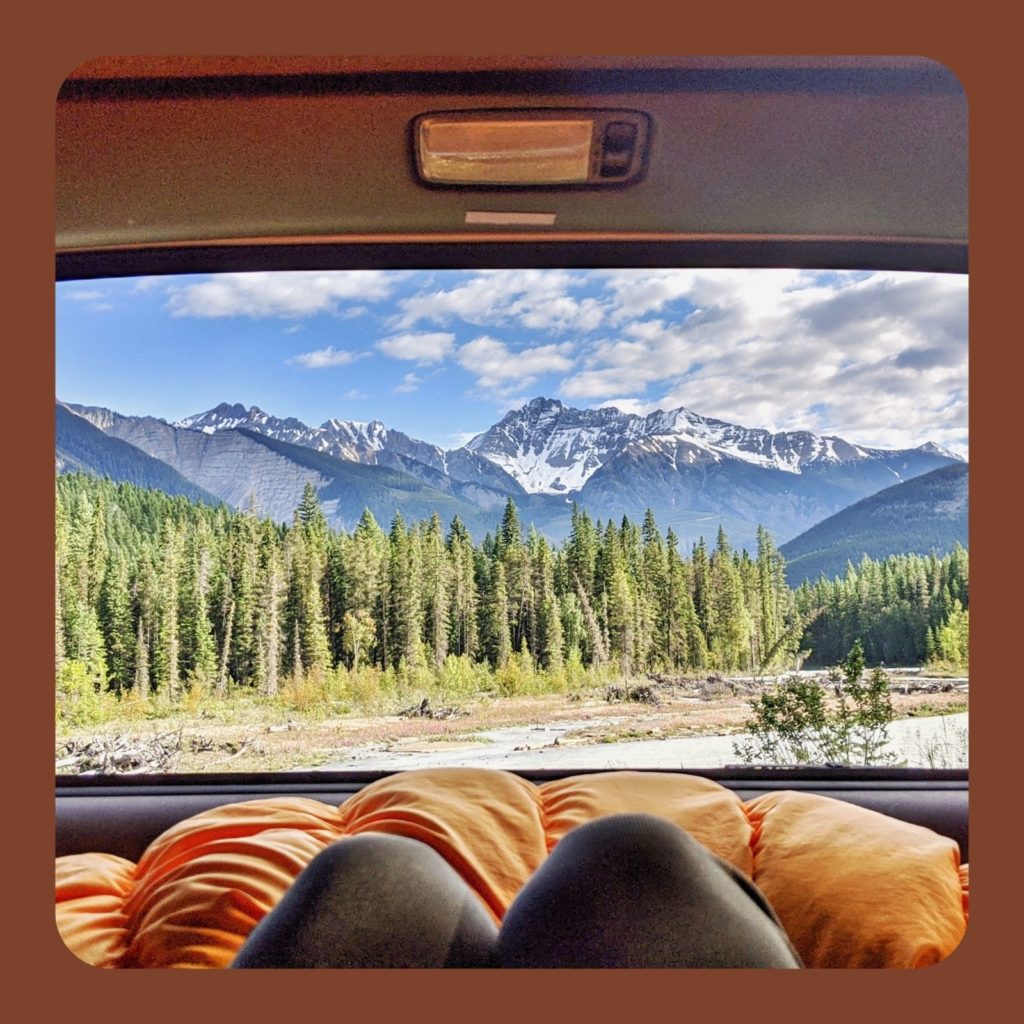 Car Camping
There are different types of camping people do. But, today, we are going to keep our focus on car camping and its essentials. Car camping is not all about sleeping in your car. The most common and easy car camping requires you to load your car with gear, finding a campsite, driving to it, parking your car, and then unloading at your campsite.
Advantages
Now let's move to advantages, car camping has:
You won't be too far from your car 
You don't have to carry stuff along
You don't have to carry a limited supply 
You could camp in a designated area with fire pits, and bathroom facilities are available 
Disadvantages 
Advantages come with some disadvantages as well but don't worry; this list is not that long:
You will be around people all the time 
you have to use shared facilities  
Now we will move towards ultimate car camping essentials, and we will cover all those things you're going to need for the best camping experience.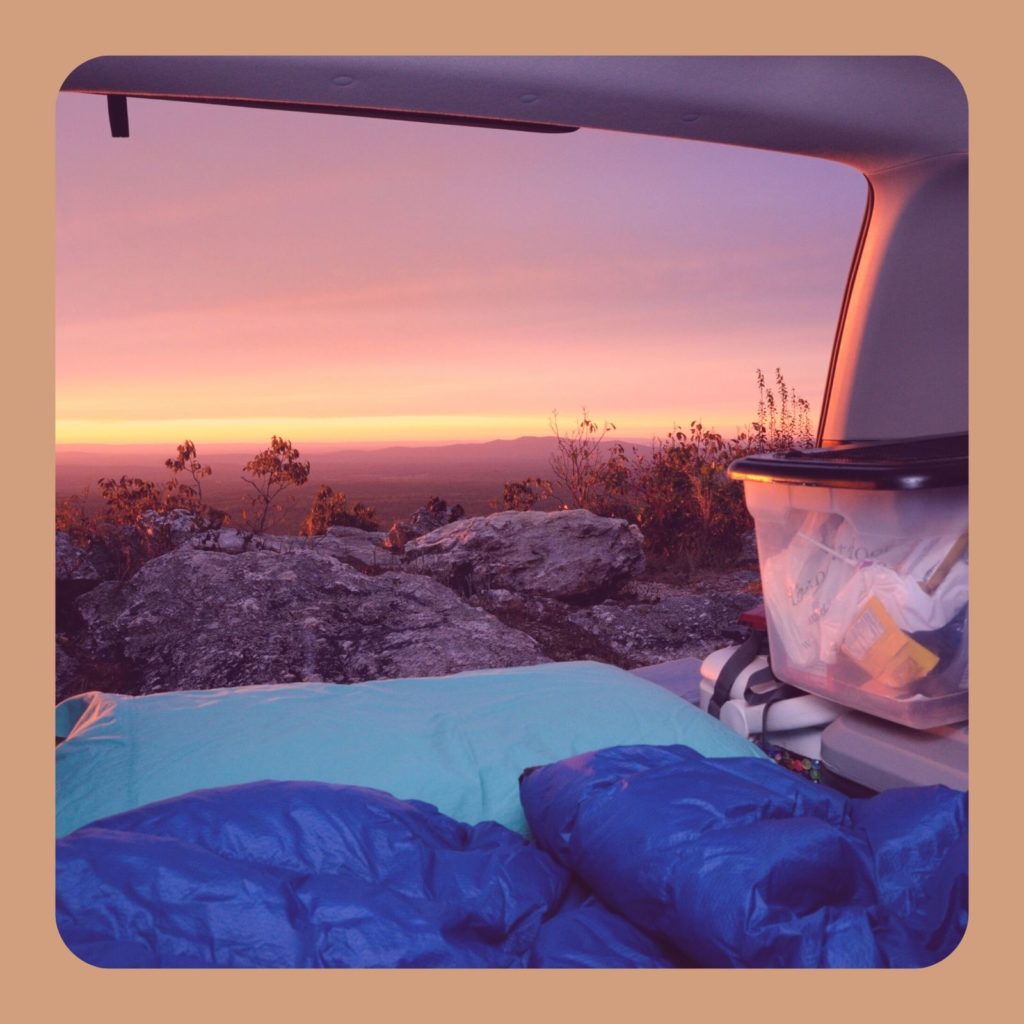 Sleep system
Undoubtedly, it is a very important part of camping essentials. It comprises gear in which you will sleep, which also includes bidding and shelter. It is expensive, and there is a reason for it as the Sleep system can make your camping experience worst or great. Well, it depends upon its properties as in a good sleep system, you will feel relaxed and fresh, ready to explore while, in a bad sleep system, you will feel uncomfortable, sore, turning and tossing all night, feeling miserably cold. If you want to avoid all this fuss and want an up-gradation. Check out this deal called backpacking bundle, which comes with a sleeping bag, tent, and sleeping pad for camping and backpacking.
Tent
The Selection of tents depends upon whether you're are backpacking or camping. In backpacking, you must choose an ultralight tent. They are expensive, but then the weight will not be a problem. As far camping is concerned, you can choose a decent tent with less weight at a reasonable price. One thing to keep in mind is that always choose simple tents as they are easy to handle. Excellent options are available for 3 or 4 season camping. 
One of them is a budget pack which includes a pretty great deal for a three-person tent—highly recommended as it is protected from rain and you can even fit a mattress in it. Another one is a long-term investment; you can choose this all-season light tent as it is light, provides protection, and easy to set up. 
Sleeping bag
Stuffed synthetic bags used for sleeping may work fine in warmer regions with normal temperatures, but using a cheaper sleeping bag in regions with extreme weather can cause a lot of discomforts. Therefore, instead of using a synthetic one, go for a lightweight, insulated, and more robust down sleeping bag. Try this amazing sleeping bag option available.
Sleeping pad
Camping is fun, but what if you have to sleep on a rocky and hard surface without proper support. To avoid this trouble, pack a sleeping pad. A good sleeping pad will provide you warmth and comfort with the guarantee of good sleep. There are multiple options available, and it also depends upon your tent. If you have a big tent, you can have a big air mattress and enjoy. But if you want to go with lighter and smaller pads, we would recommend Therm-A-rest sleeping pads. They have self-inflating as well as some cheaper ones but with great quality. 
Hammock
A good hammock is made with durable material, resistant to punctures, and helps you retain warmth. Recommended hammocks are cotton hammocks as they are super comfortable, but one thing to keep in mind is netting and if you don't, then be ready for bugs. So, go for a built-in net bug net. Our recommendations to you are Eno jungle nest hammock and Skeeter Beeter. It has this built-in mosquito net that will provide protection against bugs and stuff and that cozy feeling which you need when you are outside.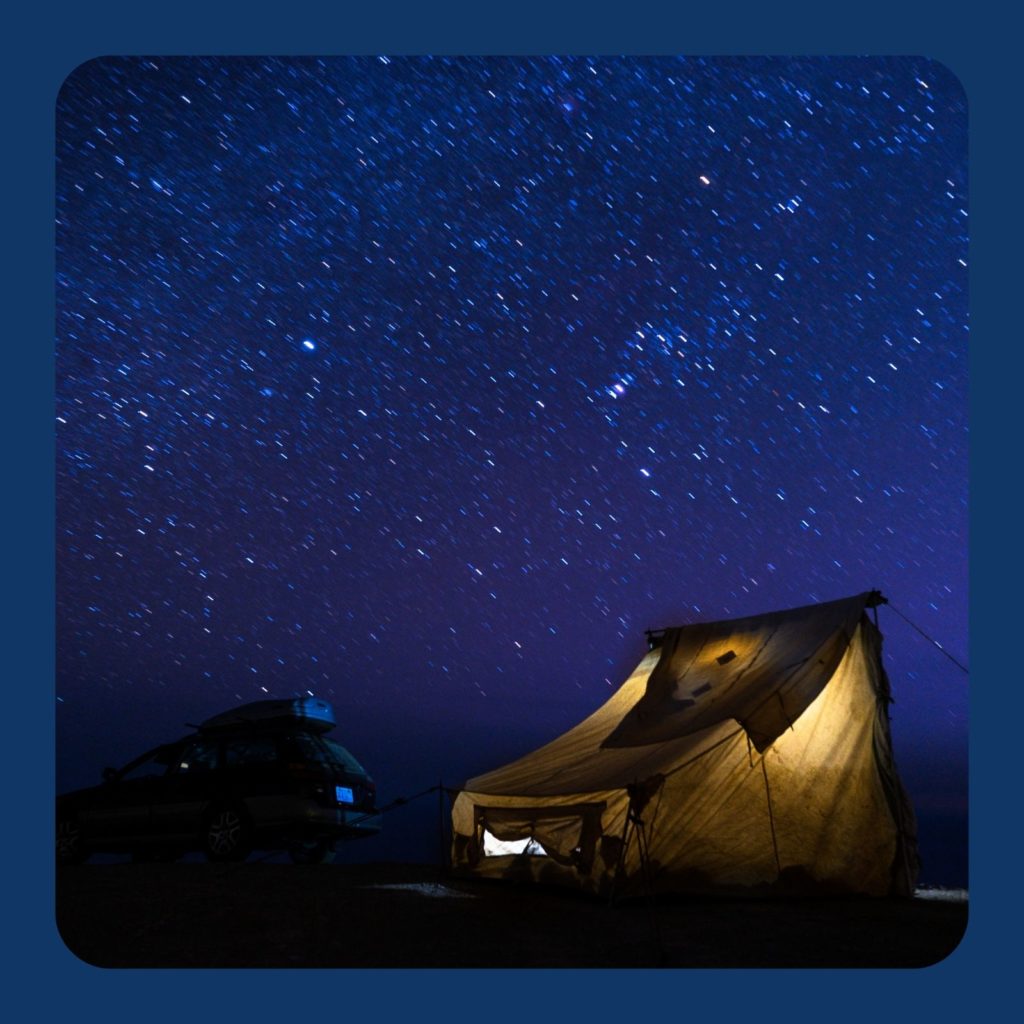 Water and food supply
You are going to need many things in order to cook food at the camping site, but some of the most important are mentioned below.
Cast iron skillet (unlike normal pan, it can take any amount of heat, even open fire)
Cutting board (chop your veggies and other stuff at wood or sturdy plastic board) Try this folding plastic cutting board
Swiss knife (not chef knife, army knife, or any other knife)
Lighter (long reach style will be best to start a fire) in case it doesn't work, have a backup fire system such as a container of stormproof matches 
Utensils (environmental friendly camp utensils is always the best option)
Aluminum foils (best to keep leftover food)
Biodegradable soap (try using biodegradable soaps because they are environmentally friendly) we suggest checking out Dr. Bronner's Soap. 
Emergency water filtration (clean water is not available everywhere) So, have a backup with something like purification tablets.
First aid for your safety
First aid kit (it should contain every necessary thing such as wraps, medicines, bandages, alcohol, etc) 
Paracord (You never know when you're gonna need it. Keep it with you just in case)
Duct tape (You never know when you're gonna need it. Keep it with you a small roll just in case)
Compass (have a lightweight compass with you. Don't rely on GPS)
Whistle (loud enough to listen during wind, rain, etc.)
Campsite essentials
Portable battery (have an external battery with you) such as double as a phone charger
Headlamps (flashlight will help you easily work in the dark) 
Camp chairs (for fun and amazing camping experience, keep these comfy chairs with a built-in cup holder and sit around fire sing, chill, and enjoy)
Sunscreen (keep one with you. Otherwise, you will burn badly)
Insect repellent (they can cause itchy ankles and constant discomfort. To avoid this, keep repellent lotion with you) 
Wipes (multipurpose wipes is essential)
Toothbrush and biodegradable toothpaste 
Camp towel (rather than an ordinary and bulky towel, choose a travel-friendly and lightweight travel towel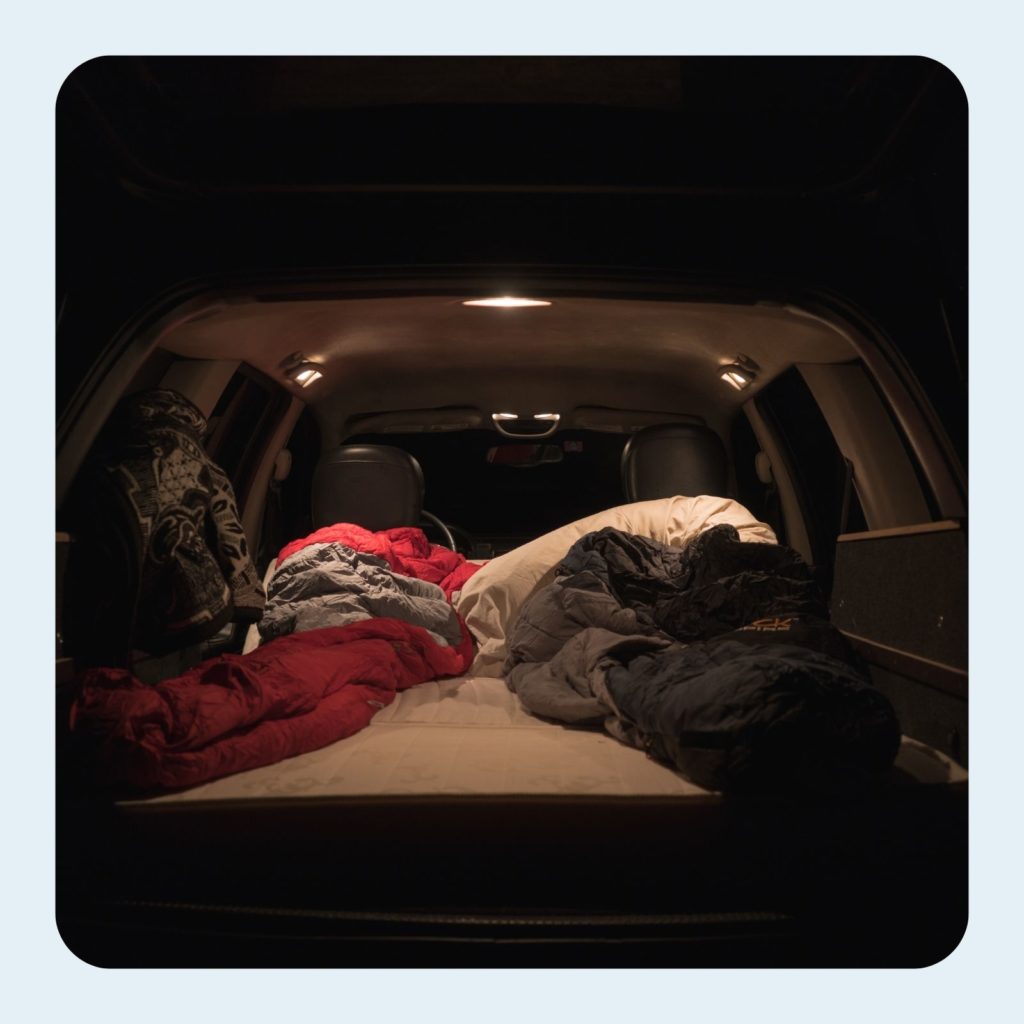 Camping clothing
Waterproof socks (best for every condition and weather) check out these waterproof socks. 
Clothing for camp (Wear clothes that are super comfortable and tactical. Try to wear clothes that are fully covered in order to save yourself from weather or bugs)
Clothing for outdoor activities (Dress properly and accordingly. Hiking pants or tee shirts are best options for both men and women)
Raincoat (weather is always unpredictable. You never know when it will rain. So, in case of rainy weather, a raincoat is must)
Bathing suit (don't wet your normal clothes and put yourself in a problem. Instead, keep a bathing suit with you all the time)
Drybag (in order to keep your important stuff dry, a dry bag is essential. You never know when you are going to need one)
Car camping with dogs
If you are planning to go do car camping with your dog. There might be some questions you want to ask. Well, we are here to answer them. Some common questions we get are answered below:
Where will my dog sleep?
It is best to let your dog sleep with you. It will keep them calm if you don't want to do that; you can purchase an outdoor dog bed or cozy crate for their comfort. 
Can they be off-leash?
This depends on the campsite, so make sure the campsite is pet friendly, and it allows off-leash pups. If you are not okay with it, consider buying a tie-out cable and tether or an outdoor playpen.
If I am bringing my dog, what essentials I need?
You will need some basic things like food, harness, bowls for water and food, toys or chews, leash, etc. Some extras would be great such as a life jacket (if water activities are involved), a pet first aid kit, and melatonin.
About the Author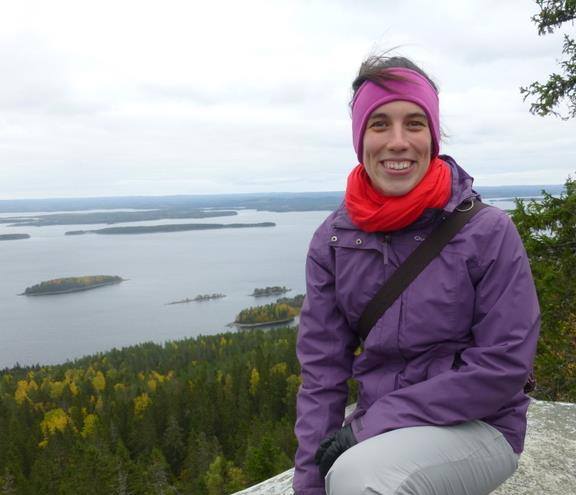 Katalin
Katalin is a Lapland-based outdoor enthusiast who loves hiking, road-tripping, and traveling with her family. She spends her free time far away from civilization in one of the national parks around the world, explores off-the-beaten-path places, or hops on a road trip with her kids in an RV.
Read more about her adventures and the blog.