Are you gearing up for your next big trip? If so, you'll need to choose the best backpack to fit all of your gear. Choosing the right travel backpack can be a difficult and overwhelming task, especially if you're a first-time traveler. 
With travel comes a lot of challenges, and you don't want to add more to them with a backpack that isn't suitable. There are so many different factors to consider, from size and style to price and comfort. But don't worry, we're here to help. 
In this blog post, we'll give you all the tips and information you need to choose the perfect travel backpack for your next adventure. So whether you're looking for something lightweight and compact or something with more space and features, we've got you covered.  Let's get started!
Disclaimer: The post may contain affiliate links.
Why You Need A Backpack 
There are a few reasons why you'll want to bring a backpack with you on your travels. Such as:
Accessibility
First and foremost, it's the perfect way to carry all of your essentials with you. This means that you'll always have everything you need at your fingertips, without having to worry about packing and unpacking every time you move to a new destination.
Versatility
Second, backpacks are incredibly versatile and can be used for a variety of purposes. They're ideal for day trips, hikes, and other outdoor activities, but they can also be used for city exploration or as a carry-on bag when flying.
With a backpack, you can roam through the streets of Paris one day and catch a flight to hike in the mountains of Italy the next without having to worry about your luggage. As opposed to suitcases that require you to find a place to store them and can be difficult to carry around, a backpack is easy to take with you wherever you go.
Mobility
Imagine you are in a new city and you continuously have to keep an eye on your phone for Maps but you also have to carry your suitcase in the other hand. Pretty exhausting right? 
Well, backpacks allow you to move around easily, without having to worry about dragging your luggage along. This is especially important when navigating busy cities or hiking through difficult terrain.
Since backpacks can also pass as a hand-carry on a flight, you will not have to waste 30 minutes on a baggage claim waiting for your luggage.
Choosing A Backpack: Things To Consider
Although it varies with each person, there are a few general things to look for when choosing a backpack:
Comfort
One of the most important factors to consider when purchasing a backpack is its level of comfort. When worn correctly, a backpack should distribute the weight evenly across your back and shoulders. If it doesn't, you'll end up with a sore back by the end of the day. To test for comfort, wear the backpack around the store before making your decision.
Fit 
Backpacks shouldn't be too large or too small – they should fit comfortably on your back and be able to store all of your travel essentials. When trying on packs in stores, consider your torso length and hip size before making a purchase.
Water-resistance
You never know what kind of weather you will encounter on your travels, so it's important to choose a water-resistant backpack. Look for packs made from durable materials like nylon or polyester, and make sure the zippers and seams are well-sealed.
Straps 
Your backpack should have comfortable straps that distribute the weight evenly across your shoulders. Cheap backpacks often have thin, flimsy straps that can cause pain and discomfort after just a few minutes of wear. Spend a little extra money to get a pack with well-padded, ergonomic straps.
Storage Capacity
Backpacks come in a variety of sizes, so you can choose the one that best suits your needs. Most backpacks have at least one large compartment and several smaller compartments, which makes it easy to organize your belongings. Plus, many backpacks also include built-in rain covers for rainy weather.
Padded Compartment
If you are a digital nomad or content creator, then you can never compromise on a backpack without a dedicated compartment for your tech gear. Things often get rough out in the wild, and you will want to have extra protection for your expensive laptops or cameras.
Durability
Backpacks are made from durable materials that can withstand a lot of wear and tear. This is important if you're planning on doing a lot of outdoor activities or if you're prone to being rough with your belongings.
Material
When choosing a backpack, it's important to consider the type of material it's made from. Some materials are more water-resistant than others, which can come in handy if you're caught in a rainstorm. Additionally, some materials are better at resisting dirt and mud, which is important if you plan on doing a lot of outdoor activities.
Lockable Zips
A backpack that has two zippers for each compartment that can be locked together is ideal if you're worried about someone stealing your things. This feature can also come in handy if you're traveling and don't want to worry about someone going through your bag while you're not looking.
Front-loader
Most hiking backpacks are top loading which means they open from the top like a bucket. However, they are quite unpractical. As it makes it difficult to reach something at the bottom of a pile unless you completely unload everything on top.
Instead, always go for a front loader that opens like a suitcase as these provide easy access to their belongings. 
Back Support
Since you will be carrying your backpack on your back, so make sure to choose one that has good back support. This is especially important if you plan on packing for a long hiking trip, as it will help distribute the weight evenly.
Most backpacks come with lumbar back support that helps maintain the natural arch of your spine and has padding for extra comfort
When choosing the right backpack for your needs, the above are a few factors you'll want to consider.
Recommendations For Travel Backpacks
Here are some backpack recommendations that are perfect for travel:
Check the availability on Amazon or look for similar models on REI!
These are a few reasons why we have featured this backpack in our list of favorites:
Heavy-duty yet super lightweight
Backpack with a detachable daypack, that you can use for short one-day trips.
Waterproof
A dedicated compartment for sleeping bag
Durable 
Internal Frame Suspension that provides support to the back and spine
If you are looking for a backpack that will allow you to explore the world with ease, then the Roamm Nomad 65 +15 Backpack is perfect for you!
Check the availability on Amazon or REI!
Next on the list is this all-rounder by North Face, a backpack designed especially for women.  It is a medium size backpack with a capacity of 30 liters, perfect for carrying your essentials when traveling. The best part about this backpack is that it can be used for a variety of activities, from hiking to camping to everyday use.
Most importantly, this backpack has a FlexVenta suspension system, recommended by American Chiropractor Association to help distribute the weight evenly and reduce stress on your back or shoulders. 
With its ergonomic compression straps, internally organized compartments, and rain cover, this backpack is perfect for hikers and outdoor enthusiasts. With its highly affordable price, it provides great value for the money. Some of its best features include:
Security whistle
Compression straps
Separate padded compartment for the laptop 
Back harness
Clip for hanging keys
Lockable zippers
Conclusion
So, whether you're a student, an adventurer, or just someone who likes having their hands free, we hope this guide has helped you choose the perfect backpack for your needs. Remember to consider what activities you'll be using your backpack for and your personal preferences – there's something out there for everyone!
If you have any questions about our selection or need help finding the right pack for you, don't hesitate to contact us. We love helping people find their perfect backpack. Have A Blast Travelling!
About the Author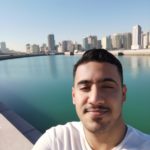 Hussain from Hikers Needs is a passionate hiker and traveler that loves the outdoors and enjoys what nature has to give, whenever he can he loves to write and give tips & honest reviews to help others get out there and just seek more unforgettable experiences.
Backpacking adventures on Our Life Our Travel