Mount Pilatus is one of the most popular hiking destinations in Switzerland as it is easily approachable by cable car and cogwheel train, not only by hiking. Here you can find everything you need to know about the hike to Mt Pilatus.
What are the best ways to visit Mount Pilatus from Lucerne?
Golden Round Trip
There are several option on how to visit Mt Pilatus from Lucerne, the most popular is the so called Golden Round Trip.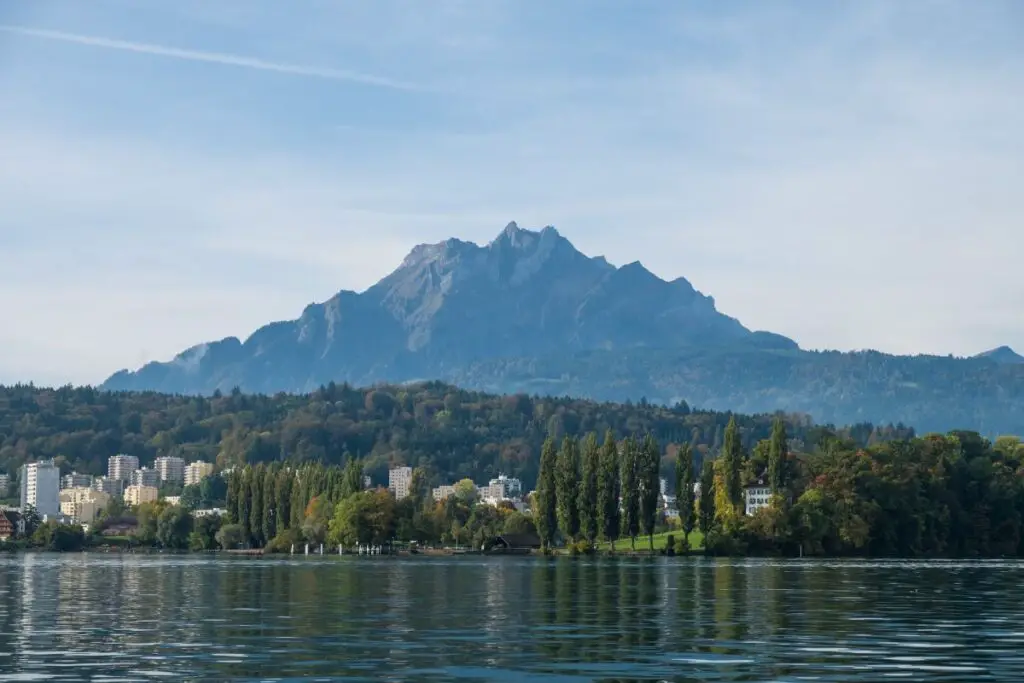 Without doubts, the Golden Round Trip is the best way to visit Mt Pilatus and have a perfect day trip from Lucerne.
Self Guided Golden Round Trip
You can do it as a self guided tour. It is rather easy to find these locations, and you can even buy the tickets here beforehand to your adventure. We would recommend you this version. The self guided tour takes about 5 hours.
Guided Golden Round Trip
If you feel more comfortable having a guy with you, or want to listen to some interesting stories of your guide, take this tour. The guided tour takes about 6 hours.
There are a couple of questions that usually comes up when hiking the Golden Round Trip: which direction is the best? As you cover the same route, no matter what, the views are the same and the direction does not matter. However, if you want to avoid the crowds, you can go on the trip anti-clockwise: start with the cable car and end with the boat ride (check the timetable before). If you are up to Mt Pilatus around 11 or earlier, you will have a lot more pleasant time up there.
Mount Pilatus cable car
The cable car runs between Kriens and Mt Pilatus (Pilatus Kulm)
Mount Pilatus cogwheel train
The cogwheel train runs between Mt Pilatus and Alpnachstad. It has an incline of 48%, it is the steepest cog railway in the world.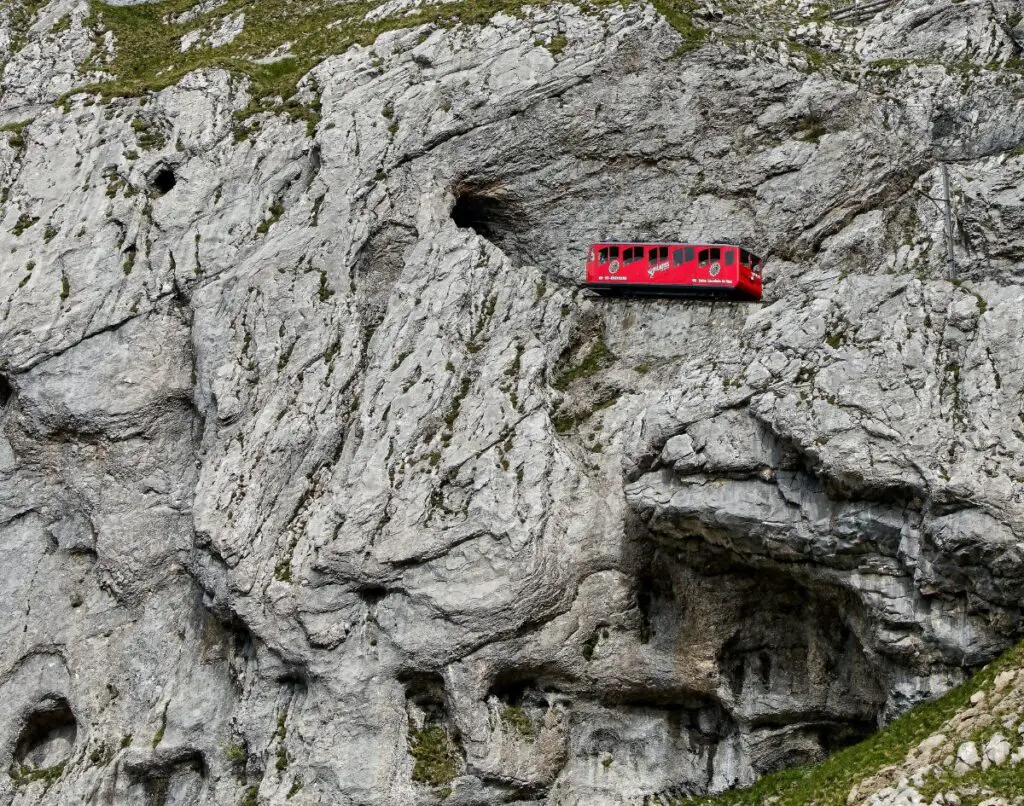 Silver Round Trip
It is the cheaper version of the Golder Round Trip and it doesn't include the boat ride, but a train from Alpnachstad to Lucerne.
You can save about 20% of the price compared to the Golden Round Trip tickets if you are fine taking the train instead of the boat.
The other advantage of the Silver ticket is that it gives you more flexibility, as the trains runs a lot later than the boats.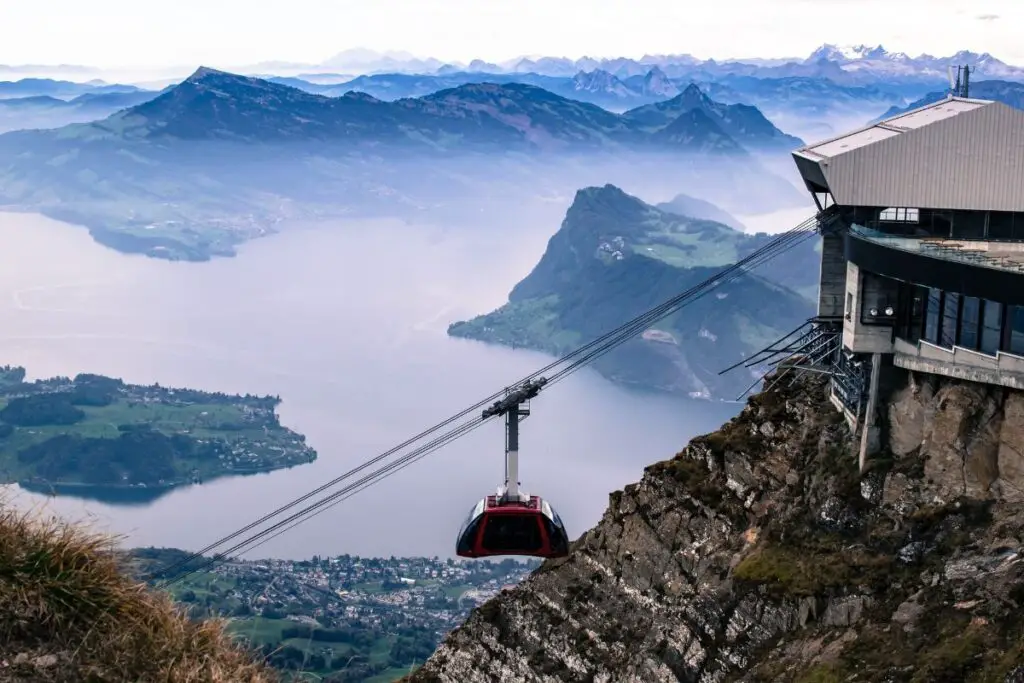 DIY Pilatus trip
A do it yourself Pilatus trip gives you a lot more flexibility than the previous options. You can still buy for example this ticket, where you can visit Mt Pilatus by cable car, cogwheel train or combining the option. However with this ticket, you need to arrange your own transportation to and from Kriens or Alpnachstad, for example by car,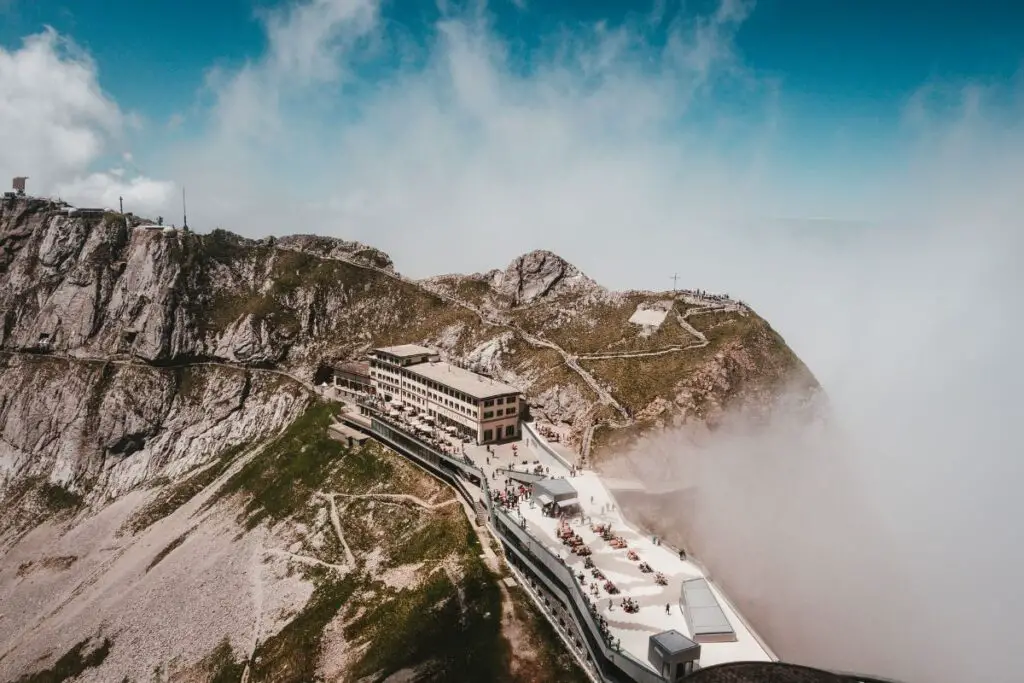 Mt Pilatus by Car
If you decided to drive to the stations below Mt Pilatus, you need to think only about the parking costs.
In Kriens near the gondola station it costs approximately 5 CHF per day to park.
In Alpnachstad at the cogwheel train station the parking cost is the same, 5 CHF.
You can also leave your car in Lucerne, but in most places there the parking is around 20-30 CHF, and then you still need a bus or train ticket, or the Golden or Silver Tour tickets.
Mt Pliatus By bus
The (trolley)bus ticket from Lucerne to Kriens costs about 4 CHF. Take the Nr 1 trolleybus from Lucerne railway station to the direction of Obernau Dorf.
Mount Pilatus hiking route options and info
You can find other popular hiking options in Switzerland here.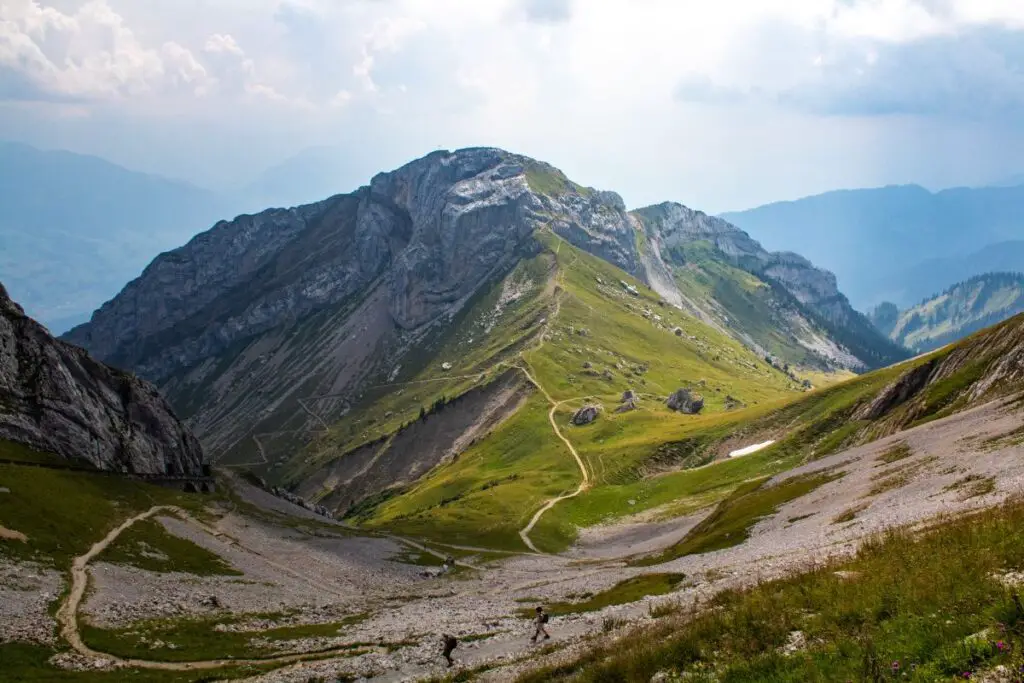 Easy Mount Pilatus Peak tour – Pilatus Kulm to Esel, Oberhaupt and Tomlishorn viewpoints
This is a little walk to those who go for the amazing views but doesn't want to hike up on their own to Mt Pilatus – no worries, most of us would choose this option. From the Pilatus Kulm upper station, the Esel, Oberhaupt and Tomlishorn viewpoints are a short walk away following an easy trail. It takes 20 minutes to walk round the Oberhaupt peak, 15 minutes to climb the Esel and 30 to 40 minutes to reach the highest, outermost Pilatus peak, the Tomlishorn.
Hiking Time: 30 minutes
Fräkmüntegg and Krienseregg
This easy yet scenic hike (1 hour 40 mins) goes from Krienseregg middle station past the Schönenboden hut to Fräkmüntegg middle station. If you are an adventurous family, you can combine this trip with Switzerland's longest summer toboggan run and suspension rope park on the Fräkmüntegg. There is also a big children's playground as well as various BBQ spots and picnic sites.
Hiking Time: 1hours 40 minutes
Drachenweg (Dragon trail)
The Drachenweg trail is a scenic circuit trail on the top of Mount Pilatus. You can discover the myths and legends associated with this mountain while admiring the views of the Central Swiss Alps and Lake Lucerne below.
Hiking time: 40 minutes
Alpnachstad – Pilatus Kulm
This is a demanding trail! For those who prefer to tackle the ascent up Pilatus from Alpnachstad under their own steam rather than by cog railway, the medium-difficulty hike via Ämsigen is a great choice. The trail goes across flower-filled alpine meadows, burbling mountain streams and steep rocky cliffs.
Hiking time: 4 hours 30 minutes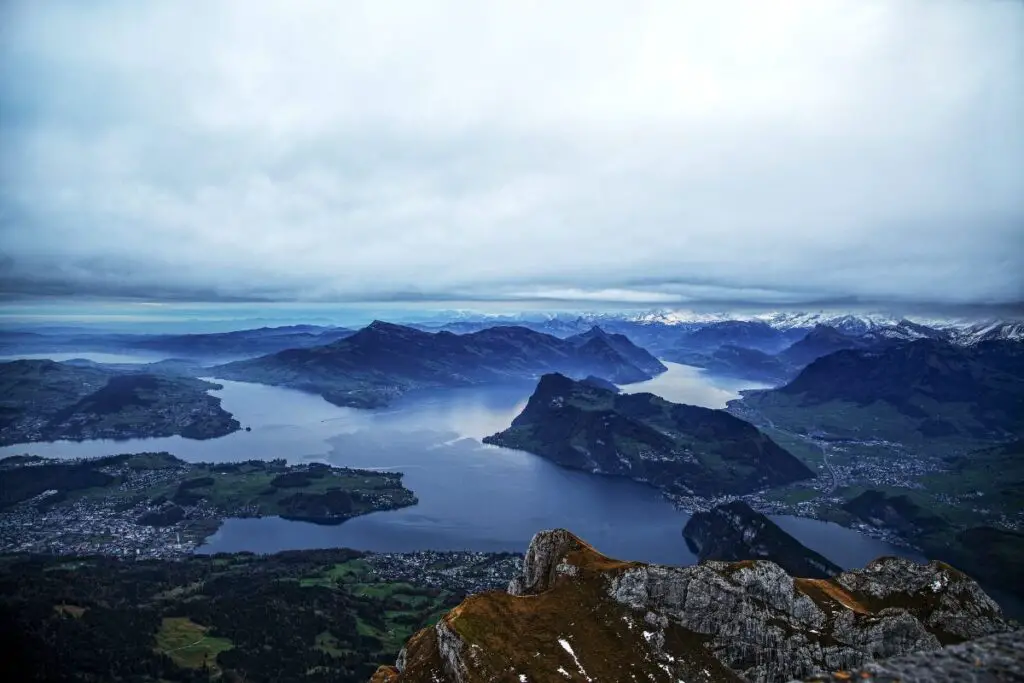 PILATUS FAQ
How long is the trip to Mount Pilatus to Lucerne? The trip takes at minimum of 4.5 hours, buy you can easily spend over 6 hours on the trip. The best if you plan it as a full day trip from Lucerne.
How long is the cable car ride from Kriens to Mount Pilatus? From Kriens to Fräkmüntegg middle station it takes about 20 minutes, and from Fräkmüntegg to Mt Pilatus another 3.5 minutes, not counting the waiting time at the station. All in all, you should count about 30 minutes to your ascent.
How long is the cogwheel train ride from Alpnachstad to Mt Pilatus? It take sabout 30-40 minutes.
How steep is the Pilatus cogwheel railway? It has an incline of 48%, it is the steepest cog railway in the world.
How long is the bus ride from Lucerne to Kriens? It takes about 12-15 minutes, plus 5-10 minutes walk to the gondola station.
Where to stay in Lucerne?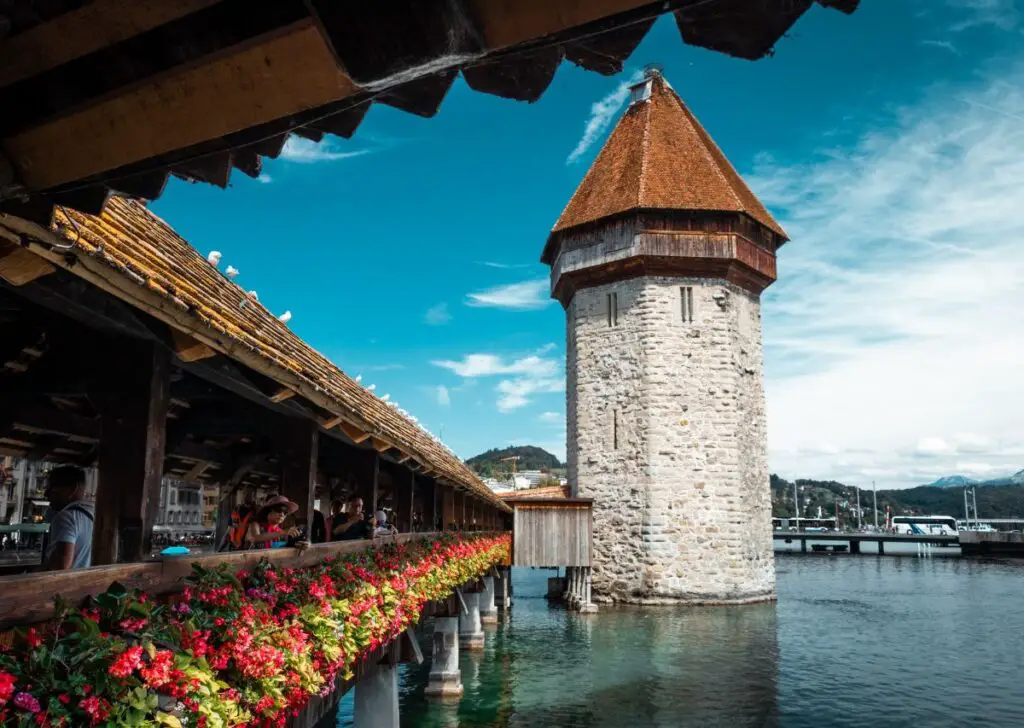 On a budget: in the modern yet cheap capsule hotel lucerne at the heart of the city
Mid-range: 3 km away from the center at Holiday Inn Express
Splurge: in the self-serviced Hirschenplatz Apartments or in the luxurious Hotel Schweizerhof
RELATED SWITZERLAND POSTS
About the Author