Jordan is one of the most beautiful (and not the last, one of the safest) countries to travel to in the Middle East. The country is full of cultural and natural wonders. Let us help you to bring the most out of your Jordan itinerary!
Where to go in Jordan?
Jordan is a country of diverse landscapes, world heritage sites, the Dead Sea and the nearby wadis, the desert milieu and rock formations of Wadi Rum, and the remains of ancient cities – all in one country.
Who wants to travel millions of years from the beginning of earth's history and travel thousands of years in the pages of history in the footsteps of great civilizations? Who wants to spend a few days at the meeting point of the world's most exciting cultures?
As you are about to plan your trip, let us guide you through the best places in Jordan.
Amman
Amman, the capital of Jordan is a big city with its 4 million inhabitants. It is definitely worth to spend a day or two here, to visit at least the Citadel and the Theatre. If you have more time, you can visit one of the hammams (bath) too.
Amman Accommodation options:
Jerash and Ajloun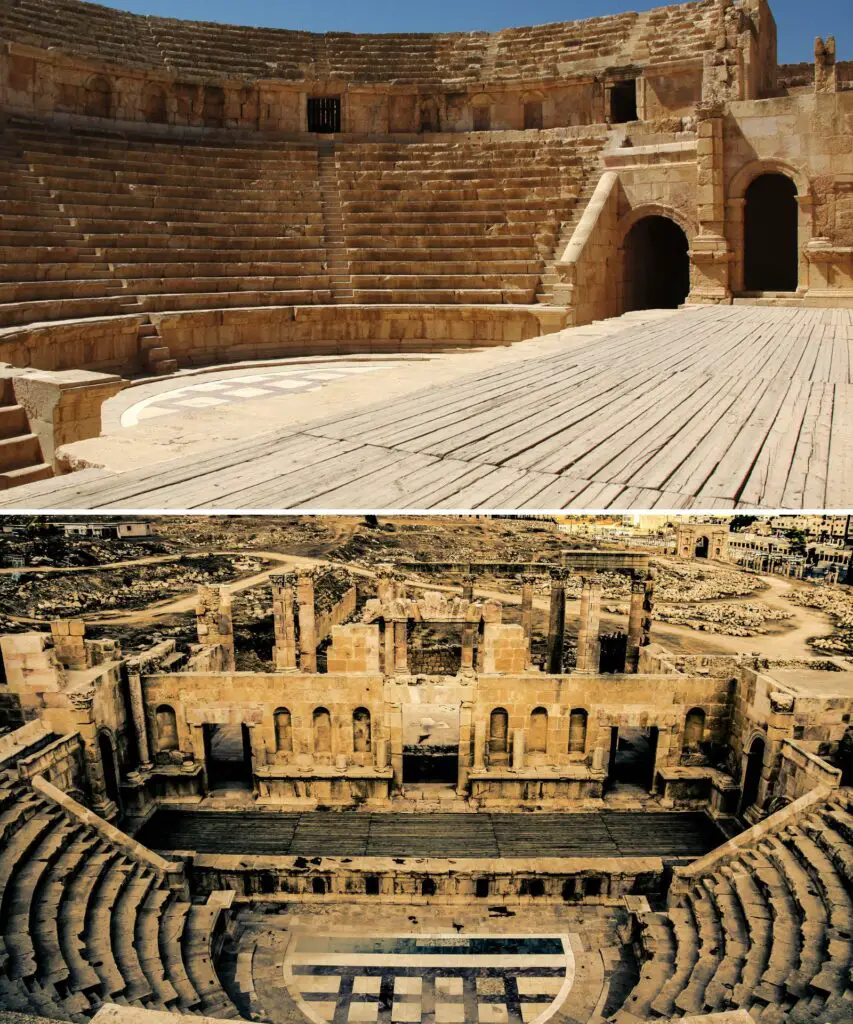 Go on a day trip from Amman. You'll visit the Greco-Roman ruins at Jerash (this site is really huge!), and enjoy the views from the 12th-century castle in Ajloun.
Transportation:
JETT bus round trip ~ 15 JOD, or
rental car – More details here on how to get there and what to see, or
Entrance fee: free with Jordan pass
Where to stay? In Amman.
Dead Sea
Where to stay near the Dead Sea?
In a resort: Mariott Resort Dead Sea
In a chalet: Mujib Chalet – right next to the Mujib reserve, with private beach and food options.
if you are looking for cheaper options, check out our recommendations for Madaba and Amman.
Madaba
First, visit the Orthodox Church of St. George, built in the Byzantine era, where you can see a map of the Middle East and a mosaic depicting the Holy Land. The city's churches and museums hide more wonderful mosaics – most sights have a nominal entrance fee (1 JOD) and many are also included in the Jordan pass.
I found Madaba one of the best cities I've been to. The prices are very reasonable too if you want to eat our or just do some shopping (food or souvenirs).
I have stayed in two different accommodations, and I recommend you to stay in Hotel Madaba – right next to the center, with free parking nearby, nice rooms with air con and the best breakfast I've had in the whole of Jordan.
Where to stay in Madaba: Tell Madaba Hotel
Kerak
Kerak castle is one of the most visited castles in Jordan.
Personally, we would recommend you to drive/travel further, and stay in Dana or Petra for the night.
Dana Nature Reserve
The Dana Nature reserve offers multiple lengths of hikes, starting from a few hour hikes to multi-day ones. Not so surprising, it is the biggest nature reserve in Jordan.
Many hiking routes end in Feynan, where you can find a fabulous ecolodge. Your stay there also includes hiking activities. We recommend staying there for at least two nights.
Where to stay in Dana:
We recommend booking your place in advance, as Dana and Feynan are small settlements and places sell out fast in high season.
Wadi Ghuweir
Schobak Castle
Petra – Wadi Musa
Where to stay in Wadi Musa
Red Sea and Aqaba
Wadi Rum
Jordan itineraries
What to see in Jordan in 3 days?
If you only have 3 days, you can only visit a tiny bit of the country. 3 days in Jordan will allow you one of the following itineraries:
day: Flight to Aqaba and going to Wadi Rum
day: Wadi Rum and going to Petra
Petra and going back to Aqaba airport.
Amman and Jerash
Dead Sea (Mount Nebo on the way)
Visiting Madaba, departure
What to see in Jordan in 5 days?
Five days in Jordan give you a little bit more time, whether you want to spend in the north or south, optionally visit both.
Amman, Jerash, and Ailoun
The Dead Sea and Madaba
Petra
Wadi Rum
departure from Aqaba
What to see in Jordan in 7 days?
7 days in Jordan itinerary is similar to 5 days, but you will have a lot slower pace, and optionally you can add a diving or snorkeling trip to the Red Sea, or visit Wadi Mujib.
Amman, Jerash, and Ailoun
The Dead Sea + Nebo
Wadi Mujib and Madaba
Petra
Petra visit and go to Wadi Rum
Wadi Rum
Aqaba
What to see in Jordan if you have more than a week?
Personally, I would suggest you go for possibly 10 days – that is strongly based on the itinerary I have had as well during my solo road trip in Jordan. I spent there 11 days, and I felt it wasn't enough.
Amman
Jerash, Ailoun, and Um Qais
The Dead Sea + Nebo
Wadi Mujib hike and Madaba
Kerak Castle and drive/go south
Dana nature reserve (few hours, day hikes, or multi-day hikes available) or Wadi Ghuweir hike
Petra
Wadi Rum (possibly 2 days!)
Aqaba
departure from Aqaba/Amman