The Blog
Our Life, Our Travel blog was launched in March 2016. The blog focuses on the outdoors, hiking and family travel. It motivates our readers to be active and spend free time outdoors as well as shows possibilities of long-term travel with children and location independent life.
We, Katalin and Karol, are a Hungarian-Polish family (with two kids) who travel the world while working remotely. We love nature, car trips, backpacking, and having a bit of luxury while exploring cities. We have been extensively traveling for 5+ years and have visited over 50 countries and lived and worked on 3 continents.
We have an active audience who is eager to find out about new destinations, products, and services that we use and recommend.
Social Media Accounts
Instagram | Facebook  | Twitter | Pinterest

Services We Offer
sponsored posts, for example, reviews of hotels, adventures
contests or giveaways,
brand ambassadorship,
travel planning,
presentations (English/Polish/Hungarian)
photography
Let us know if you would like to work with us on our blog, Instagram or other social media. We would appreciate if you contact us and we will gladly answer further questions.
Examples of Collaborations
Lappish adventure: exploring Levi's surrounding by snowmobile
Exploring Tornio: Between Finland and Sweden

Media Kit
For updated stats, please send us an email!
contact@ourlifeourtravel.com or get in touch through social media.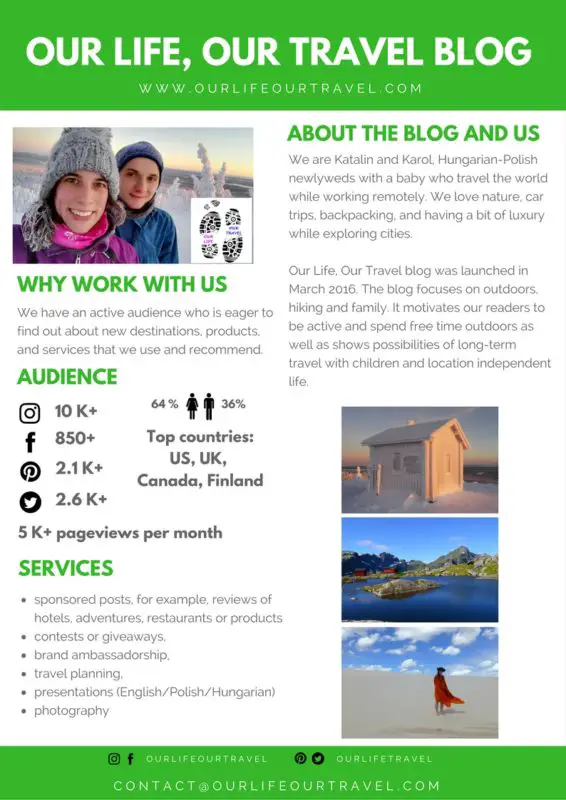 Regards,
Katalin & Karol