The blog
Our Life, Our Travel blog was launched in March 2016. The blog focuses on outdoors, hiking and family. It motivates our readers to go for weekend trips while showing the possibility of long term travel.
We have been extensively traveling for 5+ years and have visited over 50 countries and lived and worked on 3 continents.
Social Media Accounts
Examples of collaboration we offer
review your hotel, hostel or tour,
try out your restaurant,
review a travel related product, have a contest or giveaway,
travel planning,
give a presentation (English/Polish/Hungarian)
Let us know if you would like to work with us on our blog, Instagram or other social media. We would appreciate if you contact us and we will gladly answer further questions.
Appearance in media online and offline
Sutjeska National Park: following Tito's partisans with Polish accent – A guest post on Balkan travel blog Bałkany i Podróże według Rudej [Polish]
4 cheap travel destinations – Our recommendation, Albania, is one of them on Dora's list
The best moments from Malaysia – One of our interesting memories to the list compiled by Zu in Asia [Polish]
Adventures on the Trans-Siberian Railway – Post by Katalin [Hungarian]
From Ostrowiec to the Amazon Jungle – Article in Gazeta Ostrowiecka newspaper (offline and online) [Polish]
Karol Waga world traveler – Article in Gazeta Ostrowiecka newspaper (offline) [Polish]
Top autumn travel destinations, according to travel bloggers – Collaboration with Television of Nomads
Wednesday Women: Katalin – on She Went Wear
The back side of traveling – stomach problems on the road – Cooperation in [Hungarian]
Items we take with us while traveling – Collaboration in [Hungarian]
Places to visit in Indonesia outside of Bali – Collaboration with 'Hello Raya'
Friday Lens Affair #158 – Features reindeer race photo at 'My travel affairs'
Travellers' Tales – Meet Katalin Waga from "Our Life Our Travel" – Interview at 'In Africa and beyond'
50+ Incredible Instagram Shots of CANADA You Have to See to Believe – Our IG shots were featured in this selection on Travel Pray Love
Media kit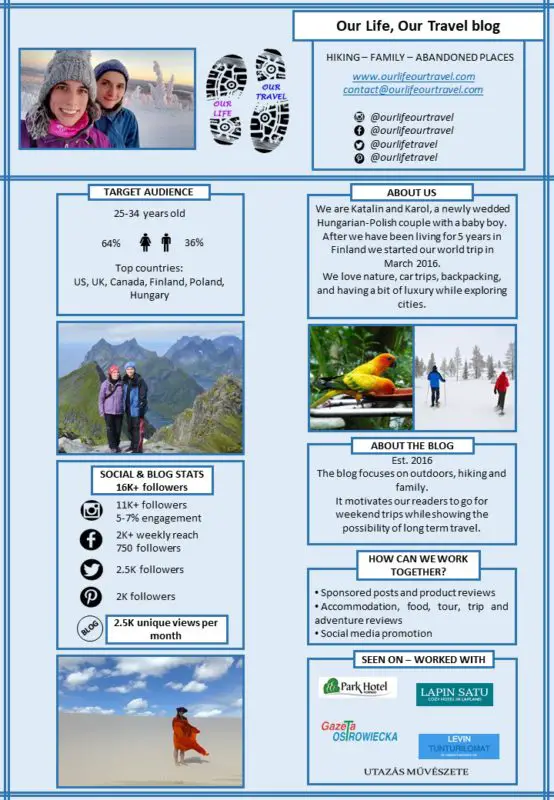 Please email us: contact@ourlifeourtravel.com or get in touch through social media.
Regards,
Katalin & Karol