An Improvised Trip to the US & one of the best hikes in Washington
Katalin was away helping in fieldwork north from Vancouver, but instead of having a lazy weekend at home, I wanted to go hiking. Unfortunately, there are not so many nice places around the city that are reachable by public transit, so I had to find some fellow hikers to join and get with them to a trailhead by car. On Friday, I was lucky to find out that a Japanese hiker I met on an earlier hike organized a trip on Saturday, and she had one spot left in the car. I took it without hesitation!
Even without checking the destination. After confirming my spot in the car, I realized that it would be a trip of many first times. It will be a trip when I will see a glacier from close for the first time and possibly even touch it and walk on it! Besides, our destination, Mt Baker Wilderness Area, was south of the border. So that Saturday, I was supposed to visit the US for the first time. And as a bonus, Mt Baker is an active volcano! Although it wasn't my first time hiking on a volcano, I still felt excited because of that.
PS. Luckily we have seen plenty of more glaciers: Wedgemount Glacier in Canada, several others in the Rocky Mountains, and a couple of more in New Zealand and Norway. Yay!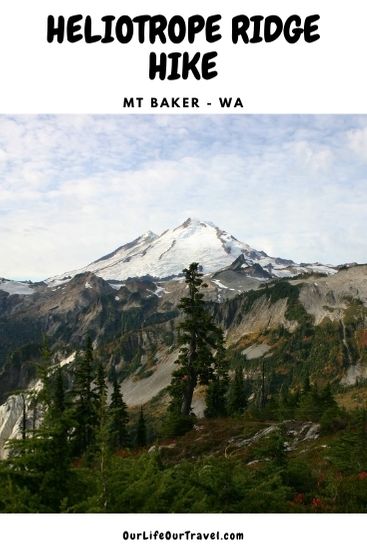 Where to Stay near Mt Baker
You can browse among a variety of accommodation options near the ski center at Glacier.
Deluxe Condo at Glacier – check prices
Apartment 68SW-Remodeled 2 Story Family Condo at Glacier – check prices
AirBnB options – HERE
Hiking Info – Heliotrope Ridge Trail
Transportation time from Vancouver: 2 hours (car, smooth border crossing)
Distance: 10 km
Elevation gain: 600 (to the first viewpoint), 800 to the higher end of the glacier
Average hiking time: 4-5 hours
Difficulty: Easy
If you want to jump to the hiking trail description, CLICK HERE.
Destination: Mt Baker
Mt Baker is visible even from Vancouver. For example, you can see it from several Vancouver parks in good weather. It is an awe-inspiring landmark. A huge mountain covered with snow cap rising high above surroundings. I saw it on a hike just a few days before for the first time, and I didn't expect that, so soon I'll go hiking around the mountain. Mt Baker's glacier is the second biggest in the Cascade Range. The winters here see an enormous amount of snow. In 1999 Mt Baker Ski Area set the world record for snowfall in a single season: 29 m! I expected it would be an interesting hike.
How to Get to Mt Baker
Reaching the Mt Baker area requires quite much driving. We started going east from Vancouver on the highway and planned to cross the US border at Sumas. That is the most common crossing point for hikers as it's closest to the hiking area, and there is not so much traffic as on other border crossings closer to the city. Going to the US for me meant that I finally make use of my Finnish passport. I would need a visa with a Polish passport, but with a Finnish passport, I can enter without it. That was one reason I entered Canada with a Finnish passport, too, so that I don't need to swap my passports when crossing borders.
Anyway, we expected to have some fun on the border or at least surprise people there as each of us had a passport from a different country. The line to the border control post was concise, just a few courses ahead of us. And it was moving fast, but as we anticipated, it took almost 1 hour to cross the border. After the initial look on our passports and a few questions about our plans in the States, we were ordered to pull over in a bay and go to the building for further document inspection.
There we had to wait for a while before we were served. Our driver was Canadian, so for her, there was no need to show her passport again. The same applied to the Italian hiker who applied earlier for ESTA. Even though we crossed the land border, she didn't have to fill in papers for visa exemptions nor pay the fee. The Japanese girl and I were given a form to fill in, and after paying we got a paper that was stapled into our passports saying that for about 3 months from now, we can stay in the US and enter the country again within that time without a need to go through the paperwork again. Finally, we were back in the car, so the first time for me on American soil was accounted for 😉
The drive in the States was much shorter. Sumas is a tiny settlement constituted mainly of shops selling things to Canadians. For example, fuel is significantly cheaper here than in Vancouver. The way from Sumas to Mt Baker hiking area is well signed, so there is no need for a map, but the map might be useful for finding the trailhead. Right after the last shops in Sumas, big fields started. We also passed several cow farms that we could smell already from the border.
Hike to the Heliotrope Ridge
[sgpx gpx="/wp-content/uploads/gpx/mtbaker.gpx"]
Heliotrop Ridge Trail Hike
According to hikers, we have chosen the Heliotrope Ridge trail as it was the most spectacular trail in the area. Reaching the trailhead requires quite a long ride on a forest road, but the road is in good condition, and you can drive on it with any car. There are some switchbacks and narrower sections where two cars can't fit, but there are many passing places.
The official trail is very short, about 5 km one way, leading to a glacier viewpoint. The trail crosses few creeks running down from the glacier, and except the very first and by far the biggest creek, there are no bridges. The creeks were easy to cross when we went there, but it might be more challenging in springtime when the snow melts or after big rainfalls. We could easily cross all the creeks on rocks, avoiding taking off our hiking boots and fording the water. Some of the hikers were pretty scared balancing on the rocks while crossing one of the creeks that was a bit bigger than the rest.
There were not so many good views while we climbed in the forest. The trail ends on a glacier viewpoint but very low altitude. Therefore it's better to skip the official viewpoint and continue higher towards the Heliotrope Ridge to the glacier's edge. That way, you can climb at least 300 meters higher than the official viewpoint is.
The Mt Baker Glacier From Close
The climb is, in fact, an easy hike without any technical difficulty. At first, it is possible to continue on a path on the grass, and later on, rocks that are not steep at all and have plenty of places for good foot support, so no need to use hands. We were lucky to spot some marmots while hiking up the ridge.
The view of the glacier was amazing. We had a long break enjoying the views. Before descending, we explored the surroundings. I had fun sliding down on the snow at the glacier foot and later managed to reach the part when the end of the glacier was exposed so that I could touch the glacier ice for the first time in my life! The way back was pretty fast, and we were back in Vancouver in time for early dinner.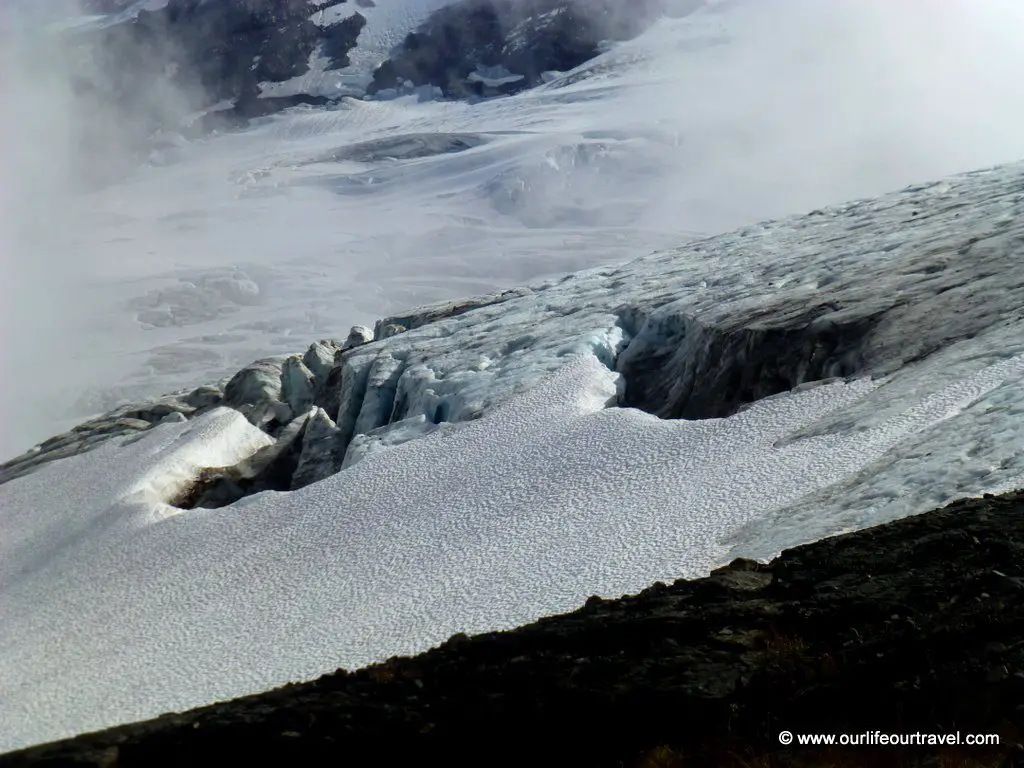 Where to Stay near Mt Baker
You can browse among a variety of accommodation options near the ski center.
Deluxe Condo at Glacier – check prices
Apartment 68SW-Remodeled 2 Story Family Condo at Glacier – check prices
Browse AirBnBs – HERE