Finland souvenirs
We collected the list of the best souvenirs from Finland based on our 10+years of experience living in the country. This list consists of unique things to buy throughout food products, art and clothing, and practical and decorative items related to nature and culture. You might get surprised by what products are Finland famous for!
You don't even need to set foot in Finland, although we recommend you to go on a fab road trip to Lapland or check some of the other amazing cities of Finland. Most of the souvenirs can be purchased online; for example, you can find numerous Finnish products on Amazon too. These are perfect Finnish gifts to yourself or your loved ones, and you can purchase most of these Finnish souvenirs online as well. They will bring your inner 'sisu' closer to you!
Disclaimer: The post may contain affiliate links.
Let's check the top gifts from Finland!
Finnish Food and Drink to Try
Local dishes and beverages are one of the main pillars of culture, and you would miss out a lot, not trying these delicacies. You can buy Finnish food online, but the easiest option is to head to any bigger stores (Prisma, CityMarket, Stockmann). You will find these Finnish items everywhere.
Fazer chocolate
In my opinion, Finland's most popular and the best chocolate is produced by an almost 100 years old company from sustainable cocoa. You will find a wide variety of chocolate bars through Nordic berries, licorice, popcorn (sadly, this product is discontinued), and milk chocolate, just to mention a few of the best ones. Fazer chocolates are a perfect solution if you don't know what to bring from Finland. Buy Fazer chocolate here. Who doesn't like chocolates?
Where to buy Fazer chocolate: in any grocery store
Salty licorice or salmiakki
You will have a never-ending opportunity to try licorice, a salty flavored delicacy that you will either love or hate. You can buy even alcoholic beverages (for example, vodka) flavored with them! These will be one of the worst best things to buy in Finland. 
PS. Living in Finland for 10 years wasn't long enough to be fond of salmiakki.
Where to buy salmiakki and licorice: in any grocery store
Buy Yummy Finnish Licorice Online: salmiakki flavored chocolate or original version.
Related Read: Lapland Road Trip
Karelian Pies
Karelian pies are the traditional pasties of the Karelia region but well known all across Finland. It was one of the first traditional Finnish food that I prepared myself as we lived in Joensuu in North Karelia. It's a rice crust filled with originally barley, potato, or buckwheat, but rice is the most common variation for the filling nowadays. The best to top it up with butter mixed with a chopped-up boiled egg. Delicious!
Where to buy Karelian pastry: in any grocery store and bakery
Tom of Finland Coffee and Books

Paulig's Tom of Finland coffee merges the Finnish coffee drinking habit with a piece of history and culture.
Laaksonen, a.k.a. Tom of Finland, is famous for his over 3500 drawings of (naked) men during the rise of distinctive gay culture after the second world war. His figures are masculine builders, bikers and policemen, etc. of gay men, contrary to the contemporary opinion. They could only be incapable of being typically masculine. Movie and books also popularize Tom of Finland.
If you want a unique Finnish coffee, that's definitely one of them!
Where to buy Tom of Finland coffee: in any bigger grocery stores (Prisma, City Market) or Online
The Finnish Sisu
Sisu: The Finnish Art of Courage is a must-read book to feel more Finnish and connected to Finland. READ IT. Really.
Finnish Nightmares
Another favorite book of ours, the Finnish Nightmares. Awesome Finnish humor about everyday life here in Finland. Highly recommended!
Finlandia Finnish vodka
A famous souvenir from Finland for those who like alcohol. The world-wide known vodka is produced in the village of Koskenkorva and bottled in Rajamäki. You can browse among different flavors such as cranberry, lime, mango, red berry, wild berries, grapefruit, tangerine, and blackcurrant. 
Where to buy Finlandia: in Alko – the state-owned alcohol shop.
Related Read: Best Cities in Finland
Finnish Decor and Design
The best items from Finnish design store that you can buy not only in Helsinki but also in Finland. These Finnish souvenirs will bring a piece of the north to your home.
Moomin Mugs

Moomins were created by Tove Jansson,  a Finnish-Swedish writer and artist. They are friendly, white, and roundish trolls with large snouts.
The Moomin family and their friends live an adventurous life in the idyllic and peaceful Moomin-valley in harmony with nature.  Their animation has a long life. You will see them all around you in Finland. Get your Finnish gifts online – Moomin themed products are a must-buy in Finland!
Arabia producing Moomin ceramics such as mugs, jars, pitchers, bowls, plates since the 1950s, and you can find them in almost all Finnish households.
Where to buy Moomin mugs: in any bigger stores, souvenir shops, etc.
Traditional Finnish Knitwear
Knitting socks, mittens, sweaters, and other clothing is a viral activity among women. Not only a home activity, but I met at the university several classmates who efficiently used their time while they were on lectures and just quickly knit something. Knitwear is useful and probably the best souvenirs from Helsinki and Finland.
Where to buy Finnish Knitwear: clothing stores, souvenir shops, yearly markets, etc.
Marimekko

Marimekko is a Finnish design company renowned for its original prints and colors. Vivid colors and patterns with circles and stripes are often used in Marimekko design. High-quality clothing, bags, accessories, and home decor items are all in their offer. Buy Marimekko Online
Where to buy Marimekko products: clothing stores, bigger supermarkets, souvenir shops, etc.
Aalto Vase

Alvar Aalto, a famous artist, created this popular vase inspired by the dress of a Sami woman. It's another common household-art object in Finland.  It'll bring the touch of Finland to your home. You can purchase it from Iittala's collection. You can buy Finnish souvenirs Online here.
Where to buy Aalto Vase: bigger stores, Finnish design stores, souvenir shops, etc.
Iittala and Arabia Ceramics and Glassware

Two famous companies that offer practical and decorative Finnish glassware and ceramic items. See Aalto Vase and Moomin mugs above!
The world's most northern ceramic factory, Pentik, is also located in Finland, in Posio. Read more about it here!
Where to buy Finnish ceramics products: bigger stores, souvenir shops, etc.
Get your Finland gifts online: Iittala and Arabia (Moomin)
Fiskars Scissors and Knives

Talking about practical things to buy in Finland, how about some scissors and knives? Fiskars is one of the oldest businesses in the western world as it was founded already in the 17th century. Every family in Finland uses their products, and if you see orange-handled scissors or knives, they are also Fiskars.  We have probably 27453 Fiskars knives and a couple of scissors in the kitchen drawer.
Where to buy Fiskars products: bigger stores, supermarkets
Buy Fiskars scissors and knives online. Or a machete ax for outdoor use.
Lumene Natural Cosmetics from Finland

Lumene products are natural, ingredients sourced from natural sources, and they are even vegan. If you look for unique cosmetics from Finland, that's something you should look into. You can purchase Lumene moisturizer products online, too, so you can test them before traveling to Finland.
Where to buy Lumene cosmetics: Bigger stores
Finnish Culture and Nature Gifts
There are even more famous Finnish products. Culture and nature-related practical items are some of the best gifts from Finland.
Related Read: Ultimate Finland Road Trip Itinerary
Traditional Finnish Clothing: Colorful Sami Hat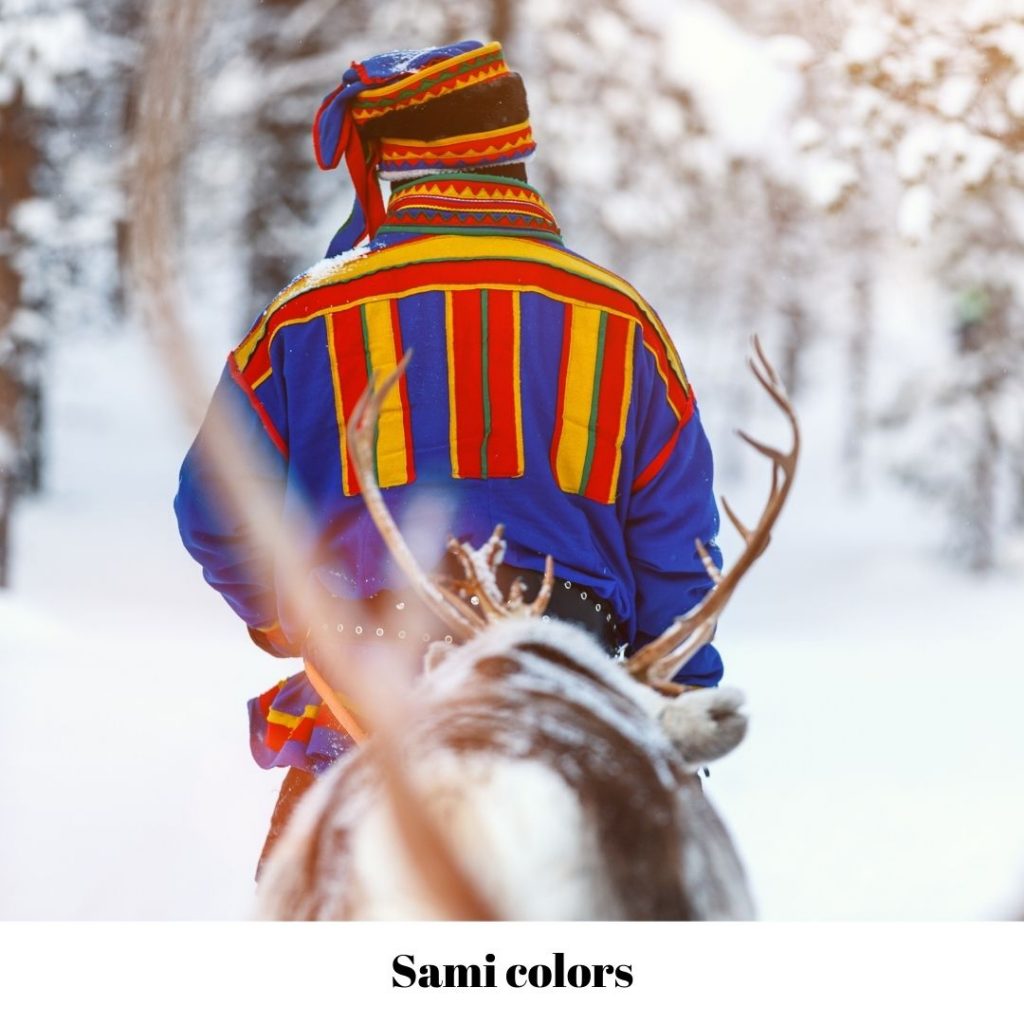 The colorful Four Winds that is one version of the traditional man's hat of the Sami people.
Where to buy Sami hat: souvenir shops, markets
Traditional Finnish Jewelry
Taigakoru and Kalevala are two of the traditional Finnish Jewelry brands you need to keep in mind.
Where to buy Traditional Finnish jewelry: jewelry shops
Kantele – a Traditional Finnish Instrument

Kantele is a traditional Finnish (and Karelian) wooden string instrument. If you have a chance, listen to someone playing on it. Buy it online here.
Where to buy kantele: music instrument shops
Sauna Bucket, Hat, and other Accessories

Sauna is an important part of Finland's life, the country where 5 million people own 2 million saunas. We wrote a full Finnish sauna guide for first-timers. Sauna hats, buckets, and sauna oils fragrances are some of the most important accessories and are perfect as sauna gifts.
You can purchase the most common items on Amazon – online sauna accessories. Ice swimming is an advanced version of sauna use – and definitely worth a try if you are visiting Finland.
Where to buy sauna accessories in Finland: bigger stores
Puukko – The Finnish Hunting Knife

Puukko is a traditional Finnish hunting knife with a wooden handle that was worn on the belt. We use a knife like this on our hiking and outdoor adventures (not for hunting, though), and we can highly recommend them if you want a practical gift from Finland! Check it online on Amazon!
Where to buy a puukko: Marttini shop, outdoors stores
Kuksa Wooden Drinking Cup

If you still wonder what to buy from Finland and adore handmade items, check this one out. Kuksa is a type of drinking cup traditionally carved by the Saami people from birch burls. I find it practical and pretty. Perfect for outdoor use too. We always have one with us (not only a puukko) when hiking or making a campfire in the forest.
Where to buy a kuksa: outdoors shops, bigger stores
Reindeer Hide and Meat

Reindeer herding was the way of life in Lapland for many centuries. Nowadays, you will still find plenty of Sami and Finnish people whose lives are based on reindeer. To support these locals, you can buy meat and hide other products from them or visit their farm.
Where to buy reindeer souvenirs from Lapland: grocery stores, markets, reindeer farms
If you don't have time to visit the north, buy Lapland souvenirs online: buy reindeer hide online 
Related Read: Best Nature Spots in Lapland
Pin for later – Souvenir Finland
About the Author