The oldest national park in Bosnia and Herzegovina
Sutjeska National Park was established in 1962 and is the oldest national park in Bosnia and Herzegovina in the Republika Srpska (i.e. the Serb Republic) entity. We drove to the park directly from Sarajevo that is only 100 km away (but it takes 2 hours to reach Tjentište). The roads are beautiful on this route. The way passes many narrow river canyons with high steep walls. As usual in Balkans, despite the high rank of the road, one should stay cautious and expect cows and similar traffic on the winding road.
Attempt #1 – Hiking in Sutjeska National Park – BiH
Tjentište is a small settlement in the national park. It was May. There were no tourists and hotels were shut down until summer season starts. In fact, when we arrived there it was raining. Small, but constant rain shower. We hoped that the rain would not get bigger. Our destination was Prijevor hill. We left our car on a roadside in Suha right next to barrier blocking car road that goes deeper into Sutjeska. The barrier was newly painted into colors of Republika Srpska.
The road was easy, but short trail. We soon had to turn left and start climbing to Tunjimir hill. That was at the beginning very steep path.  Afterward, it started to flatten, but the rain increased. Before reaching Tunjimir, our clothes soaked. Also, some of our clothes in backpacks were dumped. We often pack our gear into extra bags, but this was not a usual day.
It was getting dark fast. Especially because we were already between large, old trees on the edge of Perućica primeval forest. We decided to pitch our tent on a small spot of flat ground without much vegetation and rocks. We had quick dinner and went to sleep quickly hoping that our clothes will dry by the morning, but that was too optimistic assumption while lying in our wet sleeping bags.
When we woke up, it wasn't raining anymore. Nevertheless, our clothes were still wet and our tent was soaked in a few places where outer layer touched inner layer due to the strong wind at night. We were wet and it was cold, so our laziness showed up and we went down back to the car. Our plan was to come back to our accommodation in Sarajevo, dry everything and do one day hike next day in Sutjeska.
This post contains affiliate links.
The battle of Sutjeska
On the way back we stopped in Tjentište to check the biggest attraction of the settlement: the Valley of Heroes memorial commemorating Battle of Sutjeska from World War II.
In the one-month long battle, local partisans won over Axis occupying forces by escaping from encirclement. The partisans were led by Josip Broz Tito who later became the first president of Yugoslavia. The monument is really impressive, because of its size and socialist style. Looking from the back you can see that the monument is exactly the same as from the front, but upside down. Behind the main monument, there is a list of partisan troops taking part in the battle. After the trip, we knew we should watch the Sutjeska movie about the battle. The soundtrack you can find here.
Attempt #2
Leaving Sarajevo early the next morning, we finally had good sunny weather. Luckily the weather didn't change 2.5 hours later when we've arrived at Tjentište. This time we decided to go to Prijevor by car in order to save time. Or maybe we're simply getting older? To get to Prijevor you need to find a narrow, but 18 km long road on the left side before the village shop in Tjentište. It leads first to a few houses in Mrkalji.
There is (not so good) asphalt cover up to a barrier that is a place for entrance fee collection. You need to buy tickets for the car and all the passengers. We arrived there right at the same time as two park rangers. One of the Rangers wanted a ride with us to Prijevor as he said he wants to start patrolling the park from there. We gladly agreed to take him, so we have help in case our car breaks down on the bumpy road because there is no asphalt at all from this point on the road.
The road climbs steadily to reach an asphalt parking place at Dragoš Sedlo after about 10 km and one hour. The amount of time it took shows how bad the road was. Luckily there were no long steep sections, but there were some bigger stones and deep wheel ruts. Good that we had our car from Finland with its high clearance. But the way was pretty tiring both for me as the driver and for the car.
We stopped in the parking to let our car's engine to cool down and we walked to a viewpoint. Based on the size of the parking area, Dragoš Sedlo is a pretty crowded place in summer. The short path leads you to the viewpoint on top of a cliff with the view to Perućica primeval forest. You can also see from here Skakavac (i.e. grasshopper) waterfall that is one of the highest in Bosnia measuring about 75 m. Skakavac is a popular name for waterfalls as there is a waterfall with the same name next to Sarajevo that is 98 m high and definitely worth a short hike. After a short stop, we continued up towards Prijevor. On this section of the road there were some viewpoints, but very limited. Basically, the whole road from the village is simply a forest road with no views.
Maglić: hike to the highest peak of Bosnia
When we arrived at Prijevor hill, we parked among a few other cars that arrived here before us. Probably some of them passed us when we were at the viewpoint and some of them stayed overnight here. Most of them were 4×4 vehicles, but even an old Volkswagen Golf – popular throughout whole Bosnia – was parking there. We said bye to the ranger who tried to sell us fridge magnets with landscapes from Sutjeska before going on his own way 😀
For the first time, we saw the highest peak in the country, Maglić (2386 meter a.s.l.). Our first destination was Trnovačko lake in Montenegro and from there we wanted to continue to Maglić. As it was early spring in the mountains we were prepared that we can't reach the peak of Maglić due to the big amount of snow covering the trail, but we thought we will go as far as we safely can.
Trnovačko: a beautiful lake in Montenegro
The trail to Trnovačko lake is very easy. It crosses the border to Montenegro soon after the parking lot, but there is no border control. After that, the trail goes down to a cute, tiny valley which had a little lake formed by melted snow water. It's only about 2 km to our destination from that point. The trail goes uphill, following a small creek and sometimes in the creek.
The lake lies in the middle of the mountains. As we arrived in spring, we saw many flowers blossoming around the lake. Flower carpet was covering the ground. Water in the lake was still too cold for a long swim, but in summer it should get warm as the lake is shallow.
We were lucky enough to find nobody around, in summer the place is for sure full of tourists. There is even a small wooden cabin selling snacks and drinks working during high season. Probably doesn't get as crowded as Morskie Oko in Tatra, but surely there are many people. We already met few groups around the lake after we went down from Maglić trail. The trail to the peak surrounds the heart-shaped lake from the south.
Higher altitude at Sutjeska National Park
At first, it goes through a forest and that is the only steep part. After the forest, you can enjoy the views to even more peaks than from the lake's elevation. And the lake water has very cool colors when seen from here.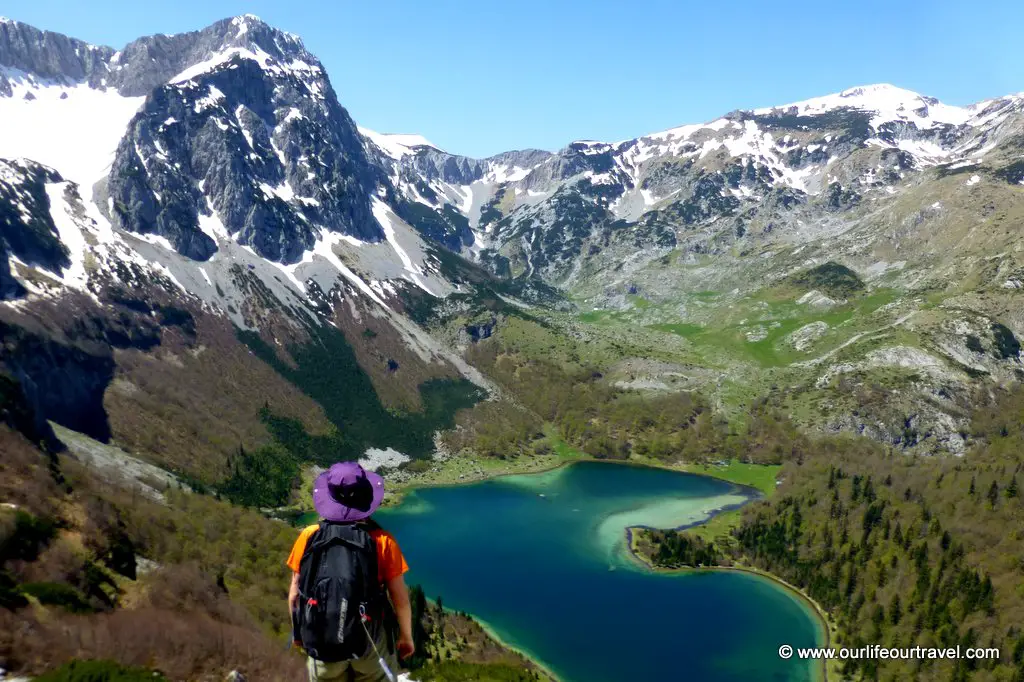 So even if you don't plan to hike all the 5 km from the lake to Maglić, it's still worth to go a bit up and see the lake from this perspective. When we reached the altitude of about 2000 m, the trail was covered by snow. First, we continued up, but it kept getting worse, so at some point, we decided to go below the elevation of snow and enjoy the views while soaking up the sun.
We had an exciting weekend exploring Sutjeska National Park. Rainy weather during our first visit, but the sun on our second time in the park rewarded our struggle in the rain. There are plenty of other trails in the area to explore, including the trail to Volujak peak that is only 50 m lower than Maglić. We didn't see any free online map of trails in Sutjeska National Park. To plan your trip, check a map we found next to the monument in Tjentište.

Check out the best gadgets for hiking!
Take a trip from Sarajevo
Book your accommodation: