Disclaimer: The post may contain affiliate links.
Traveling by train over 9000 km
Who is up for an almost ten thousand kilometers long train trip? The Trans-Siberian railway line connects Moscow to Vladivostok. The Trans-Mongolian route is the more popular choice: after crossing Mongolia, the trip ends in Beijing. We chose the main route and stayed all the time in Russia, taking trains in the country's southern part. Our goal was to reach Vladivostok on the shore of the Pacific Ocean. Check out our itinerary below!

Map and routes
You can travel the whole distance in 7-8 days, but why hurry? Several interesting cities and Lake Baikal are on the way. We spent one month on the trip, made many stops, stayed at Couchsurfing places mostly as we were on a budget. We only paid for a homestay on Olkhon Island (on Lake Baikal) and in a hostel in Ulan Ude.
We selected a couple of interesting cities to stop by, but we were unsure how long we would enjoy each other. It was the reason we didn't buy our tickets in advance, as it is impossible without an exact travel itinerary. The way shaped the travel plan.
Trains, tickets, and worries
A couple of years ago, buying tickets was a lot bigger adventure than it is nowadays. It required Russian knowledge even to check the timetables online. Luckily since the 2014 Winter Olympics, the Russian Railway's website has an English translation as well, and you can easily buy tickets online. Although you still need to print or pick them up before the train, even only knowing the timetable and your preferred train helps a lot if you choose to buy them in person at the railway station.
First, second, and third-class night trains
Three different train classes are available on night (or long-distance) trains, and there are different ranks of trains. For example, the second class costs double that the third, and the first class is roughly four times more expensive than the third class. The air-conditioned trains are also more expensive. The same applies to the ones that go to Beijing. It is possible to get from Moscow to Vladivostok even under 100€ traveling in third class (since the rubble is weak), but if you would like to have a compartment, this could easily be 5-6 times more. We decided to try as many different trains as possible.
Our first ticket from Moscow to Perm was for second class, in a 4-berth compartment. This time we were still a bit afraid of the third class, "platskartny," which meant that the whole car is an open sleeping car, and you share it with the other fifty passengers. Forget about intimacy. The first class has only two-berth cabins, and some even have their own shower. What a luxury!
Keeping the luggage safe
Besides intimacy, we were a bit worried about our belongings. How will we store them? Can we sleep at night, or we need to be always awake to avoid theft? If you have a bed at the low level, you have a box under it where you can put your bags, then open your bed, and it is locked as long as your bed is down. Nobody can access it. Perfect!
On the upper level, there is a baggage rack above your berth. It is very high, and basically, you can only reach it if you climb up. Pretty good. We don't have experience with the very touristy trains, but based on our experience the people are nice and helpful, and nobody had any problems with missing belongings.
Choosing the best beds
You also have to choose a bed when you are buying the tickets. But which one? The lower bed is more comfortable to sit, eat, talk. It is better to lay down and watch the not changing landscape for hours each day on the upper beds. When we had an opportunity, we took two beds above each other. If you are traveling alone and have a long ride ahead of you, I would aim for one of the lower deck beds. If you travel in the third class, try to avoid the beds in the aisle, especially the lower ones. Although your luggage is safe, all the people will be walking in front of your bed, so that is the worst spot you could pick.
Trains operate in Moscow time.
And remember the fun with time zones on Russian railways! Moscow is in UTC+3 time, while the time in Vladivostok is 7 hours later. As the railway crosses many time zones, all the train departure and arrival times are in Moscow time for simplicity. It can give you some confusion in the beginning. Especially when due to the several hours or difference you arrive a couple of hours later, or when your train leaves on a different day than it is printed on your ticket. If you travel towards the east, it is not a big problem, but the other way you easily can miss your night train if you are not aware of this.

Look for off-board accommodation.
Check out

Is it boring to travel by train?
Now, we have our tickets, backpacks stored safely, time to start our journey. Probably it is not surprising, you cannot do so many things on the train, but if you don't want to make this journey regularly, you will find it interesting for sure. You can read, play cards, drink cold (and pretty expensive) beer at the buffet car, talk, and watch the landscape for hundred kilometers of steppe and industrial cities from time to time. Of course, you will sleep a lot too.
How to get food on the train?
When the train arrives at a station, it may stay only 20-30 minutes at the station or even a couple of hours. Either ask the conductor, check the car's timetable, or simply don't wander too far from the train. Many sellers come to and on the trains on these stops, selling fresh fruits, vegetables, bakery products, and cold beer. If you take the whole Trans-Siberian trip without stop, you cannot avoid buying new supplies from them, but anyway worth considering to get something tasty.
Toilets on the Trans-Siberian
The toilets were kept in surprisingly good condition all the way. In every train car, there are two conductors whose responsibility to keep order in the car, check tickets, give bed-sheets, and clean floor and toilets. It works really well.
Free hot water on board (& a lot of tea)
You can also buy tea from them. If you have your own tea and mug (you should take them with you!),  you can get free hot water anytime and make your own tea.
Travel Resources
There is nothing better than a relaxed holiday. To ensure your rest, make sure you reserve and book your accommodation and transportation in advance of your trip.
First stop: Perm
After leaving busy Moscow, our first stop was Perm. The city was not really attractive, typical European Russia. We visited the Gulag Museum Perm-36 at Kutchino village. Otherwise, we had a nice stay with our Couchsurfing hosts even though the communication was pretty hard. Karol could use Polish, and they spoke Russian, and it worked pretty okay. I could not add so much to it as my Polish knowledge is limited to basic conversations, but one of the hosts was also into photography, and we figured out a nice way to talk using our pictures. We spent only a few days in and around the city then headed east.
/> Katalin's first try.[/caption]
The border of Europe and Asia: Yekaterinburg
Next stop, Yekaterinburg! I have heard a lot about the city from one of my friends. Indeed it is a very modern, rich city with new and shiny buildings. The city lies at the bottom of the Ural mountains. It is at the border of Europe and Asia. About half an hour from the city, there is one smaller monument about it. Although official city buses don't stop there, we managed to get off the bus at a good place, and on the way back, we just hitched a UAZ full of workers and tools. It was one of my little dreams to travel once by UAZ, and here it happened. We didn't even know that we will have a whole day ride in another one sometime later.
Stunning nature near Krasnoyarsk
Mostly local people took trains, so our conversations were concise and limited. At Krasnoyarsk, our host was already waiting for us at the railway station. His first notice was that we seem to like knowing everyone on the train because we said goodbye to 4-5 foreigners (i.e., all the foreigners on the train).
Half-day in Stolby National Park
If you like hiking or rock climbing, Krasnoyarsk is the best location to go. The Stolby National Park is stunning. It is great to hike in the Eastern Sayan Mountains or climb one of the rock pillars. Our plan was only hiking, but our plans luckily never too firm. Our host was a rock climber, and he had a free day at work, so it isn't hard to imagine that we headed straight to the national park from the railway station. It was my first ever try, so you can imagine how it went. But I made it (with a little help)! The view from the top of the rocks rewarded my suffering.

Here we come, Asia: Irkutsk and Lake Baikal
Before the trip, I was waiting and expecting that Russia will be so different, but I didn't feel it until we reached Asia. Probably I have spent too much time in Russia beforehand (mostly in Saint Petersburg and Petrozavodsk), and the Soviet-style architecture was nothing new anymore. Finally, near Lake Baikal, this feeling has changed. It was Asia with all its colors, flags, and decoration on buses and elsewhere.
Trip to Olkhon Island
We decided to go to Olkhon Island and the southern shore of the lake. It is easy to spend a few weeks around the lake. The island was very touristy compared to any previous places we have been on this trip. After getting off the bus at Khuzhir, locals approached us. They were looking for customers for their homestays. It was easy to get accommodation in a few minutes. Tenting is another (free) option, but we didn't carry it for the trip as we relied on Couchsurfing, so we had to pay for our place this time.
Our UAZ on Olkhon Island.
Next days we drove around the island in a UAZ with other tourists. The island is the spiritual center of the Buryat people and culture, full of colorful religious memorials, shaman relics, the famous shaman rock, and altars decorated with prayer flags. Besides the cultural places, you can enjoy swimming in the cold Lake Baikal. It is the world's deepest lake and the biggest sweet-water lake in Asia. It has 20% of the world's fresh water supply as well.

The Circum-Baikal Railway
On the southwest shore of the lake, there is another important stop for every railway lover. The Circum-Baikal Railway starts from Slyudyanka – although the confusing name, it does not go around the lake. It is only a 100 km long single railway track through over 40 tunnels on the lakeside. The view is amazing. The speed of the trains is less. It takes 5-6 hours to reach its end station (Port Baikal), which can be reached by Irkutsk's ferry.
Only 3-4 trains run during the week on the line, and the settlements cannot be reached by road, only by the railway or boat. Due to these conditions, we could see people carrying everything on modern train cars literally: flat TV, food, forage.
At Port Baikal, we had some time to take a look at old ships and train remains. We wanted to go back by train, as we didn't plan to stay longer in Irkutsk. There was no point in taking the ferry, then a bus. We slept a few hours at the railway station at Port Baikal in couches as it was quite late night and we were tired. The lady who worked there promised us that she would wake us up before the train leaves. And she did. We were on the train again, this time without any views.
Visiting Ulan Ude – hot days in Asia
After Irkutsk, we arrived at the dusty and hot Ulan Ude. The city is famous for its huge Lenin head statue on the main square. We didn't have luck with any host, but we found a cool backpacker hostel for the next few days. Ulan Ude is the city where the railway lines diverged to Mongolia (and China) and Vladivostok.

Trans-Siberia: Ulan Ude – Vladivostok and the accident
The train ride from Ulan Ude to Vladivostok lasted almost 3 full days, so we thought about a bit of luxury. The first class seemed too expensive, so we decided on an air-conditioned, second class (4-beds) compartment. But we didn't have too much time to enjoy the fancy conditions.
After 4 hours, everything started shaking terribly. We could see only clouds of dust outside. Then we stopped. A huge mess in our compartment and the train. Broken glasses (as the tea is also served in glass cups), food, bags, people. Karol disappeared in a second with the camera, while the lady from our compartment (the 4th bed was empty) and I tried to understand what happened. We were in shock. As soon as we got out of the train, then we could see that the train derailed. It happened right after a bridge. Our car (last before on the train) and the last one got totally detached from the train. We could see the rest of the train stopped about a kilometer further.
After a couple of hours, they asked us to pack whatever we have and go to the beginning of the train that was still on track. There we have seen that two more cars were derailed, but there were still attached to the other cars. Those cars were detached. The 5 intact cars continued the way about 4 hours later than the accident. It seemed like they have a drill about handling derailed trains. Luckily, most people (like us) had only smaller bruises and cuts about injuries. The ambulance took away one person at the next station. During that time, another derailing happened in Southern Russia with more serious injuries. I felt fortunate!
Arrival in Vladivostok & exploring the Pacific shore of Russia
Finally, after two long and crowded days, we reached Vladivostok. Another story, another world. We finally arrived at the Pacific seaside. I expected another industrial city like Perm, in Soviet-style, yet Vladivostok resembled more of Yekaterinburg. There are pretty old buildings, such as the railway station (look up! if you are there), and the cityscape is influenced heavily by the harbor, sea trade, and navy base. Still, the tremendous amount of Japanese cars and products weirdly confuses your impressions.
It was July, yet the breeze from the sea was rather cold. Sometimes even chilly as the fog descended and spread over the city. But let's get back on track (pun intended) and explore Vladivostok.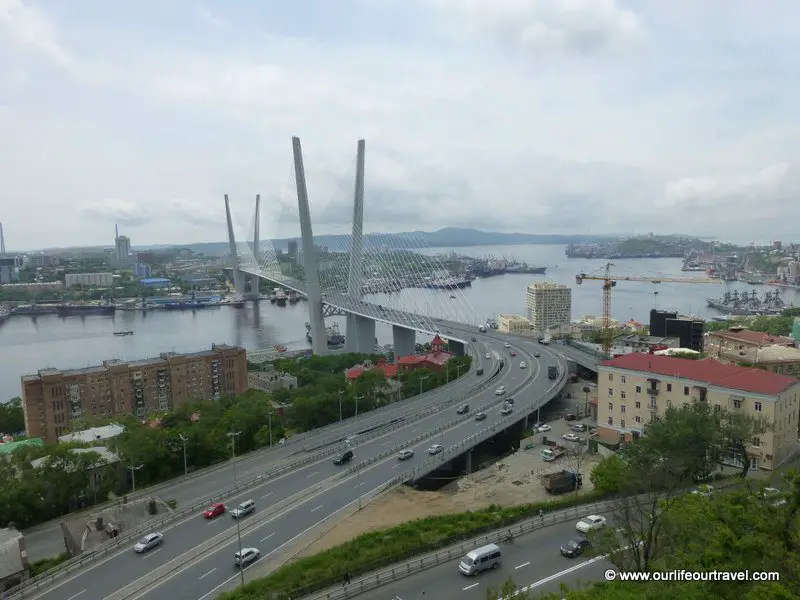 If you love ships, you are in the perfect place. The harbor is enormous. You can observe the cranes packing containers to the cargo ships all day long. In case you are looking for something else, you can check out navy ships and destroyers as well. Vladivostok is the home base of the Pacific Fleet of Russia.
And there are even more sea-influenced attractions! If you are traveling with kids to Vladivostok, I'm sure they will enjoy playing around all the cannons on the fortress (we did!), while you can check out the view of the city and snap some pictures. Another unique naval highlight of Vladivostok is visiting the S-56 Submarine that is transformed into a Museum.
We had a few extra days, so it was time for more off-the-beaten-path exploration. We headed to the island nearby Vladivostok. You will cross the Russian Bridge that is the longest cable-stayed bridge in the world. The bridge and the Far Eastern Federal University campus were built at the same time, just a year before our visit. Both were a huge contrast to the buildings in the city. On Russian Island, you will find several hidden beaches too, with amazingly clear water. On the way, you should stop and visit the Tokarevsky Lighthouse on the edge of the Muravyova-Amur peninsula, the same one where Vladivostok lies. It's a popular spot, especially for tourists, as it resembles the end of the world. 🙂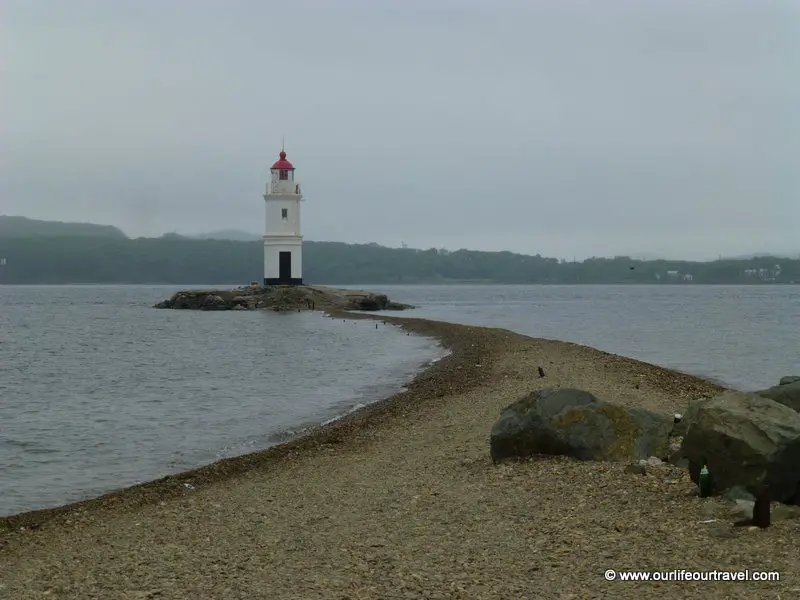 While enjoying the beach, look out for starfish and ticks. They also will enjoy the serenity with you. Be aware! He had an amazing time in nature, and it was all approachable by public transport. We didn't even need to hitchhike this time.
That was a good time to start thinking of our way back and buy plane tickets to Moscow – they were basically at the same price as buying them 2-3 months ahead.
The Trans-Siberian railway journey in numbers
In total, we traveled almost 10 000 km on the Trans-Siberian railway with all the detours in one month. The average speed of the trains was around 40 km per hour. We spent 10 days and 8 nights on trains and one night at a railway station. We traveled on three different train classes and boarded 10 trains.
We successfully crossed Siberia!
Please note that this article may include affiliate links.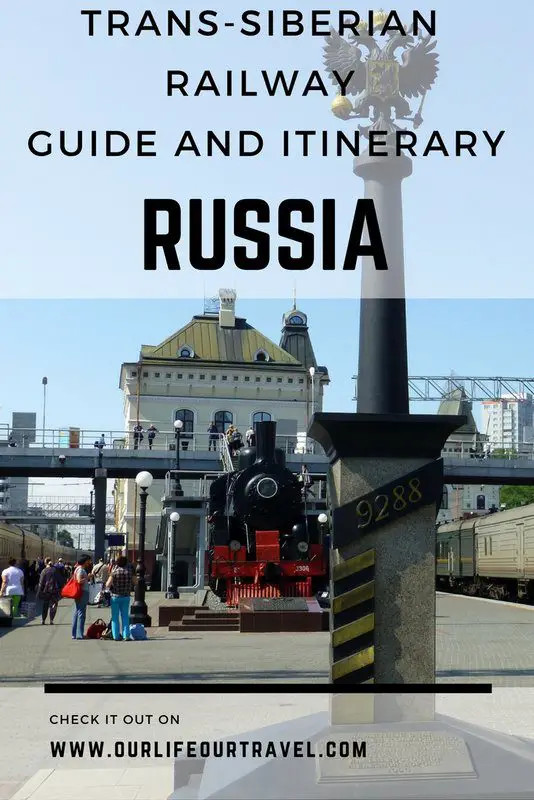 About the Author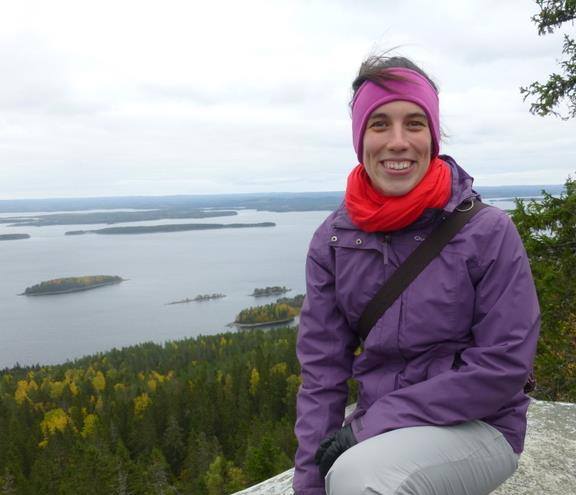 Katalin
Katalin is a Lapland-based outdoor enthusiast who loves hiking, road-tripping, and traveling with her family. She spends her free time far away from civilization in one of the national parks around the world, explores off-the-beaten-path places, or hops on a road trip with her kids in an RV.
Read more about her adventures and the blog.