Finnish nature is full of unique places both winter and summer time. Check out this list of the best landscapes of Finland! You will find must-visit spots all over the country.
Unique Nature in Finland
Nuuksio National Park
I would never have known about Nuuksio National Park if my Couchsurfing host hadn't brought me there. Located about an hour north of Espoo, itself an hour west of Helsinki, Nuuksio is often considered the most beautiful National Park in Finland. That's saying something in a country which itself is gorgeous.
Take the bus or train to Espoo, and then the 245A bus to the Haukkalammentie stop. There are miles of hikes and dozens of lakes within the park. We chose to take a trail around one of the lakes but didn't complete the hike as I had a bit of spill jumping into the lake…but that's a different story.
I loved the park mostly because of its rugged beauty so close to the capital city. Going in the first week of Autumn was a great choice, as the forests were a riot of colors. The blueberries were also in season, and we spent an hour picking them for lunch. Bring a good pair of hiking boots…and a pair of swimming shorts if you're crazy enough to swim in the ice-cold lakes.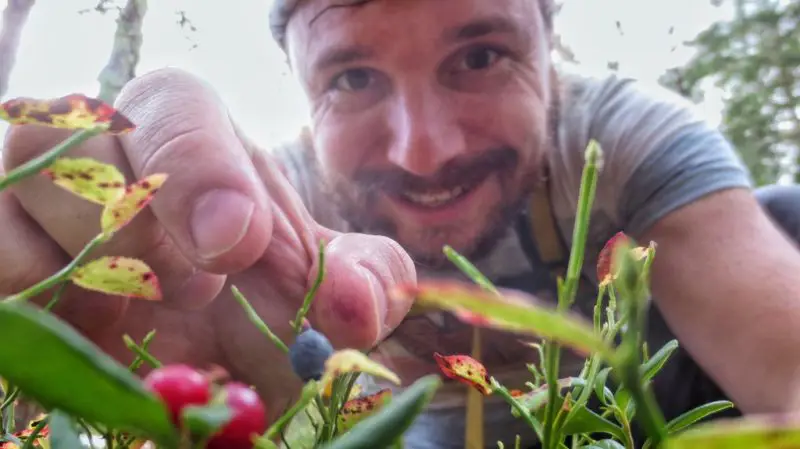 Follow Skye on SkyeTravels.com and on Facebook.
Skye Class from Skye Travels
Kurjenrahka National Park
One could think that you have to travel all the way to Lapland in Northern Finland to really get in touch with nature. However, the bigger cities are all only a stone's throw away from several national parks. My favorite is without a doubt Kurjenrahka National Park. It lies only 40 km outside of Turku in Southwest Finland and can be accessed by public city transport or car. The park's compact size makes it perfect for day trips or maybe short weekend trips.
My husband and I explored Kurjenrahka last autumn and enjoyed walking along the duckboards and taking in the alien scenery. There are some vantage points, like Koivusaari Observation Tower, from where you can safely inspect local flora and fauna. Eurasian lynx, brown bears, and gray wolves all roam the park, but you would have to be very lucky to see them. We were happily observing the birds who had just started their migration South. One of the trails also leads you around Lake Savojärvi which is a great place to cool off in summer. Our favorite thing while trekking through the marshy lands, however, was stuffing our faces with blueberries which were growing wild all along the way. Safe to say we didn't take a single step hungry!
Follow Jacky on www.nomadepicureans.com and on her Facebook.
Jacky from The Nomad Epicureans
Frozen waterfalls, Korouoma
If you visit only the southern part of Lapland, one of the unique nature spots are the frozen waterfalls at Korouoma Canyon near Posio. Although it is only 1.5 hours away from Rovaniemi, public transport is not so great. The easiest way to reach it is by car or joining an organized tour.
There is a short circuit trail of 5 km that you can walk from the parking place. It is quite demanding due to the elevation differences, but even Katalin did well on it during her last month of pregnancy, so we can recommend it for families and the elderly as well.
You will descend (and later ascend) about 100 meters – the height of the waterfalls. The trail reaches 3 waterfalls and one camping place with shelters and toilets. The suggested time of the trail is 3 hours. If you are fit and have more time (2 days), you can walk along the whole canyon, it is 30 km and you can visit all the 13 waterfalls. If you are up for an adventure, try ice climbing as well.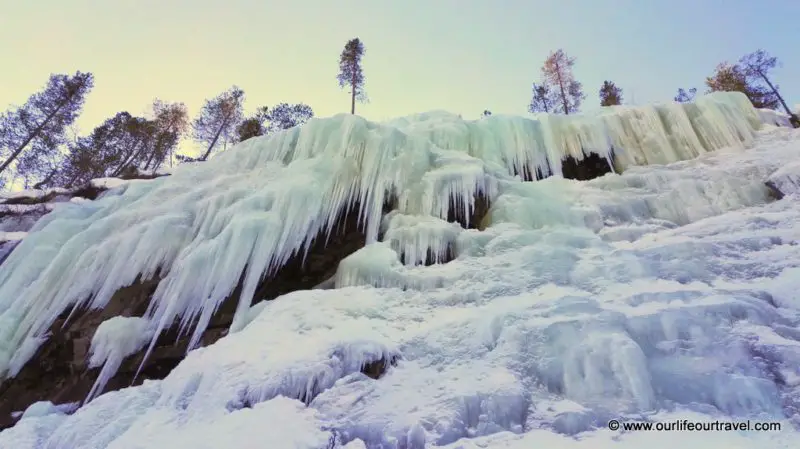 Koli National Park, Eastern Finland
Koli is one of the most iconic places in whole Finland: the view from the top of Ukko Koli is a must. From the peaks, you can see the long lake of Pielinen with little islands spread along with it. The colors on the trees are the best usually during late August or early September, but it shows a unique view during the snowy season as well.
The area has 60 km of hiking trails, the most famous is the Herajärvi trail. During the winter time the majority of the path are maintained as cross-country skiing trails, but you can also visit the downhill skiing center, and you can try other winter activities like snowmobile driving or ice-fishing.
The Koli National Park is about an hour drive away from Joensuu in Eastern Finland: we lived nearby for years. It can be approached all year round by car or during the winter by ski bus. We even dared to hitchhike a couple of times.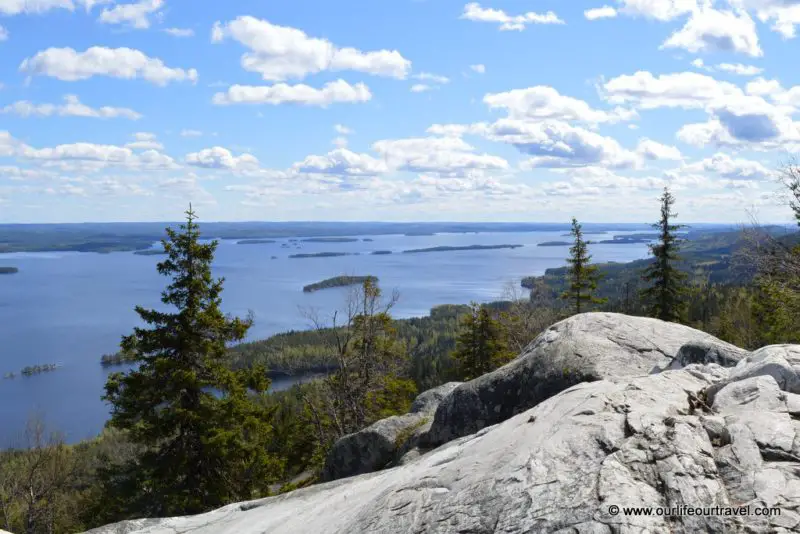 Lapland and the tundra:
Pallas-Yllästunturi National Park
Pallas-Yllästunturi National Park is one of the biggest in Finland and it has a big variety of activities especially during the winter season. The northern part of the park covers Pallastunturi and Ounastunturi area, the southern part has Yllästunturi as the center.
You can easily spend even a week or two in the wilderness, hiking from the north to the south (or opposite), stay in wilderness cabins, get to know Finnish nature, observe reindeer, owls, and other animals. We had our first trip together in this park, we hiked from Hetta to the middle of the park for 8 days, sleeping in different shelters, observing wildlife, escaping from mosquitos, making food on campfires and having a sauna with a dip in the lake to refresh ourselves. And we had a polar day, no nights or even darkness at all. It was truly magical time – if you forget about the mosquitos. If you prefer a shorter time in nature, this national park is perfect for that purpose too. You can start the day trips from the headquarters. Even in 20-30 minutes, you can be on the top of a smaller fell.
As a little historical fact, the 1952 Olympic flame was (also) on top of Taivaskero. You can visit the memorial.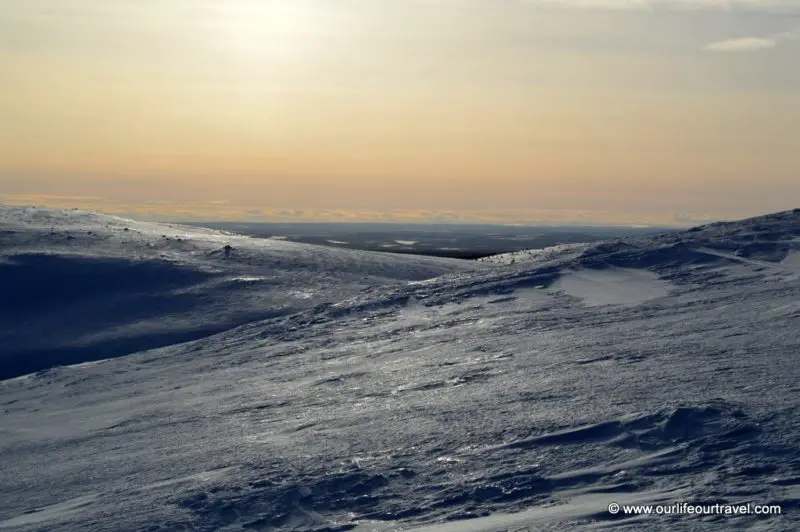 Pyhä-Luosto National Park
The Amethyst Mine at Lampivaara makes Pyhä-Luosto National Park unique among the other national parks. Besides this specialty, you can try all the winter sports you can imagine. Equipment rentals are available at Pyhä and Luosto as well. During the summertime hiking or just renting a cabin and fishing in calm scenery is a perfect way to spend time.
A big advantage of the park that it is the closest national park to Rovaniemi. It takes only 1.5 hours (in Lappish scale it is indeed close!) to get there and you can easily plan a day-trip even during the winter. Although we can recommend you to spend at least a weekend exploring the area.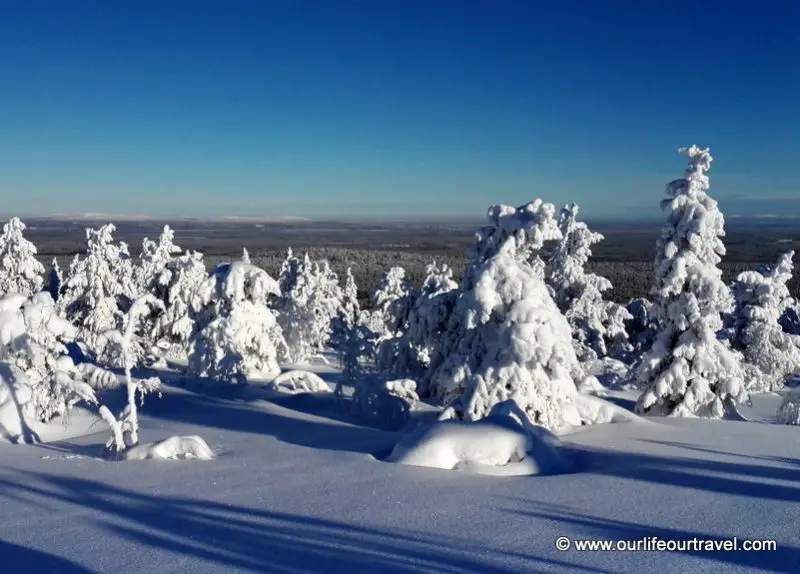 Utsjoki, Finnish Lapland
Lapland is often referred to as Europe's last wilderness, and for good reason. Utsjoki is the northernmost municipality in the European Union and its nature is nothing short of magical. Utsjoki village is surrounded by breath-taking Arctic landscape, countless national parks and nature reserves, making Utsjoki a paradise for outdoor fans and nature lovers. You can explore the snow-covered landscape with a snowmobile, snowshoes or on a husky sled in winter. One of my personal favorites is taking a snowmobile out into the Arctic Tundra for a fun day of ice fishing and campfires. The best time to do this is March/April when the days are getting longer and the temperatures are not as harsh.
The area is also a prime spot for Northern Lights chasing from late August until early April, but that's not the only natural phenomenon you can witness there. From November until January the winter wonderland is dipped into pastel colors during Polar Night (the 6 week period when the sun doesn't rise above the horizon) and in the summer months, you can experience endless daylight during Midsummer.
Follow Maria on http://globalbrunch.com/ or on Twitter.
Maria Berz, Global Brunch
A good starting point for Lapland trips is Rovaniemi. This is the second most visited city in Finland, full of tourist attractions yet in the middle of Lappish nature. Read our detailed guide here.
The Lonely Planet Travel Guide