Probably you already know us well enough: we don't stay in one place for a long time. Even though we've been living in Rovaniemi since January, we are full of ideas where and how to travel with a newborn. It was time to put it into practice.
Little M passed his 6-week check-up (and so did I), so it was time to explore Lapland a bit more. Despite the fact that it was already June, I can't say explore Lapland in summer. We had still a lot of snow in the beginning of it during our first weekend getaway. But let's get back to the planning phase.
Sightseeing and traveling with a baby
The first 3 months
During the first 3 months, we decided to stay close to 'home', Rovaniemi. It meant that we didn't drive further than 2 hours from it. In Hungary, Poland, or generally in most of Europe it would give us a lot of destinations. Here, it was not so easy as distances are big, and between the settlements, there are pine forests, bogs, and reindeer only. Seems like this 'maximum 2 hours driving with a baby' threshold worked well, although we often needed a break for changing nappies or a stop for feeding as you can't do while driving. Small disadvantage.

We opted on southern Lapland for the destination as none of us have been there, and there are several towns worth exploring.
Yes, you've read it correctly, we went to towns as well. We looked for places where the settlement or its proximity let us have fun and walk with the baby carriage in case we are too tired to go anywhere after a sleepless night. Luckily M loved our trips so far, and we could do much more!
We looked for nature trails, sights in national parks that are easily accessible and for cute islands in the Baltic Sea. We actually spent more time in nature than we expected. We won't do any real hiking this year, at least not with the newborn as he is too little to be carried around in a hiking carrier on us. He needs to learn sitting first. We explored cities, spent few hours in nature, and some hours in the car driving between places.
M won't remember the actual places, so the destinations do not need to be the super exciting items from the top of your bucket list. A nice forest, a quiet beach, a pretty town will easily do. The little one will enjoy the trip as long as he is with family, not because the fanciest restaurant you dined in or the coolest waterpark you took him to. And it should be your guide for a few more years!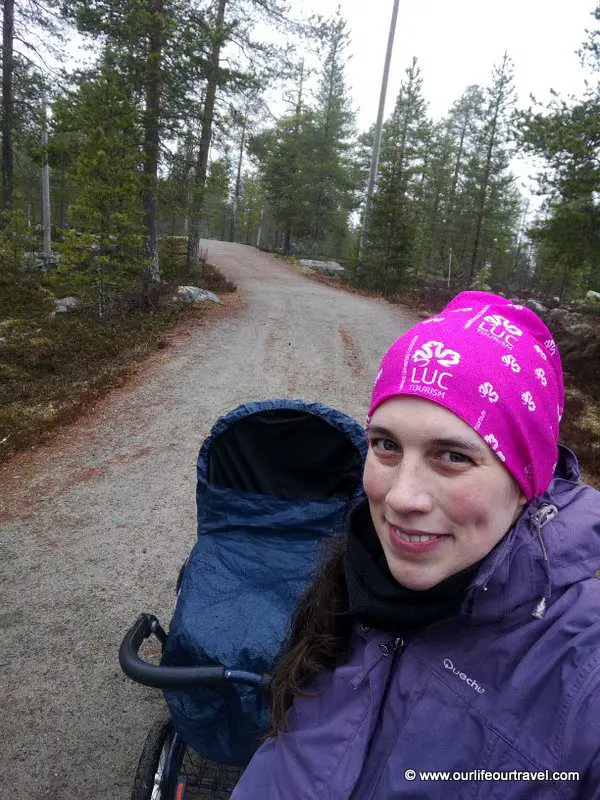 After the most challenging time…
From the end of July, we will set off on a longer adventure, yay! It will start with a very long car trip to Poland.
This trip will be much more challenging than the earlier ones. We will need to cover longer distances especially in the beginning and catch the ferry from Helsinki to Tallinn. The 10-hour-long drive will take at least the double. We need time for feeding, diaper changes and generally for more rest for all three of us. If that works out and we reach the ferry we booked, we will pace it better and slower afterward. Our first normal stop will be in Gdańsk on the southern shore of the Baltic Sea.
In general, the whole TRAVELING life will be different. We can't disappear from the civilization for days, we need a cleaner and safer environment for the baby with a comfortable place to sleep during the night. Our sightseeing will be shorter and we will visit less abandoned and industrial destinations for safety reasons. We will prefer more the man-made destinations and easy nature sights. It will be new for us, too.
And we will need to carry much more items with us. Probably you know that we easily can go for a month backpacking to Brazil with a small, 25-30 liter backpacks, but now the baby will have stuff occupying at least that much of space.
After Gdańsk, we are thinking about going to other Polish cities, and later in the autumn, we would like to end up (or so to say down) to the Mediterranean Sea in Albania (yes, again!) or in Croatia/Montenegro. The upcoming vaccinations can complicate this plan, but we are flexible and our plans aren't set in stone.
We were criticized quite frequently that we plan traveling with the newborn, but also, we know families traveling with babies, and they did pretty well. Even in Asia or elsewhere. We will stick to Europe. I think most of the people have fears about our plans, imagine it like 3-4 months long holiday where we will go hiking, visit museums and spend whole days on the beaches. Not really. We will take it slowly with the baby. We already agreed on it a long time ago. It will be slow travel like our last year.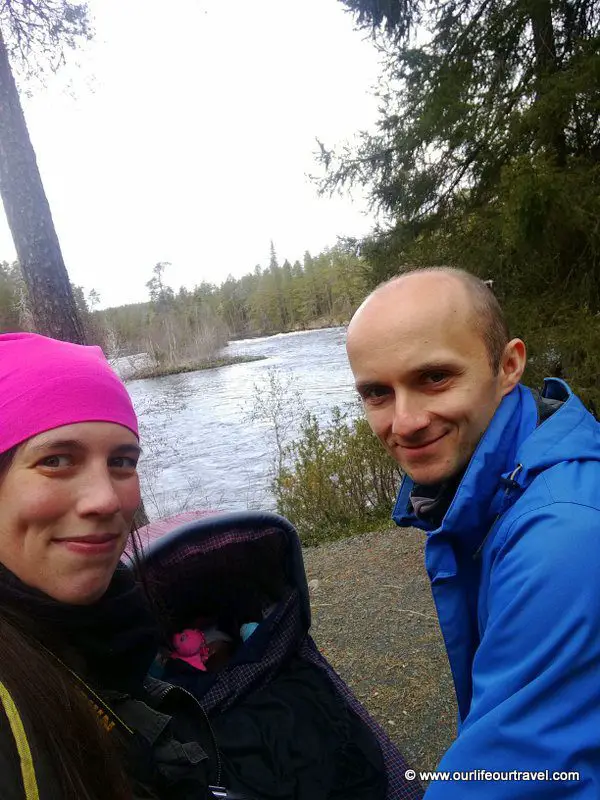 Where to stay? Baby-friendly accommodations
Hotels
We spent a couple of nights in hotels and it was great! We loved our spacious rooms and that we didn't have to prepare breakfast and wash the dishes. One of the hotel we've been was kid-friendly, although M was too tiny to visit the playing room. It was a great resting time for us while we could explore new places during the (polar) days. If you have a baby abroad and your grandparents are far, I'd suggest you get a room for yourself to get a bit of rest. Even with the baby around you will feel more relaxed.
AirBnB and vacation rentals
For longer stays, we still vote for Airbnb or other long-term rentals. On Airbnb, you can rent rooms or even whole houses from locals and experience the whole place as you live there. Register here to get a 35€ discount on your first bigger booking and help us to finance our travel a bit at the same time. We like the variety of places (luxury or something cheap) and that most of them are much cheaper than hotels. We tried to search for 'family friendly' options. This doesn't necessarily mean that they have a baby bed and other furniture, but some of them do.
There are many additional companies that specialize in vacation rentals as well, such as CasaGo that can be a perfect choice for US and Mexico. Having an entire house or apartment to spread out across is amazing when traveling with kids of any age because everyone can get their privacy, and the kids have plenty of room to crawl (or run!) around. Whether you're taking a weekend trip, or traveling full-time, most rental companies offer lodging for a wide variation of time, so you're sure to find what you need.
Friends and family
If you plan to stay with friends, make sure they know what they volunteered for! Not everybody is ready for having a baby around. He can start crying during the night and wake up the whole house, or that you will prepare extremely slowly or even several times before leaving the house in case of a poopy accident. Your friends need to be very flexible. I think family is the easier option. They are totally awe with your tiny one and tolerate these 'little' uncomfortabilities much easier.
Other places
Probably I don't need to mention that we avoid hostels, sleeping in a tent and using Couchsurfing for a while although we don't exclude these as possible for short, especially one night, stay 🙂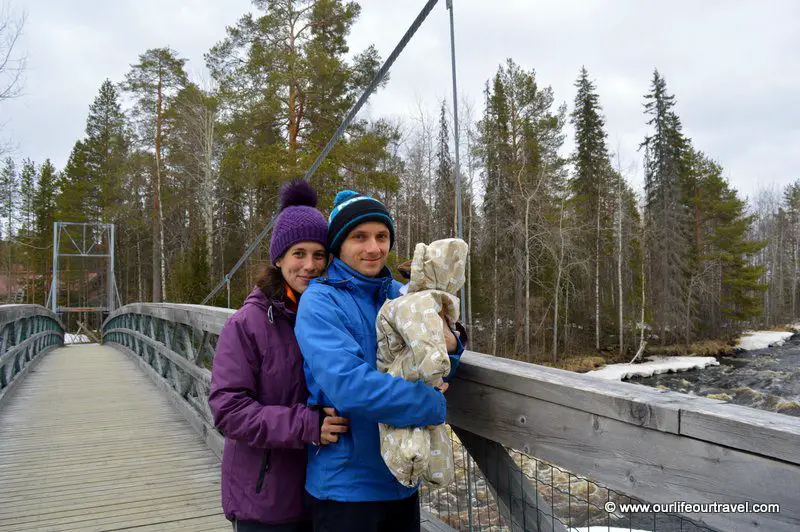 Things to consider when traveling with a baby:
set shorter travel distances (less than 2 hours at once),
check if there is good healthcare in case of the baby's (or mommy's) sickness,
have health insurance, EHIC or other necessary documents and cards,
check the vaccination schedule, you may need to arrange vaccinations abroad if you go for a longer time,
visit cities, nature trails (access by wheelchair is perfect for the stroller),
does the accommodation has accessories for kids?
is the city/accommodation stairs-free?
…and then just enjoy exploring with your little one!