I'm sure you have heard a lot about Budapest, the capital of Hungary. You can read about the not-to-miss attraction easily: the Parliament, the Castle, Gellért Hill, Szimpla Ruin Pub, and so on. Yes, it is worth visiting them, but would you like to see something more unique? Are you interested in real off-the-beaten-track attractions in Budapest? Check this guide to know where locals go and explore Budapest's secret places and sights.
And after these little secrets, read about yummy Hungarian food too!
The oldest building in use in Budapest: Red Hedgehog House or Tavern (Vörös Sün Ház)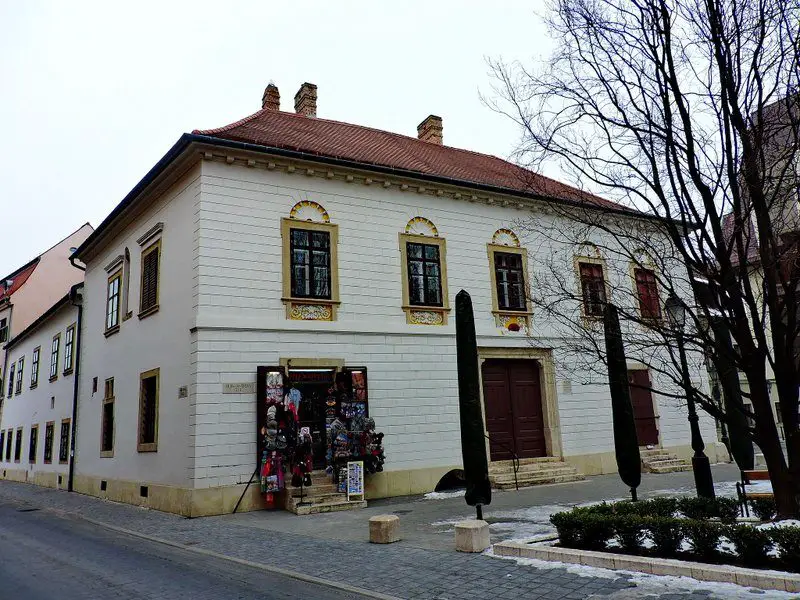 The Vörös Sün (Red Hedgehog) was built around the 1260s. For a long time, it was the only tavern in Buda Castle, and it was operating until 1805 with its seven rooms. Besides being a tavern, it had a ballroom and hosted theater plays (also the first ones in Buda). Between the two World Wars, it became a brothel but was closed due to many diseases.
Address: Budapest, Táncsics Mihály u. 2, 1014 Hungary
The biggest residential building in Budapest and Hungary (Szőlő Street)
The biggest residential house is in Szőlő Street, Óbuda. It is not only the biggest house in Budapest but also in the whole of Hungary. The apartment building was built in the 1970s, and it is longer than 300 m. It has 885 apartments where approximately 3 000 people live.
Address: Budapest, Szőlő u. 70, 1032 Hungary
Europe Northernmost Islamic holy place: Tomb of Gul Baba (Gül Baba türbéje)
The Tomb of Gül Baba is the world's northernmost Islamic holy place, and you can find it in the second district of Budapest near Margaret Bridge. It is also an active pilgrimage place. Gul Baba was an Ottoman dervish poet and companion of Sultan Suleiman the Magnificent. The octagonal tomb was built during the 16th century.
Address: Budapest, Mecset utca 14, 1023 Hungary
The longest road of Budapest: Üllői Street
Üllői út is an approximately 15 km long road, crossing 5 districts and ending in Vecsés, in the suburbs of Budapest.
Address: Budapest, Üllői út, Hungary
Pál-völgyi Cave: longest cave system in Hungary (Cave of Paul Valley)
Karst mountains around Budapest contain numerous caves. Some of them are more famous than others. It is worth visiting the longest one, the Pál-völgyi Cave, the longest cave system in Hungary with 28.6 km length.
It is in the second district and can be reached by public transport. You can enjoy the amazing limestone formations and stalactites and stalagmites on the guided tours that run almost every hour. You can visit 500 meters of the cave system.
Check ticket prices for different cave adventures here!
Address: Budapest, Szépvölgyi út 162, 1025 Hungary
The highest point of Budapest: Erzsébet Kilátó – Elisabeth Lookout
The highest point of Budapest lies on the hills of Buda. The Erzsébet. Lookout is on the top of the 527 m long János Hill. It was finished in 1910, and it was the tallest lookout building in Europe at that time. If the weather is sunny, it is a must-visit place, but even overcast. You can have a relaxing walk there, far away from the crowds of tourists. You can observe the city below, and in clear weather, you can even see as far as 80 km.
Address: Budapest, 1121 Hungary
The biggest synagogue in Europe: Dohany Street Synagogue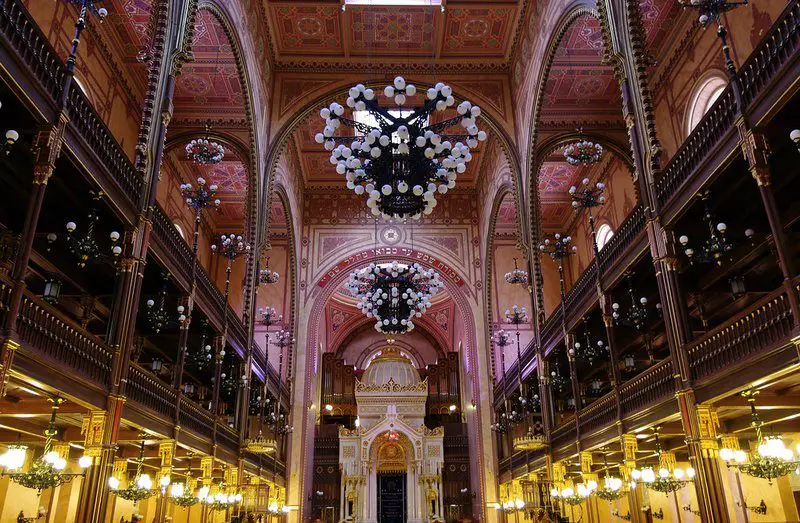 Dohany Street Synagogue (Dohány utcai Zsinagóga) is the biggest synagogue in Europe and an important symbol of Hungarian Jews. At the same place, you can visit the Hungarian Jewish Museum as well.
Address: Budapest, Dohány u. 2, 1074 Hungary
The tallest church of Budapest: St. Stephen's Basilica – Szent István Bazilika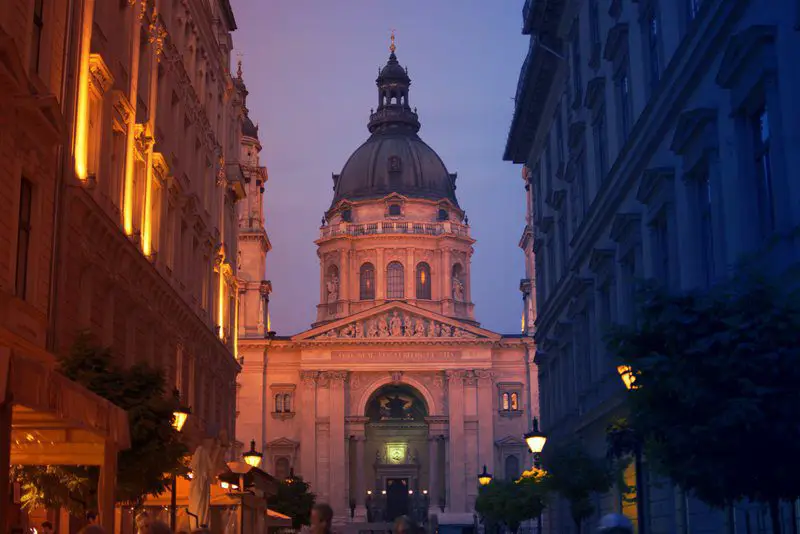 The famous St. Stephen's Basilica is the tallest church in Budapest with its 96 meters. It has exactly the same height as the parliament.
Address: Budapest, Szent István tér 1, 1051 Hungary
Kopaszi dam (Kopaszi gát) – a perfect chill out place
The Kopaszi Dam doesn't function anymore as a dam but turned into a public park with a lot of green grass and a place to eat, drink, or just have a picnic. It is on the Danube shore just south of the famous universities (Budapest University of Technology and Economics and Eötvös Loránd University 11. district campuses. The Kopaszi Dam is a perfect place for romantic walks, sports, or visiting one of the cafes or restaurants. Probably you have heard a lot about Margaret Island, but I would strongly suggest you relaxing here instead.
Address: Budapest, 1117, Hungary
The narrowest building in Budapest
The narrowest house in Budapest is located in the Várkert wharf. It is only 6 m 20  cm wide and 22 m long and facing the Danube. It was finished around the 1890s. You can spot it from the Elisabeth Bridge while crossing the Danube.
Address: Budapest, Várkert rkp. 16, 1013, Hungary
Travel Resources
There is nothing better than a relaxed holiday. To ensure your rest, make sure you reserve and book your accommodation and transportation in advance of your trip.
Pin for later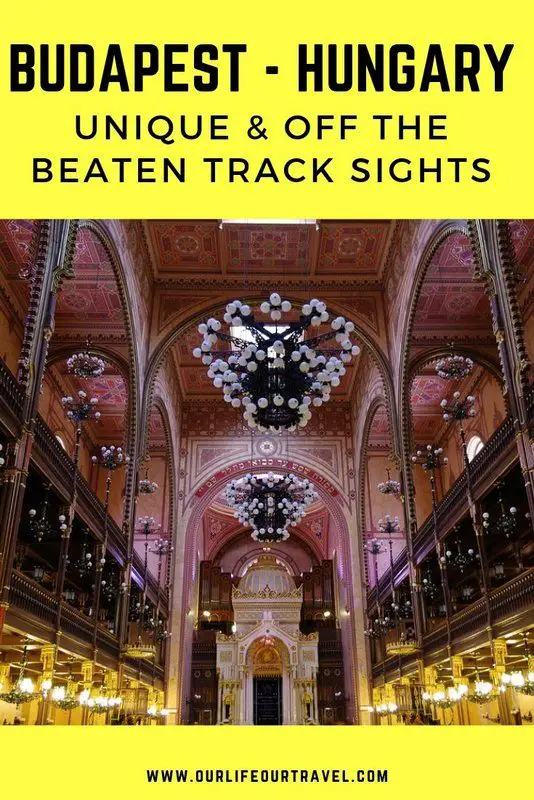 About the Author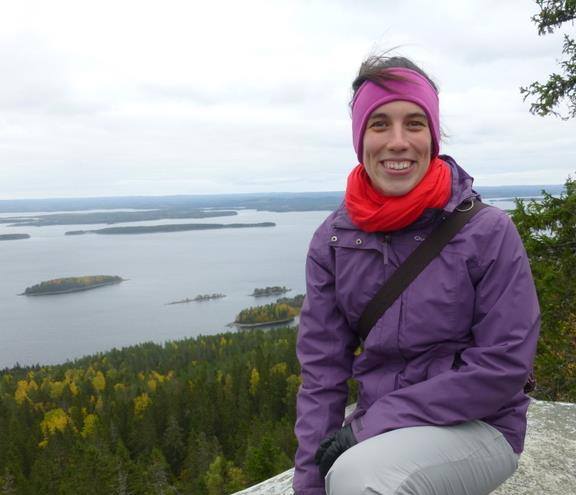 Katalin
Katalin is a Lapland-based outdoor enthusiast who loves hiking, road-tripping and traveling with her family. She spends her free time far away from civilization in one of the national parks around the world, explores off the beaten path places, or hops on a road trip with her kids in an RV.
Read more about her adventures and the blog.