Who likes visiting unique places? Nordkapp is Norway's (almost) most northern point and is one of the country's most popular places. We don't count how many times we have traveled to Norway, but I know for sure we visited Nordkapp on the first Northern Norway road trip as a family. A couple of years earlier, Karol had an opportunity to explore the unique Mageroya Island, where the North Cape of Norway is located.
Norway is a huge country, and every time we are hesitant, which part of it should we revisit or look for new hidden gems. Hiking in Lofoten was a bucket list item, so I hiked to the Preikestolen rock with our family. Actually, it is tough to select a place you wouldn't like. The fjords are magnificent, whether they are deep in the south or shallow in the north. The mountains allow for short hikes or multi-day trips, while the settlements are full of cute wooden houses and stave churches. But let's get back to one of the most visited places in Norway: Nordkapp!
We put together this guide for you to help you make the best out of your Nordkapp Trip!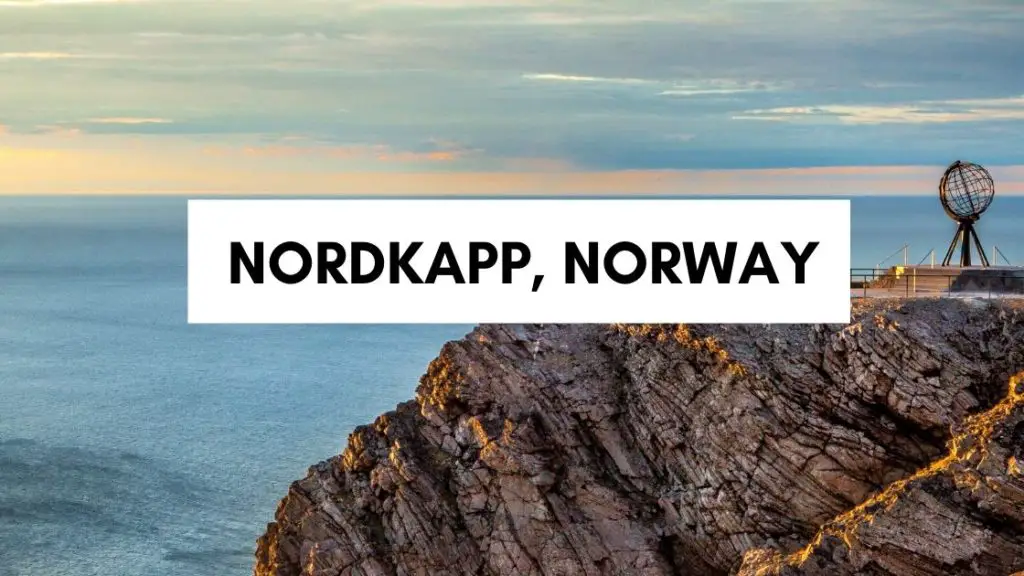 Disclaimer: The post may contain affiliate links.
Nordkapp Norway – The North Cape of Norway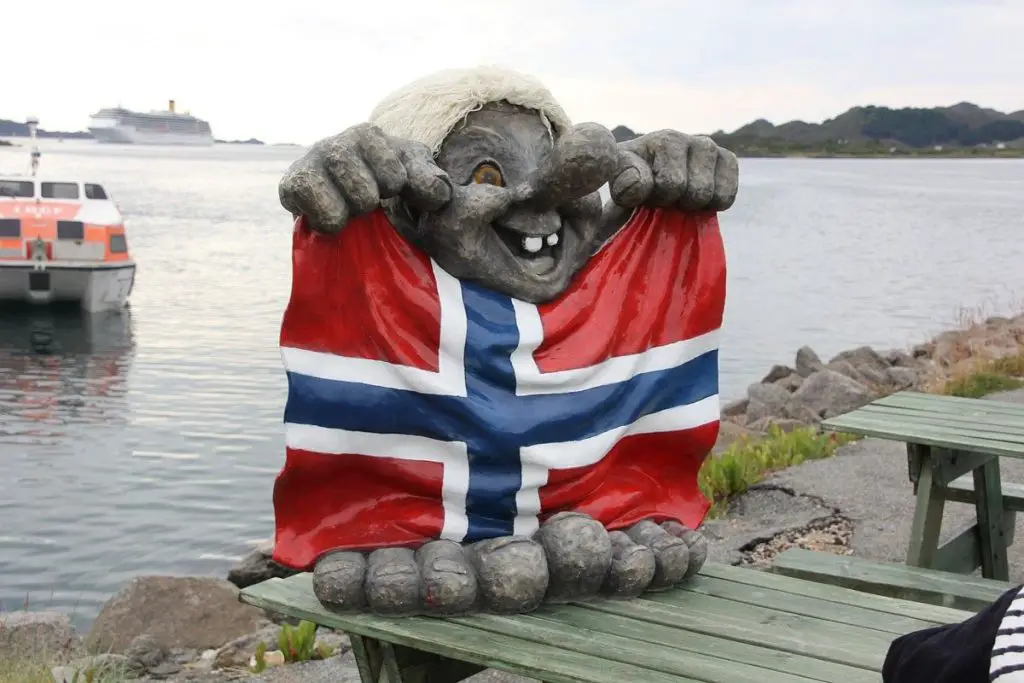 .Nordkapp is a municipality of Tromso and Finnmark county in Northern Norway with only 3000 people. Although the locals are barely a handful, during the summer month, over 200 000 tourists travel to Nordkapp – which is a huge number! We have noticed that despite the travel restrictions everywhere, there were tons of cars and RVs from the Nordic countries (luckily it was allowed to travel) during the evenings.
The meaning of Nordkapp
Nordkapp is a Norwegian spelling of the English North Cape. The municipality originally was named after a fishing village, Kjelvik, but as it was destroyed in the second WW, the name change was inevitable. Since 1950, the place is called Nordkapp.
Not the Northernmost Point of Norway
The famous point of Nordkapp is the 307 meters (1,007 ft) high cliff, which is mistakenly, often called as the northernmost point of Europe.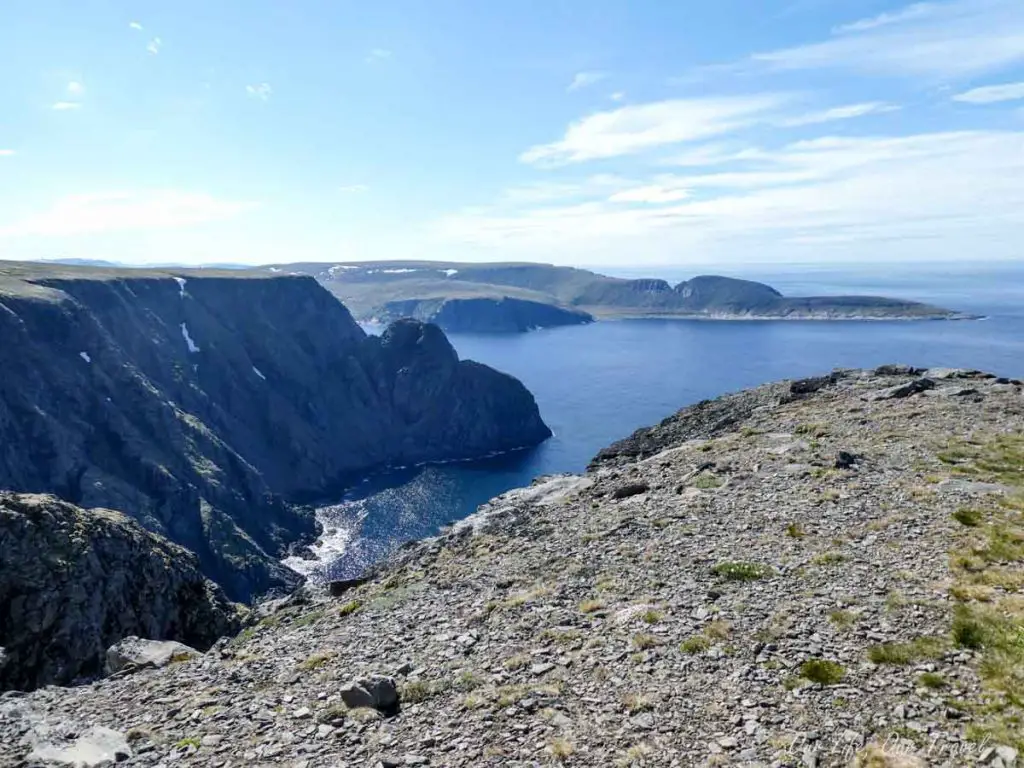 The real northernmost point of Europe, on the mainland, is Cape Nordkinn (Kinnarodden in Norwegian, 71° 08′ 02″ N ) as it is about 20 km more north than Nordkapp and is actually on the mainland. Nordkapp is on an island. Mageroya Island. So it is definitely not a correct record.
And how about the most northern point of Europe on the islands?
There are two candidates for that too. If you count Franz Jozed Land to Europe, then the Russian Cape Fligely on Rudolf Island at 81° 48′ 24″ N is your answer.
If not, then it's on the Spitsbergen. Europe's northernmost point is the northern point of the island of Rossøya is an islet in Svalbard at 80° 49′ 44.41″ N.
Nonetheless, Nordkapp is an amazing place to visit, so it shouldn't deter you from your plan of traveling there.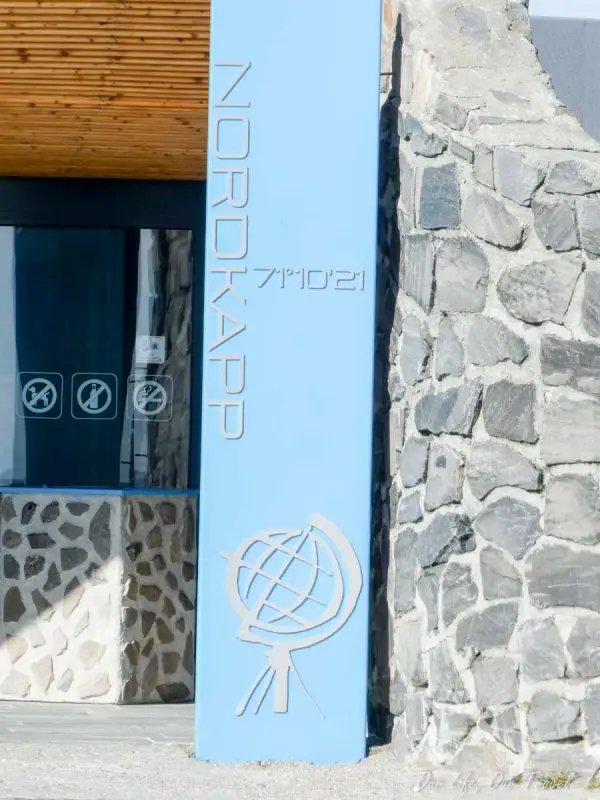 Nordkapp Latitude and Longitude are the followings:

Latitude 71.164932 Longitude 25.786972

Nordkapp coordinates in other format:
71° 9′ 53.7552" N 25° 47′ 13.0992" E
Mageroya Island Norway
Travel Resources
There is nothing better than a relaxed holiday. To ensure your rest, make sure you reserve and book your accommodation and transportation in advance of your trip.
Travel to Nordkapp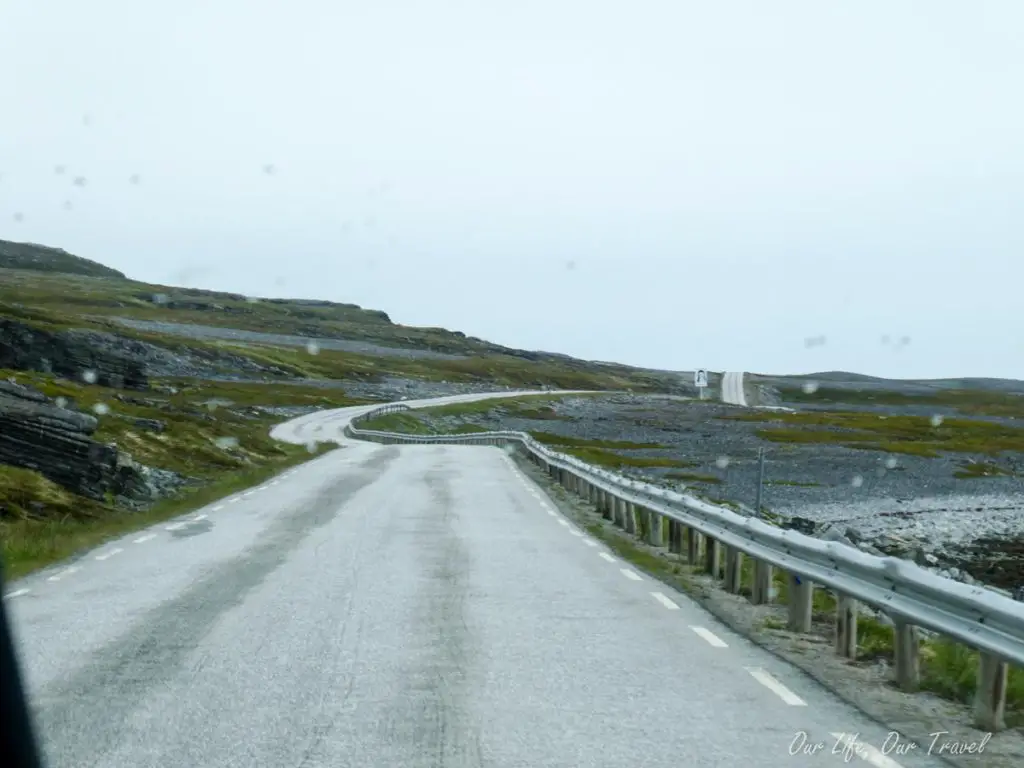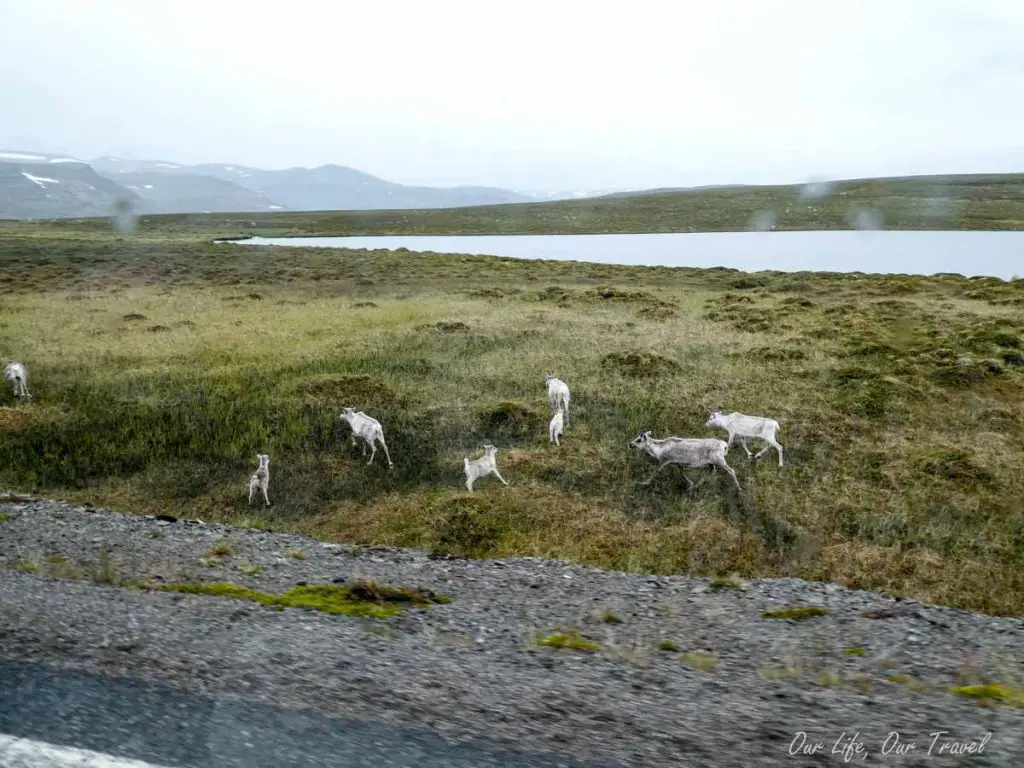 There are different ways how to travel to Nordkapp. We will list you different options below.
Travel to Nordkapp By Car
Probably one of the most spectacular ways is to travel to Nordkapp by car or by motorcycle. If you don't mind driving a lot and find pleasure passing even thousands of kilometers, then a Norway road trip or a Scandinavian road trip are your best choices.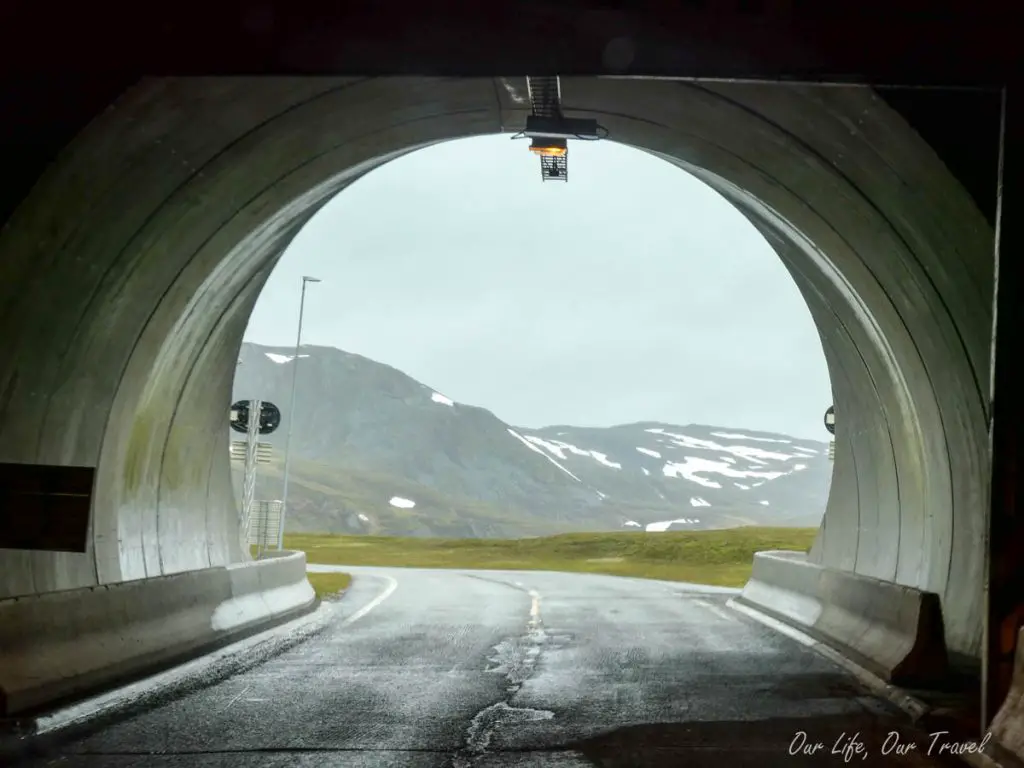 Although the Nordkapp tunnel fee is demolished for a long time when you drive in Norway, remember that there are paid tunnels, roads, and ferries to calculate the costs. Luckily Nordkapp is almost free.
Rent a Car from Here!
Travel to Nordkapp from Finland
One option is to travel to Nordkapp from Rovaniemi. Rovaniemi is the home to Santa Claus in Finnish Lapland. It is a rather long but doable way (we drove from Rovaniemi to Norway with two small kids). We added about a thousand extra kilometers and made detours to Kirkenes and its surroundings too.
By bus, you can take a bus from Rovaniemi to Tromso and then change to Nordkapp. It is rather expensive as public transport prices are high in both countries, so if you travel with a companion or family, you are probably better off financially to rent a car.
Nordkapp from Oslo
If you start your trip in the Norwegian capital, you can either fly or drive. There is an airport in Honningsvag, less than an hour from the Nordkapp Visitor Center. You can fly there.
Another option is an epic road trip. This would allow you to explore Southern Norway, the Lofoten Archipelago, and Northern Norway as well. If you have at least two weeks (better having a month, though), choose this!
When is the best time to visit Nordkapp?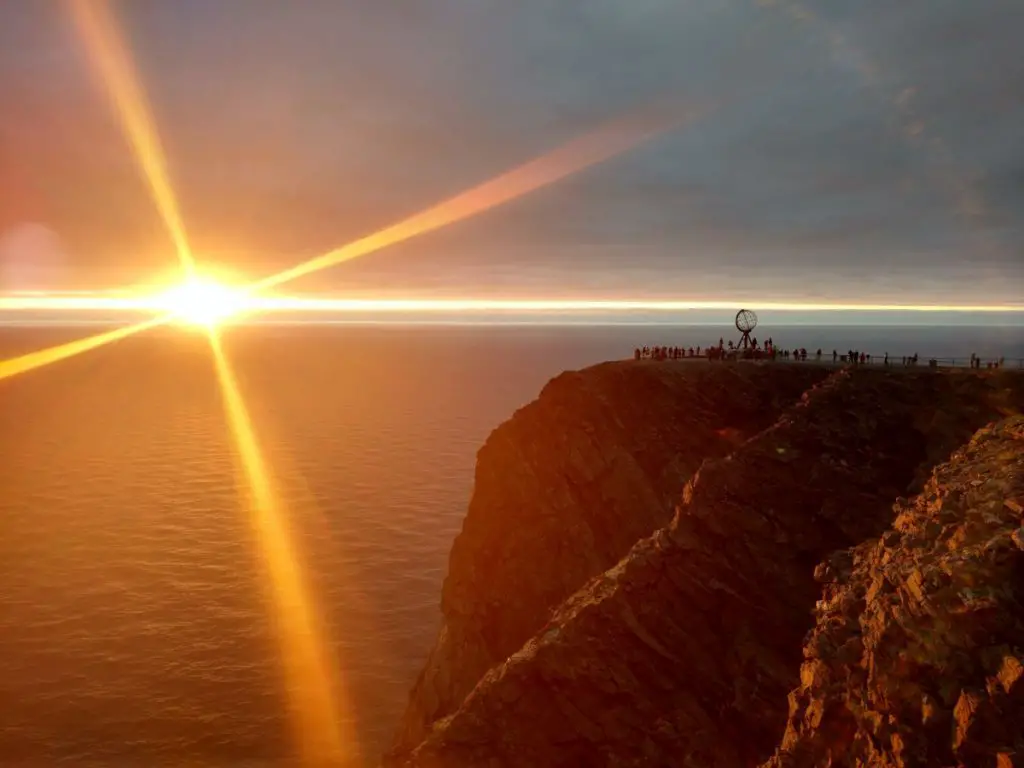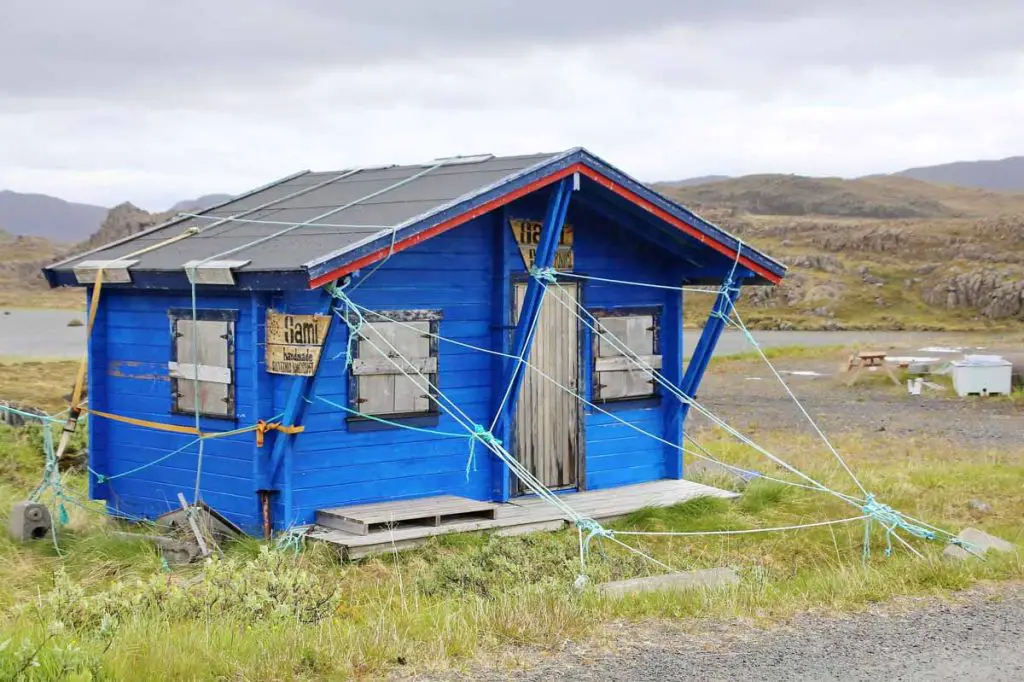 There is no straight answer, which is the best month to visit Nordkapp. Don't forget, it will be windy almost the whole year-round, which means terribly cold in winter or rainy weather. My suggestion would be June or July, but wintertime is special too. Let's check what factors you need to consider when you pick a time for your visit.
Nordkapp Daylight Hours
As Nordkapp is far north, the daylight hours vary a lot during the year. And when I saw a lot, I mean that in winter, the sun doesn't rise, and it never sets in summer.
Nordkapp in Winter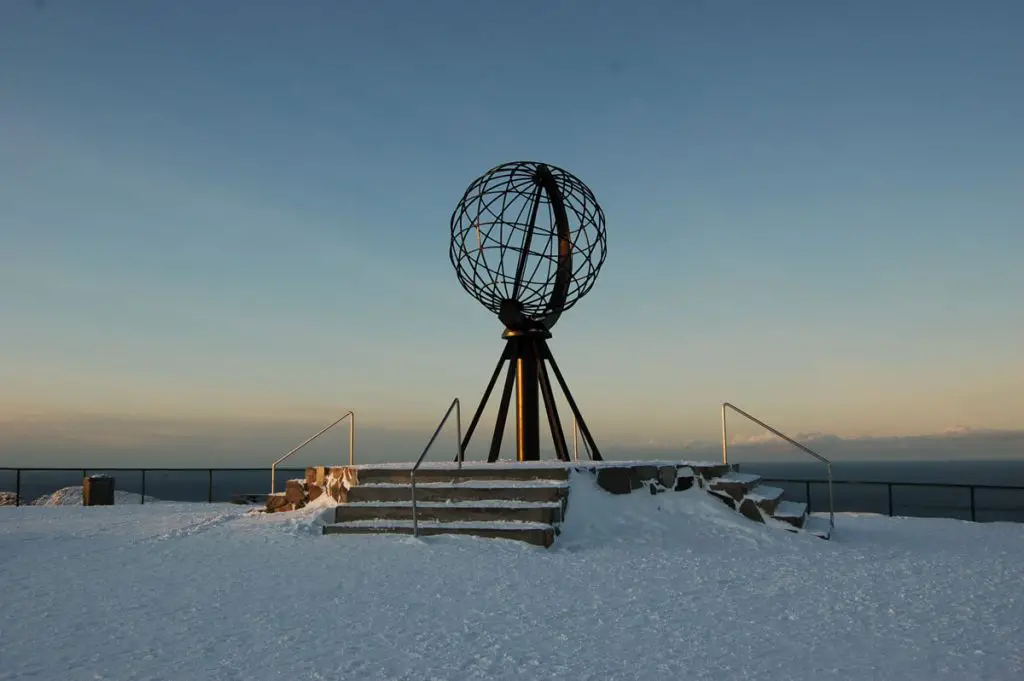 Winter in Nordkapp is the time of the polar nights. The sun doesn't rise above the horizon between 20 November and 21 January.
It's dark, humid, windy, and probably snowy. Personally, we postponed our trip last April because some of the roads were still snowed in, and the temperature was around zero degrees celsius.
Nordkapp in Summer
The best winter month to visit Nordkapp are June and July. This is perfect timing for admiring the midnight sun in Nordkapp.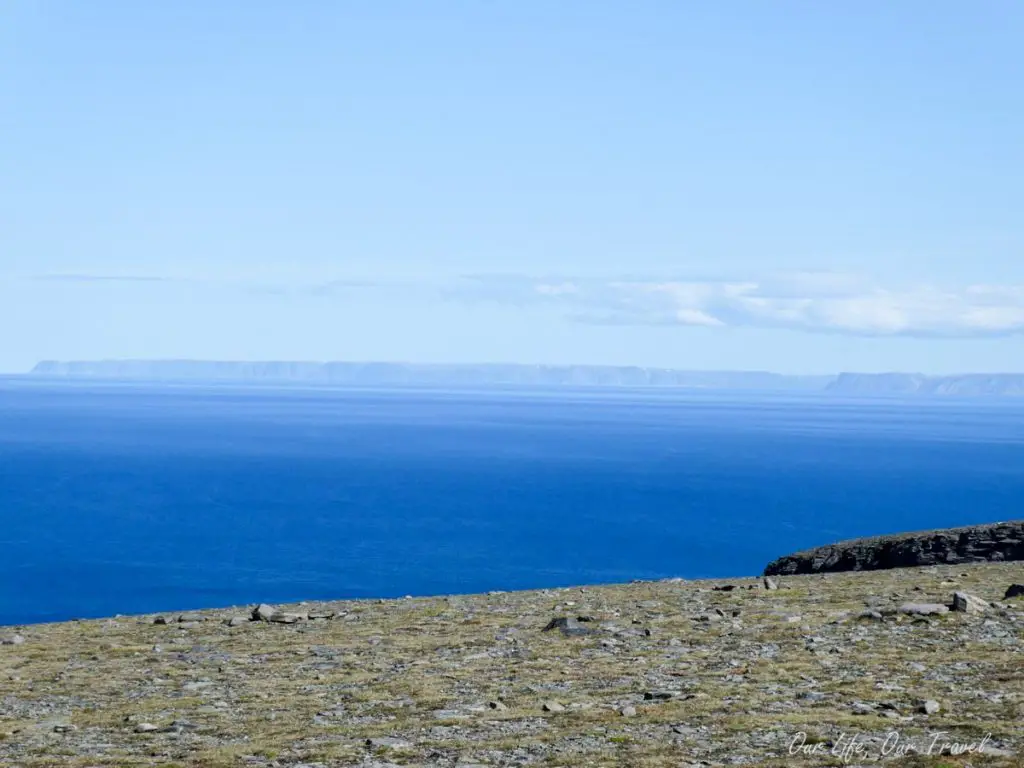 The summer is magical in the Arctic. Nordkapp weather in June and July is the best, not to mention it's during the midnight sun's time. The midnight sun is one of the miracles in Lapland. During our last visit in June, everyone set up their picnic tables next to the cars and RVs, pour some wine or pop a beer can, and waited for midnight to come while enjoying the warm rays of the sun.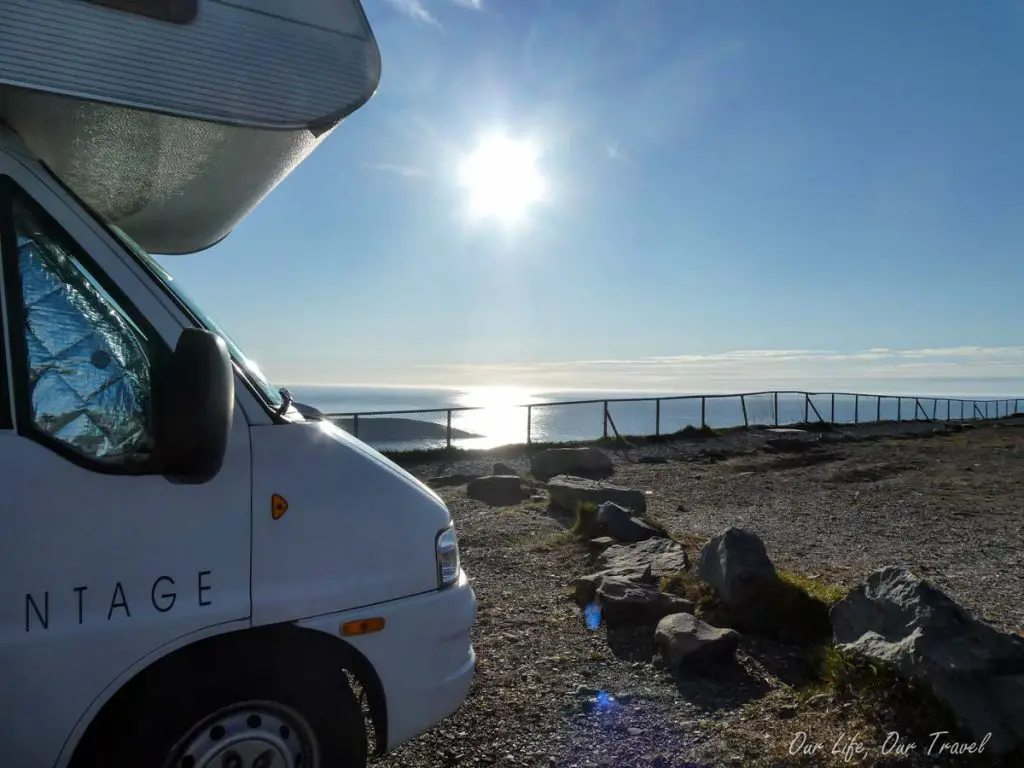 Please note, it is often rainy, windy, and cold in summer too. The average daily max is around 12°C. I hope for a nice warm day but be prepared if it looks and feels like this in the photo.
Nordkapp midnight sun time: 12 May – 2 August (2021)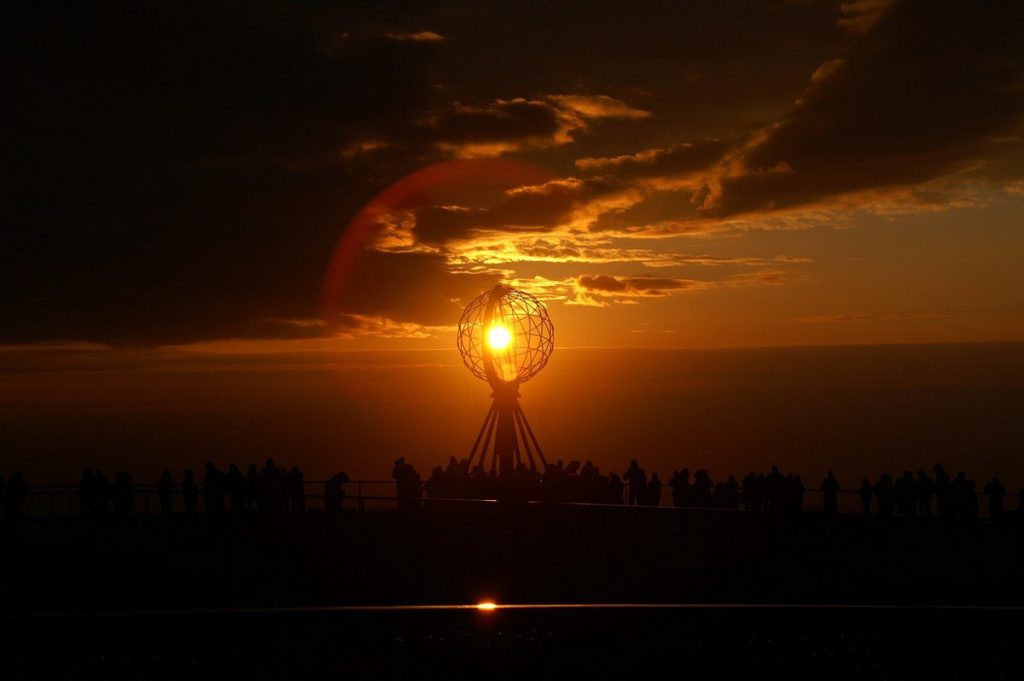 Weather forecast
For the Nordkapp weather forecast for the upcoming days, browser the Norwegian meteorological website.
Nordkapp Map
Nordkapp Parking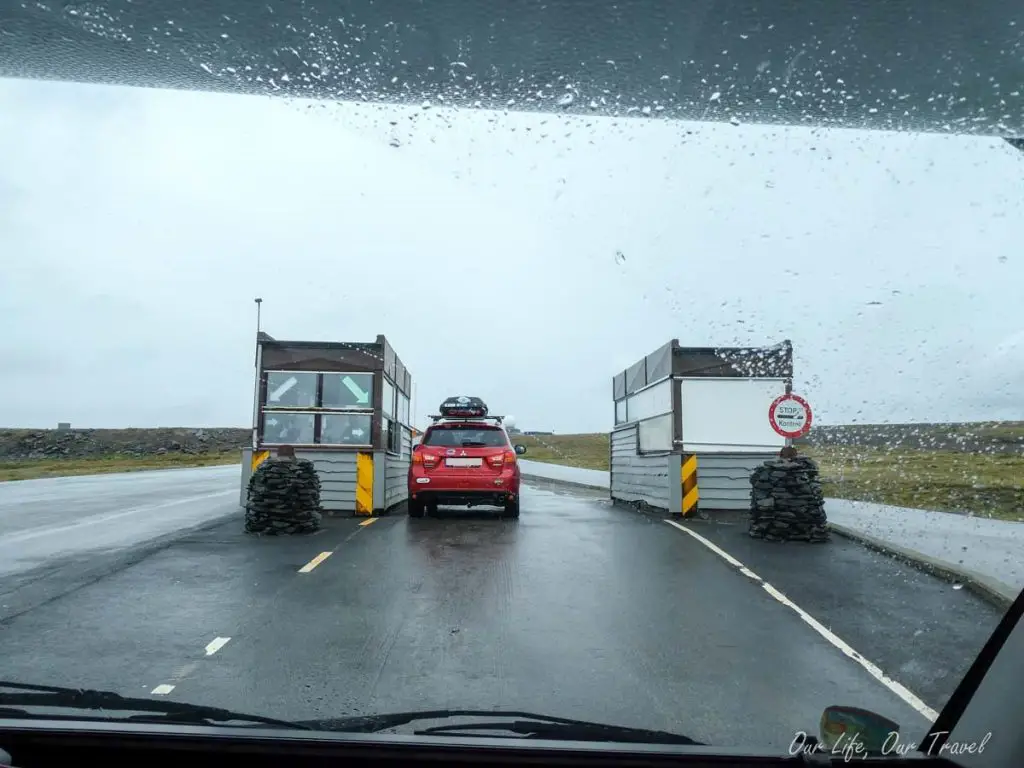 Time to discuss money. Nordkapp parking fee is quite high if you consider you most likely to spend there only a couple of hours.
In 2020, the parking fee to Nordkapp was 350 NOK.
The other thing you can pay at the parking booth is your entrance ticket to the Visitor Center. The Visitor Center's fee is 250 NOK per person.
How to save money?
The parking fee is only collected during the opening hours, which is in summer from 10 am to 1 am (yes, after midnight), so if you want to save on parking, arrive between 1 am and 10 am. We planned to overnight there, so we didn't mind the parking fee.
Nordkapp Visitor Center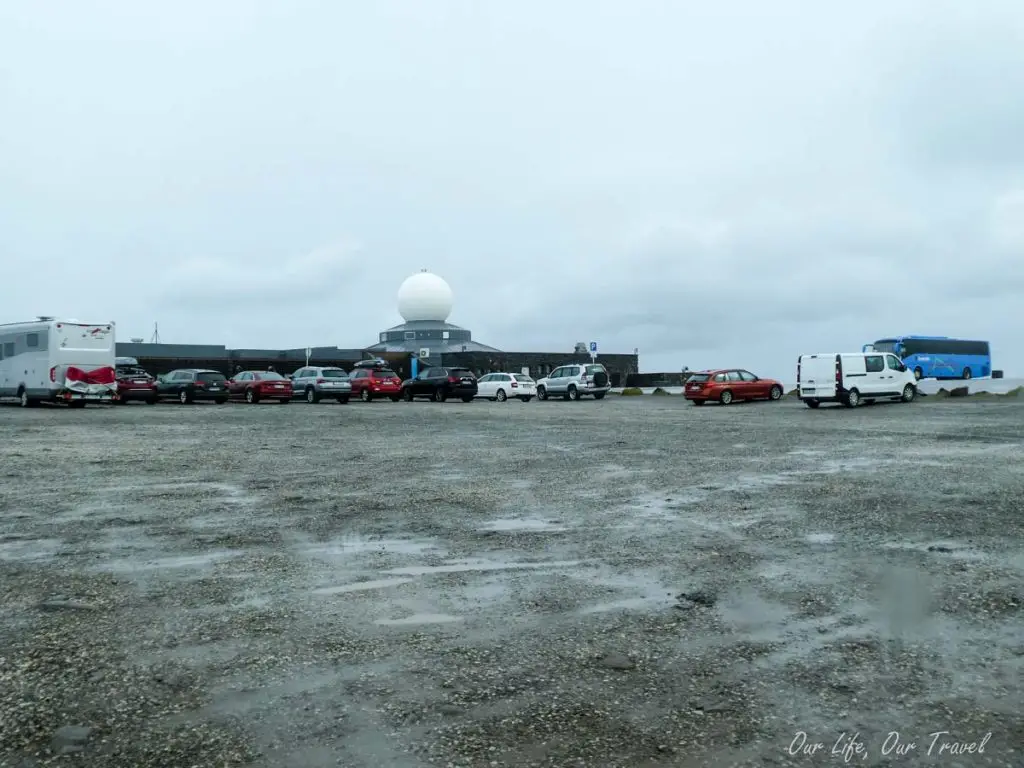 The Visitor Center stands on the cliff of Nordkapp, and it features restaurants, a souvenir shop, toilets, and a couple of other things. You can watch a documentary movie or pose with the little troll statues or simply warm up after the cold or windy weather outside.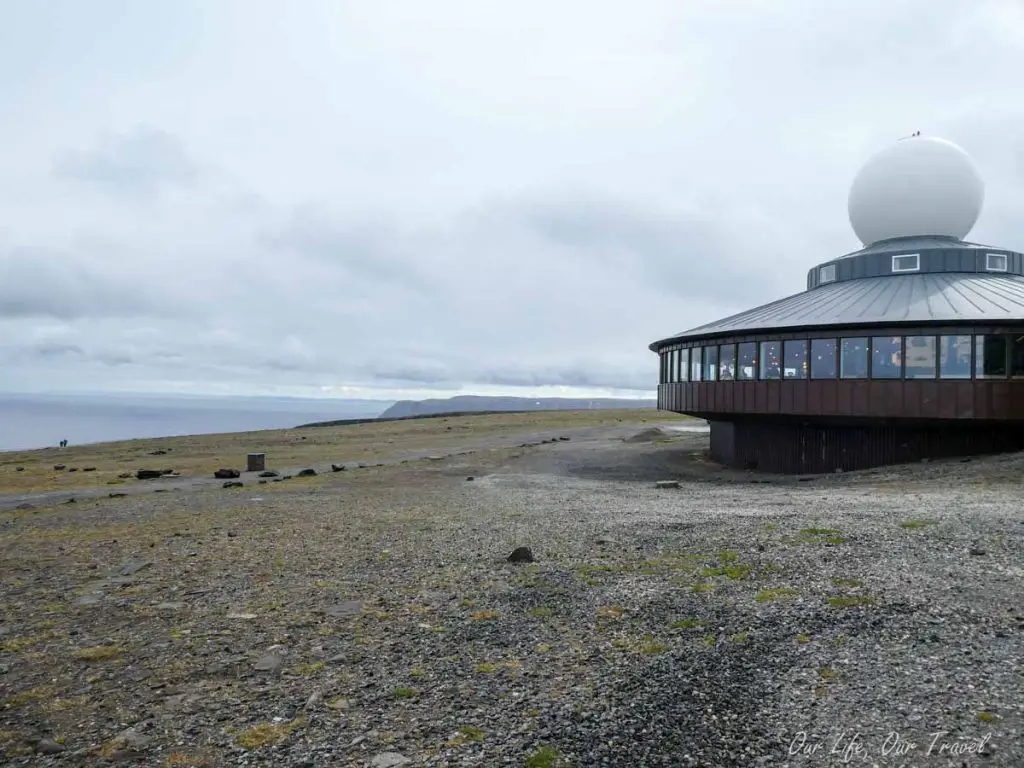 Nordkapp Entrance Fee
The entrance fee to the visitor center is 250 NOK per person.
How much time do you need to visit Nordkapp?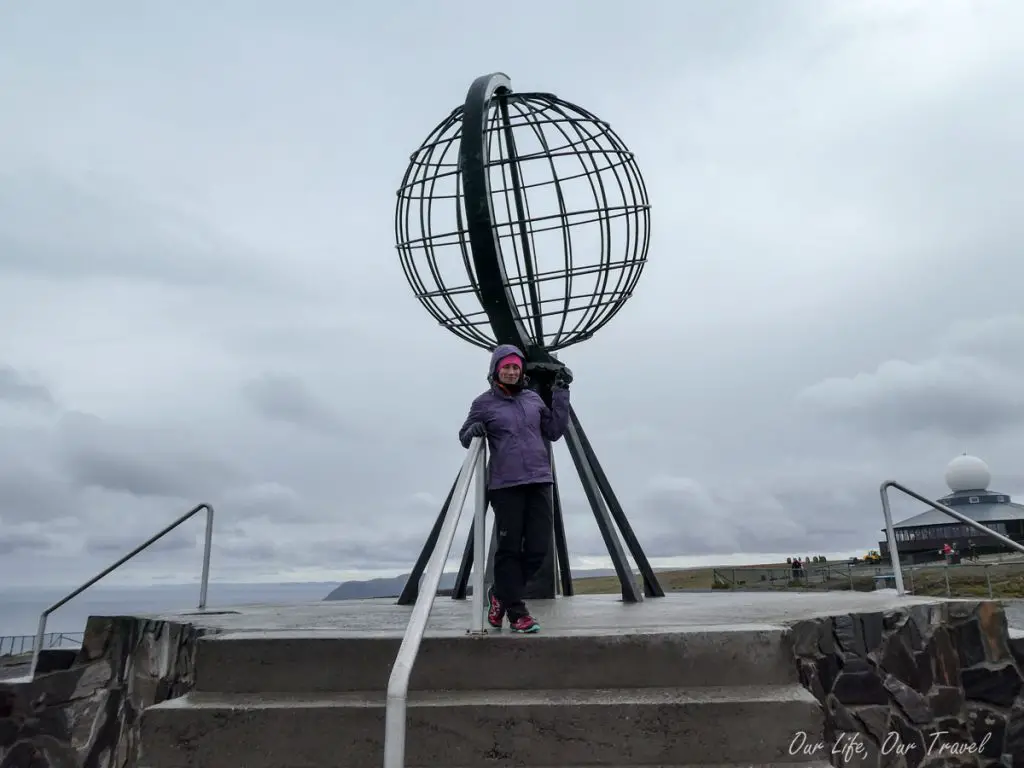 In my opinion, 2 to 3 hours is enough to see the place, especially in not so pleasant weather. When we arrived there with the kids, the wind was 40 km/h, and rain showers were coming and going, so in 20 minutes, we did a bit of walk and took the compulsory photos. If you want to spend time inside, a couple of more hours is okay. Luckily, when the weather became better by the evening, we could still be outside for hours, play under the midnight sun and check some of the cliffs further away.
The Cliff Outside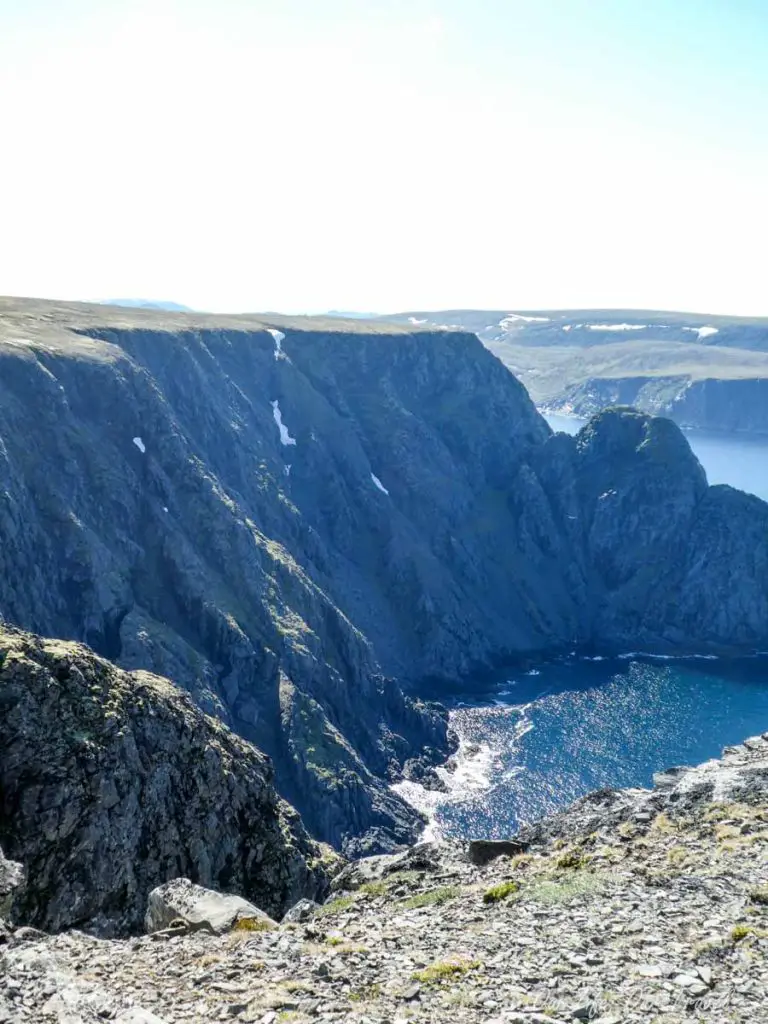 Besides the indoor activities, you can walk along the cliffs near or further from the Visitor Center, and of course, make sure you took a pic with the famous globe statue.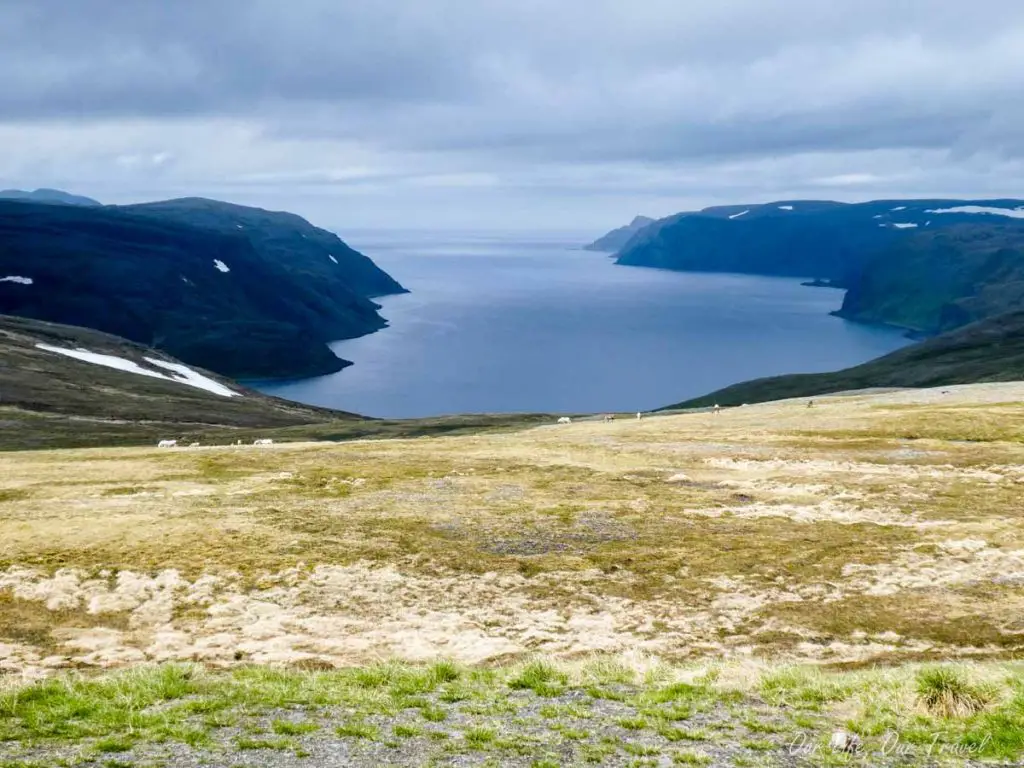 Other Spectacular Things to Do in Nordkapp
What to do in Nordkapp, you wonder. Most of the visitors only stop by the Visitor Center and do a quick stop there. That's not all that you can do on Nordkapp.
Watch the Northern Lights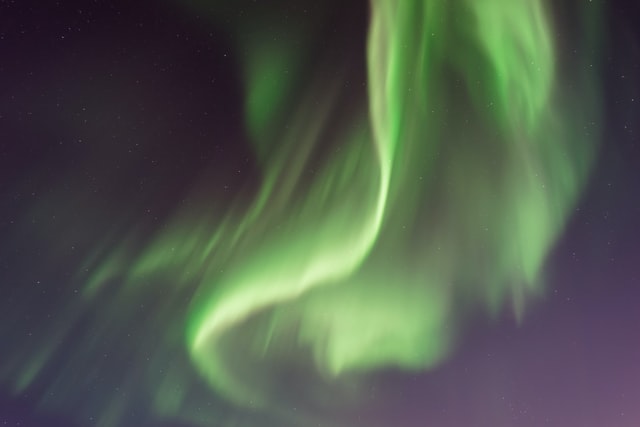 If you visit Nordkapp between October and March, you have a perfect chance to see not only this popular place but the magical aurora borealis. You can try it on your own or join some organized tours where the guide will take you to a perfect spot for that night.
What to do at Nordkapp: AURORA TOURS & other fun activities
Nordkapp Hike to Knivskjellodden
Knivkjellodden is the real northern point of the Nordkapp island. It is possible to hike there too. You can see the peninsula in this photo too.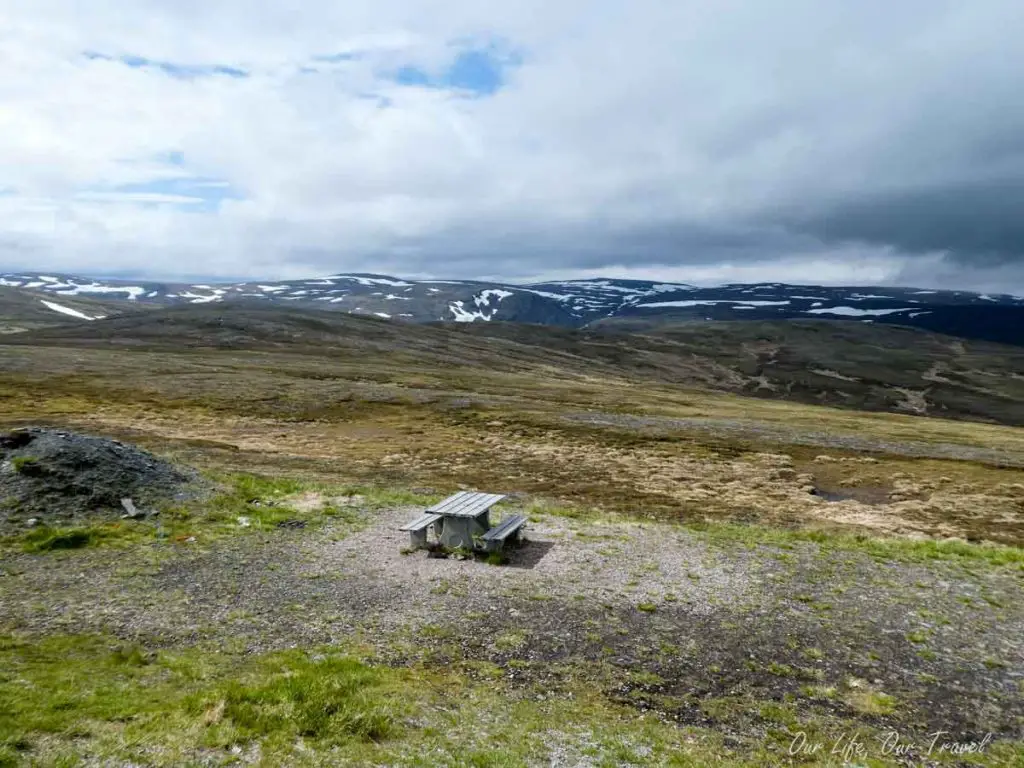 The hike itself about 19 kilometers long and has an elevation difference of 400 meters. The trailhead starts a few kilometers from the Visitor Center. There is a parking place for about 10-20 cars, depending on the weather conditions. The trail itself is demanding due to its length and often leads through exposed sections. IT is for experienced hikers only. It requires about 6 hours of walking time.
Knivskjellodden HIKE info
Distance: 19 kilometers
Elevation gain: 400 m
Time: 6-8 hours
Hike to Kirkeporten in Skarsvåg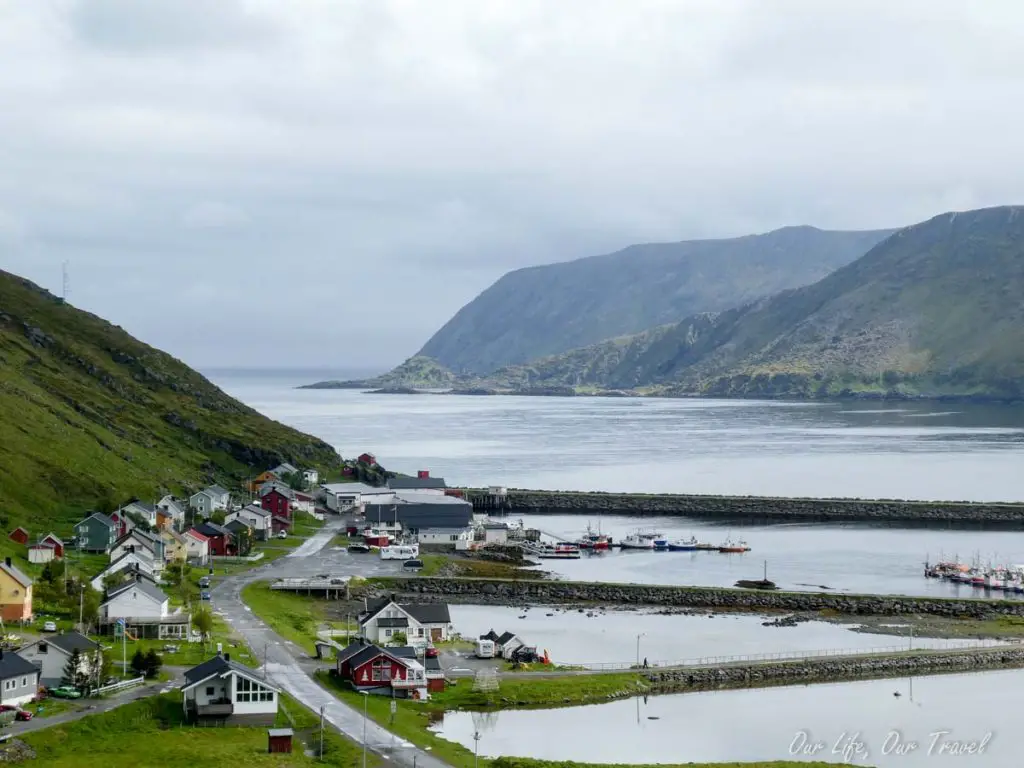 The hike to the Kirkeporten arch was our favorite outdoor activity in Nordkapp. The hike starts from the small village of Skarvag, and it's a rather short hike. About 3 kilometers and an elevation gain of about 50 meters. You first need to climb up the hill next to the village on the left side (arriving from Nordkapp) then descend on the other side.
The arch itself not giant but quite sizeable. It reminded me a bit of Malta and the famous arch that I saw as a kid and its collapse a couple of years ago. Besides the arch, I loved listening to the seagulls and observing the spectacular form of the rocks. The kids loved exploring the seaside as well.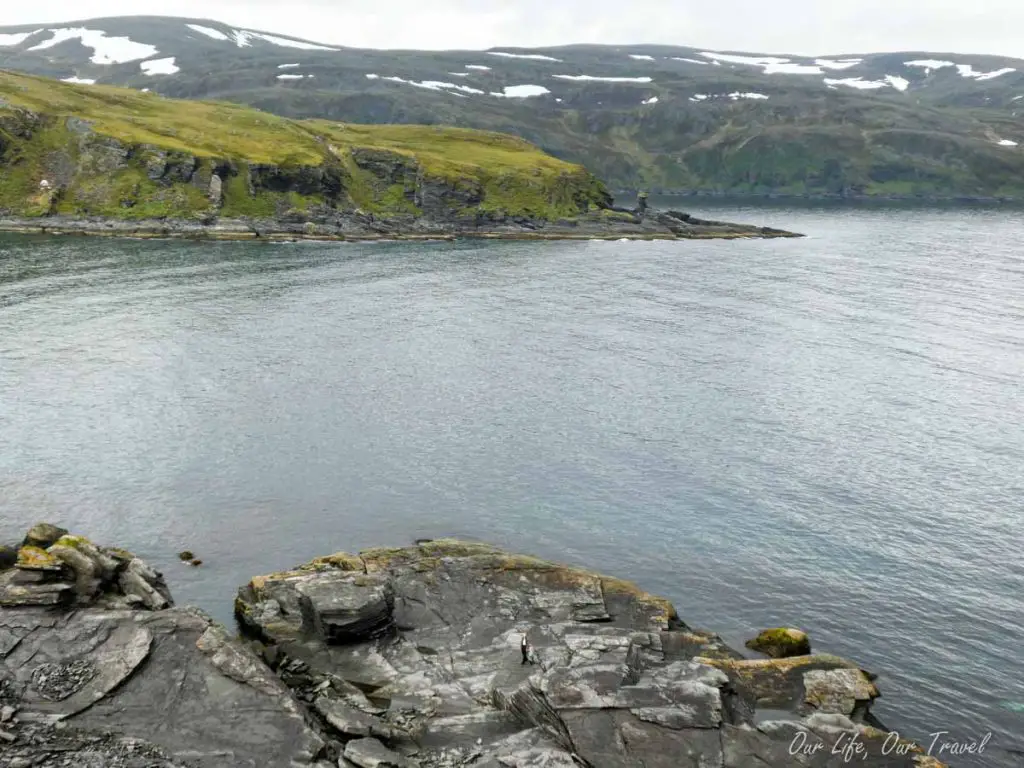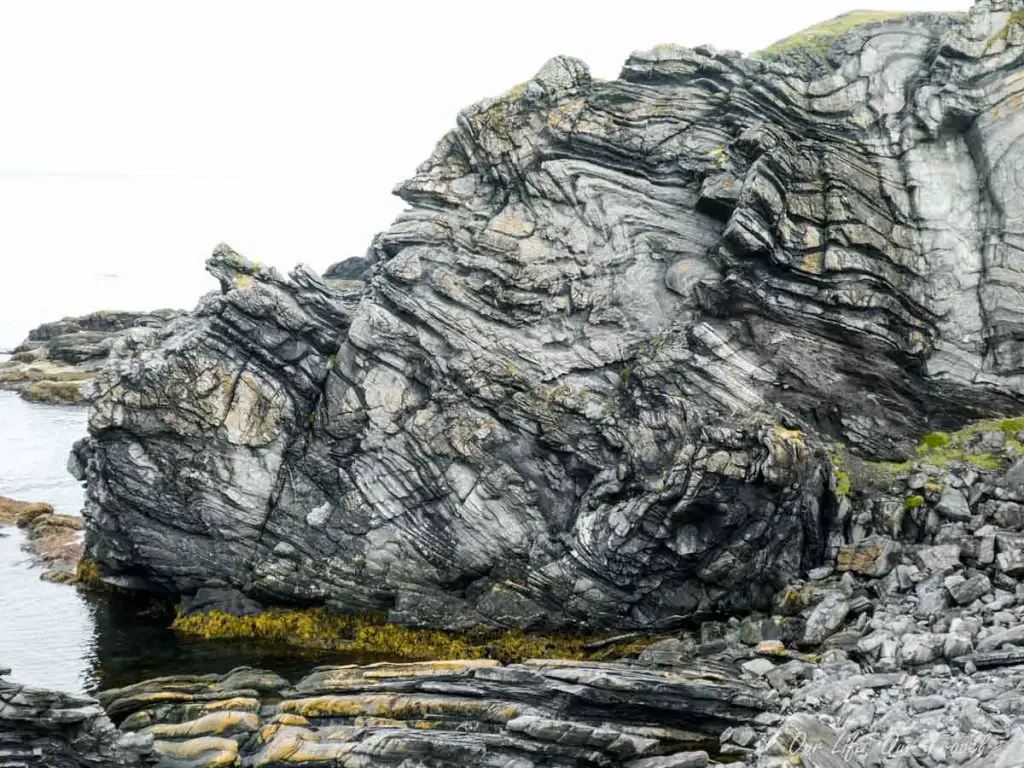 Kirkeporten hike info
Distance: 3 kilometers
Elevation gain: 50 m
Time: 1-2 hours
Fishing Village: Gjesvær
Gjesvaer is a quiet fishing village on the northern side of the island. You can have a drive there and a short walk if you have an hour or two extra.
Honningsvåg
Honningsvag is the biggest settlement in Nordkapp, and it has the island's only airport. If you arrive by plane, you will likely arrive here (unless you want to take a long drive from some of the more southern airports.
The settlement itself doesn't seem immensely interesting with it's narrow and busy streets. However, there is a shop and fuel station, and as both are scarce resources in Northern Norway, you will probably take at least a short detour there. Anyway, you come to Nordkapp for the views, the midnight sun and the northern lights, not for city sightseeing.
Nordkapp Accommodation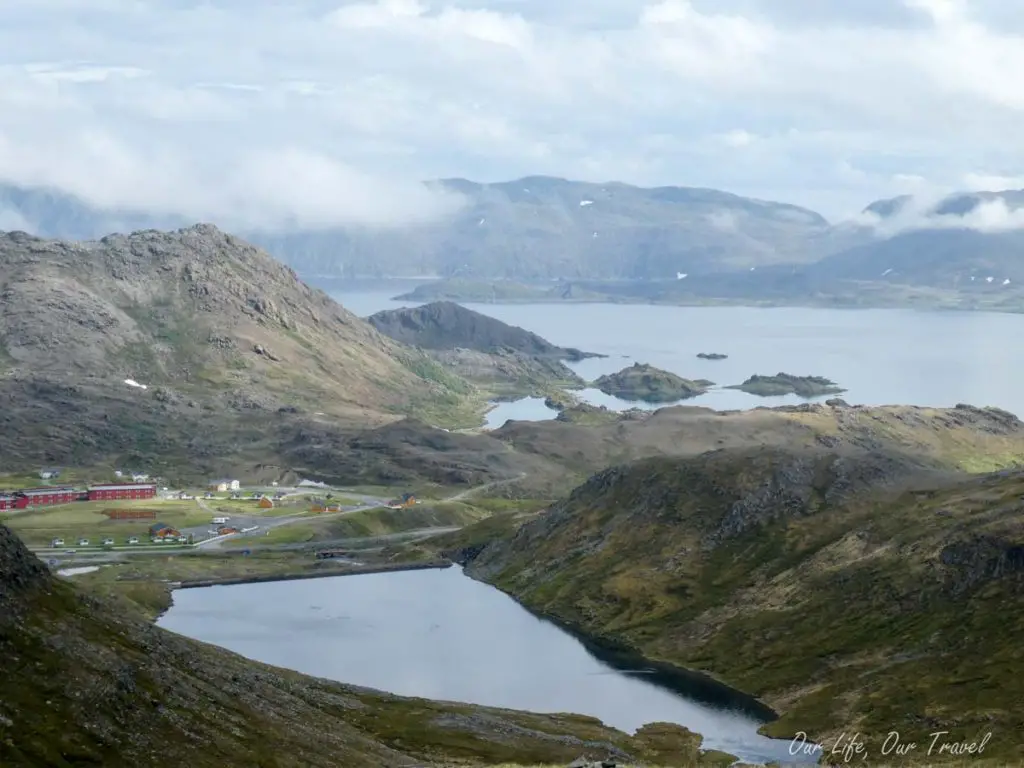 There are a couple of options for accommodation in Nordkapp. The most spectacular hotel in Nordkapp is the Scandic Nordkapp, which is located near the curvy serpentines that take you up to the fell. It's also a great place to watch the northern lights from.
In Honningsvag, you can choose between AirBnbs, hostels, and hotels.
If you want to stay on budget, check Nordkapp Vandrerhjem Hostel or The View. About hotels, Scandic Bryggen, or the previously mentioned Scandic Nordkapp (outside of the town) is definitely worth checking.
Travel Resources
There is nothing better than a relaxed holiday. To ensure your rest, make sure you reserve and book your accommodation and transportation in advance of your trip.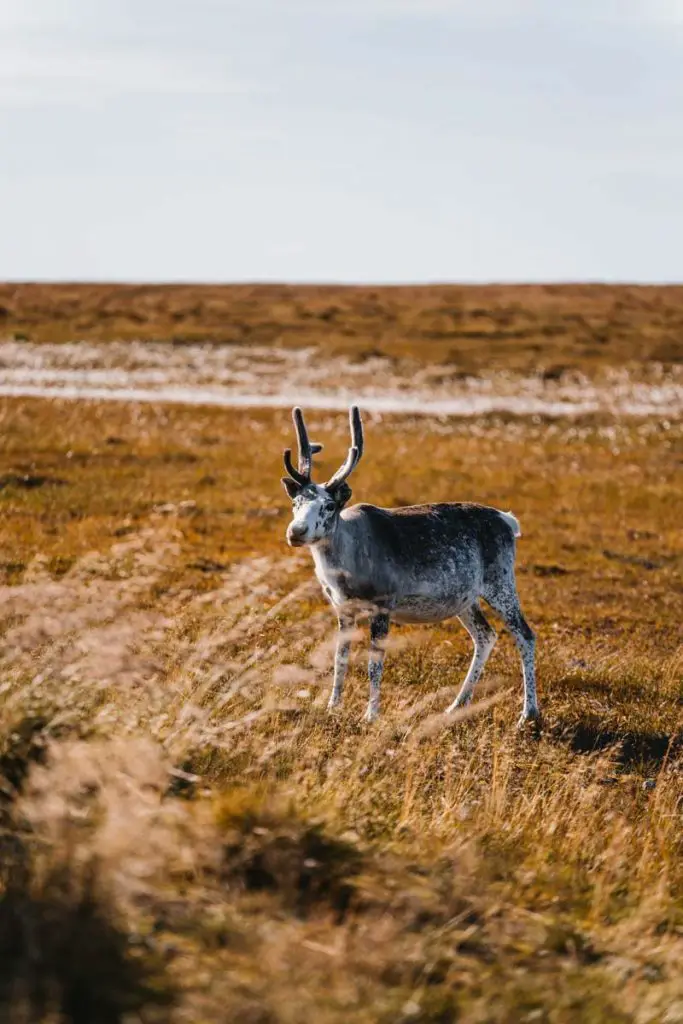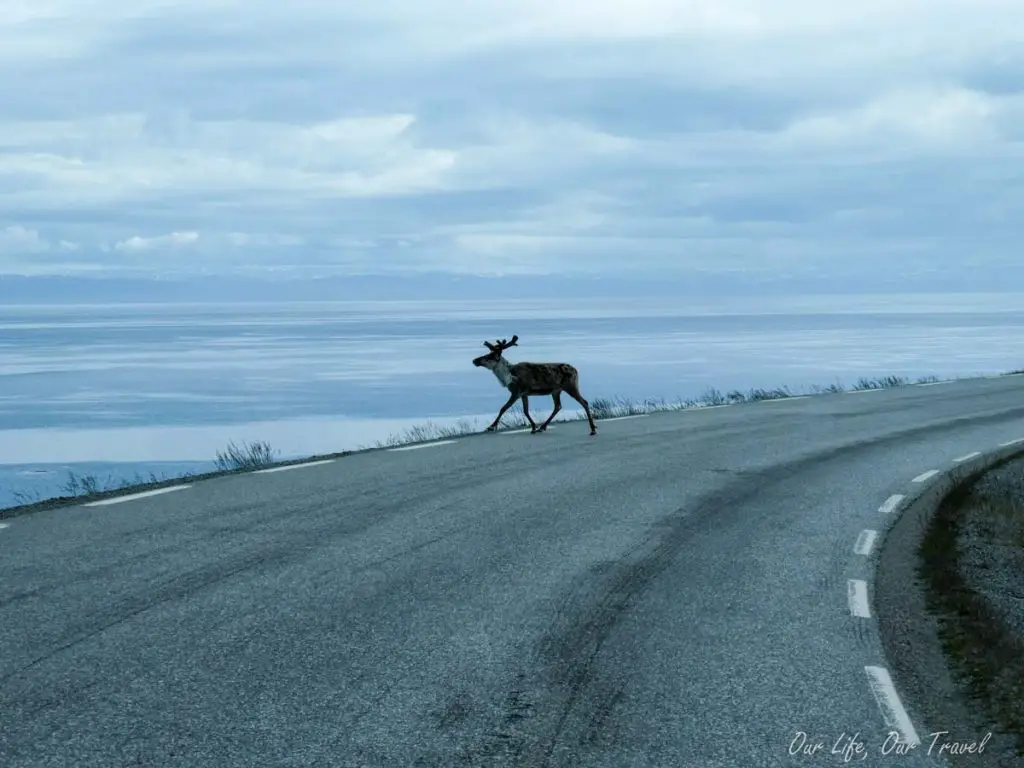 Pin for later!

About the Author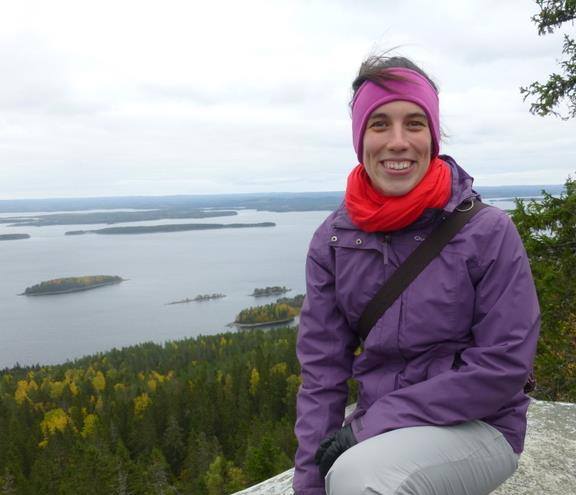 Katalin
Katalin is a Lapland-based outdoor enthusiast who loves hiking, road-tripping, and traveling with her family. She spends her free time far away from civilization in one of the national parks around the world, explores off-the-beaten-path places, or hops on a road trip with her kids in an RV.
Read more about her adventures and the blog.