Indonesia was a culture shock. I haven't been out of Europe too much. Although some islands, like Bali or Gili Islands, are very touristic, western-like, for example Jakarta is a huge messy metropolis with its busy markets and life. At the same time, there are many remote and stunning islands. One of our best hike was to Mount Rinjani on Lombok, but probably the most unique place during our 2-weeks-long trip was the Komodo National Park. That was the reason Katalin and Karol took me to there.
The Komodo National Park and the Komodo dragons
The national park includes about 30 islands of the Lesser Sunda Islands. The bigger ones are Komodo and Rinca. But why is it so famous place? The world largest lizards and one of the largest reptiles (after the saltwater crocodiles), the komodo dragons, live there. Their average size is around 2.5 meters in length and 70 kg in weight! Who wouldn't want to see these creatures in their natural environment?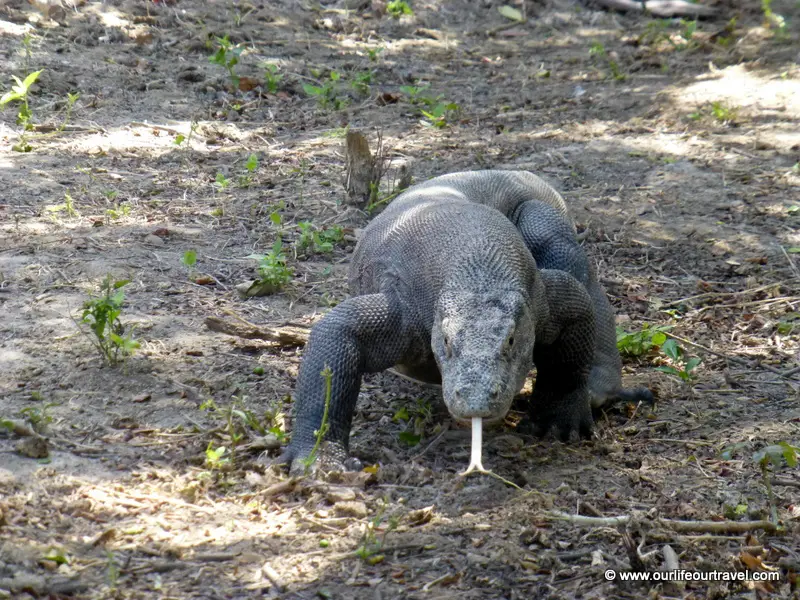 How to get to Komodo National Park?
The easiest way to approach the national park was flying to Labuan Bajo, Flores, and then getting a boat ride from there. The settlement is full with tour companies taking people for good money to the islands. We got a fairly priced deal. Besides the visit of the two major island, we had snorkeling trips, swimming time, exploring manta rays and full board for 2 days on the boat. Mostly Katalin enjoyed these water activities, while we took some photos with Karol.
The best boat to visit Komodo
We were sailing with one of the most famous captain. He is deaf-mute, but sails great and has a nice sense of humor! We have heard stories that some captain lost his boat while he went fishing and then the tourists got stuck on some little island for the night. Other boats sink from time to time. We also had a tough 'moment', like half an hour in big waves when the deck got some water as the waves were high and crushing on the side of the boat. Luckily the situation was under control.
Take a look on the boat before going for a trip, make sure the captain registered at the harbor and someone knows that you are away for the trip and when you will come back. Also, the currents are very strong at some places, some horror stories were told about it. Good to check the safety vests as well, whether you can swim or not.
During the two days we met 8 dragons on different islands. In the national parks we got park guards with us. They took care that we don't approach the animals from too close, not that we wanted to, and in case something happen, they can intervene. Although most of the dragons run away when we approached them, some of them were just watching and waiting. It is rare, but sometimes accidents happen too. Usually locals were attacked by the lizards.
The dragons looked huge in real too, not only reading about their sizes were impressive. They can climb even trees! We braced ourselves to take few pictures, even selfies! Check out mine! We crossed our another item from our bucket list!