Indonesia is much more than just Bali. We made a two-week-long trip to different islands of the country, visiting touristy and less touristy places as well, although the first ones were in the majority. Besides Bali, we visited Jakarta, Flores, Komodo, and Lombok as well.
Instead of writing an itinerary, we would like to introduce you to our favorite places. You can read an overview of backpacking in Southeast Asia from a fellow travel blogger.
This post may contain affiliate links.
Shipwreck at Ende, East Nusa Tenggara, Flores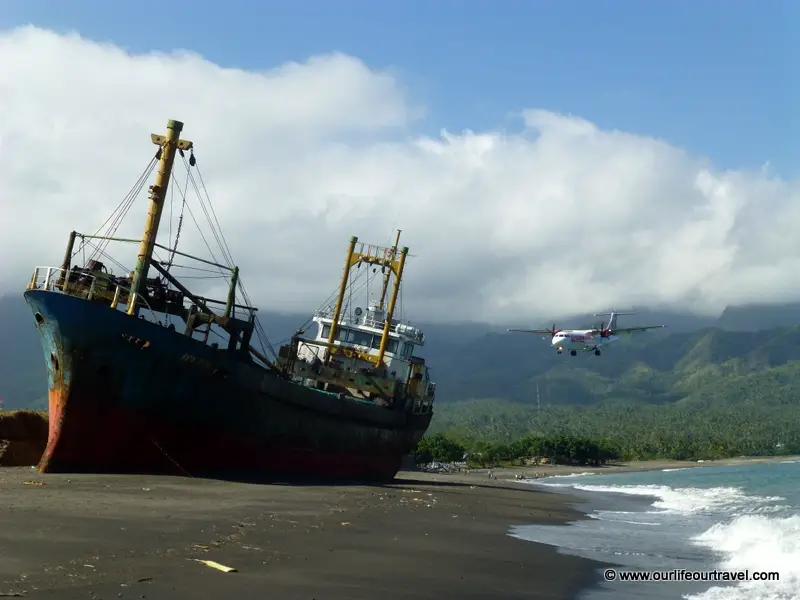 A little, quiet town with a small airport which was one of the reasons we really liked this place. On the shore, you can find a huge wrecked ship, and the airport is just behind it. You can go to the beach and observe planes landing and taking off behind that ship and very close above your head. The best airport view we ever had!
Otherwise, besides the airport, we haven't seen any foreigners and the settlement is hours away from the touristy places. We attracted a lot of attention, especially from the kids, who loved to follow us everywhere and talked with us using their absolutely basic English skills. The most common conversation was the 'Hello Mister, I am xz. I am 6 years old. What is your name?". The second most common phrase we heard was the "Mister and Miss Grapher"… Probably we took way too many pictures. Karol still calls me Miss Grapher.

Dragons of Komodo and Rinca Islands, Flores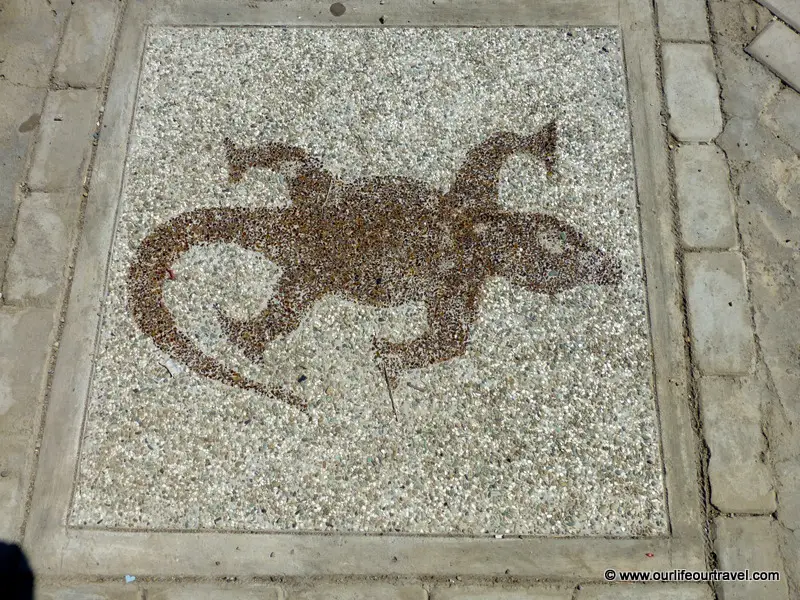 We went to see the dragons! The Komodo dragons! We took a 3-day boat trip to the Komodo National Park to Komodo and Rinca Islands. The dragons are the world's largest lizards and can be as huge as 2.5 meters long and 70 kg in weight! Would you like to know more about the visit? We wrote more about the animals and how to get there in the linked post, so don't forget to read it!
The Komodo National Park has a colorful and diverse sea life as well, hence it's a popular area for divers. Book here your Komodo trip!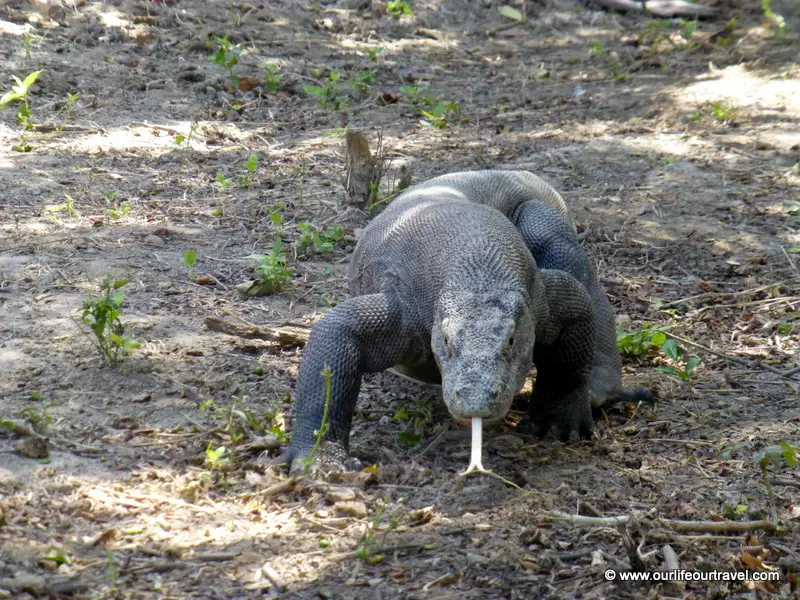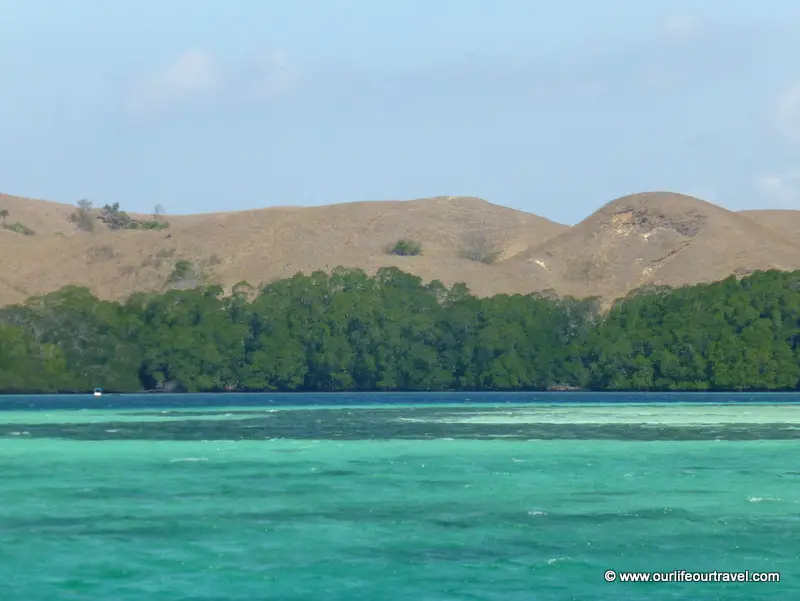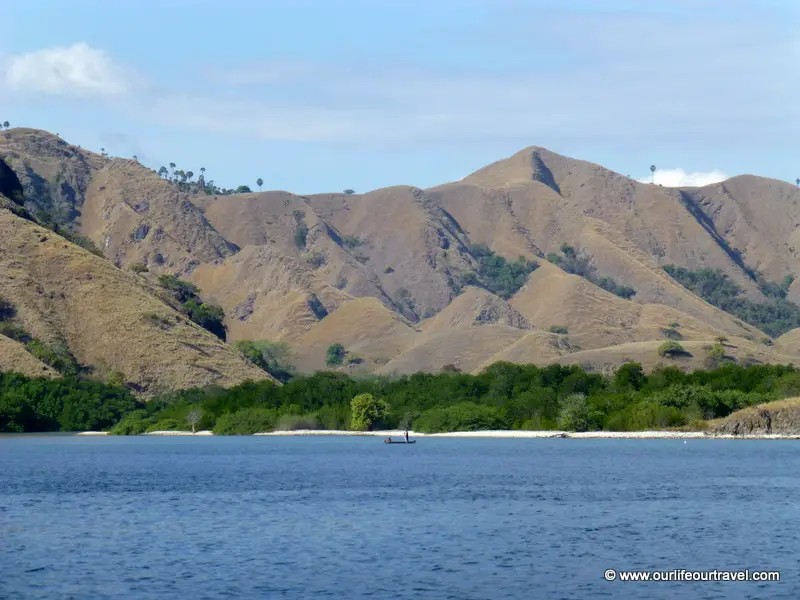 The luxury of Kopi Luwak (Civet coffee)
Probably you know about this famous coffee, but for me, as a non-coffee-drinker, it was a total surprise, so I will summarize it to those who are in the same shoes as me.
The coffee beans are eaten by a civet cat, then pooped out. After that, they collect the beans back to make a very expensive, supposedly tasty coffee from it as after the digestion the taste of the coffee beans changes. Tadaaaam: Kopi Luwak. The best coffee, isn't it? Visiting the plantation was otherwise interesting, but felt sorry for the cat who was locked half day in a very small cage…  They tried to sell us every kind of coffee, but I am not their target customer at all 🙂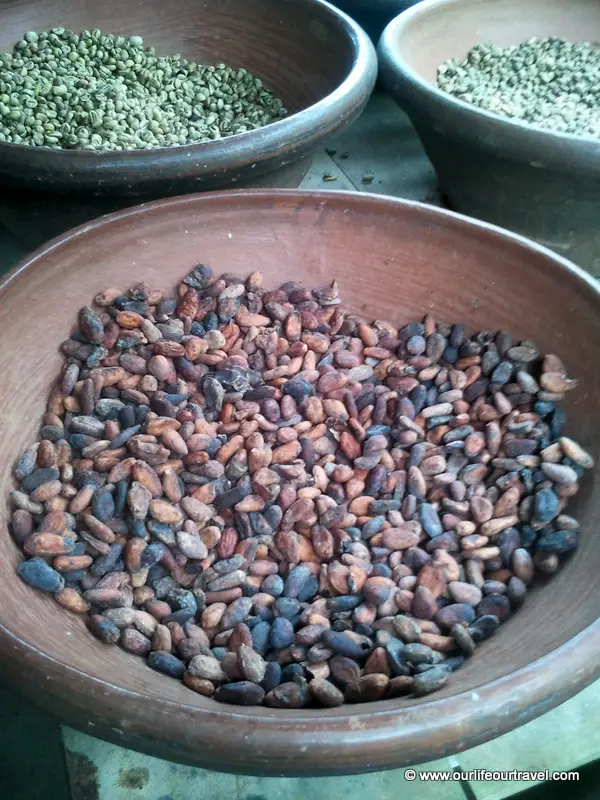 Hiking on Rinjani volcano, Lombok
We had only a couple of days for the island, but you can easily spend even one week in Lombok if you want to explore it throroughly. Our main program of our visit was the Rinjani hike. A hike to a 3 726 m high volcano. There are millions of organized tours to climb it and as we had limited time, we chose one of them. We got transportation, food, and the tent plus warm sleeping bags in the package. Some tours go only to the rim, others down to the crater and the lake. Unfortunately, we turned back from the rim, even though we had an agreement to get inside the crater. We (plus a Dutch girl) were pretty pissed off as we paid for the tour and we didn't get what was agreed. At least we told them that we sleep at the rim and will definitely not go down on the same day. Unfortunately, it was common in touristy places that they didn't respect agreements. And if you have a tent and sleeping bags, you can hike alone easily…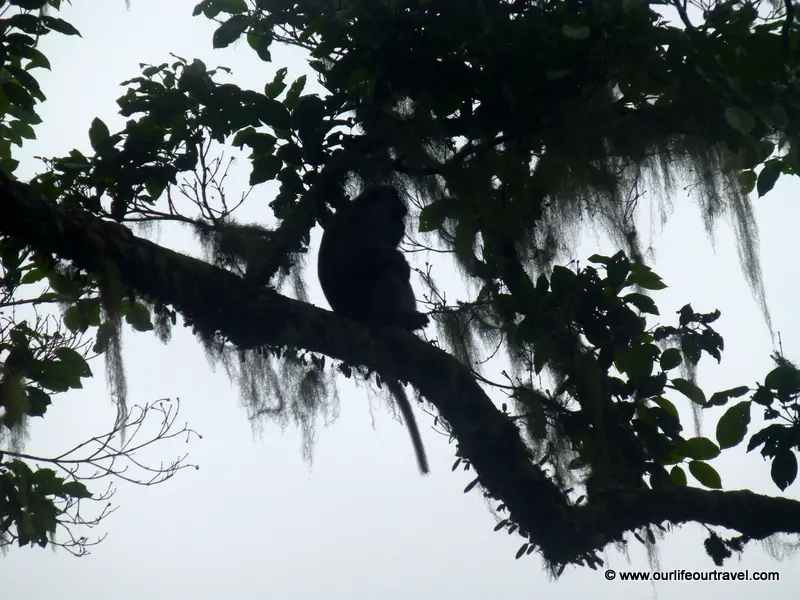 The path is wide and very busy We were there in July and it seemed like everyone else would like to do the hike at the same time. The trek is simple, but you need to climb still quite high. The biggest difficulty for me was the humidity that I still don't like much. During meal times when people were quiet, we could see a lot of monkeys and birds on the trees. The volcano wasn't active at the time we were there, but the view was still spectacular from the top!
Read more about our hike to Rinjani here.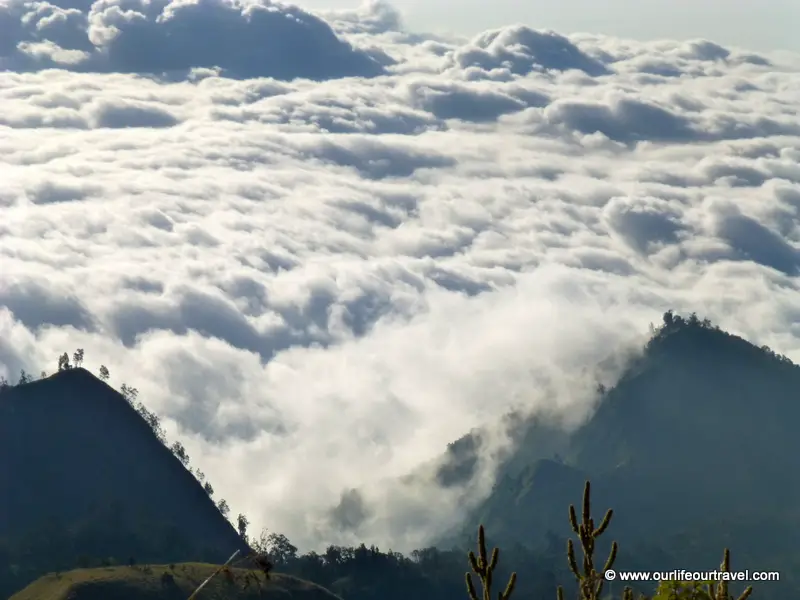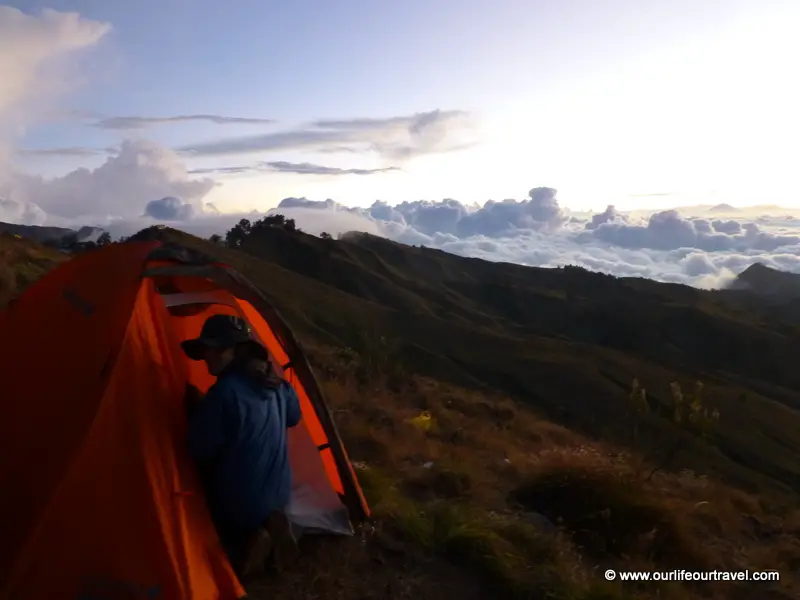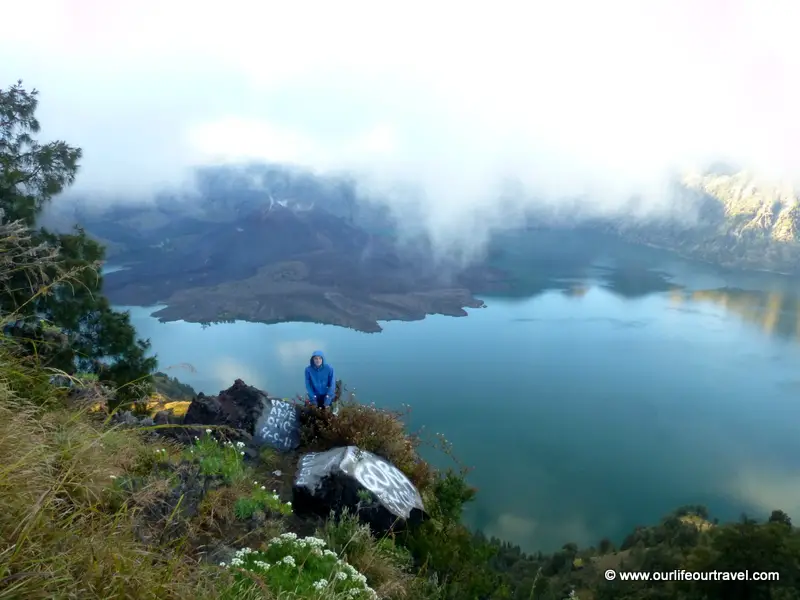 The colorful Kelimutu lakes, Flores
We admired Flores, it's full of hidden gems. The Kelimutu lakes are northeast from Ende. It took about 2-3 hours by car to reach them. We managed to arrange a ride from our accommodation to the Kelimutu volcano and lakes.
By the way, you are probably better off sleeping in a tent (if you have one) then some of the places that offer bed and "bathroom". But let's get back to the lakes.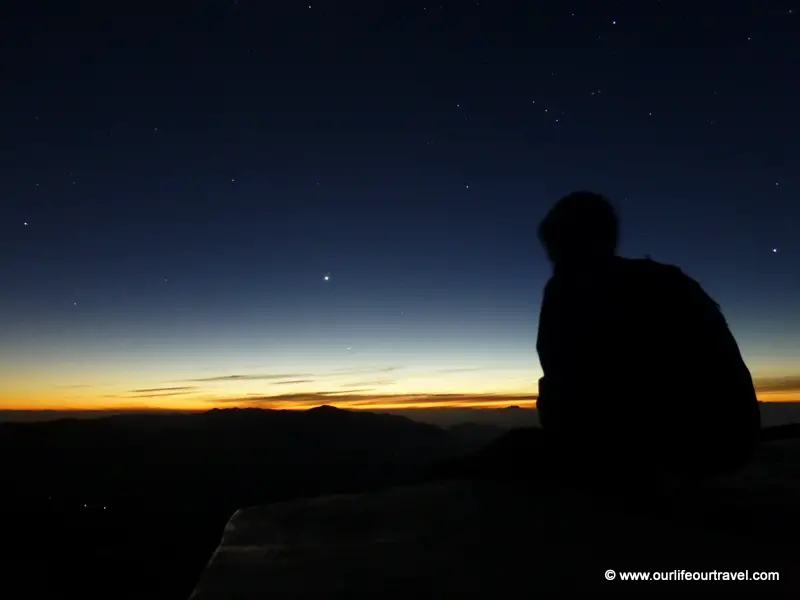 I was sick all the way on the curvy roads, but Karol claims we pass through really nice places (despite the darkness!). From the parking lot, we had to walk up a little bit to a lookout place which is situated between the lakes.
The Kelimutu lakes are colorful and popular volcanic crater lakes. You can usually see pictures of them showing also red, but not sure if that was only photoshopped, but sometimes due to minerals, it can be seen as red or pink periodically. Tiwu Ata Bupu (Lake of Old People) is usually blue and is the westernmost of the three lakes. The other two lakes, Tiwu Ko'o Fai Nuwa Muri (Lake of Young Men and Maidens) and Tiwu Ata Polo (Bewitched or Enchanted Lake) are separated by a shared crater wall and are typically green or red respectively. But not during our visit.
Apparently, this time the manganese and iron content of the water didn't let the pink color appear. After sunrise, we could only enjoy the different hues of blue and black of the tri-colored lakes. It was still impressive, but we hoped for something rarer.
And in addition, there were sellers offering handicraft and tea on the rim. It was a bit disappointing, but the place still looks stunning for a hike.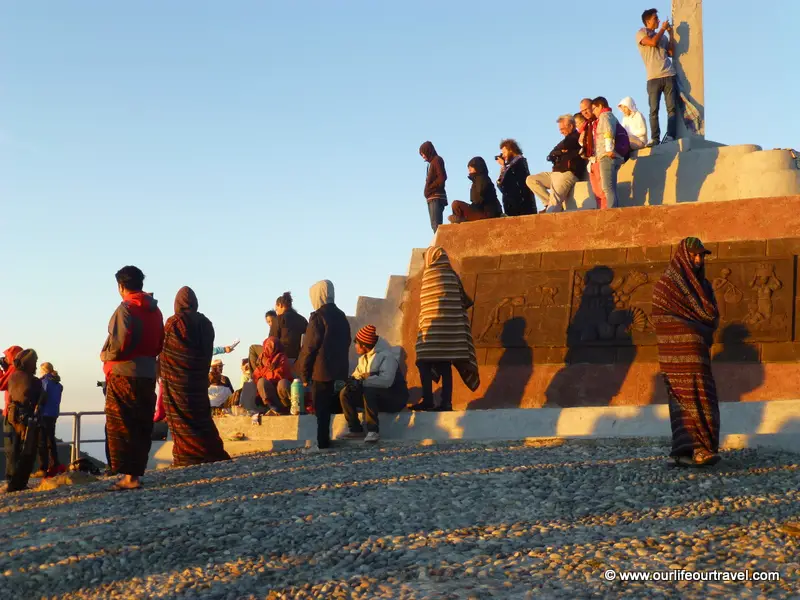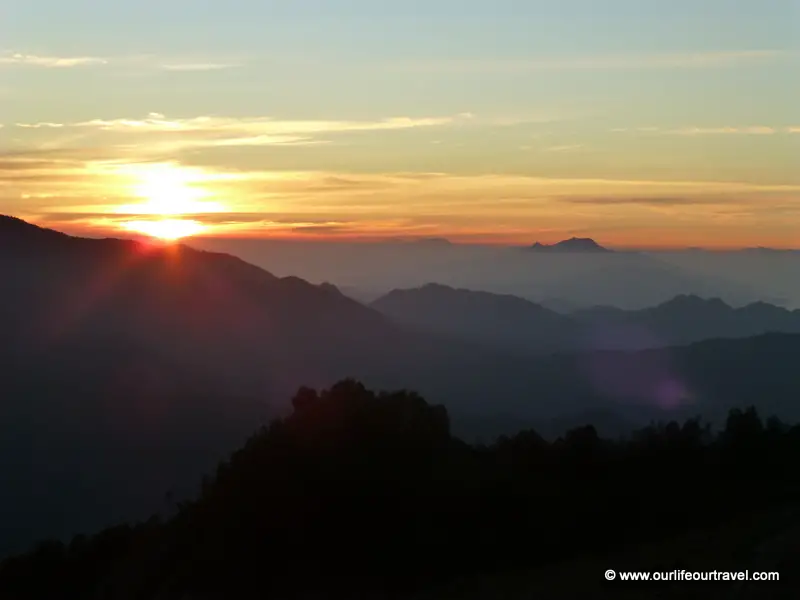 Surfi
ng in Bali and climbing Mt Batur
Probably you ask why do we add such a touristy item to our list. It is full of Instagram worthy spots, rice fields, temples and attracts thousands of tourists from all over the world, as Bali offers a variety of cultural and natural sights. If you are looking for hidden gems in Bali, you won't be bored either. The island has still less visited places worths exploring, and the world's best diving sites as well. 
Focusing on our trip, instead of checking the abandoned plane or palace, we participated in the popular activities too. Surfing and hiking. Let us tell you why.
You can find the best Bali tours here!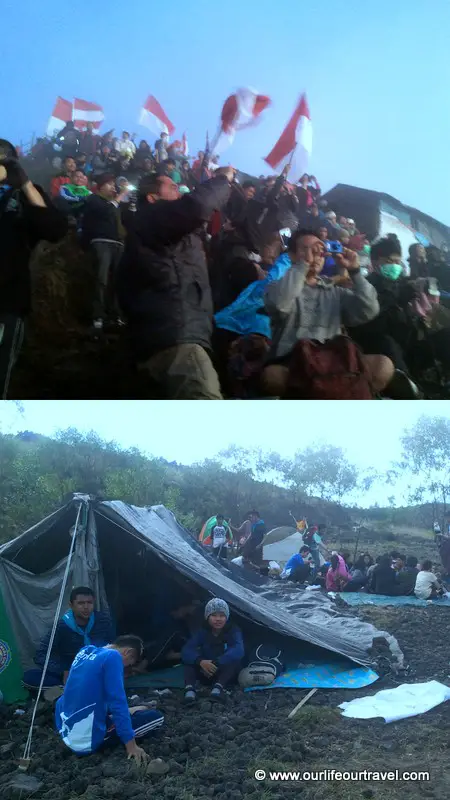 Hiking to Mount Batur
How about another volcano? A sunrise hike to Mount Batur? Quite easy to approach, but as I spent so much time surfing, I run out of time and my departure day was approaching. Decided on this hike on one of my last days in Bali.
The specialty of the trip was its timing. We visited the volcano on the Indonesia New Years Day when hundreds (or thousands?) of locals climb the mountain to enjoy the sunrise from its peak. It was windy, humid and totally crowded, not to mention that we climbed in darkness, but very interesting to see how active the locals became. It seems like a great tradition to celebrate the new year. After the first rays of sunshine, millions of selfies were taken and people started to prepare their breakfast or just headed home.
Surfing on Bali
And surfing. One of my bucket list items since my childhood was to learn surfing. And it became a reality in Bali. I started with a 2-hour long paid surfing lesson, but later, I spent there a week and went numerous times to the beach to learn surfing with new friends. Of course, I got sunburned, learned about rip tides (and have seen some!) and had lots of fun while trying to stay on the board. And the food is cheap and tasty!
I crossed one more item out from my bucket list.