What to do if you already explored the Albanian Alps and swam enough in the beautiful sea? Let's go for a round-trip around Ohrid and Prespa Lake visiting wetlands and abandoned places in Greece and then head to Macedonia for hiking and finally check out the famous Ohrid. But let's start with the border crossing.
Macedonian Border
We have crossed many borders in the Balkans, and usually, it took only a few minutes (besides the queue) to check our passports and we were on the way again. This time it was different.
We approached the border from Niki, Greece. It was early morning and almost no cars were on the roads. The border seemed quiet too. Probably too quiet and the border guards felt bored. The Greek part was fast, but then the Macedonians took our passports away and told us to pull over to the other lane. They let few more cars to go from behind us without any check, then came to us. First the questions. Where are we going, for how long… well, for the weekend, then we go back to Albania. We only had one small backpack and sleeping bags in the car. They asked us to pack everything out of the car and they went through all of our belongings one by one.
We didn't have anything suspicious, so they continued with the car. They looked into everywhere. Knocked it, watched, checked everything at least 3 times. We were there already over half an hour there, just sitting outside of the car and waiting. They asked a third colleague to help to take a look at something. Searched more. Checked the backup wheel if it contains only air (by letting it out), listened to the air-conditioning system for some minutes. Later they found a screwdriver somewhere. Probably bit suspicious 😀 Apparently it was in the car for very long time as it was totally dirty and we have never seen it. They kept searching. After an hour more questions were asked, or to be precise, the same questions were asked again. Finally, they let us go.

After this adventure we heard that drug trafficking is quite common, so probably they thought we are also doing something illegal. And probably they have never seen a car with Finnish license plate. On the way out of the country was also adventurous. That time we had to get into a garage on Albanian side where they thoroughly checked the car. Seems like they don't like foreigners. At least that time we were prepared for the extra entertainment although we were already happy that we went out from Macedonia without anything but passport control.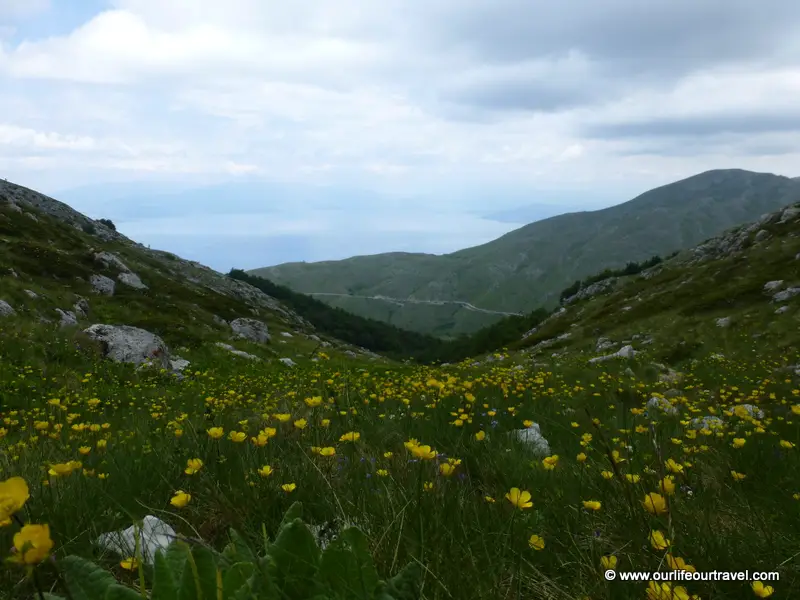 Hiking in Galičica National Park
After the long border crossing, we headed to Galičica National Park. On the shore of Prespa, we passed some operational and few abandoned hotel resorts as well.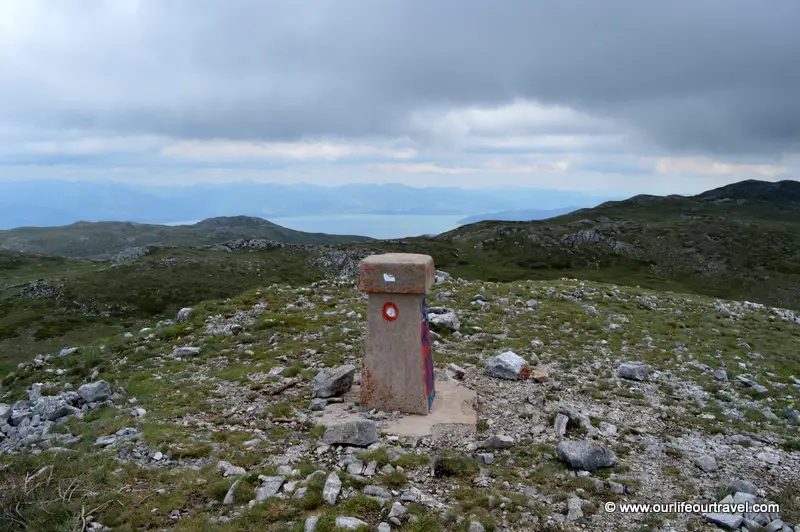 The national park lays between Lake Ohrid and Prespa and has peaks over 2000 m. The highest one is Magaro at 2254 m. In good weather, the view of the lake from the limestone ridges is stunning! We had some clouds, but luckily they were high enough to observe the lake and its surrounding below. We did only a short circular trip due to the lack of time and our laziness.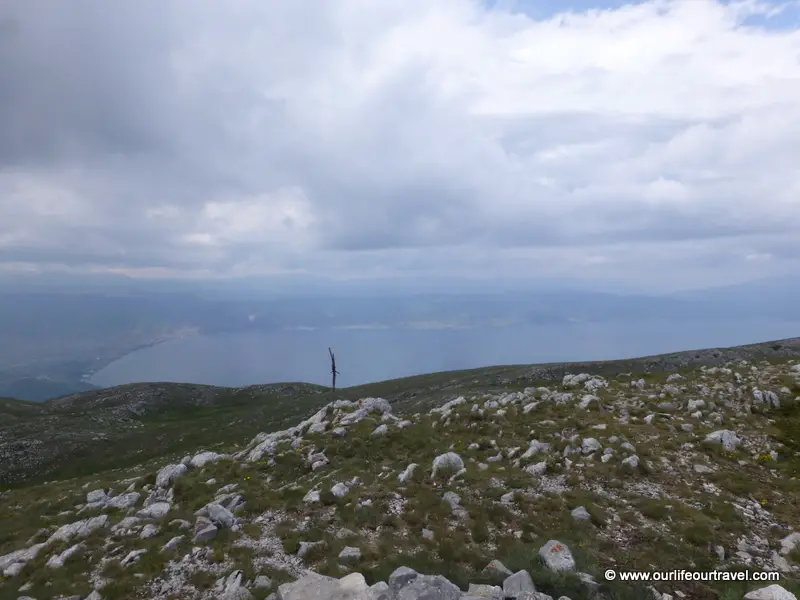 One of the most interesting observations of the trip was the huge billboard on the side of the mountains. I can imagine that young soldiers carried up the metal and cement to make that project happen there. Nowadays there were no more advertisements on it.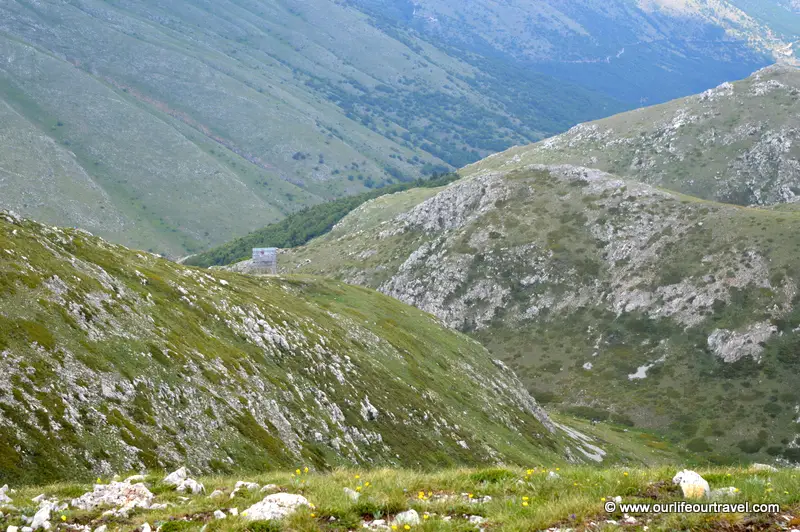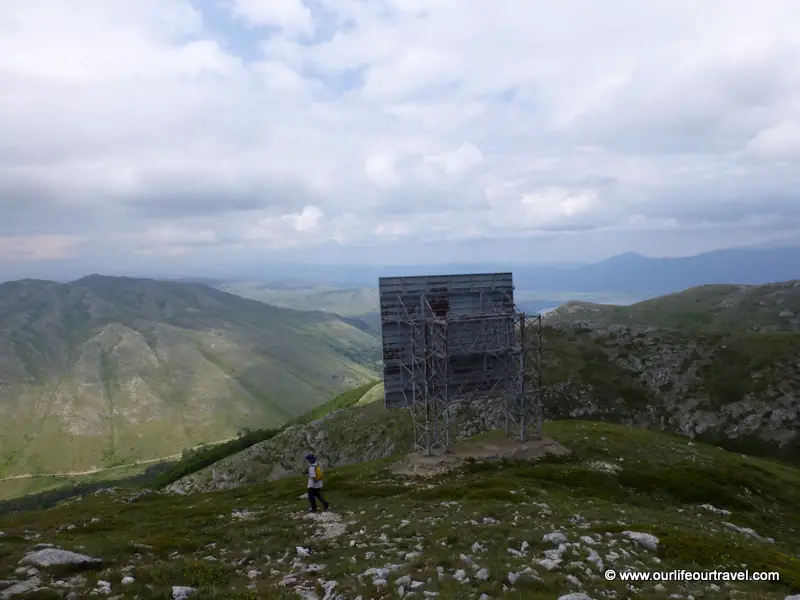 The car road has a lot of sharp turns when it descends to Lake Ohrid. When we reached the end of it, the next surprise came. The national park guards had a fence and collected entrance fees. Apparently, most of the tourists just drive up from Ohrid, so they collect the fee only from one side. As we approached the park from the opposite direction and did not see any signs about the entrance fee, we did not even worry that we only have Albanian lek. The guards would accept both euro or Macedonian denar, but we didn't have any. We had food and didn't plan to spend anything in Macedonia. We were thinking that probably they will make us turn back, but then we would drive TWICE through the national park, and it is not really good for them either. Luckily, they were nice and let us go as they didn't want any lek.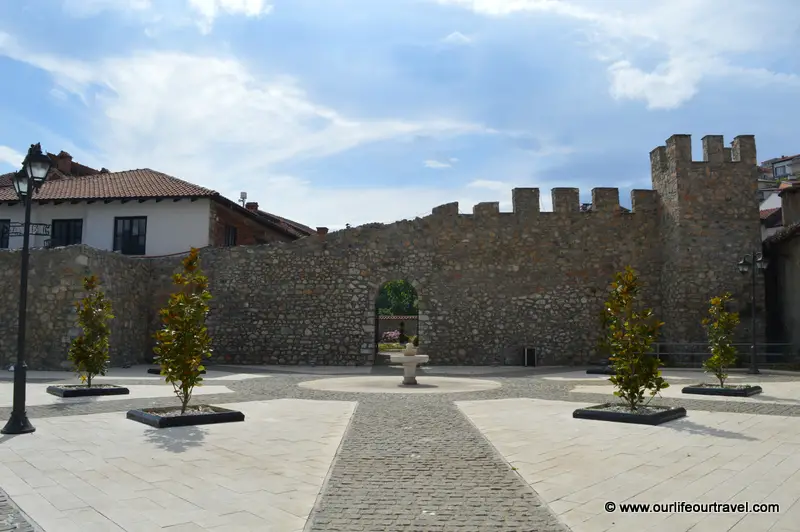 Ohrid town and the lake
Well, to be honest, we didn't spend a lot of time there, so you better look up on your own if you need tips about Ohrid. We were a bit out of time and I was totally disappointed by the crowds of tourist in the old town and around the fortress.  Also, Pogradec (Albania) on the south shore of the lake, was much more welcoming. It might be because of the time of the day. We spent in Pogradec a morning and noon time, while in Ohrid we arrived in the late afternoon. In general, we preferred the Prespa Lakes much more with their remoteness, but I think it is not a surprise!