Do you plan a budget  are trip to Brazil? You are at the perfect place. We share our best tips and tricks to bring the most out of your Brazil trip. We will walk you through our expenses, flight and accommodation costs, as well as the costs of visiting the Amazon rainforest.
Why did we end up in Brazil if we were planning a budget summer trip?
It seems like a good question, as flying to South America usually isn't cheap. We have agreed that we do a cheap, budget trip, and we don't want to travel far for 1-1.5 months during the summer either. I don't like long flights and many changes.
It is already a challenge to reach Helsinki (the capital where the flights go abroad from). If we do it in a cheap way, it takes 9-10 hours by bus, and usually an extra sleep at Helsinki-Vantaa airport (so let's say 15 hours). If you add two flights with one change, it easily adds 18 hours more. So you have been already traveling over a day and you didn't have a decent sleep. I feel like it is wasting time and money to go too far for such a short time, while there are many other places I would like to explore closer to us. And Karol agreed.
This post contains affiliate links.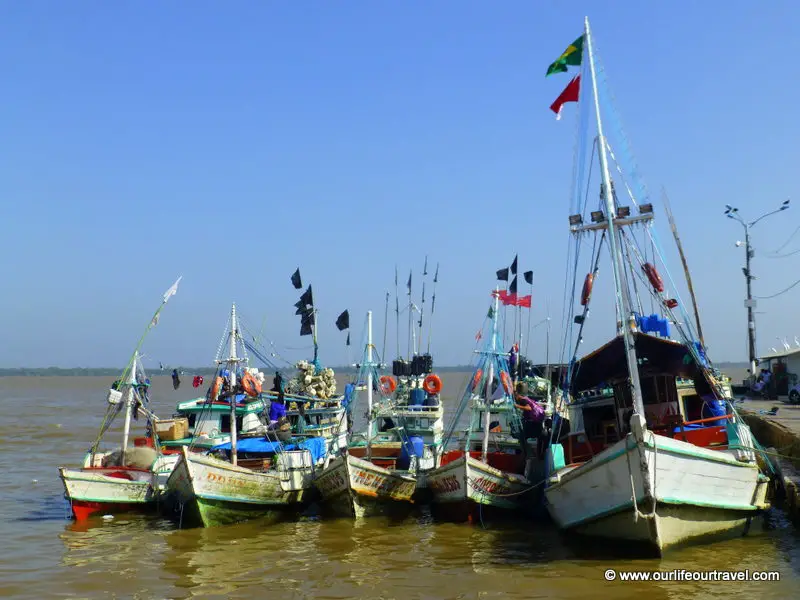 Brazil Trip Costs
Let's get to the bottom of our wallet 🙂
The major expense is the airfare and accommodation. Food and local transportation are relatively cheap. The tour and activity prices highly vary. If you don't have much time in Brazil, book your activities in advance, so you don't need to spend your precious days with finding the best deals and you can fully enjoy your stay.
Local currency for your Brazil Trip
Brazilian real is the local currency and 1R$ is 100 centavos.
1R$ is around 0.25€ or 0.3 USD. It is easy to calculate the prices while traveling, just divide the numbers by 4 or 3.
The cheapest time to travel to Brazil
The summer in the northern hemisphere is a warm winter in the southern part of Brazil. In Amazonia, it's hot all year round, only the amount of rain changes.
If you want to reduce your spendings, head to Rio, Sao Paulo and the south between June and August. We opted for July, and it seemed like a good choice not only for the south but for Manaus as well. We arrived to the capital of the rainforest after the rainy season.
How Much a Trip to Brazil Cost?
Let's get to the point. Our one-month-long trip in Brazil cost ~1300€ per person for our 31-days-long trip, plus the flight to/from the country. That equals to 42€ per person per day (168R$) that we spent travling in Brazil.
It includes
local flights, boat, and night buses in Brazil
local transportation costs
all accommodation costs
tour costs (in Lençóis Maranhenses National Park – the most luxurious stay we had!)
jungle lodge near Manaus with full board and all the programs
food and beer 😉
It does not include
our flights to and from Brazil (see  the next point for more details)
Budget Flight to Brazil
We were looking for options closer. Iran seemed nice (and was the furthest we have considered): direct flights from Helsinki for about 350€, visa on arrival, no extra fuss. We have already talked with our Iranian friends and asked about ideas. But then, I have just come across an ad of return flights to Brazil that costs even less. From Brussels. But by low-cost airlines, it is less than 50€ to get there from Joensuu. So it is still extra cheap! Iran vs Brazil (the rainforest, a new continent, the Amazon river…). It was an easy decision.
It took about an hour and we have booked our tickets to São Paulo and back. We will have 30 days to explore some parts of the country – we had to choose which one!
How much does it cost to fly to Brazil
You can take a cheap trip to Brazil if you have a bit of luck. We flew from Europe for less than 300€ per person with KLM. Their normal prices are a bit higher, but if you want to do more than beaching or taking part in the Carnival, consider May to August when the prices are usually lower.
Both from the States and from Europe, you can easily get tickets for 450€/$500. It is worth to check flights to Rio de Janeiro, Sao Paulo, and Manaus as well. Use Skyscanner to find the best flight deals. 
 * READ about our adventures in Amazonia *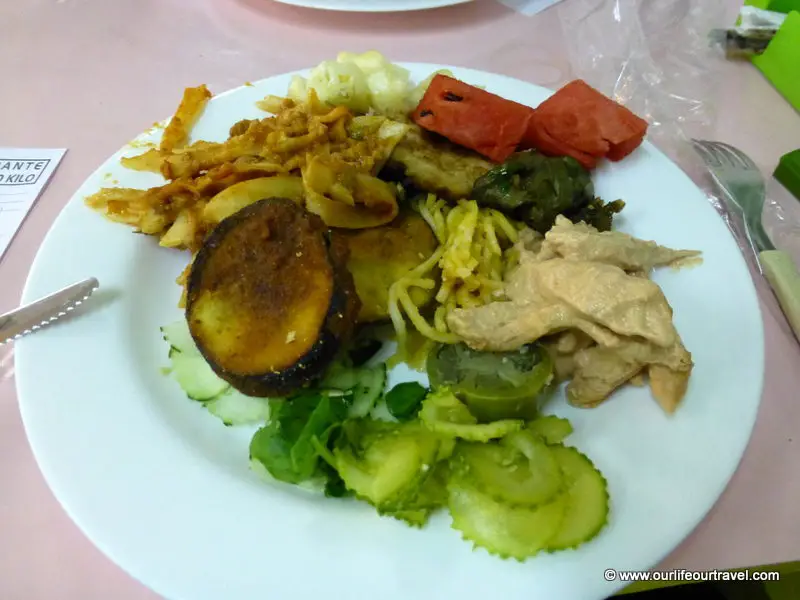 Food Costs
Brazil has similar food prices to Poland or Hungary. So let's say Central/Eastern Europe. A cheap meal is around 5€ (20R$) and you get a great variety of food in that price range. Fancy (or fancier) dining is around 15-20€ (60-80R$), not that we used that option really having a shoestring budget. We splurged in Atins only 🙂
Rio de Janeiro and Sao Paolo were more expensive than Amazonia, or even cities than Manaus, Belém or Sao Luis.
Beer and the Brazilian cocktail specialty, the caipirinha, is 0,5-2€, depends on the location.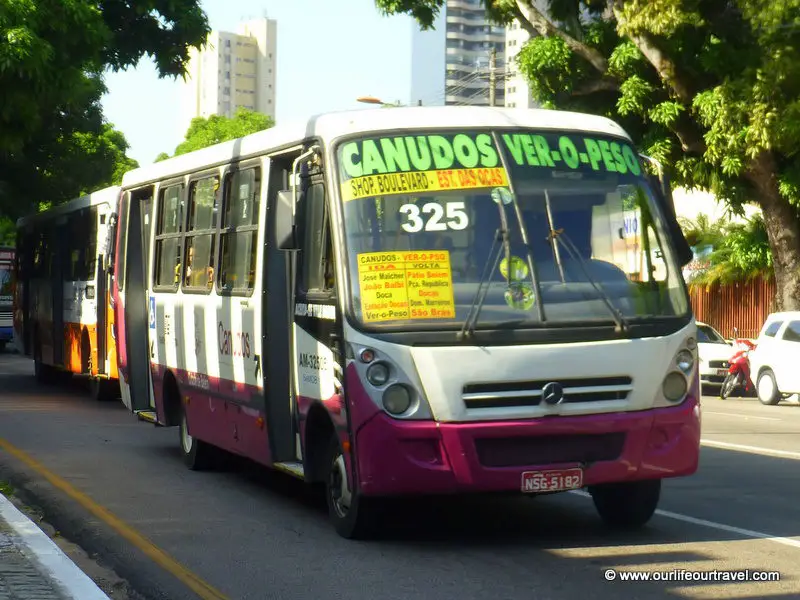 Transportation costs
Local buses
Local fares are around 0.5-1.5€ (2-6R$). I considered it expensive compared to the local salaries, but for example, in Rio, you can get passes suitable more for tourists and save on commuting.
Flights in Brazil
Surprisingly the local flights that connect cities even thousand kilometers away are affordable if you buy the ticket ahead. We paid around 100€ per ticket (400R$) at the maximum for our Brazilian flights.
The 3 local flights we took:
Sao Paolo – Manaus
Tabatinga (via Manaus) – Belém
Sao Luis – Rio de Janeiro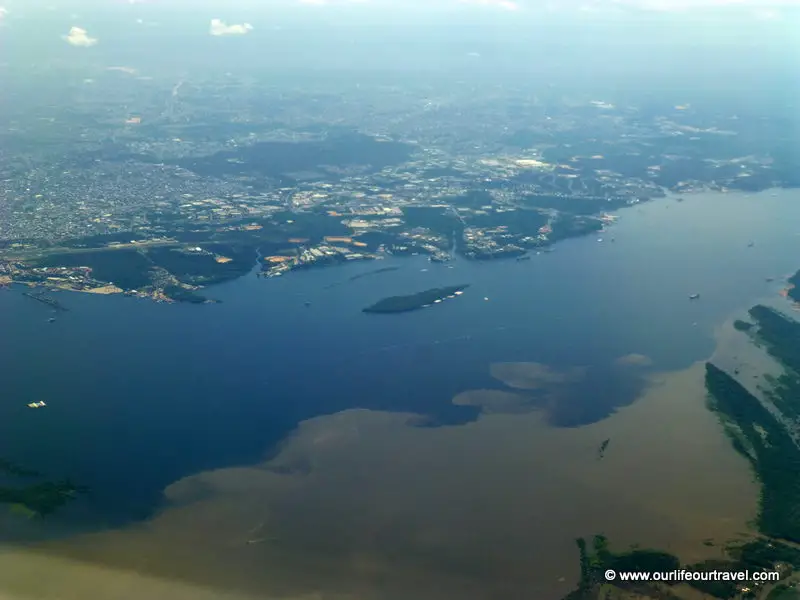 Night Buses Between Cities
A pleasant ride in the big seats on the air-conditioned buses was the best transportation option we could ever choose. 30-40€ (120-160R$) tickets were a bargain! I prefer them over the flights, except that it didn't give an amazing view to the Amazonian rainforest from above.
We took night buses between Belém and Sao Luis, and from Rio de Janeiro to Sao Paolo.
Boat on the Amazon (Manaus-Tabatinga)
The second biggest sum we paid was for ferry transportation along the Amazonas river than took almost a week upstream. We opted for the air-conned cabin (that cost double than the hammock!). It came with full-board and cost about 250-300€ for two (1000R$+) and gave a life-long experience. You can stay in a hammock for 350-500R$ per person. Not only living on a boat that long was unique, but we got engaged on this route.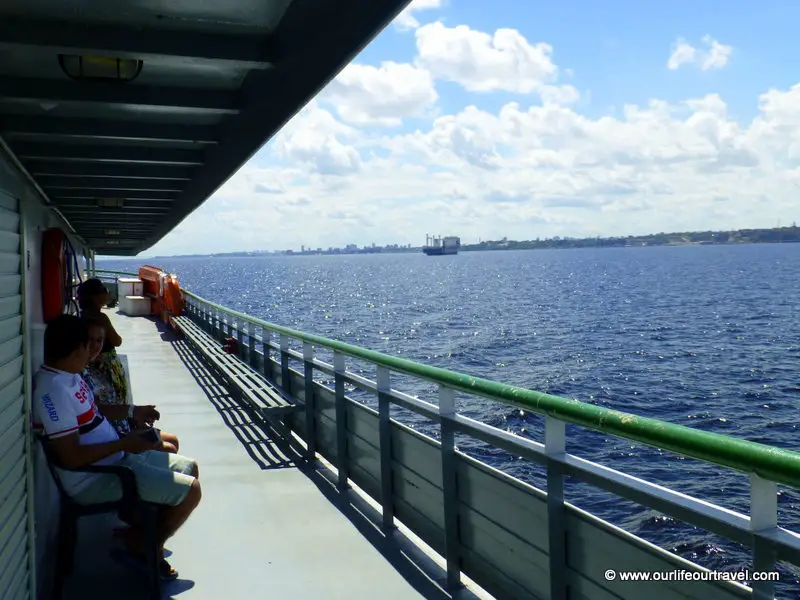 Accommodation
On average we spent 30€ (120R$) per night (per room), and this was an increased cost due to minor problems. First of all, we made one of our bookings to the wrong day (into the past, ofc) in Belém. The second happened when we got sick, we gave up on our fancy seaside hostel (no refund) and booked a 4-star hotel instead. These two incidents cost us over 100€ extra.
4-star accommodations
We stayed in Sao Luis and Belem in fancier accommodations. Air conditioning, private bathroom, and spacious rooms. While the first one was on purpose, the second one was a need. When we got food poisoning, we simply couldn't survive in a room with a fan and couldn't handle well a possible queue to the bathroom.
Both of these rooms cost 50ish€ per night (200R$). Oh, and in Sao Luis, we even had a pool!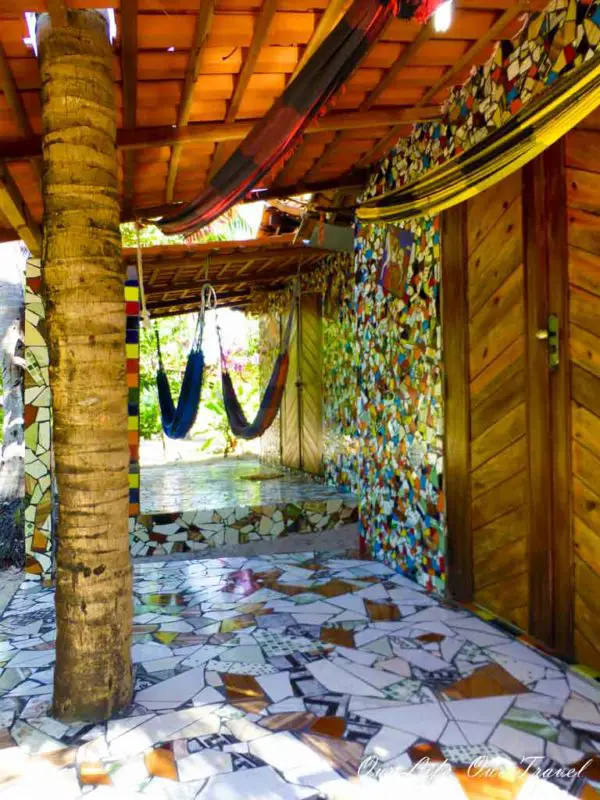 Pousada in Atins
Our second planned luxury took place in Atins, in the middle of Lencois Maranheses National Park, on the seaside of the Atlantic Ocean. That was the cutest place I've ever been with a hospitable owner. It was the most expensive place as well. 60€ per night (240R$), with breakfast.
Jungle Lodge at the Rio Negro
We stayed for several days at a jungle longe with full-board and activities near Manaus.  You can check their current prices here.
Budget and cheap accommodation in Brazil (hostels and cheap rooms)
Half of our nights were in budget hostels and hotels. Dorm room in Rio and private rooms in the rest of the places.  We paid 10-30€ per night (40-120R$) for the two of us. Good deals.
The only thing we were missing was the nets against the mosquitos. We only had them in Atins. The rest of the accommodations had protection neither on the windows nor on the beds. And the little bloodsuckers sometimes even found the way through the aircon system to our room!
Boat/Ferry
Check it in the Transportation chapter or read our adventures on the slow boat we took to sail upstream on the Amazon. 😉
How much does it cost to stay in Rio de Janeiro?
The big cities, such as Rio and Sao Paulo, are significantly more expensive than the remote areas but are still affordable outside of the carnival season.
You should count to spend around R$150-400 ($40-100) per day per person on your vacation in Rio de Janeiro, which depends highly on the choice of your accommodation and travel style. A mid-range hotel for two is around $100 per night.
How much does a hotel cost in Sao Paulo?
A mid-range hotel for two is around $60 per night. In general, you will spend much less in Sao Paulo as the main tourist attractions are not as pricy as in Rio. A daily expense of R$150-400 ($50-100) is a realistic budget.
How much does a hotel cost in Manaus?
You will spend less in Manaus than in Rio, but the tourist excursions and entrance fees will be a noticeable cost. A mid-range hotel for two is around $60-80 per night and a daily budget of R$150-300 ($40-80) is recommended.
Amazon and Brazil must-haves:


Tours in the rainforest
From Manaus, we headed to a jungle lodge to explore the wildlife and local culture of Amazonia. I have included these costs to the average accommodation prices too, but it deserves a separate point as it was another accommodation with full board plus programs included. We spent 5 full days at the shore of Rio Negro and had a lot of activities nearby (visiting local villages, one of the Indian communities, sleeping in the jungle, spotting animals, fishing and more).
It was 500€ (2000R$) and also included transportation and English guidance. This last item matters a lot, considering our Portuguese knowledge is non-existing. This is a shorter version of the same tour. 
Book your jungle tour now!
Pin for later!