We received several questions about the coronavirus in Finland and Lapland. We put together this short guide about the current situation. Finland closed its borders (18 March 2020), so if you have a trip planned in the near future, postpone it at least a couple of months. Now you can enter to Finland from several countries.
The original article was written at the beginning of March, but we have added more info about the current situation and how we see it from the inside, so scroll a bit down to those parts or jump to that section.
For the current situation, scroll down to the Yellow boxes.
ARTICLE UPDATED: during the last weeks the coronavirus quickly spread across the world, and countries such as Italy, Spain or Iran suffers the most, the every single country in the world will be affected. The WHO declared it as a pandemic.
What is a COVID-19 virus?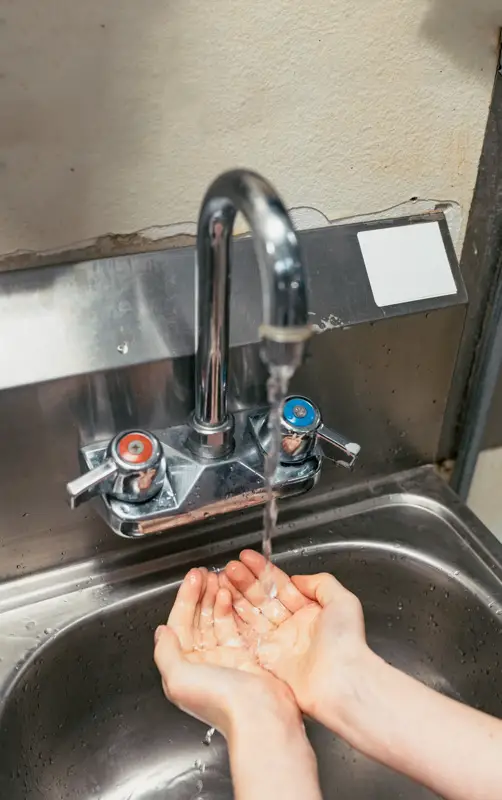 The COVID-19 is a new virus from a group of coronaviruses that have been infamous before. It is enough to mention SARS and MERS. The COVID-19 virus causes symptoms like fever, dry cough, fatigue, and shortness of breath. It is often compared to viruses causing flu.
Basic hygiene tips
The new virus is not that well researched yet, but like flu, the new disease spreads easily between humans through droplets from coughing or sneezing. However, as the Finnish Institue for Health and Welfare (THL) emphasizes good hand hygiene and avoiding touching face with unwashed hands can prevent the infection. 
Well, according to the World Health Organization (WHO) the outbreak is a pandemic. There seems to be a lot of news causing panic about the new disease. It is definitely widespread, but so are many other viruses. Many of them are more deadly.
MERS that is often recalled nowadays as it was caused by another coronavirus has a case fatality rate of about 45%. The COVID-19 case fatality rate is estimated to be around 3% by WHO. Moreover, if you are under 50 years old, the number is down to 0.2% so almost the same as influenza that is with humanity for decades. The media are full of news about new cases of the novel coronavirus. There are no articles about cases of MERS that are still being recorded in 2020.
Rabies kills nearly 100% of people who manifested its symptoms. The cases still appear in the European Union and the United States, but no widespread coverage in media.
So why panic now? This novel coronavirus spreads much quicker than the earlier know coronaviruses (and other viruses) and the healthcare systems of most of the countries can't keep up with it. Just think about Italy.
COVID-19 in Finland
At the time of writing this post, there were 7 cases  over 200 cases (as of 16 March) of the coronavirus confirmed in Finland. All but one in the south. They were diagnosed in people who came back from Italy. According to THL, every patient's condition is mild and the prognosis for recovery is good.
16 March UPDATE: Finland declared state of emergency over coronavirus. 
The country is also to ban gatherings of more than ten people and close museums, theatres, the national opera, libraries, mobile libraries, hobby facilities and swimming pools, youth clubs and other gathering points and recommended that third sector organizations and religious congregations do the same.
The borders will close too, only citizens and residents can enter. Most of the flights are canceled. Check their status with your airline directly.
The measures will last at least until 13 April.
As the virus spread, a couple of people ended up in ICU, but none died (19 March 2020). In the university study ordered by the Finnish government, 20-60% of the population is expected to be infected and 400-3600 death estimated due to Covid-19. It
COVID-19 in Lapland
The first case of coronavirus in Finland was discovered in Lapland, and treated in Rovaniemi. It was a tourist who fell sick in Ivalo and was transported to the hospital in Rovaniemi. The patient has since recovered. Many people who had contact with the infected person were quarantined. None of them got sick.
Before that first case in Lapland, when the outbreak started in China, many people feared that the situation here will become serious as there is a lot of Chinese tourists. It seems that the worries did not come true and Rovaniemi and the whole region are still safe.
It is a piece of good news for us, as we live here up north. Nonetheless, we follow the government's recommendations to decrease the change of further exposure to the virus.
Why is it Important to Follow the Introduced Measures
The best way to fight coronavirus is to limit social contacts (a.k.a. social distancing) until an effective vaccine or medicine is developed. Those are both on the way, for example in Japan they can efficiently treat the non-life-threatening cases in a short time. You can read about the measures here in more detail. 
Slower Spread of the Virus
As most of the schools, museums, swimming pools, gyms, and other places are closed, there is less chance of contracting a virus carrier, so the pandemic can be contained easier.
It Buys us Time
Limiting the possibilities to spread the virus, buys us more time. More time for research and development and more time for the healthcare system, as not everyone will fall sick at the same time, so the hospitals and their staff can treat everyone. It will significantly lower the death rate. Remember, Italy has around 6% while many Asian countries have well below 1%.
Even the government discouraged gatherings over 10 people. Not 500 or 100 like in many countries. 10 is the max.
Loss of Income is Better than the Loss of Lives
In  Finland working from home is encouraged, upper grades of schools are closed, lower grades and daycares still operate for those who have crucial jobs for the society, however, everyone else is encouraged to keep kids at home. The government pays a special benefit for those who lose income because of these changes in our everyday life. Our kids stay at home too, and we don't go to places where other people are around.
Is It Enough?
In Finland, people are generally keeping their distance from each other much more than in the Mediterranean countries. At least that's another plus that you don't hug and kiss everyone (even the ones you have never met before) upon meeting with them. Finland trusts its citizens that these measures are enough, but is prepared to extend the limitations if necessary.
We really hope the people in Finland will follow these and there won't be a need for stricter measures and soon it's gonna be all behind us.
INFO FOR INTERNATIONAL TRAVELLERS
Travel and Coronavirus COVID-19
The viruses will be always around. Either you travel or not, you can catch something. At the moment, it is better to avoid a trip to the locations where there were outbreaks. Currently, it means DO NOT TRAVEL ANYWHERE.  There are also other places with an increased risk of contracting other diseases, but it's something we should take seriously. Numerous countries closed their borders, so the best you can do is to stay at home and sit it out.
Is it Time to Cancel Your Trip to Finland or Lapland?
No, if you are from Europe or other countries where the borders open and the virus situation is under control.
July 2020 Update
These are the most updated lists from Finnish Border Guard – raja.fi.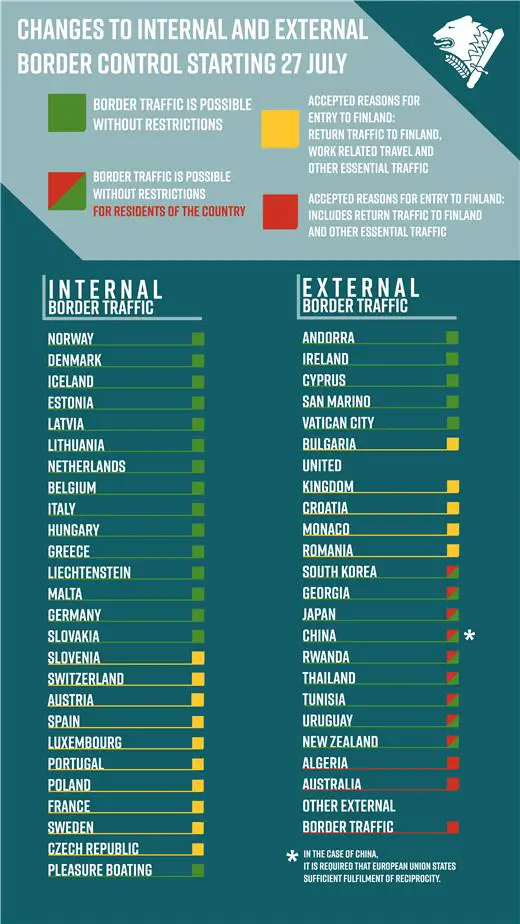 'From 27 July 2020 onwards until 25 August 2020, internal border control has been restored in traffic between Finland and Spain, Austria, Luxembourg, Portugal, Poland, France, Sweden, Slovenia, Switzerland and the Czech Republic, with the exception of pleasure craft travel. To the extent that internal border control will continue, return traffic to Finland, commuting to work and other necessary travel are possible at internal borders. Please note: Internal border controls have been reinstated for traffic between Finland and Austria, Slovenia and Switzerland, with the exception of pleasure craft traffic.
There is no internal border control between Finland and Norway, Denmark, Iceland, Estonia, Latvia, Lithuania, the Netherlands, Belgium, Italy, Greece, Liechtenstein, Malta, Germany, Slovakia and Hungary. Traffic between Finland and these Schengen countries is unrestricted.
The entry into Finland of residents of South Korea, Georgia, Japan, China, Rwanda, Thailand, Tunisia, Uruguay and New Zealand from 27 July 2020 is unrestricted. With regard to China, the Council of the European Union confirms that there is sufficient reciprocity. Please note: For Algerian and Australian residents, the restrictions on external border traffic were mitigated on 13 July, but based on the latest epidemiological assessment, the countries no longer meet the criteria set by the Government. For the inhabitants of Algeria and Australia, the restrictions on external border traffic will therefore be tightened again.
In external border traffic, restrictions on entry will continue in traffic between Finland and Bulgaria, Croatia, Romania and the United Kingdom and Monaco with similar restrictions as at internal borders until 25 August 2020.
There are no restrictions on external border traffic between Finland and Andorra, Cyprus, Ireland, San Marino and the Vatican. Traffic between Finland and these countries outside the Schengen area is unrestricted.
Restrictions on entry into Finland will continue in other external border traffic from third countries until 25 August 2020.
The decision does not affect the freedom of movement guaranteed in section 9 of the Constitution, according to which a Finnish citizen may not be prevented from entering the country. Everyone also has the right to leave the country unless their right to travel is restricted by a travel ban or otherwise on a legal basis.'
Personally, our across Europe travel plans got canceled for this year, but we really hope to be able to travel locally during summer when the situation gets under control. We would like to, for example, revisit some of the national parks and go on another road trip to Finland, as we will have very limited human contact.