Destination weddings and elopements are popular among travel enthusiasts and international couples. Who wouldn't like to say YES to their partner at their dream destination? With fellow bloggers, we all evoked our fond memories of the big day of our lives. Why to have a destination wedding or elope with your partner and closed friends only? The stories will take you from warm sunny beaches through gorgeous mountains to the freezing wilderness.
Read these eleven stories from elopements in mountains to spectacular destination weddings.
Planned Elopement in Florence, Italy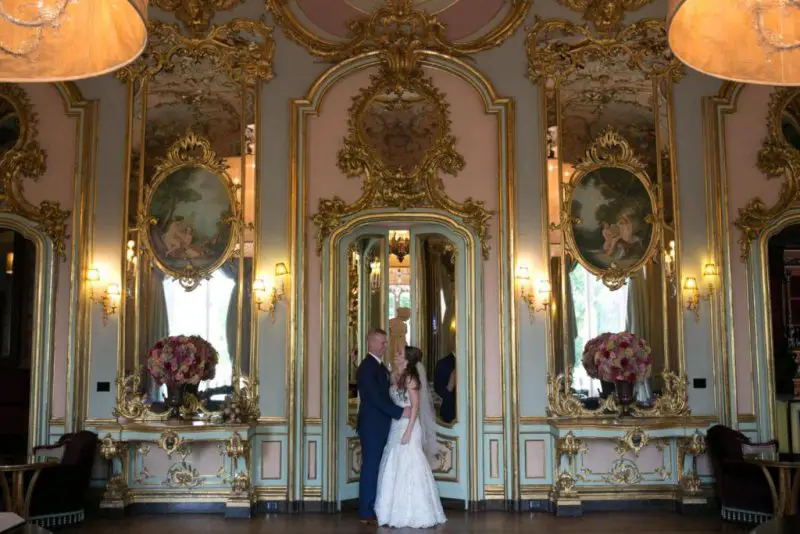 After we got engaged, my now-husband and I started discussing the details of what our wedding would be like.  I wanted a glamorous affair, and he was picturing something more understated and simple.  What we both agreed on was that we didn't want to spend thousands of dollars on our big day and that we definitely wanted to honeymoon in Italy.
What ended up being a great solution for us was to do a planned elopement.  With the help of a wedding coordinator that we met online, we chose Hotel Villa Cora, a 19th-century palace in Florence, Italy. It had the wow factor I wanted but was small and intimate which made him happy.  I would highly recommend it (and the stunning city of Florence!) if you're looking for something luxurious, private and historic with a fantastic central location.
We chose to spend the bulk of our wedding budget on the honeymoon and keep the ceremony simple with an officiant, a violinist, and small flower arrangements.  Since it was just the two of us, we were able to spend almost nothing on decorations and food, which typically make up a large portion of a wedding budget.
Two of my best destination wedding tips are to consult with family and friends and find a local to help you plan.  You'll want the support and understanding of important people in your life because there's potential for hurt feelings if you keep the wedding small.  As for hiring a local, you gain their expertise and overall it makes planning a breeze.  Destination weddings are fantastic and are a great way to combine adventure and travel with your special someone.
Follow Kelly from Compass and Coastline – Instagram
Playa Lagartillo – Costa Rica Destination Wedding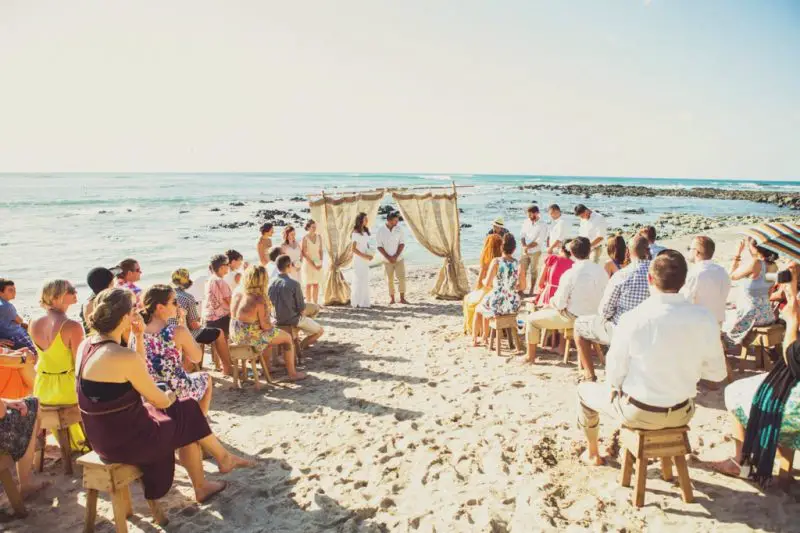 For us, the decision to have a Costa Rica wedding was an easy one. It was Max's second home and the combination of beach and lush jungle made it a perfect setting for our rustic laid back affair. We loved sharing our love for travel and our love for Costa Rica with friends and family who traveled thousands of miles to see us tie the knot.
Unlike a lot of other popular destination wedding locations, Costa Rica actually allows you to have a civil wedding ceremony that will be legal in your home country. In fact, the legalities of getting married in Costa Rica are pretty simple and straightforward which was a win for us too.
When it comes to venues, there are so many options to choose from, but we decided to get married on Playa Lagartillo, a small local beach in the area where Max grew up. Our reception was held at Max's mom's house, just 200m away from Playa Lagartillo. It was a small and very intimate affair that took place on NYE, which added to the celebration. With about 50 guests in attendance, everyone lent a hand in the days leading up to the wedding, as we opted to go the DIY route, using local materials and local cooks. Given our focus on sustainability, it was also a plastic-free wedding, with everything from plates to decor being made from natural and recycled materials.
One of our favorite things about getting married in Costa Rica was the fact that for most of our friends and family this wasn't just a 1-day event, it was a week-long vacation.
So, we would recommend a Costa Rica wedding to anyone who wants to take advantage of the beautiful surroundings and to extend their celebrations far beyond their Wedding Day. There is no shortage of activities to do in Costa Rica. Hang out on the beach, go horseback riding, zip-lining, go on a day cruise or check out a rainforest or a national park.
Follow Oksana & Max from Drink Tea & Travel – Facebook
Cortina d'Ampezzo – Destination Wedding in the Italian Alps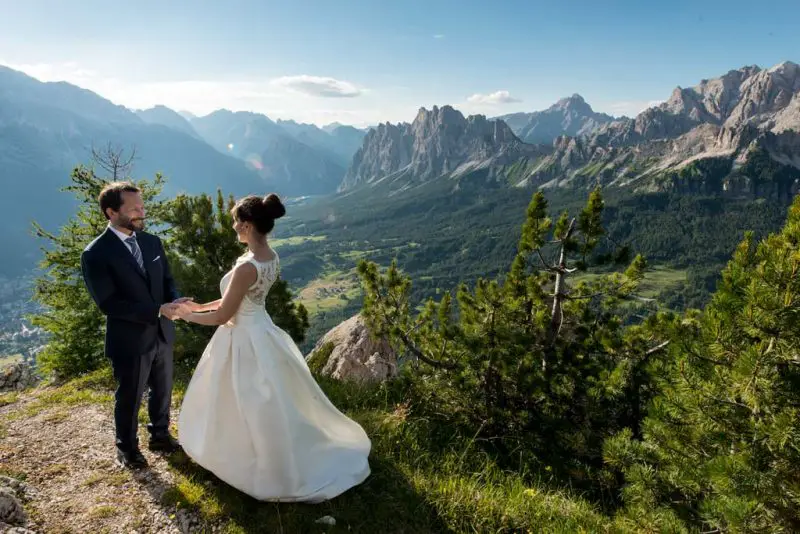 If you have always dreamt of a wonderful wedding in Italy, but you're looking for something more original than Tuscany, Venice or Rome, your search is over: Cortina d'Ampezzo is the perfect Italian destination for your wedding.
Located in North-East Italy, close to the Austrian border, this small town of some 5000 inhabitants is nestled in a welcoming, wide valley and surrounded by the gorgeous peaks of the Dolomites. Whether you choose the snowy winter version or the lush summer version, the panorama will be stunning. Cortina is a very popular tourist destination for winter and summer sports and will host multiple competitions of the 2026 Winter Olympic games.
As much as I love Budapest, where I've been living for the past 6 years, I was born and raised in Cortina, and I could never picture my wedding anywhere else. My now-husband Darek, a Warsaw city-boy, was enthusiastic about getting married in the mountains: it felt great to gather all our friends and family in a mountain hut, to celebrate and party together.
There are so many mountain huts, in Italian "rifugio", to choose from: spacious ones like Rifugio Scoiattoli, right by the unique Cinque Torri formation; remote ones like Rifugio Lagazuoi, so high up that you can see multiple valleys around you; and even restaurants located by romantic lakes, like Ristorante Lago Ghedina.
We chose Rifugio Faloria because of its prime location on Faloria mountain: the view of the valley of Cortina is truly impressive. The ceremony took place on the terrace, the photoshoot right at the edge of the mountain: the pictures are absolutely stunning! Also, we were able to accommodate 30 guests in the cozy bedrooms, after a delicious dinner and some wild dancing. What an amazing day it was!
We recommend Cortina as a wedding destination to couples with less than 100 guests, who are able to take a few days off and enjoy a short holiday. If you live far away or abroad, a wedding planner could be a good idea. Also, consider doing the actual wedding wherever the paperwork is easiest, and avoid dealing with the local city hall.
Our wedding on Madeira Island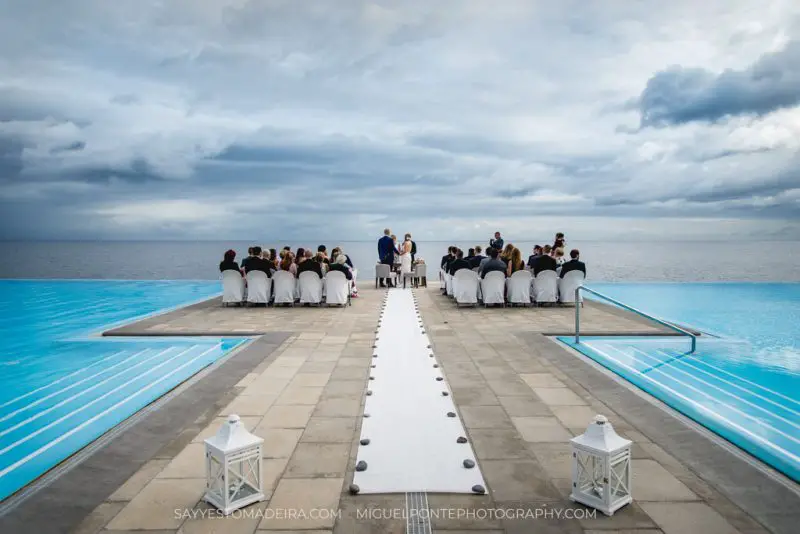 We are an international couple (Polish & Spanish, but living in the Netherlands) and our friends and relatives are scattered around the world, so we did not even have the option to organize a wedding "back home", or a wedding that would not be a destination wedding for one of the sides. We considered a couple of wedding destination and ultimately, we chose… Madeira Island, Portugal!
We visit Madeira a couple of times per year and we are in love with the island. We chose a 5-star sea view wedding hotel, where we could exchange our vows by an infinity pool. The wedding took place in October 2017. The ceremony was followed by a cocktail hour in a garden full of exotic flowers and an unforgettable, truly international wedding reception. The day after the wedding was just as important because we hired a local wedding photographer to take our wedding pictures on top of the Pico do Arieiro mountain. The photoshoot was so much fun, and the result- the pictures- is the best wedding gift we could imagine.
I recommend Madeira to all kinds of elopers, as on the island you will find many beautiful venues, including a totally secluded, off-the-beaten-path wedding venue or an affordable local mountain view venue. There are some great boho-wedding venues, but obviously also luxury wedding hotels. Madeira has something for all budgets and all types of weddings and that is why it is a great place to elope. Whether it is Portugal or any other beautiful place in the world, I recommend destination weddings and elopements to everyone- they are a great adventure you won't regret.
Follow Edyta from Say yes to Madeira – Instagram
Special Wedding Experiences: Treehouse Cabin in Eureka Springs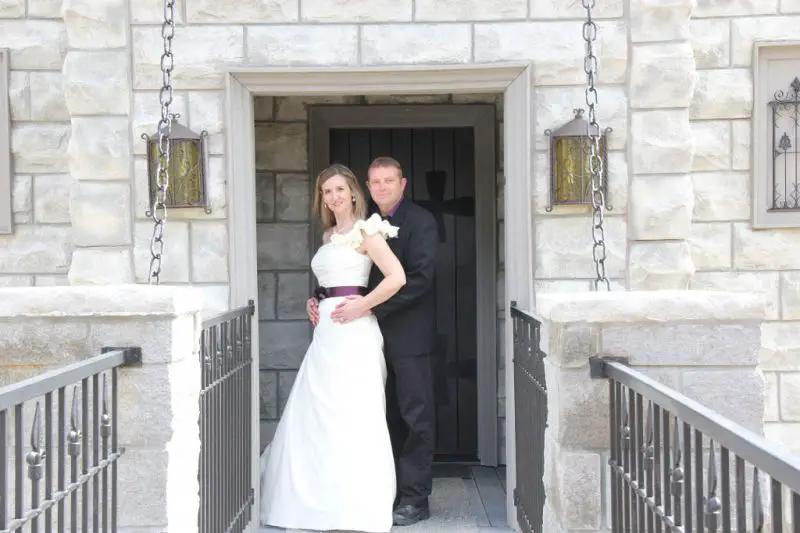 When I think back to our wedding elopement, I get a huge smile on my face.  This by far was the perfect experience for Marty and me.  Seeing that I am a "princess", Marty could not resist the urge to find us a special wedding experience, and from his perspective, that meant giving his princess a castle.  Now we would have loved to run off to Ireland or Scotland to do this, but our budget could not handle that at the time.  Instead, Marty found us a "castle" in the heart of Eureka Spring, AR.
Eureka Springs is a charming mountain town located in the Ozark Mountains in the northwest corner of Arkansas. About a nine-hour drive from Dallas, we found the cutest little treehouse castle complete with a small wedding chapel onsite.  This was perfect for the two of us.  Having both been married before, we just wanted to escape and have a small ceremony all to ourselves.
Upon arriving at the treehouse castle, I was amazed at how cute it was.  Complete with a makeshift drawbridge, it was as if it came out of a fair-tale.  Our castle had a great sitting area, king-size bed, small kitchenette and a hidden room that you had to search for!
The day of the ceremony, Marty and I went around the charming town setting up our tripod and snapping wedding photos of ourselves.  We caught the eye of several people who decided to watch our photoshoot.  LOL!  After a fun day of photos, we made our way to the little chapel on-site and were married by the minister while their onsite photographer snapped more pictures.  After going out to dinner, we returned to find a little treat, champagne, and a rose trail leading up to the hot tub in our castle.  It was absolutely the best wedding experience for us!
Follow Michelle from That Texas Couple – Instagram 
Artist Point Wedding in the Mount Baker Wilderness – USA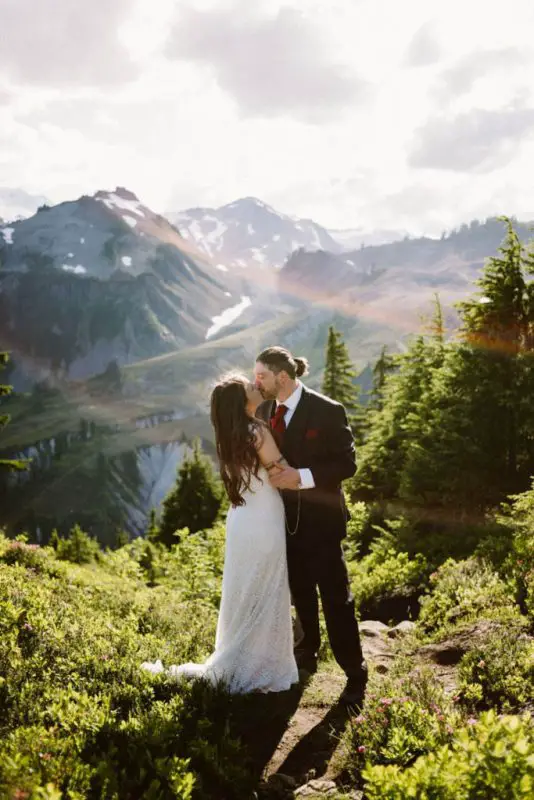 My husband and I chose Artist Point as our wedding location because we wanted a beautiful wilderness setting that was also wheelchair accessible. With an elevation of over 5000 feet, Artist Point boasts spectacular panoramic views of the Mount Baker Wilderness – including both Mount Baker and Mount Shuksan.
Mount Baker is a three-hour drive from Seattle and just over an hour's drive from my family's home in Whatcom County. The small town of Glacier is located about 30 minutes away and there are a couple of restaurants and lodging options for those wanting to spend the night. We rented a cabin and had a few nights in the mountains to ourselves after the wedding before returning to our home in Seattle.
Since Artist Point is located in the mountains, we had to keep a few things in mind when planning the wedding. Artist Point is buried under snow most of the year, so we scheduled the event for late July – after the snow melted out and before the start of the forest fire season. Artist Point can get really crowded during summer weekends, so we got married on a Monday and had the place mostly to ourselves.
Following Leave No Trace best practice is important when one is in a wilderness setting, and our Artist Point wedding was no different. There was no flower petals or rice. Instead, we had the kids blow bubbles which turned out to be lots of fun for them and super cute as well. We kept the guest list to about twenty people to minimize the number of cars and impact on the surrounding area.
If you're interested in getting married at Artist Point, be sure to contact the Forest Service beforehand. Details are at the Mount Baker Forest Service web site.
Follow Katy Shaw from A Rambling Unicorn – Instagram 
Santorini – Destination Wedding in Greece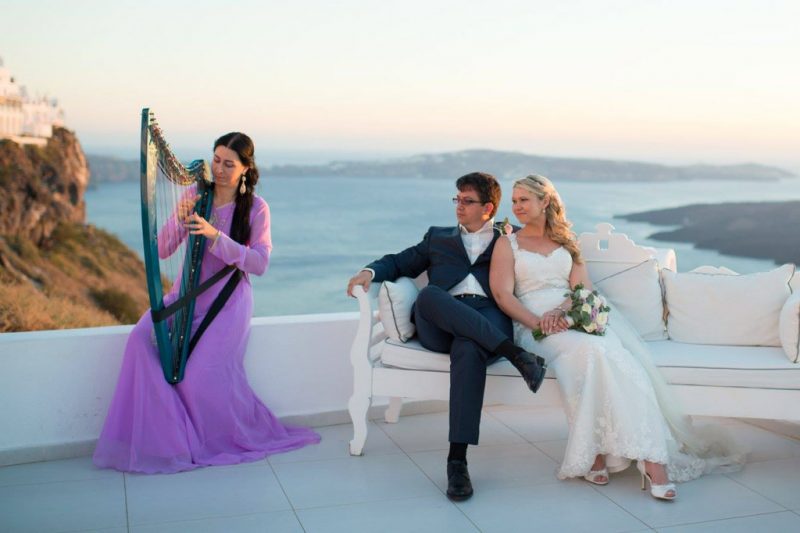 It was love at first sight when I discovered the wedding venue, Dana Villas, in Santorini while looking for wedding venues in Greece. Immediately my mind started dreaming about having my wedding there – an open-air terrace with breathtaking sunset views of the ocean and caldera where we could celebrate into the evening under the stars. Slowly everything magically fell into place to make this dream a reality – to my surprise, the popular wedding venue was available on the dates we would be on Santorini island during our upcoming tour with Trafalgar. When we finally eloped on 1 October 2014, my expectations were surpassed as we walked onto the rooftop terrace hand-in-hand with harp music in the background, saying our vows and sharing our first kiss as husband and wife at sunset.
I highly recommend a Santorini wedding or elopement to travel lovers that have an appreciation for incredible scenery. Thanks to the warm Greek culture and hospitality, one can't ask for kinder and more professional wedding suppliers or tastier food and wine for your wedding day or elopement. Santorini also has plenty of romantic things to do and luxury accommodation options for the perfect wedding night, mini-moon, or honeymoon. Dana Villas, for example, has rooms that feature cave pools with the same incredible views as the terrace. It's hard not to feel like the luckiest bride in the world in such a stunning place.
Follow Michelle du Toit from Romantic Explorers – Youtube
Ice Castle Wedding in Lapland, Finland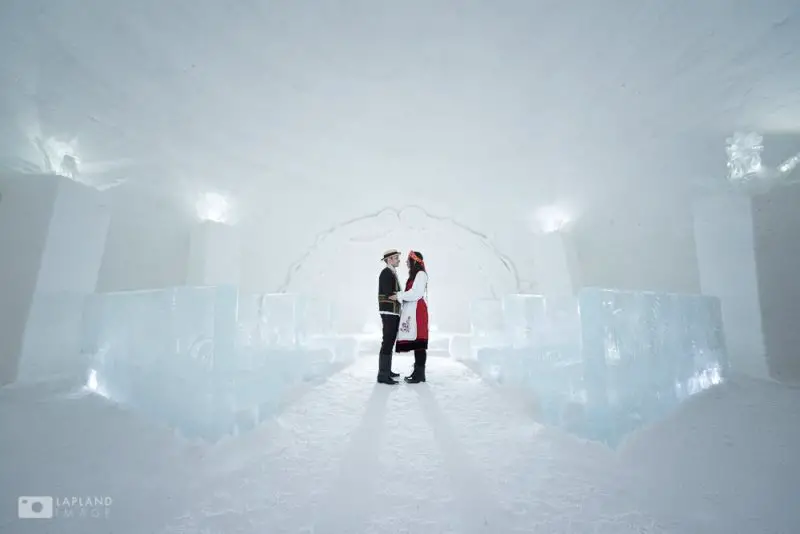 My husband asked my hand in Brazil while we were spending 7 days on a slow boat traveling upstream on the Amazon River from Manaus to Tabatinga. After such an experience, we were determined to have a unique wedding as well. I'm Hungarian and my husband is Polish, and we had been living for numerous years in Finland, so we came to an agreement easily on the location of our wedding. It was a neutral ground for our close families, so nobody got offended that we picked 'the other' country.
We dreamed about a special white wedding in the winter wonderland. The wedding venue was an ice chapel in the SnowVillage in Finnish Lapland. The whole place, as well as the furniture and decorations, is built year by year from snow and ice at the beginning of winter and stands until the spring thaw melts it. It is suitable for smaller groups of a maximum of 50 guests. The location is quite remote, the closest bigger international airport is about 3 hours away, but the local Kittilä airport has a couple of flights abroad too and it's less than an hour's drive.
Lapland is an ideal location for couples who want to elope or celebrate with only their close family and loves winter. Probably the latter one is the most important criteria.
We arrived at the chapel on a reindeer sled through the snowy Lappish forest. Our friends and families welcomed us there then we all headed inside. The ceremony was beautiful despite the icy conditions and below zero temperatures. While the guests wore their winter coats, we were dressed in our national costumes and a couple of extra layers or thermal tights and shirts. It was a truly magical location to say our vows and celebrate with the ones who are closest to us.
Our tiny wedding party took place in a wooden cottage in the nearby Pallas Yllas National Park as we didn't want to spend our wedding night in the ice hotel that is attached to the stunning chapel. It was more than enough to have the photoshoots there. 🙂
Katalin & Karol – the writers of this blog (Our Life, Our Travel)  Facebook and Instagram
Beach Elopement in Mexico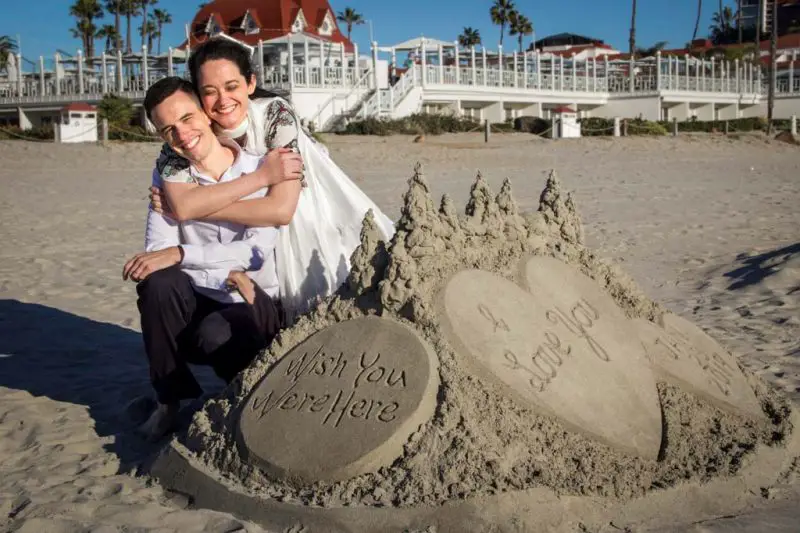 We kind-of flipped the script on the destination wedding. Most couples pop off to some exotic country for a few days to get hitched before returning home. We, on the other hand, began overseas, popped back to our home country to get married, then flew out to yet another country as husband and wife!
Our wedding planning began in Mexico, a place we consider a second home. We looked at tying the knot in beautiful Baja California, which I'm sure would've been magical in its own way. But ultimately we decided to get married in San Diego, California – a place equally beautiful and special for us. I lived in San Diego briefly years before while trying to figure out my career and life direction. I fell in love with the perfect climate, laid back attitude, and cool people. My now-husband Tyler spent a memorable week there decades ago on a family vacation and also loved it. Besides these happy memories, it was much less hassle and paperwork to get married in the United States as American citizens!
As quiet people, eloping was an easy decision. Neither of us really like being the center of attention and pressuring the family to fly out from Wisconsin and New Jersey was something we were uncomfortable with. So we opted for a beautiful beach ceremony right on the Pacific with just the two of us, our officiant, and our photographer! Our beach was directly behind the historic Hotel del Coronado on Coronado Island. We couldn't have picked a better day to do it; the weather cooperated wonderfully and I'll never forget those gentle glistening waves lapping up against our bare feet as we exchanged vows.
Unbelievably, as we were wrapping up and taking photos, we stumbled upon a professional sand sculpture with our date and "I love you" emblazoned within hearts. It was all just too good to be true.
Follow Linda and Tyler from Travelitic – Twitter
Cinque Terre Wedding – Italy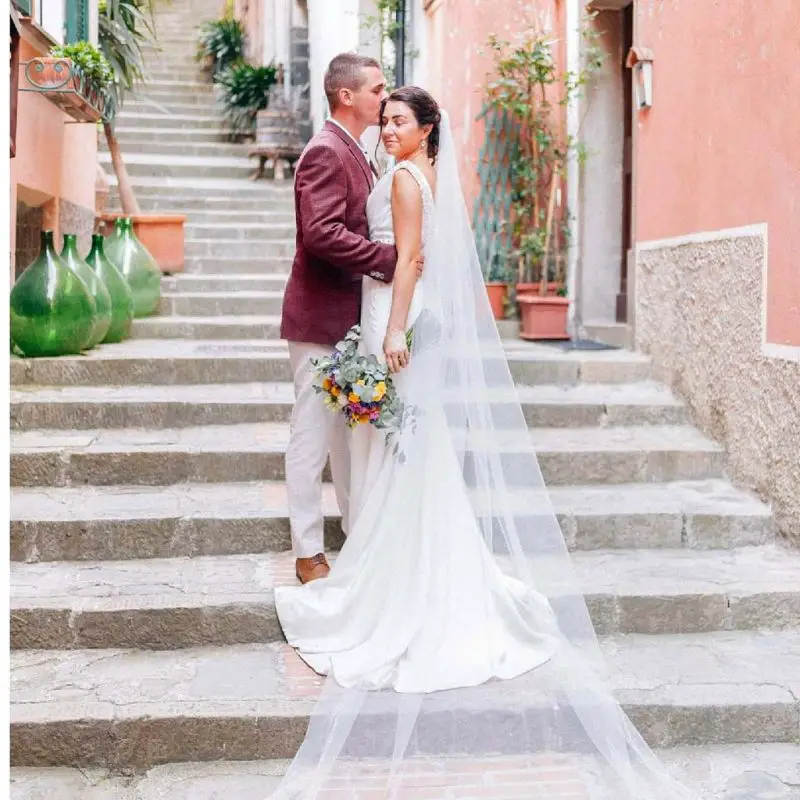 Cinque Terre is a cluster of colorful seaside villages close to the city of Genoa, Italy. Out of almost 50 countries visited, it remains my favorite place in the world. Which is why I chose to get married here in August 2019. Interestingly, the Cinque Terre town of Manarola has been my laptop screensaver since the age of 15. When I first visited the Cinque Terre with my now-husband in 2014 I said to him "this is where I will get married one day".
So, when he proposed in New Zealand – the planning began for our 
wedding
 in the Cinque Terre. Lots of research later, we found the perfect 
wedding
 planner in
Cinque Terre 

Wedding
. This made the whole process so much easier, seeing as we are living on the other side of the world in New Zealand.
We opted for a relatively small 
wedding
of 60 guests. We chose Buranco Vineyard at the top of Monterosso Town overlooking the sea for our ceremony and dinner. One of my favorite parts of the day was walking through the town with my 
wedding
 party after the ceremony. All the locals stand outside their homes and throw confetti on you shouting "Bella Bella". It's a tradition in the Cinque Terre and was wonderful to experience.
Honestly, the day itself was like a Fairytale. From the abundance of fresh food to the wonderful local band. We all danced until the early hours and ended the night with a midnight swim in the ocean. Bellissima!
I would recommend a Cinque Terre 
Wedding
for anyone with a relatively small guest list (under 100 is ideal). It should also be easily accessible to your guests, our families are from Ireland & England so it was a short and reasonably priced journey for them.
Big White Ski Hill, British Colombia, Canada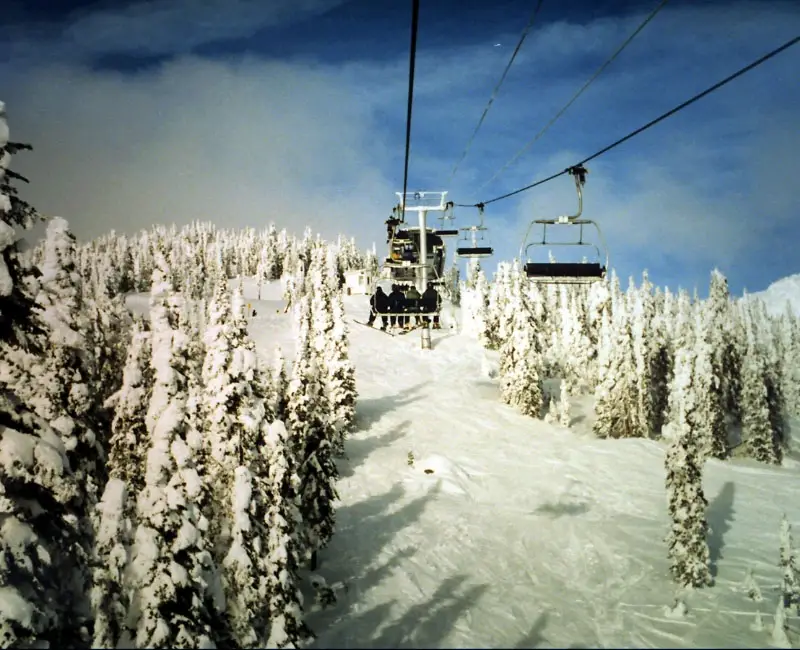 As my husband and I met in a ski resort in Italy and spent many pre-wedding holidays skiing it seemed appropriate that we'd get married on a ski hill. It was the Big White Mountain Resort in British Colombia, Canada that we eloped to in order to get married. I use the word elope, as it was a surprise for everyone, including Nigel, my husband to be, until the night before we flew from the UK.
Following the ceremony we skied down – the worst run of my ski life ever (my knees knocked so badly!!) to stay in a gorgeous log cabin on the mountain. I "walked" up the aisle on a ski lift, two friends (also in on the secret) flew in from the UK to act as witnesses and we drank champagne in the snow in the private hot tub after the ceremony.
Big White is a magical resort for any occasion, I chose it as it's glorious for powder skiing and we'd been before together and both loved it. There are lots of private accommodations on the mountain for a romantic getaway and our honeymoon also included a floatplane trip to the hot springs in the north of Vancouver Island before flying home. Big White now has a whole host of facilities if you truly want a big event for your wedding, but for us, at the top of the mountain, with stunning views, it was the only sort of big white wedding either of us ever wanted. We just celebrated our 20th wedding anniversary, still traveling, on a cruise ship en-route to the Caribbean.
Follow Sarah Carter, who still keeps her name despite being married to Nigel Dockerty for 20 years – A Social Nomad –  Pinterest
Click on the Pins to Save Them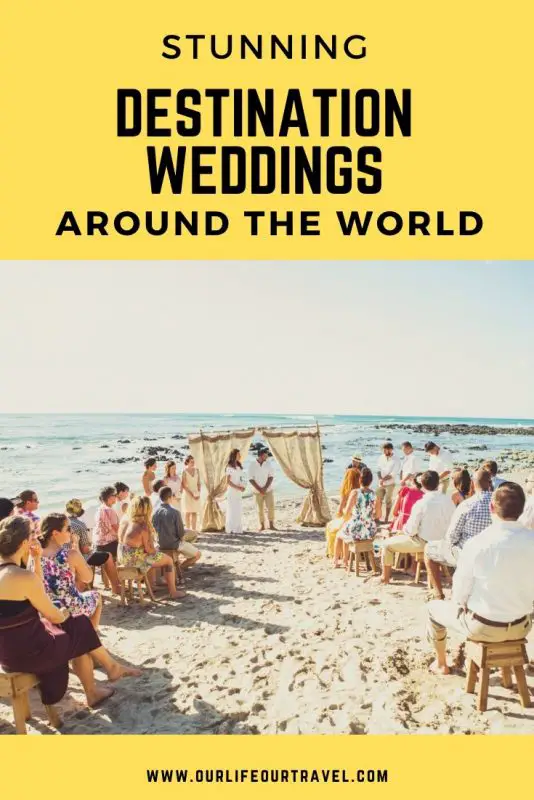 About the Author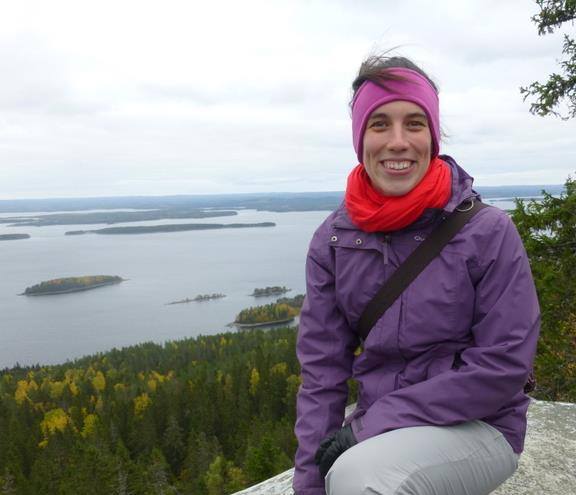 Katalin
Katalin is a Lapland-based outdoor enthusiast who loves hiking, road-tripping, and traveling with her family. She spends her free time far away from civilization in one of the national parks around the world, explores off-the-beaten-path places, or hops on a road trip with her kids in an RV.
Read more about her adventures and the blog.