You will never get bored with your family in Singapore as there are millions of fabulous things to do with kids in Singapore.
Singapore is a popular holiday destination for families with kids. We collected a list of unusual attractions that will definitely occupy the little ones for a couple of hours. The list is ideal for visitors who spend at least a couple of days or a week in Singapore, and are eager to go off the beaten path and explore attractions in the residential areas as well, not only visiting the touristy spots.
Disclaimer: The post may contain affiliate links.
The Best Things to Do in Singapore with Kids
What are the best things to do in Singapore with kids? Do you like the outdoors? Or do you fancy staying inside? Luckily you can easily pick a couple of items from this list, as there are numerous Singapore attractions for kids in a variety of places. We usually like to mix them up depending on the weather and our (and kids') mood. You can consider purchasing the Singapore City Card if you want to visit (almost) everything during your stay.
For general travel info, check out our Singapore Travel Guide as well!
Why Singapore is a Great Family Destination?
Singapore is a modern, clean, safe, and fun place to visit with your family.
We love how smooth the MRT system, you can easily use public transport with kids in Singapore, even if you have a stroller. There is no rubbish, we every time find it as clean as the Nordic countries.
Another important advantage of Singapore is language. Everyone speaks English (well, Singlish, but that's not a big brainer), so if you are not so experienced traveler or this will be one of your first trip as a family, the smooth communication will make everything easier and everyone happier.
Yes, it will cost more than visiting their neighbors Indonesia or Malaysia, but you can't simply compare them by their prices.
One of the Best Places to Visit in Singapore for Kids: S.E.A Aquarium, Sentosa Island
The Aquarium is absolutely fun for the whole family. It's perfect for those rainy monsoon days when you don't feel like sightseeing when it's pouring. Just hop on the MRT and the Monorail to Sentosa. It is one of the best things to do with toddlers in Singapore.
Grab your discounted ticket here!
Best Free Things to Do in Singapore with Kids: Chinatown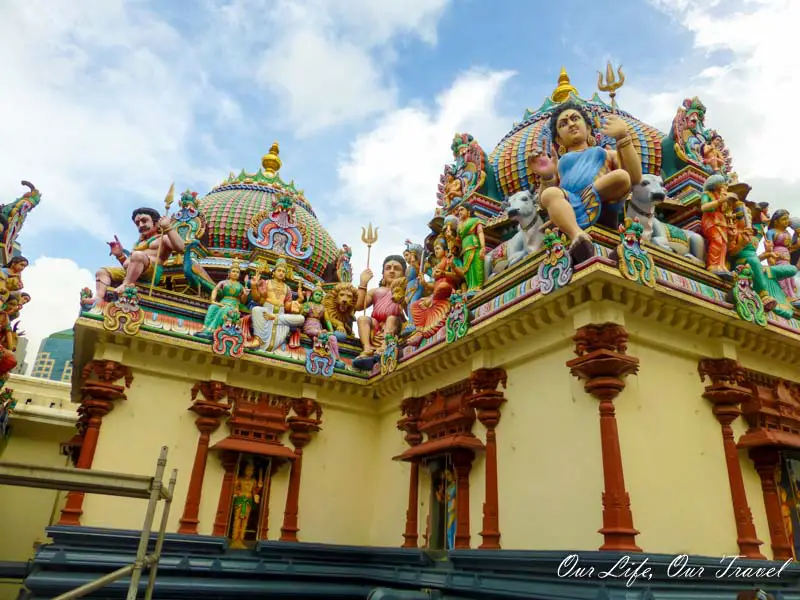 You can explore the Chinatown Heritage Centre and walk around Chinatown for free. Chinatown is one of the most interesting places in Singapore for family where you don't have to spend much (or anything at all) to enjoy the sights.
10+ Top Places to Go With Kids in Singapore
Make sure you do not miss out on the best family things to do in Singapore!
1. The Children's Garden by the Far East Organization at Gardens by the Bay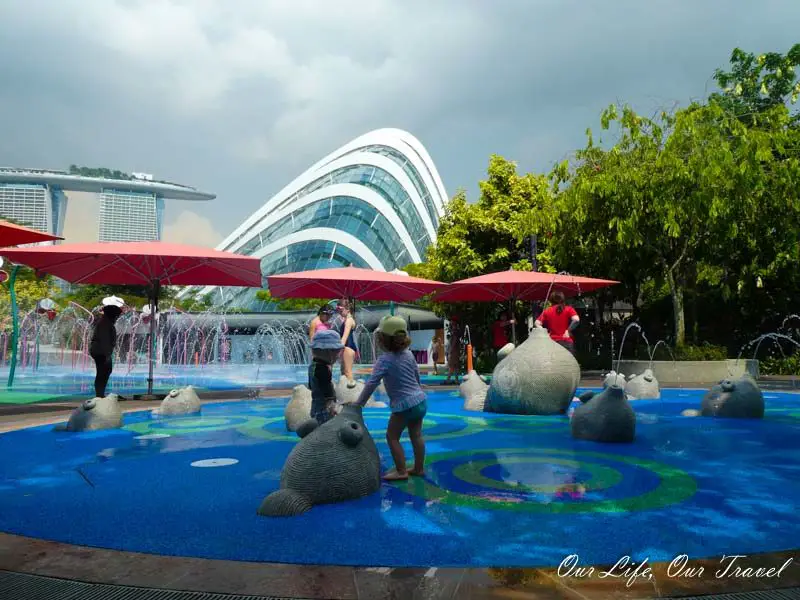 The Gardens by the Bay offer numerous activities and sights to the whole family: Supertree Grove with a light show, Cloud Forest, etc, but don't forget about its playground! Our favorite part was the water section, but there are two playgrounds for toddlers and bigger kids, plus a little training and activity track designed for children too. This is far one of the best things to do in Singapore for toddlers.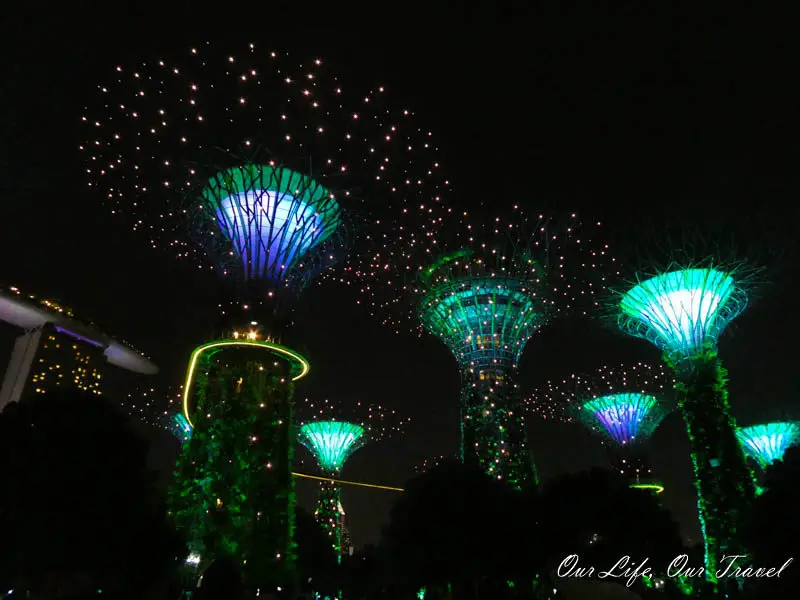 Toilets, showers, changing and feeding places as well as a buffet is on site.
The playground is a 10min walk from the MRT station Bayfront, near the Cloud Forest.
2. Arts Science Museum @ MBS
Arts Science Museum offers different exhibitions there all the time, and it is very interactive for young children. It is a must-have item on our things to do in Singapore with family bucket list – we will visit it as soon as the little ones will be a tad older.
3. Admiralty Park playground and the longest slides in Singapore
Admiralty Park is in the residential area – near Woodlands. It is entertaining for children and families and it features the longest slides in Singapore. It consists of 3 sections. One for the young kids, one for the bigger ones, and a part where the whole family can slide together. M preferred the ones for bigger kids though. The roller slides are also an interesting experience.
4. Sentosa Island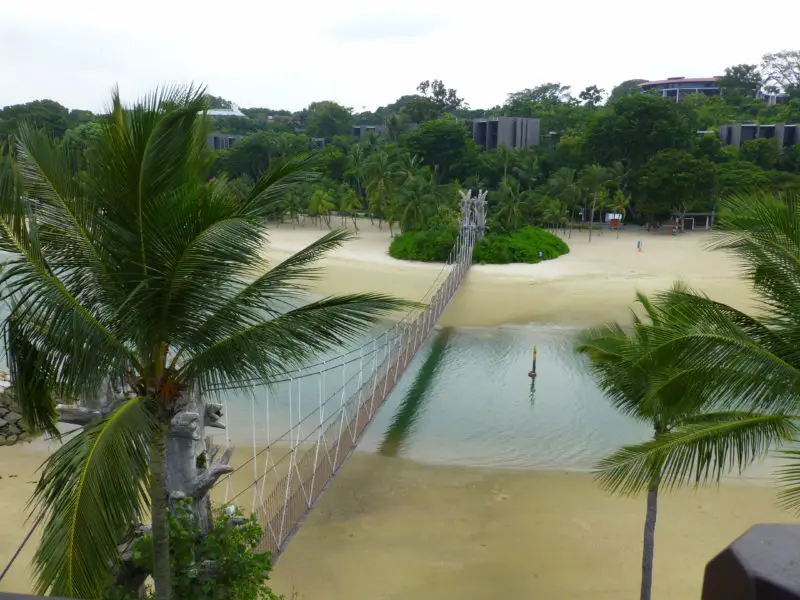 Tonnes of things to do with kids on Sentosa. It's a resort island designed for families. Just to mention a few of the attractions:
KidZania,
Universal Studio,
a beach with a pirate ship
visiting beaches and playgrounds
bird 'zoo' and the possibility to see the animals they rescued. Most of them orphaned and they take care of them.
Read more on Sentosa Island or Check out the Ticket options.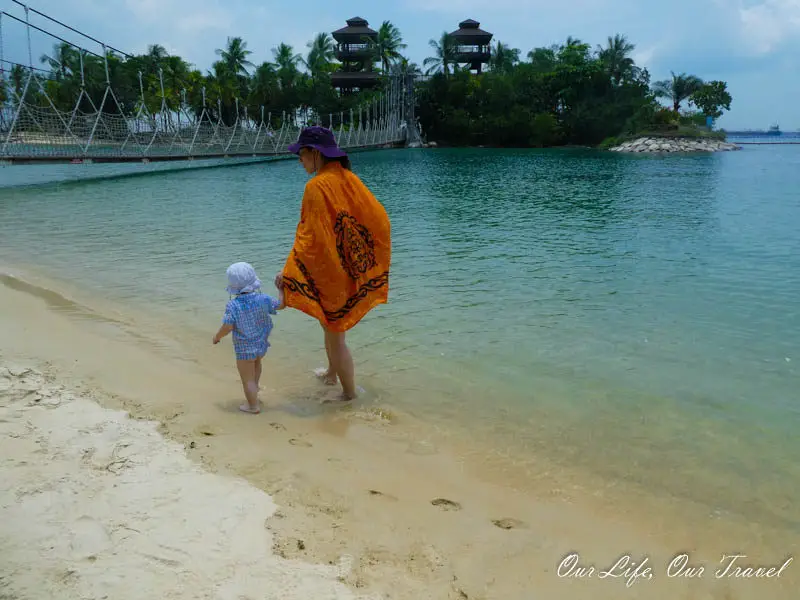 5. Night Safari and Rainforest Lumina in Singapore Zoo
Singapore Zoo is a popular destination for families. It offers also a unique nighttime experience: the Night Safari. You can explore the Zoo after dusk. What a unique idea! First, you take a 'train' with a guide, then you can walk around freely. There is another new attraction in the Zoo, called Rainforest Lumina. Open at night and looks pretty cool!
6. Jurong Bird Park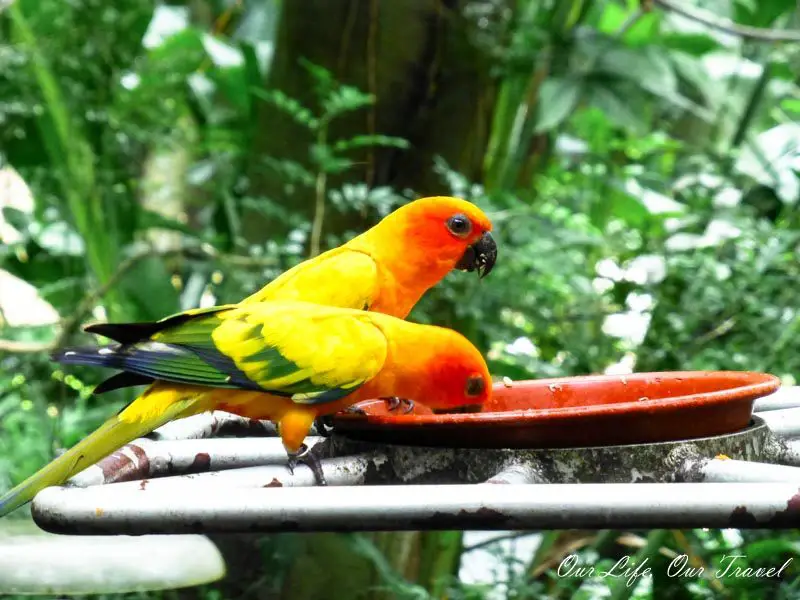 Personally, we liked the Bird Park more than the Zoo. It's a bit scary yet impressive that the birds can fly freely around you. It takes quite a bit to reach the park as it is outside of the main attractions of Singapore, but well worth the travel time.
7. Sports Hub
Singapore Sports Hub is a new and modern stadium. Its library promotes exercise and offers quite a few activities there to do with kids.
8. Marina Barrage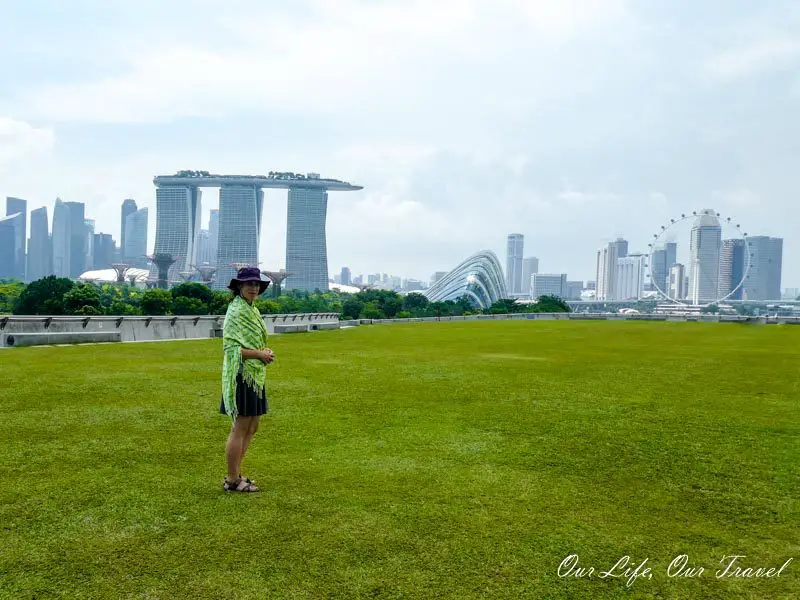 What to do in Singapore with kids when the weather is pleasant and you would prefer to rest while the kids are roaming around? Marina Barrage is an ideal place for a picnic and kite-flying. And in my opinion, the Barrage gives one of the best views of the Marina Bay Sands and the Supertrees.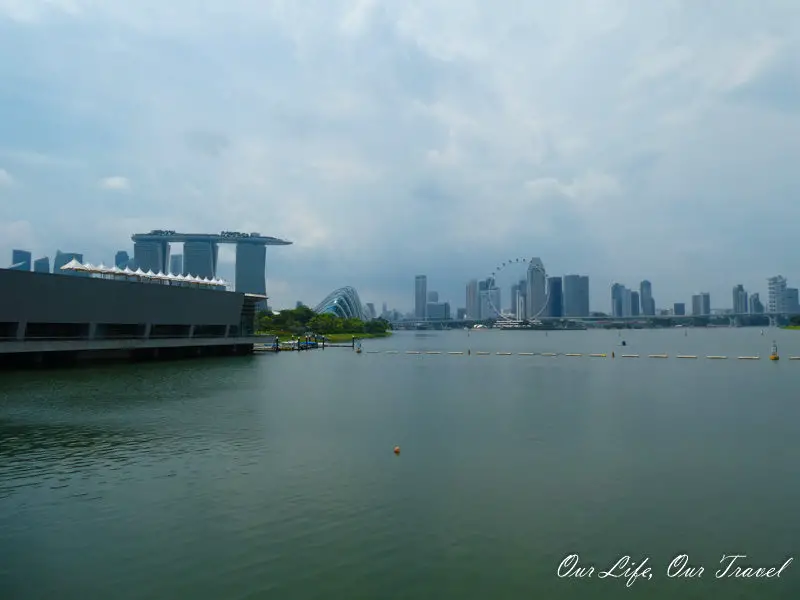 It is a sea barrage and its surrounding area was built to stabilize the tides in the marina bay area. Now that's a sweetwater reservoir and therefore you can do watersports too.
Getting there: Bus 400 from Marina Bay MRT
Read more about the Barrage and the activities
9. Punggol Park and Coney Island
Punggol Park and Coney Island are also two relatively new areas for families to go on weekends. Both walking and cycling are possible, but watch out for the long-tailed macaques. They are everywhere!
Getting there: From Punggol Point Park, walk about 500 meters east along the Punggol Promenade Nature Walk to get to Coney Island West Entrance.
10. Punggol Safra
Punggol Safra is another newer attraction that has a small water park inside. It is one of the most awesome places for kids in Singapore.
11. Pulau Ubin – Ubin Island with Kids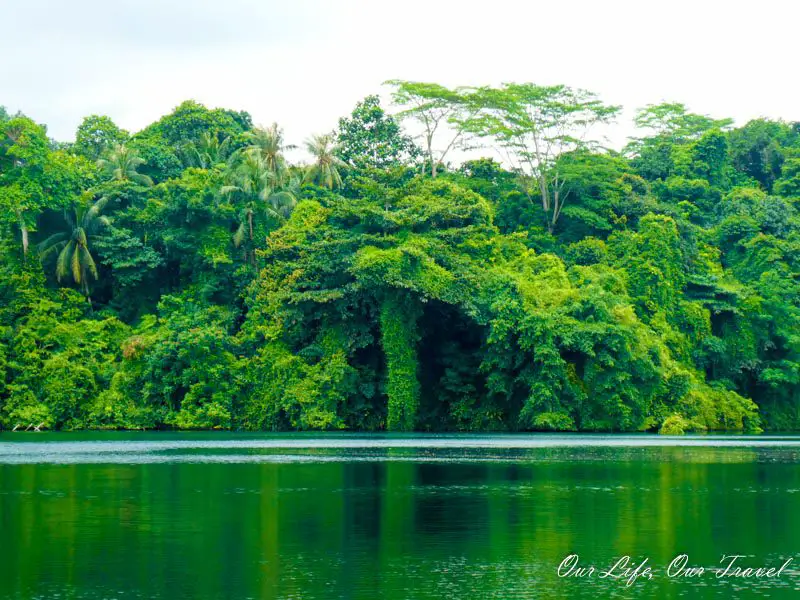 Ubin Island is a popular spot for locals to cycle around and explore the old Malaysian villages across the little island. You can also see corals on the shore, so make sure to visit at low tide. It has pristine nature and it is not managed unlike other green areas of Singapore. You get to the feeling of how life was in the past and, and at the same time, enjoy a day with your family away from the rush of the city surrounded by natural forests. If you get lucky, you can even meet wild pigs. The boat ride to the island and back is a popular outdoor attraction for smaller kids too.
12. Kusu Island with Kids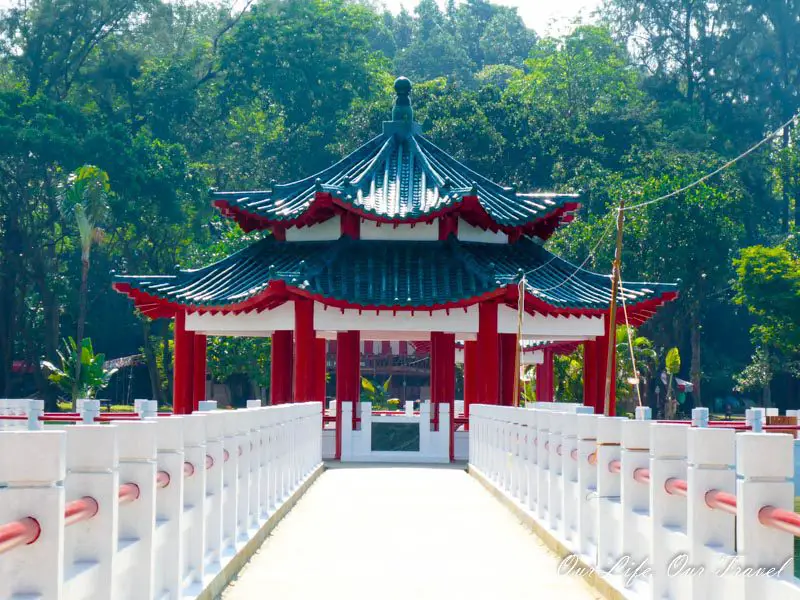 Kusu Island is one of the not-so-popular Southern Islands, close to the shore of Sentosa. Peaceful beaches in lagoons, tortoises, temples, and shrines make it a perfect destination with a combination of culture and nature.
Getting there: Ferry from Marine South Pier MRT stop
Read our Kusu Island Guide here.
Do you need more inspiration for what to do with kids in Singapore?
Here are a couple of more places and attractions in Singapore for family.
Take some cool photos with the Merlion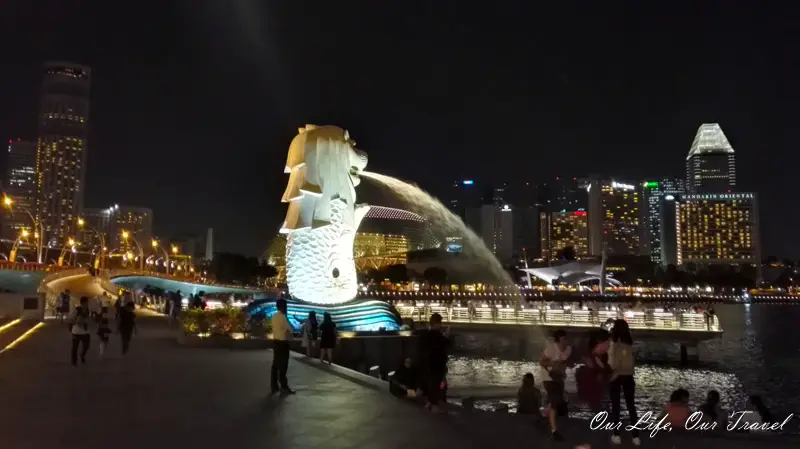 Breakfast in the Zoo with Orangutans and other Animals
Enjoy the Attractions at Universal Studios, Sentosa Island
Visit the Canopy Park at Changi Airport
Where to Stay in Singapore with Kids?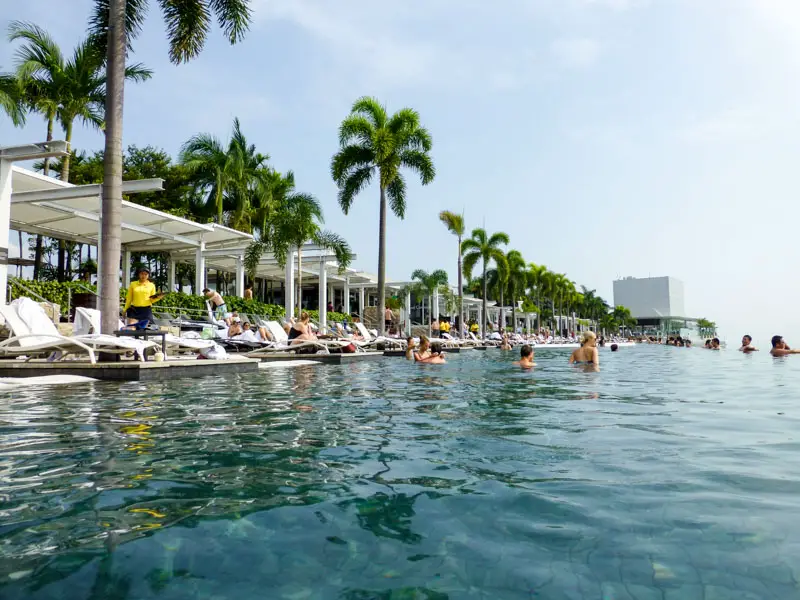 The Best Luxury Hotel for Families in Singapore is Shangri La Hotel Singapore or its 'sister' on Sentosa Island.
Marina Bay Sands for a family of 4. with the awesome rooftop pool and views to the Gardens By The Bay. Read our review here and check the current prices.
Budget Hostel for families: The Hive